"The good thing about eating here is that I'm not getting too full," said my dining partner near the end of a meal at the Good Food Low Carb Cafe.
He admitted that his meal was healthy, but he left the new East Side restaurant unsatisfied.
The counter-service cafe opened April 3, a spin-off of the two popular Good Food carts, which are on the Capitol Square and Library Mall, respectively.
Those who routinely pass on bread, pasta, potatoes, sweets, and other starchy foods, or are avoiding carbs for diet or health reasons, will love having a restaurant that caters to them.
For the most part, this is food that is virtuous, and that's something Americans aren't accustomed to when they eat out. But it works for me.
With the exception of wheat tortillas for its wraps, the cafe is almost entirely gluten-free and grain-free.
The cafe is blessed with lots of windows, and artistic and colorful menu boards are a key design element. The first one mentions that owners Melanie Nelson and Kory Seder, who married on May 6, are advocates for a "low-carb lifestyle."
Seder has Type 1 diabetes and adopted a low-carb diet to manage his blood sugar. After they met, Nelson decided to eat the same way. By doing it, she lost 20 pounds in a year and then ran a marathon.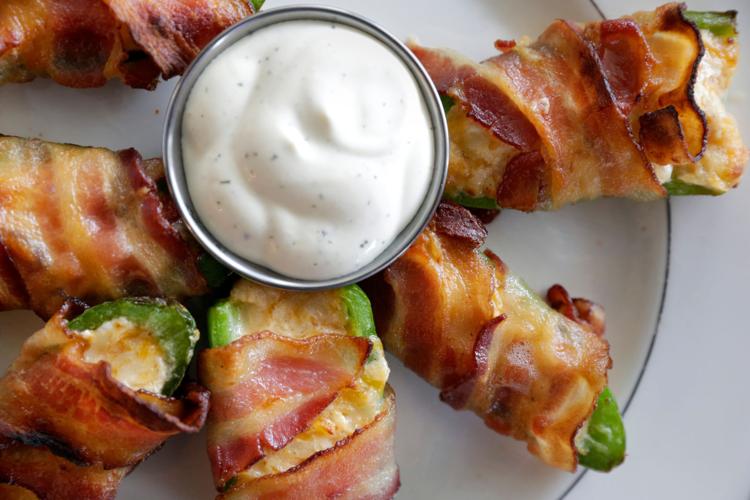 My favorite things during a recent meal were the bacon-wrapped cheesy jalapeno poppers ($7.95), which my vegetarian companion couldn't eat. These were far from virtuous. In fact, they were a total indulgence. The six jalapenos had cream cheese and melted cheddar with ranch dressing on the side. They were almost without heat, but what distinguished them from most poppers, and made them better, was that they weren't breaded and deep fried.
We both agreed that one of the day's three homemade soups, the creamy mushroom ($4.50 for a cup, $5.50 for a bowl), was excellent. It was vegetarian, gluten-free, decadently creamy, and crammed with mushrooms. I was tempted to buy some to take home. Quarts of many enticing Good Food soups are available in a cold case for $9.
Less successful was the restaurant's Fathead flatbread, unless you make allowances for the fact that the gluten-free crust is made from almond flour, egg and cheese. We tried the Greek version ($10.95), and the attractive sauceless, rectangular pizza was cut into 10 squares. Kalamata olives dominated, while the flavors of the garlic, basil, tomato and feta were less pronounced.
The cafe specializes in bowls of warm "zoodles," where the would-be noodles are made from spiral-cut vegetables such as zucchini, summer squash and carrots. The pad Thai bowl was more of a nod to Thai or Lao versions, but couldn't really capture the essence. My companion didn't like the taste, while I appreciated the effort that went into spiralizing the vegetables.
Nelson said they've figured out a way to connect the spiralizer to a power drill, which "zoodles" the zucchini in four seconds.
"That was Kory. He's pretty brilliant," she said.
The dish comes with chicken or tofu, and I ordered chicken, which came sliced on top, and had a great, grilled flavor. Loading up a bite with chicken, zoodles, cilantro and peanut all at once made it pretty delicious in my mind.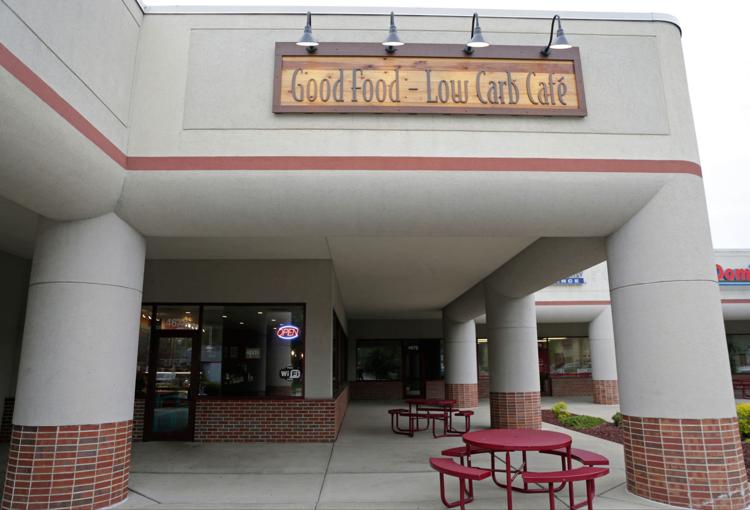 I was also more partial to the salad we shared, fajitas in Albuquerque ($8.25). I savored the mix of ingredients, laid out in pockets on top of romaine lettuce: grilled bell peppers with onions; slices of fresh, ripe avocado; homemade pico de gallo; and cilantro; with a mild green chili ranch dressing on the side. We ordered the salad with strips of tofu, but it didn't have much flavor. That's one instance where I finally agreed with my friend.
My dining partner, who has a sweet tooth, didn't even eat his half of our dessert, a chocolate-covered peanut butter bar ($3.75), which was gluten-free, grain-free and sugar-free, saying it tasted like eating a spoonful of peanut butter. I liked its simplicity.
A few days later, I stopped at the cafe to get a Caesar Supreme ($8.25) wrap to see if it would be the same as the one I like to order from the food cart. Happily, it was, and it was prepared extremely quickly, making the cafe a good place to seek out when you need something on the go, and don't want to settle for fast food.
After the initial meal with my friend, I felt bad that I took him out for a dinner he didn't enjoy. I explained that I brought him to Good Food because he likes to eat right.
"Apparently I don't like healthy food as much as either of us think I do," he said.