I've heard pinot noir called the golden retriever of wines — a failsafe choice, easygoing, friendly, a little sweet. It can be sexy and smooth or light and zippy. It can have flavors of fresh cherries or dark, sugary plums.
In Burgundy, pinot noir makes some of the most revered and sought-after wines in the world, but it's also the less-than-$20 bottle I reach for when I want something tasty on a Tuesday night.
In "Sideways," Virginia Madsen's character asks Paul Giamatti why he's so into pinot, and he responds like the tortured novelist he is.
"It's a hard grape to grow," Giamatti's character, Miles, explains. "It's thin-skinned, temperamental, ripens early. It's not a survivor ... pinot needs constant care and attention. Only the most patient and nurturing of growers can do it, really."
Giamatti's character is talking about himself, of course, but it's also true that pinot is something special. At our spring meetup, my wine group tasted nine variations on pinot noir from spritzy South African rosé bubbles to a slightly aged red Burgundy.  
One of our hosts brought the sparkling pinot noir/ chardonnay blend, a nonvintage Graham Beck Brut Rosé ($13.99 at Table Wine) because Barack Obama drank it to celebrate winning the 2008 election. It had an earthiness I often associate with higher priced sparklers, as well as flavors of ripe strawberry.
We had one pinot blanc in the mix, a consistent choice because, strictly speaking, pinot blanc, pinot noir, pinot gris and pinot menunier are all variations of the same variety (read Wine Folly for more on this).
This one, a 2012 Koehler-Ruprecht Pinot Blanc Kabinett Trocken ($19.99 at Steve's on University), was a little funky and minerally with tropical fruit and a medium body.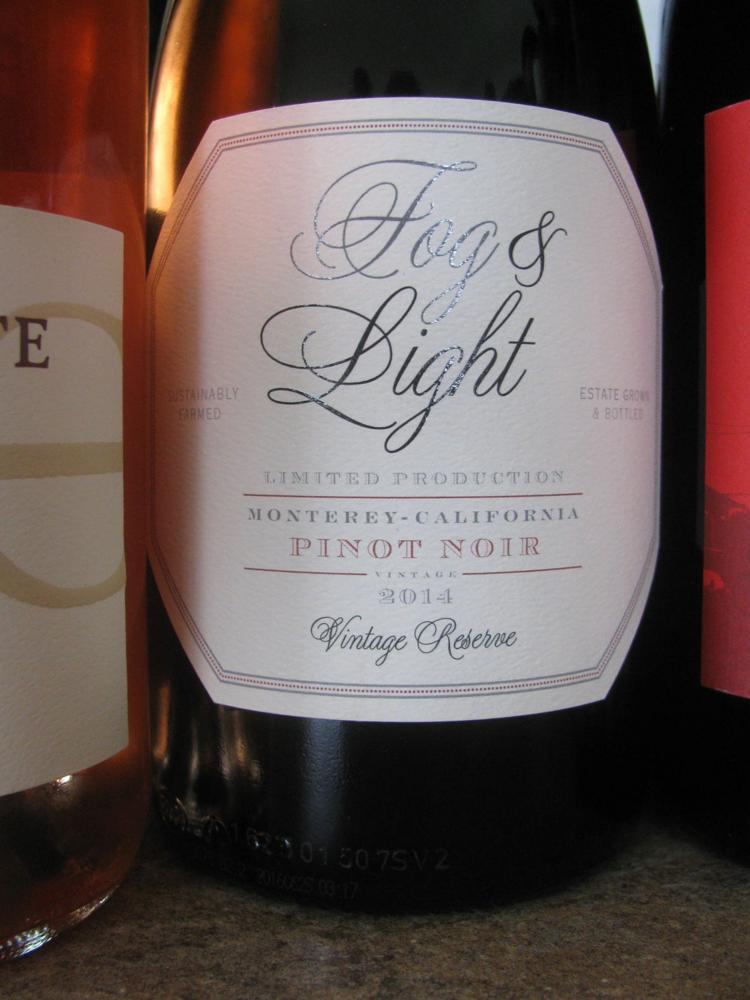 Pinot noir rosé is one of my favorite things about spring, and Villa Wolf makes one that's delicious for $11 at Table Wine. The 2016 bottle had flavors of underripe strawberries and tart cherry, with a light carnation pink color and a zip of juicy acidity.
"What more do you want in a picnic wine?" my friend Chris asked. Hit this up for Concerts on the Square, or just a weekend afternoon on the porch.
Pinot has more to offer than just pretty fruit, as proven by the 2014 Fog and Light Pinot Noir ($15 at Aldi) from Monterey County. It had lots of smoke and earth in it to complement a big slug of cherry fruit.
Also from the central coast of California, the 2015 Folk Machine Pinot Noir ($19.99 at Table Wine) was even more earthy than the Fog and Light. It had a little spritziness on the back end, with dark fruit and some of the most pronounced tannins of anything we'd tried so far.
I fell hard for the 2013 Hunter's Pinot Noir ($19.99 at Table Wine), an umami/stewed cherry bomb from Marlborough in New Zealand with everything going on: tartness, herbal notes, even a little jam.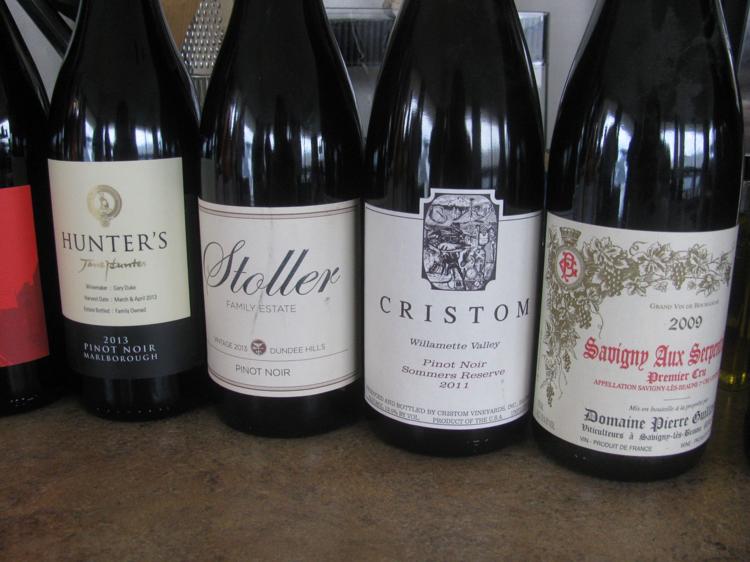 Our first pinot noir from Oregon was a slightly aged bottle, a 2013 Stoller Dundee Hills that Chris had picked up at Steve's on University a few years ago for about $23 (the current vintage is 2015 costs closer to $24.99). A dense, almost purple wine, it had flavors of baking spices, smoke and Pu-Erh tea.
Another Oregon bottle, the 2011 Cristom Sommers Reserve from the Willamette Valley ($26 at Square, no longer available) had more flavors of tea, with a pronounced earthiness and not much fruit left.
Finally, we got to our one Burgundy. The 2009 Domaine Pierre Guillemot Savigny Aux Serpentieres was a $50 splurge a few years ago at Waterford Wine Company in Milwaukee and worth every cent. Dark, chocolatey notes played off cherries and plums, with a bit of acidity in the front and tannin in the back.
It was round and lush, all the sexy things pinot can be.
"It's beautiful," my friend Leah said with a sigh.
I agreed. Pinot is special.