ON WISCONSIN | SUPERIOR ICE SCULPTURE
An ice cave in an El Niño winter
SUPERIOR – The Iceman isn't afraid of failure but warm weather drives him nuts.
Even after the spectacular collapse last year of his ice sculpture that drew international attention, Roger Hanson has not been thwarted.
An El Niño winter has given the self-taught electrical, mechanical and software engineer a pretty good battle but Hanson has persevered.
His creation, made with 1.5 million gallons of tannic-stained water from the nearby St. Louis River, is more than 45 feet tall, 72 feet wide and 12 feet thick at its base and weighs an estimated 10 million pounds. And for the next week, the structure, next to the SS Meteor Whaleback Ship Museum, will be the centerpiece of the Lake Superior Ice Festival.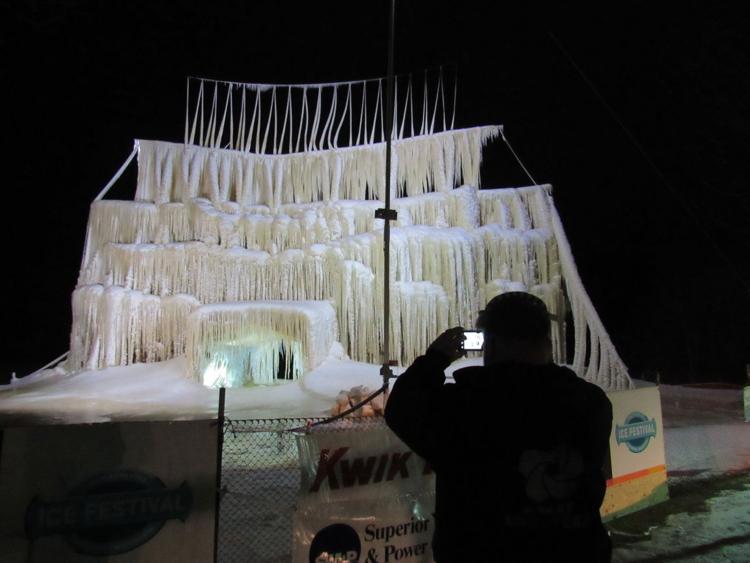 The event was created last year to draw tourists, who were flocking to the nearby Apostle Islands ice caves. Because of the warm temperatures, the ice caves have not been accessible but Hanson has created his own version on Barker's Island on Superior's East Side.
"The structure is very solid. It seems to be very sound," Hanson said Thursday during our visit. "The mechanics and the electronics have gone almost perfectly, but the progress has been very sporadic because of the weather conditions."
But Hanson, stationed in his 32-foot camper-trailer command post, was fretting about the weather. And for good reason.
The temperature at 9 a.m. was 28 degrees but an hour later had risen to 32, forcing Hanson to shut off the nozzles that, depending on conditions, can spray 2 to 13 gallons of water per minute. Hanson said his ideal conditions are temperatures below 20 degrees with light winds, which help dissipate heat from the bursts of spray.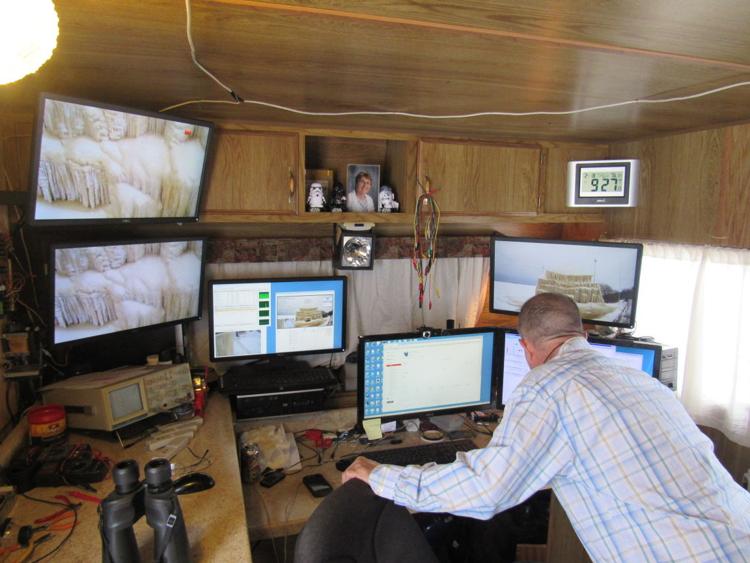 On Friday, with temperatures in the 40s, the 7-foot-tall fifth tier of what had been a 52-foot structure collapsed. Saturday's temperatures were in the upper 30s and low 40s and prevented Hanson from making more ice. That means it will be virtually impossible for Hanson to reach his goal of 75 feet.
In fact, he was just happy the structure hadn't collapsed for Saturday night's light and fireworks show. Most of this week's daytime weather is predicted to be in the low to mid-30s, which means Hanson will likely be working third shift to take advantage of overnight temperatures in the teens.
Instead of trying to get more height, Hanson, 65, said he'll likely be focused on spraying water on the base of the structure for reinforcement for the closing ceremonies on Feb. 27.
"This thing is so contingent on Mother Nature," Hanson said. "I've done a lot of things to circumvent her moods, but I'm still restricted at what she throws at me."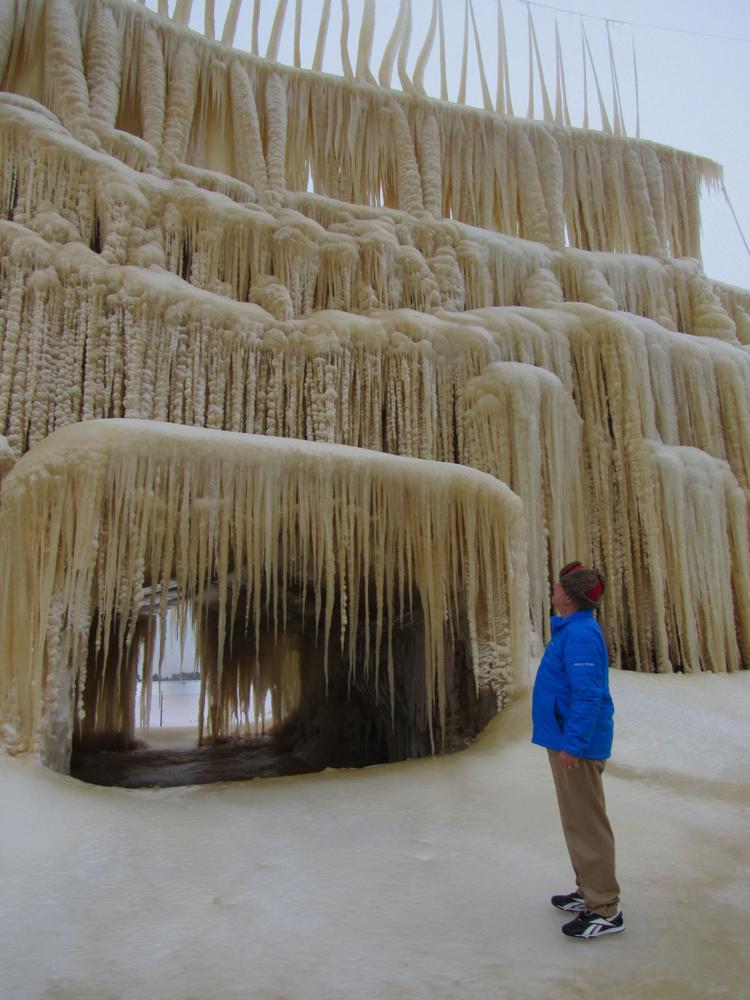 Hanson, from Big Lake, Minnesota, had careers in manufacturing and software development and began making walls of ice in his backyard in 2007 as a way to experiment with the excess water created by his home's geothermal heating system. His first was 30 feet high and in 2014 he created a 65-foot-tall, 90-foot-wide structure that was bigger than his house.
Hanson was hired by the city of Superior last year and paid $30,000 to create a tourist attraction. But in early February of 2015, just a few weeks before public light displays were scheduled to be shown on the sculpture, the more than 60-foot-high and 20-foot-wide column of ice collapsed. The event was caught on video and went viral.
Hanson began rebuilding it but never reached his goal of a world record, although nine light shows and fireworks displays drew more than 2,000 people. Hanson was again paid $30,000 for this year's work and could be back next winter, at least that's the recommendation to the City Council from Mayor Bruce Hagen and Mary Morgan, city director of parks and recreation.
"Truthfully, Roger's failure earned us a lot of media attention that put us on the map," Morgan said. "You can't move to a city, visit a city, relocate your business in a city or get an education in a city if you've never heard of it. Unfortunately and fortunately, the sculpture collapsed."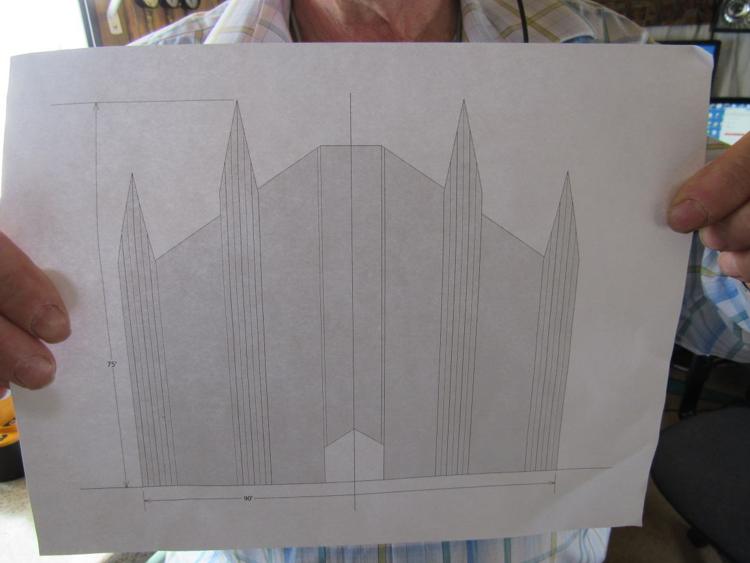 But that's not the goal this year, and it appears Hanson's efforts and changes have paid off.
He installed anchors and pads for the spray and cable towers in late October. He returned Nov. 17 with his used Kountry Comfort camper filled with $50,000 worth of computers and other electronics. After erecting the towers, installing hoses and pumps and fine-tuning the set-up, Hanson began spraying on Dec. 29. He's been on site around the clock with the exception of Thanksgiving, Christmas and New Year's. However, on Jan. 5, a small part of the structure collapsed.
Improvements over last year include upgraded computer software and hardware and more sensitive seismic sensors that take 350 readings a second. He has four sensors buried in ice at the base of the sculpture. To demonstrate their sensitivity, Hanson jumped up in his trailer. The graph on the computer registered the vibrations.
Hanson, who is deaf but uses hearing aids, also has a more advanced alert system that triggers a strobe light and vibrates his bed. The system tracks temperatures, wind, water flow, pressure and the seismic sensors.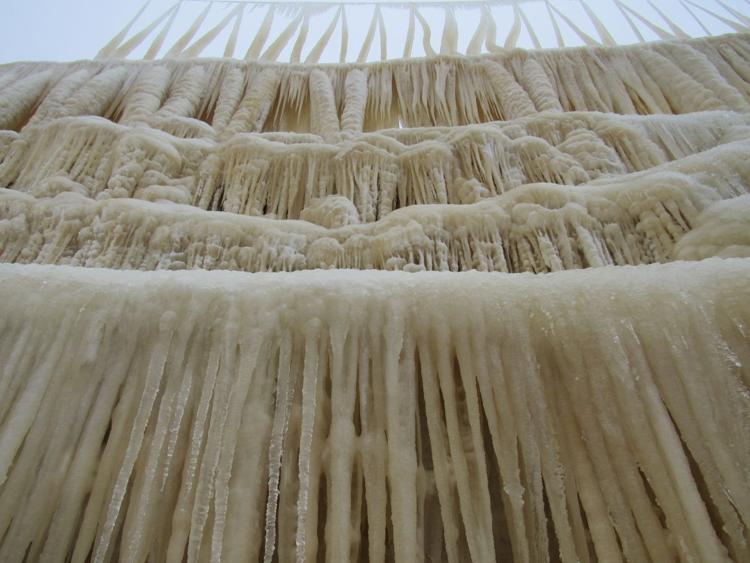 He also has beefed up rotors on the spray towers, has installed rebar on which to build the base and instead of using just one spray tower is using two in an effort to increase the speed in which the structure, designed to look like a castle, is built.
"Most people think we've got long winters, but they are extremely short," Hanson said.
The structure features a cave, created with a tarp and poles doused with layers of water. The height is created using a cable strung between two towers.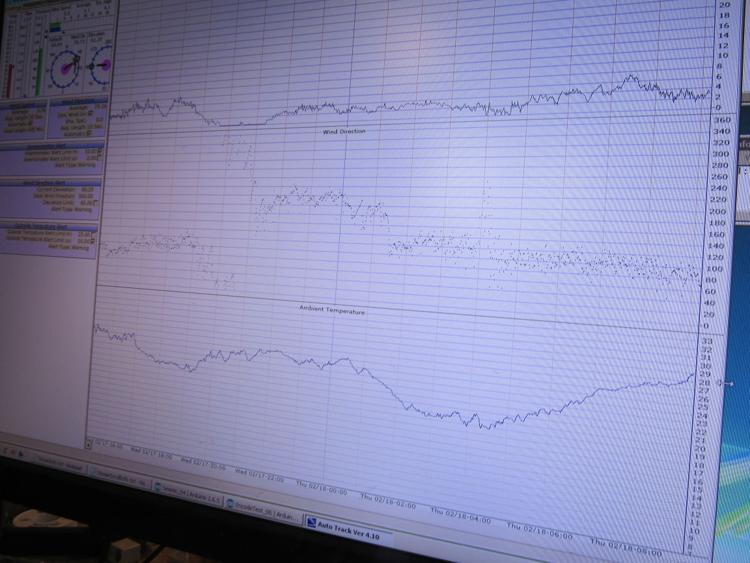 Water is sprayed onto the cable. It drips down, freezes and eventually reaches the ground. The cable is then heated with a car battery and cables, removed and then raised to create another tier of ice.
The process is being streamed live on You Tube with five high-definition cameras and computers recording the different angles storing six days of footage at a time before recording over old footage. Viewers have tuned in from around the globe, including from Russia, Germany, Australia, Canada, Brazil and Saudi Arabia.
One of most challenging days prior to Friday and Saturday was Jan. 28, when the temperature hit 46 degrees. There were 25 mph winds and the sun was full. The structure survived, much to Hanson's relief and meticulous attention to minute details.
"I consider myself a professional problem solver," Hanson said. "Failure is the name of the game. You can't be afraid of failure at all. You have to accept failure as a part of the learning experience."
Barry Adams covers regional news for the Wisconsin State Journal. Send him ideas for On Wisconsin at 608-252-6148 or by email at badams@madison.com.