An Onalaska woman caught with $60,000 worth of methamphetamine was sentenced Wednesday to three years in prison.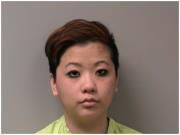 Sandy Xiong, 27, also will spend four years on extended supervision under the sentence issued by La Crosse County Judge Ramona Gonzalez.
Police arrested Xiong at a La Crosse hotel where she delivered about ¾ ounces of meth to a police informant on June 5, according to court documents. A search of her car and hotel room recovered a total of about 1½ pounds of the drug, along with a digital scale.
According to the complaint, investigators had been tipped off that Xiong was trafficking large amounts of meth to the area from Minnesota.
Xiong pleaded guilty in September to delivery of methamphetamine, and prosecutors dismissed a more serious charge of possession with intent to deliver more than 50 grams.
Assistant District Attorney John Kellis said Xiong was "a substantial" for-profit dealer.
"She was selling ounces at a time," Kellis said, adding that the nearly 682 grams she had when arrested was an even more egregious violation given the scourge of drugs on the community.
"A pound-and-a-half, your honor."
Kellis also said police had been tipped off that Xiong, who was free on bond, may have hidden drugs in her body in anticipation of being taken into custody, and investigators were waiting outside the courtroom to search her.
When given a chance to address the court, Xiong sobbed quietly until Gonzalez told her to go to the bathroom to wash her face and collect herself.
Xiong returned about eight minutes later and apologized for her crimes.
"I'm very sorry for what I did," she said. "I know I shouldn't have contributed to this ongoing problem."
Xiong, who was on probation at the time of her arrest for 2016 child abuse charge, said she wants to change and be a good mother. She asked for probation.
Gonzalez said the large amount of drugs and Xiong's pattern of bond violations since entering her plea compelled her to send Xiong to prison.
"There are certain things, Ms. Xiong, that you cannot just erase away," Gonzalez said.