Any desire to tweak the state's existing recall law following this month's historic gubernatorial election will likely have to wait until January; and even then, it's a long shot that Republicans and Democrats will find an agreeable middle ground.
The state's recall process — utilized 15 times in less than a year — has become an unpopular political tool for a substantial portion of the electorate. Exit polls in the June 5 election found 60 percent of Wisconsin voters said they believed the mechanism should be reserved for malfeasance or criminal activity.
Immediately following the election, which Gov. Scott Walker won easily, politicians from both sides expressed interest in addressing the law's shortcomings. But in the past few weeks, strident lines have formed.
Both Republicans and Democrats agree the aspect of the recall law that allows targets to raise unlimited amounts of campaign cash needs to be changed. But Republicans also say the law should also be limited to cases of criminal or unethical behavior.
And legislative leaders said this week that while there is momentum for change, there is little bipartisan agreement about exactly what to do, and when to do it.
"I think it's a good idea, but I don't see us coming back in before the next session to deal with it," said Senate Republican Leader Scott Fitzgerald, R-Juneau. "And even then, I wonder if this passion for changing that law will remain. These things tend to lose steam the farther you get away from them."
Wisconsin's recall law, added to the state constitution in 1926, is broadly written and does not require the targeted politician be convicted of a crime, or even accused of any form of malfeasance. Changing it would require altering the state's constitution, a move that takes approval in two consecutive legislative sessions and passage in a statewide referendum.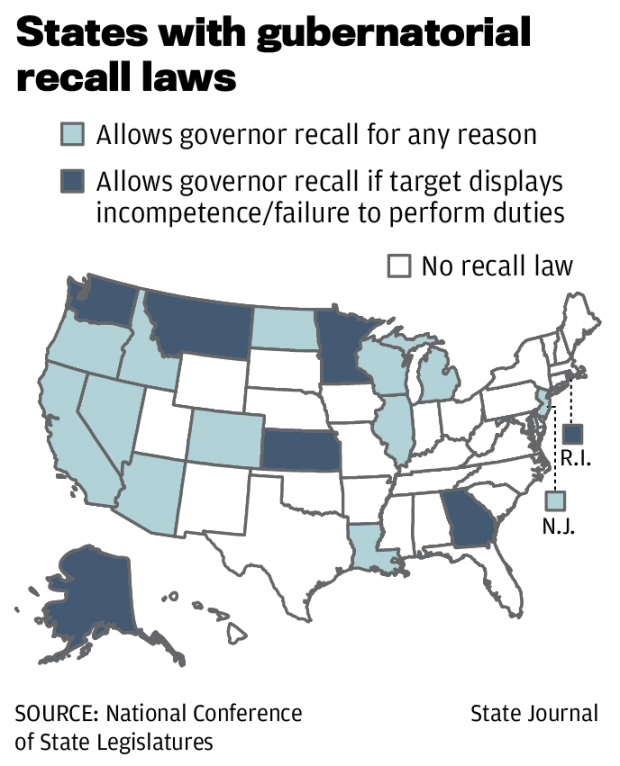 According to the National Conference of State Legislatures, 19 states allow statewide recalls, seven of which require that targets display "incompetence" or a "failure to perform duties," both of which are open for interpretation.
Wisconsin altered its law in the 1980s to allow incumbent targets raise unlimited amounts of campaign cash during a substantial portion of the recall effort. That change was prompted by former state Sen. Gary George, D-Milwaukee, who fought to lift contribution limits for state office holders facing recalls. George was facing a recall in 1987. He survived that attempt but was recalled in 2003 and convicted of receiving illegal kickbacks in 2004.
Wisconsin's law helped Walker stockpile more than $30 million, six times the amount raised by his recall opponent, Tom Barrett.
Members of both parties would like to scale back the unlimited fundraising aspect of the law, and Republicans want to allow recalls only in cases of criminal or unethical behavior. Democrats prefer not to limit its scope.
Assembly Minority Leader Peter Barca, D-Kenosha, said he has a hard time believing that limiting voters' rights would improve the law.
"I think we need to tread carefully in this area," he said. "You don't just change the constitution over something that happens in one tumultuous period."
Barca said he was open to discussing tweaks, but like Fitzgerald, he thinks any such discussion should, and would, occur in the next session.
"If we come back before the next session, it should be about jobs and only jobs," he said, echoing a theme mentioned by many prominent Democrats, including Senate Democratic Leader Mark Miller, D-Monona and Sen. Tim Cullen, D-Janesville.
State Rep. Robin Vos, R-Rochester, has authored a bill that would change the recall law to limit its use to crimes and malfeasance. Last week he said he was disappointed that Democrats do not seem willing to compromise on his proposal.
"I kept hearing how the governor's brat summit was just a photo op and that we needed to do something real," he said. "Well, here was something real in which both sides get something they want. And it looks like we will have to wait until next session to do anything."
But according to Jay Heck, the executive director of elections watchdog Common Cause Wisconsin who has argued for recall reform, waiting until the next session may not be a good idea for Democrats.
Currently Republicans control the governor's office and the Assembly. Democrats appear likely to control the Senate by one seat, pending a recount of Democrat John Lehman's recent recall victory over state Sen. Van Wanggaard, R-Racine.
The Legislature is not scheduled to go back into session until after the November elections. Heck said there is a good chance Republicans will take back control of the Senate then, which would diminish Democrats' negotiating power greatly.
"That approach may come back to bite them," he said.