One of south-central Wisconsin's most unusual residential properties is also Dane County's biggest bank-owned property, barely a dozen years after its former owner carved out a 23-acre private lake as a backyard amenity.
Used for fishing and water sports by the family and friends of Dan and Patricia Levine, the lake — at nearly nine football fields long and complete with trucked-in sand for two beaches — is now a key selling point for the 196-acre rural Oregon property at 6163 Oak Hollow Drive, which includes a single-family home of more than 8,000 square feet.
"The lake is the heartbeat of the property," said Tom Bunbury, CEO of Madison-based Bunbury & Associates Realtors, who was hired by Johnson Bank to sell the property. Listed at $3 million, it's assessed at more than $2 million.
"The house is gorgeous, and it's all very private. It's right near everything, but you've got your own little world," Bunbury added. "There's nothing like this in Dane County."
The home's price tag makes it the third most expensive residential listing in Dane County, bank-owned or not, with one of the largest homes on it, according to the South Central Wisconsin MLS, an online database for agent-represented listings.
Only 10 other listed properties boast bigger houses now, led by a 14,000-square-foot home in Cross Plains with an asking price of $2.35 million. The highest list price for a Dane County residential listing now is $3.29 million for a five-bedroom home on Lake Mendota.
Home well maintained
The Levines transferred ownership of their property to Johnson Bank on March 23, 2011, in a transaction known as a deed in lieu of foreclosure, according to records at the Dane County Register of Deeds. The state Department of Revenue, which records title transfers, also said the transfer type was a deed in lieu of foreclosure, and listed the value of the property conveyed at $3.6 million.
Dan Levine, 54, president of Universal Presentation Concepts, a Madison manufacturing company, did not return calls and an email seeking comment. He and his wife have continued living in the home, pending a sale, in exchange for supervising bank-paid maintenance at the property, Bunbury said.
"This is a unique situation because it was Levine who built and developed the place," Bunbury said. "He takes care of it like it's his own. He keeps it immaculate."
In a Capital Times story in November 2000, three months after the lake was finished, Levine, a former water-ski instructor, said the uproar and concerns then being expressed by his neighbors would quickly fade. He also described the residence he would soon start building on the property for his family — including a 17-year-old son, Loren, who was a nationally competitive wakeboard athlete — as his "dream home."
Deed in lieu of foreclosure
Greg Dombrowski, president of Racine-based Johnson Bank, declined to comment on Levine's mortgage deal, except to confirm the bank's ownership of the property and to stress that under the arrangement it was "never foreclosed on."
"It's complex," Dombrowski said. "I've got confidentiality issues."
Typically taking place after a mortgage default, a deed in lieu of foreclosure is a foreclosure alternative that comes to essentially the same end — the bank takes the property and the homeowner takes a credit hit. The former owner may or may not still owe the bank for any deficiency following the sale of the distressed property, depending on what's negotiated.
But generally, it's a faster and cheaper way for the bank to recover its collateral on a failing loan, eliminating the cost of taking a foreclosure case to court.
Bunbury estimated the former Levine property, in total, originally cost $5 million to $6 million.
"It's going to sell for literally pennies on the dollar," he said. "It isn't what it cost to build. It's what somebody will pay for it."
Photos show off home
The house itself, finished in 2005, is a three-bedroom, five-bath stunner, a one-story ranch in prairie/craftsman style, with a stone and wood exterior, floor-to-ceiling windows, gleaming wood floors and two fireplaces, along with a wet bar, wine cellar, gym, steam shower and sauna.
The house also has a deck, gazebo, outdoor hot tub, patio and a nearly 2,000-square-foot boathouse, which was built in 2000 at a cost of more than $200,000, according to township records.
"It's nicer than most of the houses I sell," Bunbury said about the boathouse. "You could live in it."
The bank wouldn't let the State Journal on the property for photos, but they are available online in real estate listings.
The property's oval-shaped private lake is a half-mile long by 480 feet wide, and sinks to a depth of 24 feet. An earthen berm created from the excavated material rings the lake, and a high-capacity well drawing from a deep aquifer originally filled it and still recirculates water through the lake with a system of pumps and continuously operating aerators.
Bunbury said it cost about $1.2 million to build the lake, which Levine stocked with sport fish.
"It's a very nice lake," town of Oregon assessor Andy Blomstrom said. "It's crystal clear, and it's full of trophy fish."
On the property's surrounding acreage, miles of walking paths and riding trails stretch, amid hunting preserves, forest and farm land, with perimeter fencing, no-trespassing signs and a locked front gate at the northern end, beyond which a private road leads to the house.
But only by looking back from the property's southern edge, along Judd Road, and from a few spots on Highway D to the east, can the home, in the northeast corner, be seen in the distance. The lake is not visible, except from overhead.
"You can walk around that whole property and the world can't get to it and can't see in," Bunbury said.
Three potential buyers
There are three potential "local and qualified" buyers for the property who are "circling and negotiating" offers, Bunbury said. "That's a long way from closing," he said. "I need to work with every one of them and find out how I can help connect the dots. You can get right to the closing and have somebody stub their toe (on some detail or concern) and they walk."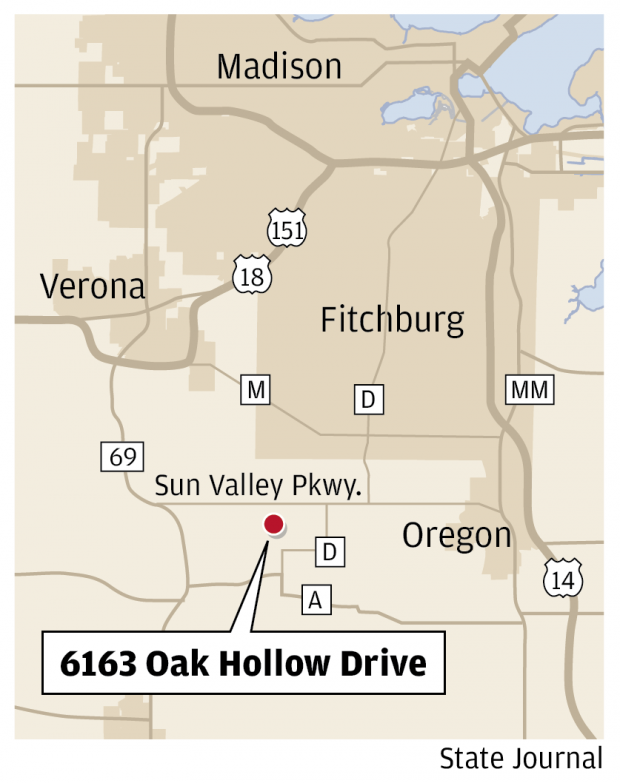 The bank has turned down some offers, said Bunbury, who took over the listing in May for the bank from another agent.
Regarded as an expert in moving high-end, distressed properties, Bunbury's last such jobs were a bank-owned home in Maple Bluff and a golf course in Dodgeville.
As the seller agent in such deals, Bunbury said his success depended on keeping three sides happy — the bank, the potential buyers and often the former property owner, whose cooperation may be needed for showings and other details.
"I have to get everybody to deal with me and be sure I don't inherit their fights," he said. "My job is to get everyone to the table, deal with them all as individuals, and have each of them feel they're leaving with some kind of prize."