When Sara Goldrick-Rab first began delving into college affordability for her graduate school research 15 years ago, she recalls, people said she was making too big a deal out of it.
"I was told as an academic to pick a more important topic," said Goldrick-Rab, a professor of educational policy studies and sociology at the University of Wisconsin-Madison.
College affordability is a really big deal now.
Costs and student debt have soared, and in the current recession-scarred economy, it's no wonder that the price of a college diploma has been pulled into the political fray.
With student loan debt at $1.2 trillion nationwide, congressional Democrats are pushing the issue of loan refinancing on the campaign trail this season against stonewalling Republican opponents.
And in the hotly contested gubernatorial race in Wisconsin, progressive commenters like Ruth Conniff of The Progressive and activists like Scot Ross of One Wisconsin Now are arguing that student loans should be a deciding issue in the Nov. 4 election.
Democratic challenger Mary Burke is making college affordability a pillar of her economic recovery plan, endorsing more state funding to higher education, enabling the refinancing of student loans, making student loan debt deductible on state income tax and increasing the deduction for tuition. Gov. Scott Walker froze tuition at University of Wisconsin System schools in 2013 following a partisan confrontation over institutional fund reserves, and allowed the Republican legislative leadership to snuff a bill that would have allowed for student loan refinancing.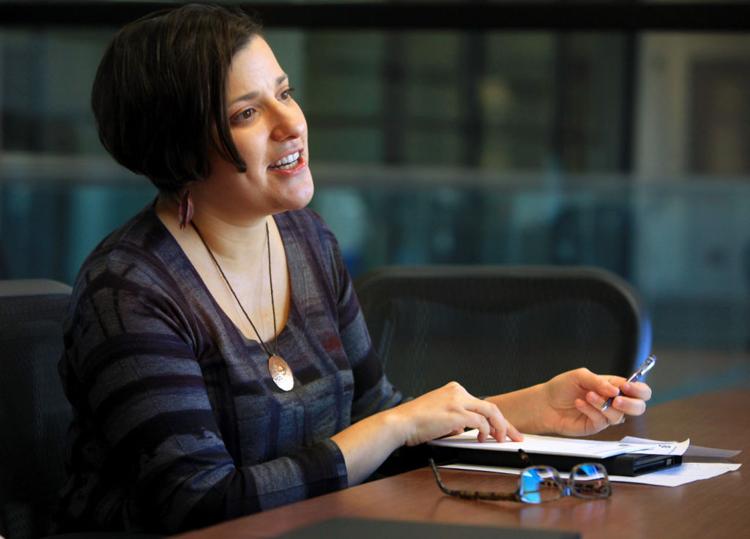 It was in this crucible that Goldrick-Rab in May launched the Wisconsin HOPE Lab, a research project at UW-Madison designed to test the efficacy of programs that aim to make college diplomas affordable for students and families.
Making it affordable to get to — and stay in — college is especially important to students who now are underrepresented there: low-income, first-generation and minority students.
"There are so many places where students are getting stuck today that look like academic things, but part of what's going on is you're working while you're going to school. So it's really about money," Goldrick-Rab said in an interview after a press conference earlier this month announcing the latest in some $6.5 million in gifts to support HOPE Lab research from Great Lakes Higher Education Guaranty Corporation.
"What I'm trying to do is parse these various pieces and how these constraints are affecting students and find ways to alleviate them," she said.
The HOPE Lab has a one-a-kind focus, says Julie Underwood, dean of the School of Education at UW-Madison. "People now are talking not just about access, but affordability – what it means for students to leave universities with debt that is like a mortgage on their careers."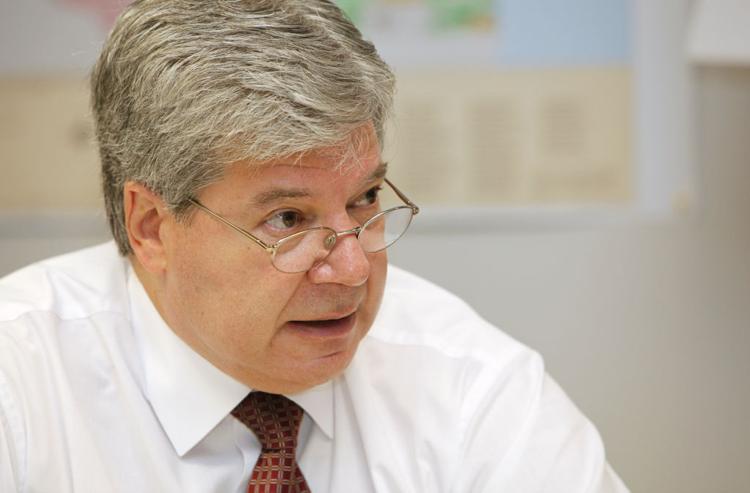 "It's perfect timing," says Nino Amato, a former member of the UW Board of Regents and president of the Wisconsin Technical College System board of directors, who now is president of the HOPE Lab's advisory board.
Amato says that with a new UW System president and new chancellors at UW-Madison and other campuses, the time is ripe to put to rest a long-standing cultural reluctance to scrutinizing costs.
"For too long, we didn't have to worry about the cost of education," Amato says. "Now, we need to create multiple tracks of public education and deliver it more cost effectively and with better outcomes."
Escalating college costs have changed the landscape of higher education. At UW-Madison, for example, the average annual cost of attendance – tuition, fees, books and living expenses — for state residents rose nearly 60 percent in a decade, from $15,256 in 2004-05 to $24,222 in 2013-14, the university reports. Average student loan debt for undergraduates also soared: from $17,528 in 2003-04 to $26,625 in 2012-13.
A recent report from Pew Research Center found that, nationally, twice as many students from high-income families are taking out college loans than did 20 years ago. And with that debt shadowing borrowers into their careers and sometimes into retirement, the issue affects a vast swath of the American public.
Loans, says Goldrick-Rab, have "changed the face of what going to college means for people. It used to be about pursuing your education – today it's totally tied up with a sense of risk."
The sense of risk spreading to more strata of society could galvanize voters to demand action, she says.
"If parents of first and second graders, like myself, took a look in their crystal ball at what is going to happen when these kids turn 18 and we haven't acted to make college affordable for everyone – they should be scared and they should take action," she says.
They can look at their voting decisions so when it's time for their kids to go to college, they can afford it and their neighbor can afford it, Goldrick-Rab says.
Those neighbors include not only the now-indebted middle and upper class, but also low-income students, more numerous and in tougher straits then most people realize, she says.
"We have homeless undergraduates at UW-Madison who sometimes are cast as if they just are not trying," she says. "People don't realize the barriers they face."
In interviews around the country, Goldrick-Rab heard from, for example, a Miami community college student who was confronted with the choice of taking a needed afternoon class or getting a spot in line for the homeless shelter.
Revelations about the extent of students living in poverty led the HOPE Lab to convene a workshop last spring on housing and food insecurity among Wisconsin undergraduates at Madison College's Truax Campus.
The HOPE Lab's mission of empowering students and their families is the reason Goldrick-Rab named her project Harvesting Opportunities for Postsecondary Education, to yield the acronym HOPE.
"There is so much negativity and fear out there about education," she says. "There is no hope. Hope is not about blind optimism, it's learned optimism so you can begin empowering yourself and work towards something better."
What distinguishes the HOPE Lab from other projects on college costs is its utilitarian focus, says Noel Radomski, director of the Wisconsin Center for the Advancement of Postsecondary Education (WISCAPE) at UW-Madison.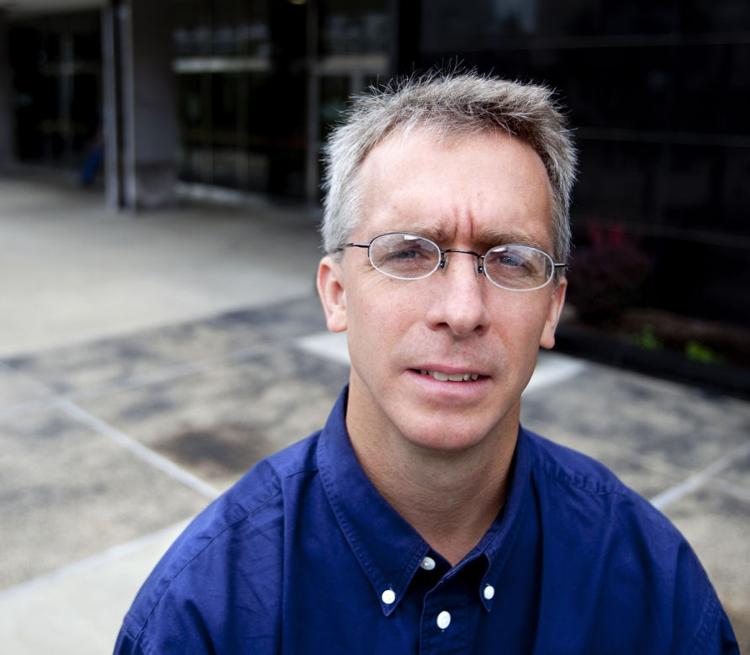 "Often we do research and publish it, and that's about it. Faculty talk to each other about it," Radomski says. "This research is aimed at helping students and families better understand college affordability and at helping institutions improve their strategies to address affordability. It has a lot of potential."
Students and families often are confused about the actual cost of attending college, Goldrick-Rab says, and assumptions made by institutions about what level of assistance students need add to it.
For example, college aid administrators may assume a student living at home is getting family assistance when the student really is working and contributing toward household costs to help the family get by, she says.
And if a grant puts a student over the level of aid that campus financial aid administrators have determined he needs, other forms of assistance are scaled back. Not to mention that all the pieces of a patchwork aid package that gets a student on campus may not be available in subsequent years to keep her there. Students end up confused over what amount of aid they can count on and lose trust in the system, Goldrick-Rab says.
The true effect of programs meant to assist students becomes even more difficult to divine when looking at how they may foster or erode the confidence that undergirds academic success.
For example, does housing students in shiny new dormitories change students' expectations of the kind of place they should live and how much money they need to go to school? To get at the answer, HOPE Lab now has ethnographers researching life at four Wisconsin campuses for two years to study how students' experiences are shaped by where they live and who they meet and how that affects their perception of whether school is affordable and they can swing it to come back for another year.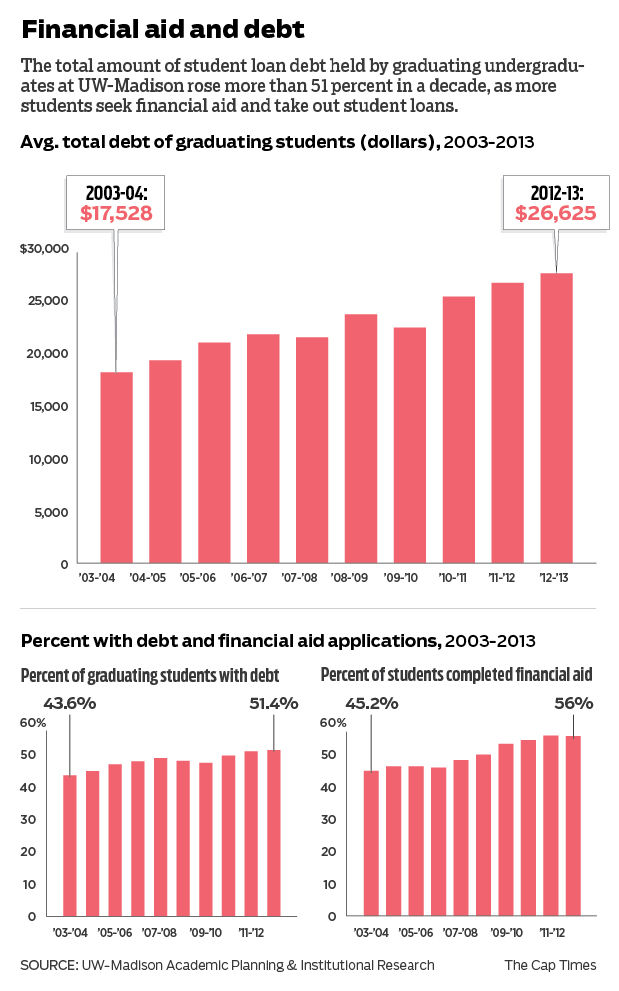 "Is it better to be a low-income student on a campus with a lot of resources or is it better to be where most other people don't have much either, so it feels normal? I get that question from families – and I don't know the answer," Goldrick-Rab says.
The nation's college financial aid system is complicated, broken in some places and built around an outdated idea of who students are, Goldrick-Rab says. And she is talking about it with people who work outside academia.
"Today's universities were created for a set of students who are in the minority today – students who get to go to school full-time and have mom and dad pay for it," she said in a discussion with billionaire Mark Cuban at the ASV+GSV education innovation summit in April, sponsored by Arizona State University. Today's typical student is what used to be known as "non-traditional," someone who has other time and financial obligations, she says.
"And we're asking these students to give up far too much income to pay for college, and the government has facilitated the colleges and universities in continuing to raise their prices every year – in the private sector that's what we see happening," Goldrick-Rab says.
Cuban, owner of the Dallas Mavericks and panelist on TV's "Shark Tank" program, also owns Copley Retention Systems, an education software company that hired the HOPE Lab to conduct a two-year evaluation on whether its products increase academic success.
Cuban has gotten a lot of media attention for his proposal to cap federal guarantees for student loan debt at $10,000 a year per student, a move he says will force colleges to curb spending and lower tuition.
Goldrick-Rab says she agrees that student loans are making education more expensive at some for-profit schools determined to capture the student loan revenue stream. That's not how public schools set tuition, she says.
"Costs at UW-Madison are not rising because of student loans," she says. "They are rising because the state is not putting in like it used to."
Goldrick-Rab says she makes it a point to talk about college affordability with people all along the spectrum of political philosophy.
"I have found thought partners wherever I can get them," she says. "I want my talk to be effective; therefore I have to talk to people who don't think like me. It is thought-provoking, it is eye-opening, it makes me a better scholar."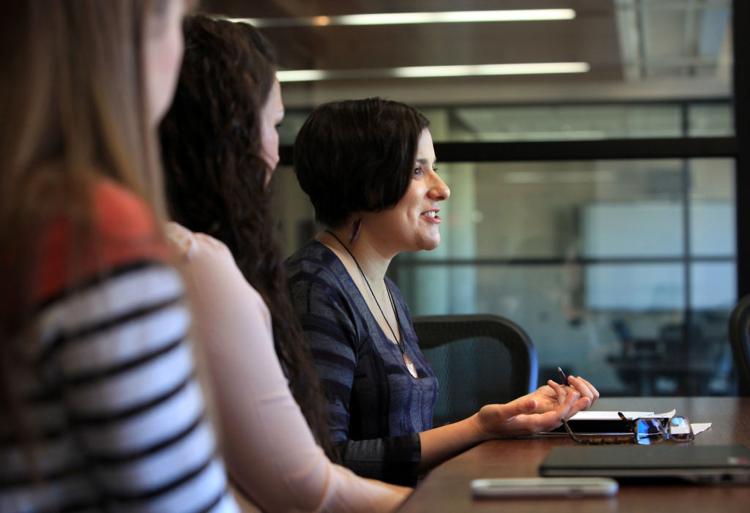 One thought partner is Andrew Kelly, director of the Center on Higher Education Reform at the conservative think tank American Enterprise Institute in Washington D.C., with whom Goldrick-Rab co-edited the book "Reinventing Financial Aid," published earlier this month.
The pair got acquainted in the "Working Group," a small, invitation-only discussion circle at AEI, Kelly recalls. They see the book – with new voices and strategies — as a response, in part, to a debate that too often is constrained to looking at ways to tweak existing programs. And most of the existing programs "are not backed up or informed by much research at all," Kelly says. Certainly not the kind of rigorous research he says is needed to guide policy-making, the kind that the HOPE Lab is designed to conduct.
"The HOPE Lab is trying to take on some of the research and development tasks on financial aid, student services and other aspects of higher education that have been neglected for way too long," he says.
Goldrick-Rab and he may differ on the implications of HOPE Lab studies, "but the notion that we should be doing rigorous research that allows us to infer things about the causal effect of different interventions is invaluable," he says.
Goldrick-Rab's take on college affordability, always quotable and on occasion radical – as in her proposal to make two years of post-high school education free to all at public institutions – has made her sought by popular media looking to represent the academic side of the college affordability debate.
Add to that requests for program evaluations from institutions and her input into policy-making, like the 2013 congressional testimony that helped shape U.S. Senator Tammy Baldwin's legislation to increase the amount students can earn before a financial aid package is cut.
Goldrick-Rab is in demand.
"For every phone call I take to talk about college affordability, I can't take two or three others," she says.
One benefit of the creating the HOPE Lab is that now she has a staff of five to assist in responding to all the requests, she said.
The lab has a number of funders, including the Kresge, Lumina and Bill and Melinda Gates foundations for specific projects, but the most significant funding so far has been from Great Lakes.
The Madison-based student loan servicing corporation gave Goldrick-Rab a five-year, $2.5 million grant to open the lab and up to $4 million in funding for scholarships to eligible students whose academic careers would be studied by the HOPE Lab.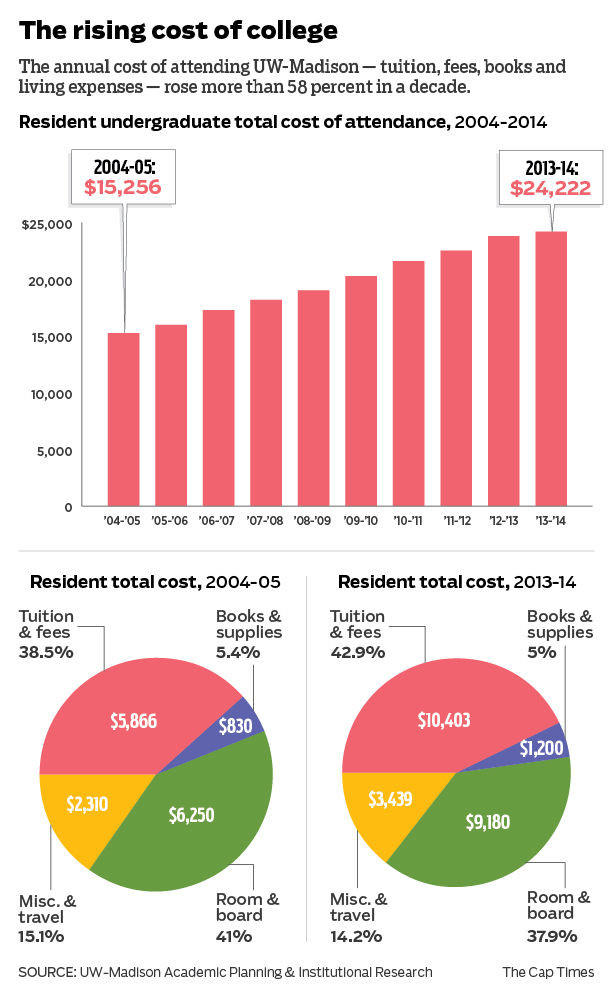 Great Lakes is committed to helping students prepare for college and, for those who enroll, completing their degrees, says Amy Kerwin, vice president of community investments for Great Lakes.
"Sara is in tune with the challenges, especially of low-income, first generation and students of color," Kerwin says. "By making this gift we hope to provide a foundation to do the vetting of projects, because our goal is not to fund the same kinds of projects year after year. To make significant impact, we need researchers to find which programs really work so we can move to the next step to scale funding for proven approaches."
Rolf Wegenke is among those stung by Goldrick-Rab's proposal for two free years of education for all high school graduates, because it would be funded in part by cutting off federal funding to private colleges and universities.
That would subsidize higher income students while taking subsidies away from the low-income students attending private schools, says Wegenke, president of the Wisconsin Association of Independent Colleges and Universities. Even though data shows that private schools use comprehensive financial aid packages to educate proportionately more low-income and minority students with better outcomes than public schools, he says.
"From the students' point of view, and from the point of view of elected officials, and in plain common sense, this does not make sense," Wegenke says.
While the HOPE Lab's mission is a needed one, implementing the findings of research through change-averse political and education institutions is another matter, he says.
"It shouldn't be a zero-sum game," Wegenke says. But the politicizing of college affordability has raised the risk that "we'll turn on each other and lose sight of the fact that this is all about the students, their aspirations and dreams."
College affordability is not a partisan issue, Goldrick-Rab insists. Although it is an issue where few people manage to be dispassionate, she acknowledges. That includes her.
"My grandfather went to college on the GI Bill — this is very personal for me," Goldrick-Rab says. Events have conspired to make now the time to delve into the causes and consequences of college affordability, but even if they had not, "I'd still be talking passionately about it."