A replay of the University of Wisconsin football team's wild season.
---
No. 12 Badgers 26,
Northern Iowa 21
Sept. 1, Camp Randall Stadium
>> Review complete gameday coverage
BADGERS' RECORD: 1-0
PREGAME BUZZ: Danny O'Brien's first snaps at Transfer QB U. The debut of six new assistant coaches, including offensive coordinator Matt Canada, who only had to replace a beloved play-caller in Paul Chryst, who helped the Badgers produce a combined 1,157 points the previous two seasons. No pressure, Matt.
WHAT WE WITNESSED: The No. 12 Badgers built a 19-0 lead early in the third quarter and appeared to be on their way to a predictable rout over a Football Championship Subdivision opponent. By the time it was over, a collective sigh of relief could be heard at Camp Randall after UW needed a big stop on a fourth-and-1 play from the Badgers' 41-yard line with 2:46 left in the game.
WATER-COOLER CHATTER: Wait, that was really Iowa out there and not Northern Iowa, right? At least O'Brien looked Russell Wilson-esque. Unfortunately, the defense looked Brian Wilson-esque: It started off with some big hits only to end up angry and confused, just like the Beach Boys' leader.
QUOTABLE: "To me, we get a lot better out of this than a 42-0 blowout," UW coach Bret Bielema said. "I don't see what that gets. I know our fans, it kept them in their seats."
BY THE NUMBERS: 32 — rushing attempts for senior Montee Ball, who finished with 125 yards and a touchdown just one month after he suffered a concussion while being beaten by several men after a night out on campus.
---
Oregon State 10,
No. 13 Badgers 7
Sept. 8, Corvallis, Ore.
>> Review complete gameday coverage
BADGERS' RECORD: 1-1
PREGAME BUZZ: Film-gate: Bret Bielema not only refuses to send game film to the Beavers, whose opener was postponed because of Hurricane Isaac, he spreads word around the Big Ten that any UW footage should be kept out of Oregon State's hands.
WHAT WE WITNESSED: Not many fireworks from a once-prolific offense, that's for sure. The Badgers, who lost star wide receiver Jared Abbrederis to a concussion in the second quarter, didn't score the first 58:29 of the game, produced only 207 total yards and went 2 of 14 on third down. UW still had a chance to steal a victory after recovering an onsides kick late in the game, but the play was overturned on review, leaving Bielema angry but biting his tongue afterward. As it turned out, Oregon State was a pretty good team, though nobody knew it at the time.
WATER-COOLER CHATTER: Hurry back, Jared. Maybe we jumped the gun on Danny O'Brien. Montee Ball's chances of winning the Heisman Trophy are kaput if this offensive line doesn't start opening up holes.
QUOTABLE: "This team obviously wasn't better than us," UW junior defensive end David Gilbert said. "They beat us, but they scored a field goal and a touchdown. ... We're obviously disappointed to be so close to a comeback. It's a game that shouldn't have been that close in the first place."
BY THE NUMBERS: 35 — net rushing yards for UW, its lowest total since finishing with 12 against Ohio State on Nov. 3, 2007.
---

Badgers 16, Utah State 14
Sept. 15, Camp Randall Stadium
>> Review complete gameday coverage
BADGERS' RECORD: 2-1
PREGAME BUZZ: Bret Bielema sends offensive line coach Mike Markuson packing after two games and replaces him with 27-year-old graduate assistant Bart Miller. The glass-is-half-full view: Miller is a Bob Bostad disciple. The glass-is-half-empty view: Miller is two years removed from a front office job with the NHL's Chicago Blackhawks.
WHAT WE WITNESSED: After the Badgers got booed off the field at halftime, Bielema pulled off his second stunner of the week by benching turnover-prone quarterback Danny O'Brien in favor of redshirt freshman Joel Stave. UW got a spark from an unlikely source: sophomore Kenzel Doe, whose 82-yard punt return for a touchdown began the Badgers' climb out of a 14-3 hole. The victory wasn't assured until Utah State's Josh Thompson missed a 37-yard field goal with 6 seconds remaining.
WATER-COOLER CHATTER: When did Bielema morph into Captain Hook? Besides the issues at quarterback and offensive line, no depth at wide receiver and a missing-in-action tight end corps, the offense looks just fine.
QUOTABLE: "It's been a difficult week," Bielema said. "We try to make it as positive as we can. I just told the group, I knew it wasn't going to change overnight."
BY THE NUMBERS: 4 — false-start penalties called on UW in the first half.
---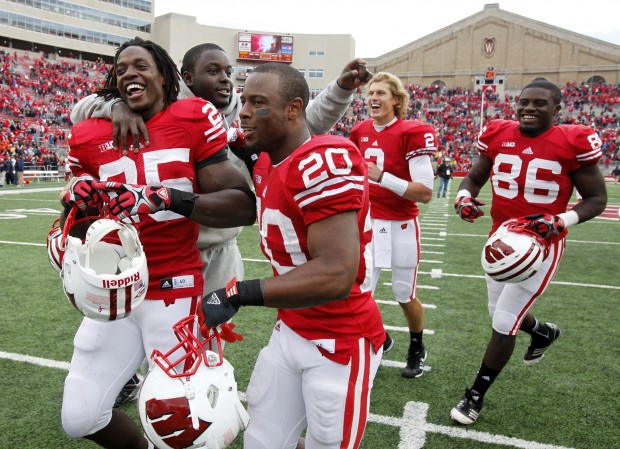 Badgers 37, Texas-El Paso 26
Sept. 22, Camp Randall Stadium
>> Review complete gameday coverage
BADGERS' RECORD: 3-1
PREGAME BUZZ: The choice for starting quarterback is in, and it's Joel Stave. Danny O'Brien, we hardly knew ye. Jared Abbrederis is back from a concussion to save the day.
WHAT WE WITNESSED: Montee Ball got knocked out of the game in the second quarter with a concussion, but James White and redshirt freshman Melvin Gordon came to the rescue. The former scored two touchdowns, while the latter burst onto the scene with a career-high 112 yards. Abbrederis added a career-high 147 receiving yards for UW, which was clinging to a four-point lead in the fourth quarter until White and Gordon scored 15 seconds apart with just over 3 minutes left to ice the game.
WATER-COOLER CHATTER: The future at the tailback position looks bright. This team isn't very good, but the Badgers have a chance because the Big Ten Conference is awful.
QUOTABLE: "I think we're making it a little too close," Abbrederis said. "I think we've got to do a better job, just keeping the pedal to the metal throughout all four quarters so we don't make games close."
BY THE NUMBERS: 4 — rushing touchdowns for UW, twice as many as it had in the first three games combined.
---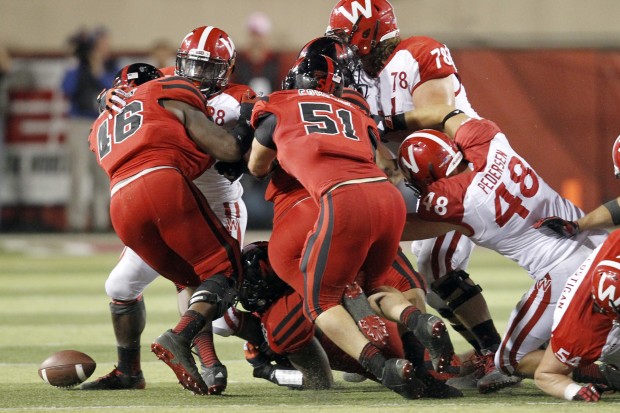 No. 22 Nebraska 30, Badgers 27
Sept. 29, Lincoln, Neb.
>> Review complete gameday coverage
BADGERS' RECORD: 3-2 (0-1 Big Ten)
PREGAME BUZZ: UW's first trip to Lincoln in nearly 40 years. Alternate uniforms presented by adidas: hip or an eyesore? Badgers defensive end David Gilbert provides bulletin-board material for the Cornhuskers by saying quarterback Taylor Martinez is soft and throws like he's skipping rocks. The view from Nebraska: Even though our fans didn't get treated very well last year at Camp Randall Stadium, we're going to treat you nice. Because we're nice. Nebraska nice. Hey, did you hear we're nice?
WHAT WE WITNESSED: UW raced out to a 20-3 lead early in the second quarter and led 27-10 after Montee Ball's third touchdown of the game early in the second half. But the Badgers were held scoreless the rest of the way, while Nebraska, led by Martinez, scored on four consecutive drives to take a three-point lead. UW still had a chance, but Bret Bielema inexplicably turned to Danny O'Brien to run the two-minute offense late in the game and the ice-cold transfer quarterback tried to hand off to Ball when the play called was a naked bootleg. Fumble, game over.
WATER-COOLER CHATTER: Bielema goes through quarterbacks like Larry King goes through wives. Houdini would have been proud of that disappearing act by the UW offense.
QUOTABLE: "I wasn't looking at the handoff at all," Ball said of UW's final play. "I'm looking to dive over the pile to make a great fake, and apparently the ball was in my hands."
BY THE NUMBERS: 90 — total yards for UW's offense in the second half.
---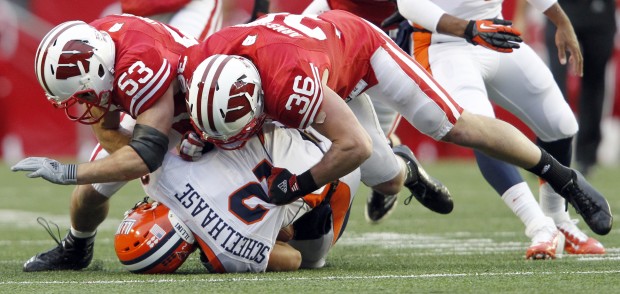 Badgers 31, Illinois 14
Oct. 6, Camp Randall Stadium
>> Review complete gameday coverage
BADGERS' RECORD: 4-2 (1-1 Big Ten)
PREGAME BUZZ: Bret Bielema can tell new Illinois coach Tim Beckman a thing or two about being the most despised man in the Big Ten. UW fans look forward to a week where only one UW quarterback will be playing.
WHAT WE WITNESSED: A cameo by fifth-year senior quarterback Curt Phillips in the second quarter that bombed. But some positive developments, to be sure: A 46-yard field goal by struggling sophomore Kyle French, a solid performance from the defense and a fourth-quarter explosion by the offense that included three touchdowns. And last, but not least, a third consecutive 100-yard receiving day by Jared Abbrederis, making him the first person since Lee Evans in 2001 to accomplish that feat.
WATER-COOLER CHATTER: Having three talented tailbacks is not something to complain about, though getting adequate touches for Montee Ball, James White and Melvin Gordon without interrupting anyone's rhythm is a challenge. A feel-good victory, for sure, assuming you ignore the fact that it was Illinois on the other sideline.
QUOTABLE: "Our defense has played well," Badgers fullback Derek Watt said. "They played really well (against Illinois). They kept us in it. They really sparked the offense and we appreciate it."
BY THE NUMBERS: 194 — passes attempted by UW opponents on the season before the Badgers registered their first interception, a pick by senior Devin Smith in the second quarter.
---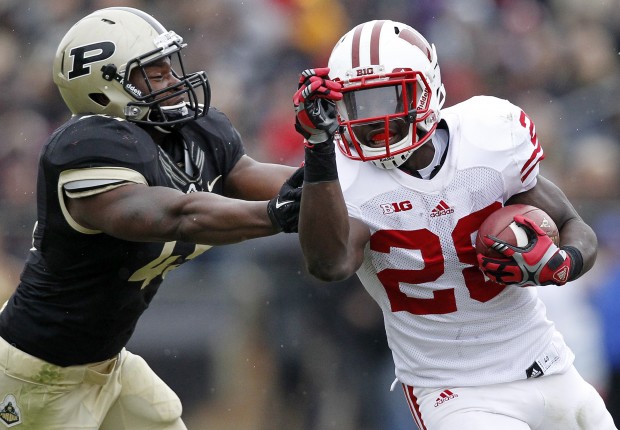 Badgers 38, Purdue 14
Oct. 13, West Lafayette, Ind.
>> Review complete gameday coverage
BADGERS' RECORD: 5-2 (2-1 Big Ten)
PREGAME BUZZ: If a game between two teams who are a combined 7-4 can be described as big, this one is because the winner will be in the driver's seat on the road to Indy.
WHAT WE WITNESSED: Big numbers galore by the UW offense, which took out its frustrations on the Boilermakers. Montee Ball rushed for a career-high 247 yards and three touchdowns, and UW gained 467 on the ground and 645 overall, the second-most in school history. The defense wasn't too shabby, either: take away two long touchdowns, one of which was in garbage time, and UW allowed 119 total yards on 57 plays. Purdue fans, who had seen enough to know their team's losing streak to UW was going to reach seven games, were heading to the exits by halftime.
WATER-COOLER CHATTER: Finally, the smashmouth performance we've been waiting to see. Ball looked like the 2011 version, and more important, so did the offensive line. Never mind the fact that Michigan did the same thing to Purdue's defense the previous week. Wait, did Ball's dad call him MON-tee, not mon-TAY, in a TV interview from the stands?
QUOTABLE: "About time," Ball said. "About time I woke up."
BY THE NUMBERS: 15 — years since UW had one player rush for 200 yards and another rush for 100 yards in the same game.
---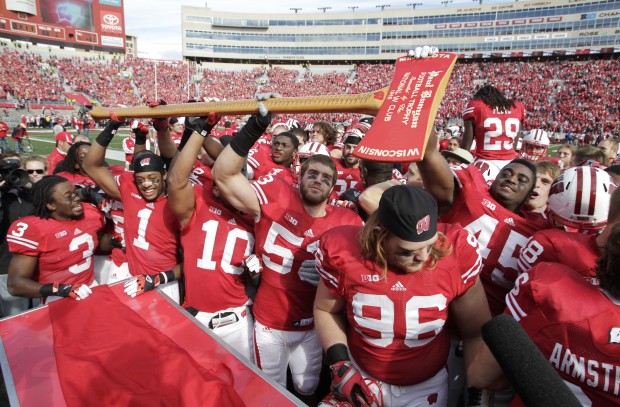 Badgers 38, Minnesota 13
Oct. 20, Camp Randall Stadium
>> Review complete gameday coverage
BADGERS' RECORD: 6-2 (3-1 Big Ten)
PREGAME BUZZ: When can a rivalry no longer be called a rivalry? When one team has won eight straight games — and 15 of the last 17 — in the series. As if things couldn't get worse for the Golden Gophers, their coach, Jerry Kill, was hospitalized after suffering a seizure in the locker room after a loss to Northwestern.
WHAT WE WITNESSED: The latest one-sided affair in the battle for Paul Bunyan's Axe. James White rushed for 175 yards and three touchdowns and Montee Ball rushed for 166 yards and two touchdowns. But the biggest news of the day is UW unveiling its version of the "Wildcat," with White at quarterback in a formation that includes seven offensive linemen and two tight ends. With a combined weight of 3,173 pounds, it's fittingly named "Barge." If there was a silver lining for the Gophers, it was the solid debut of true freshman quarterback Phillip Nelson, who grew up in Sun Prairie.
WATER-COOLER CHATTER: Love "Barge," but why not show that look when the struggling offense really needed it — like, say, against Nebraska?
QUOTABLE: "At Wisconsin, we have a lot of big people," Badgers coach Bret Bielema said. "And that got quite a few of them out there. ... Cut out the pretty guys, no wide receivers or quarterbacks."
BY THE NUMBERS: 3 — consecutive games in which Minnesota has failed to take a lead on the Badgers, who haven't trailed the Gophers over a span of 199 minutes, 33 seconds — since the third quarter of the Badgers' 31-28 win in Minneapolis on Oct. 3, 2009.
---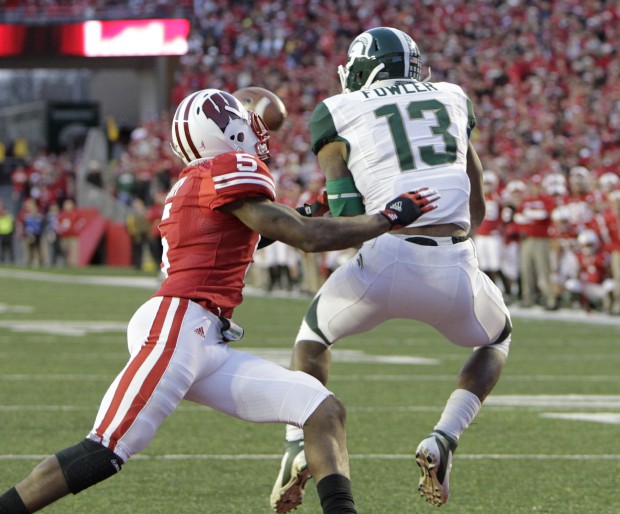 Michigan State 16, Badgers 13 (OT)
Oct. 27, Camp Randall Stadium
>> Review complete gameday coverage
BADGERS' RECORD: 6-3 (3-2 Big Ten)
PREGAME BUZZ: After flexing its muscles against three weak opponents, UW has to go up against an actual defense. A chance at some measure of revenge for the Spartans, whose path to Pasadena was blocked by the Badgers in the 2011 Big Ten title game.
WHAT WE WITNESSED: The end of UW's 21-game home winning streak — and that was the second-worst thing to happen to the Badgers on the day. Even more awful was a broken collarbone suffered by Joel Stave, ending the redshirt freshman quarterback's regular season just as he was getting in a groove. Stave had a 208.8 pass efficiency rating when he was sacked on the first play from scrimmage in the third quarter by Spartans defensive end William Gholston, who finished with 4½ of Michigan State's 12 tackles for loss. UW ran 26 plays for 147 yards before Stave was injured and 43 yards on 33 plays after he was replaced by Danny O'Brien. The Badgers' defense was brilliant until giving up a game-tying touchdown late in regulation and the winning score in overtime.
WATER-COOLER CHATTER: It's three steps forward, one giant step back for UW's offensive line. Who could have imagined a scenario in August where a season-ending injury to Stave would be so devastating?
QUOTABLE: "It was everything we wanted — a good, tough, competitive game, hard-fought," UW linebacker Ethan Armstrong said. "It came down to the end. It was what we were looking for. We just need to execute better."
BY THE NUMBERS: 40 — consecutive home wins for UW against unranked opponents heading into the game, a streak that dated to a 20-10 loss to Iowa on Nov. 12, 2005, in the last game Barry Alvarez coached at Camp Randall Stadium.
---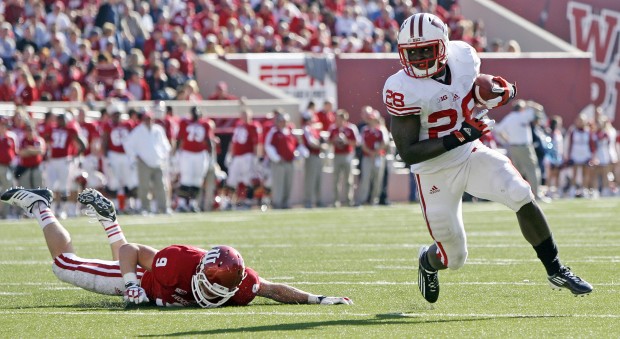 Badgers 62, Indiana 14
Nov. 10, Bloomington, Ind.
>> Review complete gameday coverage
BADGERS' RECORD: 7-3 (4-2 Big Ten)
PREGAME BUZZ: UW turns to Curt Phillips, its third starting quarterback of the season. A perfect scenario to sum up a wacky year in the Big Ten: Indiana, two weeks removed from ending an 11-game losing streak in league play, has a chance to represent the Leaders Division in the title game.
WHAT WE WITNESSED: History. The Badgers rushed for a school-record 564 yards, including 198 and three touchdowns for Montee Ball and 161 and two touchdowns for James White. UW scored on seven consecutive possessions — including six touchdowns — during a stretch of dominance that began with White scoring on a 69-yard run with 13 seconds left until halftime even though the Badgers seemed content with running out the clock.
WATER-COOLER CHATTER: Remember to write the Big Ten office a thank-you note for putting Illinois, Indiana and Purdue in the same division and making Minnesota the crossover rival. How to handle the last two games of the season: Put everything on the table and play to win, or keep it vanilla until the title game?
QUOTABLE: "They ran phenomenally well," Indiana coach Kevin Wilson said. "We didn't play good D, we didn't play good O, we just kind of got spanked."
BY THE NUMBERS: 2,248 — rushing yards for UW in its last six games against Indiana, an average of 374.7 per game.
---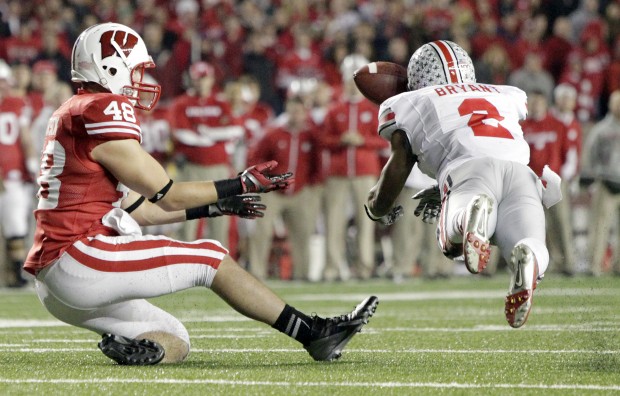 No. 6 Ohio State 21, Badgers 14 (OT)
Nov. 17, Camp Randall Stadium
>> Review complete gameday coverage
BADGERS' RECORD: 7-4 (4-3 Big Ten)
PREGAME BUZZ: Bret Bielema vs. Urban Meyer. The former welcomed the latter to the league by publicly questioning his recruiting tactics. Buckeyes wide receiver Corey Brown raises eyebrows when he says he hates UW as much as Michigan, further proof of how far the Badgers have come over the years. Montee Ball so close to the NCAA career touchdowns record he can taste it, setting the stage for what could be a Ron Dayne-like Senior Day.
WHAT WE WITNESSED: Ball rushed for 191 yards, the most against Ohio State since 2002, and tied Travis Prentice with his 78th career touchdown midway through the second quarter. Curt Phillips showed poise by leading UW on a drive that ended with him finding tight end Jacob Pedersen for a 5-yard scoring pass with 8 seconds left to force overtime. An outstanding performance by the UW defense — until overtime. The Badgers held Ohio State star quarterback Braxton Miller to his worst performance of the season, but the unbeaten Buckeyes needed just four plays to score a touchdown in overtime and UW couldn't match it.
WATER-COOLER CHATTER: The Badgers are the classic bully: They steal the little kids' lunch money but can't handle someone their own size. If it wasn't already clear, Meyer's Buckeyes are going to be a pain in UW's rear end for years.
QUOTABLE: "We took care of our business and didn't get in trouble to where we could go play in the game," Phillips said of criticism that the Badgers don't belong in the Big Ten title game. "So we'll make the most of that. The talk doesn't really bother me."
BY THE NUMBERS: 16 — yards of the longest punt return allowed by UW this season until Brown returned one 68 yards for a score late in the first quarter.
---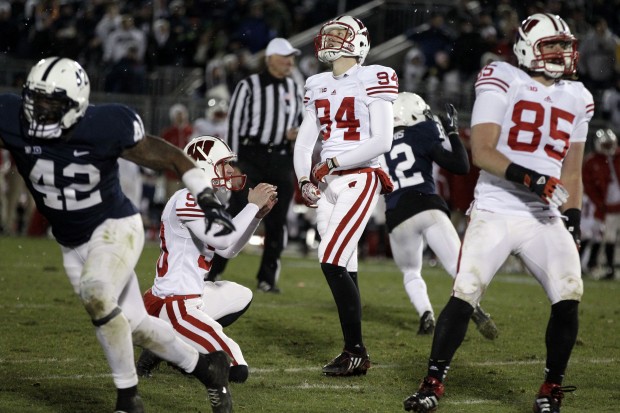 Penn State 24, Badgers 21
Nov. 24, State College, Pa.
>> Review complete gameday coverage
BADGERS' RECORD: 7-5 (4-4 Big Ten)
PREGAME BUZZ: The closest thing to a bowl game for the ineligible Nittany Lions. An emotional Senior Day for a Penn State group that stuck around despite punishment for massive NCAA violations and the unwanted attention created by the Jerry Sandusky scandal. A chance for UW to avoid finishing in third place in the Leaders Division.
WHAT WE WITNESSED: A Jekyll-and-Hyde Badgers offense that scored on its first two possessions of the game — including Montee Ball breaking the NCAA career touchdown record with a 17-yard run around the right side for his 79th trip to the end zone — but then went dormant until the fourth quarter. Another clutch late-game performance from Curt Phillips, who this time found wide receiver Jeff Duckworth for a 4-yard touchdown pass with 18 seconds left in regulation to force overtime. Another overtime loss after Kyle French missed a 44-yard field goal attempt that would have forced a second extra period.
WATER-COOLER CHATTER: Melvin Gordon scores on a 57-yard touchdown pass on the opening possession of the game and doesn't touch the ball again until the final series of regulation? No excuses for that one, coach Bret Bielema and offensive coordinator Matt Canada. How many different ways can a team get punched in the gut during a season?
QUOTABLE: "It's kind of like (by) default," Ball said of UW's impending trip to the Big Ten title game. "It's most definitely not the way we wanted it. So we'll have that little asterisk next to our name."
BY THE NUMBERS: 179 — rushing yards for Penn State's Zach Zwinak, the most by a UW opponent since Iowa's Shonn Greene had 217 on Oct. 18, 2008.
---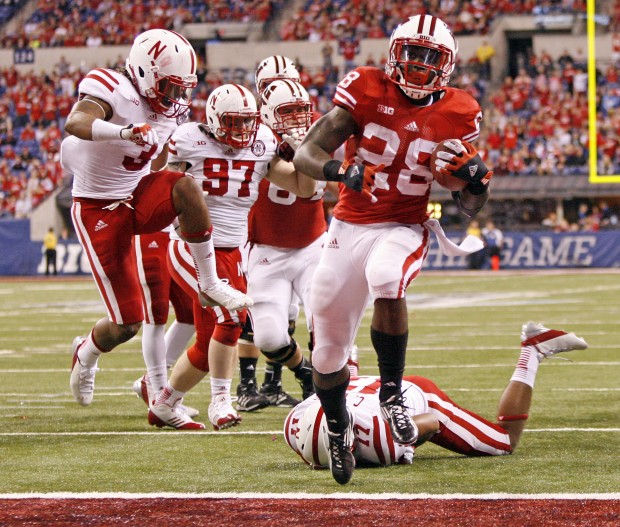 Big Ten Championship:
Badgers 70, No. 12 Nebraska 31
Dec. 1, Indianapolis
>> Review complete gameday coverage
BADGERS' RECORD: 8-5
PREGAME BUZZ: A clean slate for UW and plenty of bulletin-board material from critics who said the Badgers didn't deserve to be in Indy. Plus, a vulnerable opponent in Nebraska that lost two of its key players the previous week against Iowa.
WHAT WE WITNESSED: A performance that left you wondering if it was really happening. The Badgers had three players rush for over 100 yards — Melvin Gordon with 216, Montee Ball with 202 and James White with 109 — and finished with 539 total rushing yards at 10.8 per attempt. White scored four touchdowns and threw for another. Senior cornerback Marcus Cromartie set the tone early with an interception return for a touchdown, and the defense recovered from a breathtaking, 76-yard touchdown run by Nebraska quarterback Taylor Martinez. It was 42-10 by halftime and 63-17 after three quarters. It was, simply put, an amazing performance by the Badgers.
WATER-COOLER CHATTER: Where was this creativity on offense when UW needed it against other quality opponents? Great job by coach Bret Bielema getting UW to another Rose Bowl; now, if he could just win one. If only Barry Alvarez could pass along some of his Pasadena magic …
QUOTABLE: "It was one problem after another," Nebraska coach Bo Pelini said. "I've never been part of a game like that as a coach."
BY THE NUMBERS: 19 — rushing touchdowns for UW in the three games it played in Indiana during the 2012 season.