Tracking Scott Walker
Walker tells reporters that then-Secretary Mike Huebsch was just doing his job when he pushed for a $500,000 loan that was never repaid.
Jail mug shots
A Monroe motorcyclist was killed Wednesday night when he crashed head-on into a car in the town of Montrose.
Phil Hands' cartoons
Guest columns
The national unemployment rate ticked down slightly to 5.4 percent in April — a rate not seen since May 2008 — the U.S. Bureau of Labor Statistics recently reported. While this is welcome news, government statistics mask economic troubles tha…
Pages from history
Search our archives
More pages from history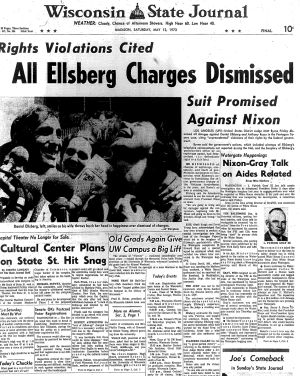 In 1973, a U.S. District judge dismissed all charges against Daniel Ellsberg, the military analyst who released the Pentagon Papers, citing government misconduct.
Simply enter the phone number and zip code associated with your subscription to get unlimited access to all madison.com digital products.