Blog: On Politics
At issue
Four candidates, including incumbent U.S. Rep. Paul Ryan, are running for the 1st Congressional District seat.
Jail mug shots
In an opening statement Monday, the lawyer for Kristen Smith, 31, said that the father of newborn Kayden Powell told Smith she could take the baby back to Colorado with her because the boy's parents would be following him out to Colorado in a…
Badgers
Brewers
Outdoors
Packers
PrepZone
WIAC
Tampa Bay took a 2-1 lead in the sixth when James Loney drove in two with a two-out, bases-loaded single off  Lohse, who gave up two runs and four hits over six innings.
Phil Hands' cartoons
Guest columns
Busloads of unaccompanied migrant children arriving at processing centers across the country have been met with open arms in some communities and blocked by protesters in others, a reflection of the still bitter debate over our nation's immig…
Pages from history
Search our archives
More pages from history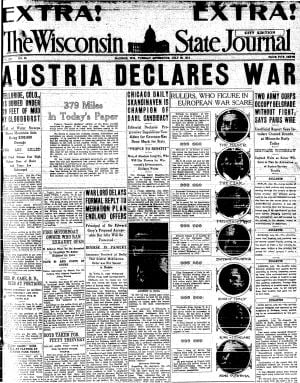 In 1914, one month after Archduke Franz Ferdinand, heir to the throne of Austria-Hungary, was killed by a Serbian nationalist, Austria-Hungary declares war on Serbia, thus beginning the First World War.

Vote! Today's poll
Loading…
Which UW sport are you most excited for in the coming school year?
E-mail and phone numbers for staff members