Blog: On Politics
At issue
Wisconsin lost 4,600 jobs in August, putting total job creation since December 2010 at just over 100,000.
Jail mug shots
Cheryl M. Notz, 69, of Warren, Missouri, died as a result of the crash, authorities said.
Badgers
Brewers
Outdoors
Packers
PrepZone
WIAC
The latest 59-question exercise for football season ticket-holders generated just more than 2,000 responses — there are 13,883 total accounts — and provided insight into a wide variety of game day topics.
Phil Hands' cartoons
Guest columns
The United States and its allies have been very thorough since the 9/11 attacks at waging war to root out radical jihadists. But they've done a lousy job at fighting the ideological war — that is, the effort to win the hearts and minds of tho…
Pages from history
Search our archives
More pages from history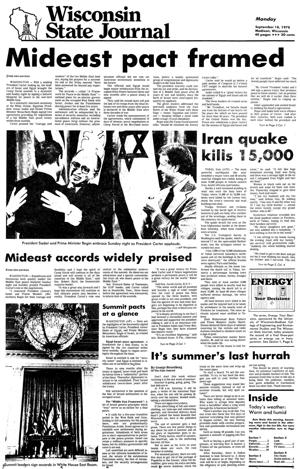 In 1978, after thirteen days of secret negotiations at President Jimmy Carter's Camp David retreat in Maryland, Egyptian President Anwar el-Sadat and Israeli Prime Minister Menachem Begin sign the Camp David Accords, laying the groundwork for…

Vote! Today's poll
Loading…
With Wisconsin's Voter ID law now in effect for this fall, how will it affect the election?