Tracking Scott Walker
Three billionaires are the top contributors to a super PAC aligned with Gov. Scott Walker's presidential campaign.
Jail mug shots
Madison police arrested two men Thursday after a crime spree in the Langdon Street area, a department spokeswoman said.
Phil Hands' cartoons
Guest columns
Confronting reality is not always a pleasant experience, but it is always a useful one. The covertly recorded videos of Planned Parenthood officials are a reminder that destroying fetuses is an ugly process with fatal results.
Pages from history
Search our archives
More pages from history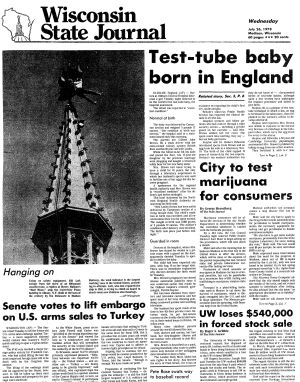 In 1978, the world's first test-tube baby, Louise Joy Brown of England, was born using the process of in vitro fertilization.
Simply enter the phone number and zip code associated with your subscription to get unlimited access to all madison.com digital products.

Keep tabs on the latest developments as Gov. Scott Walker vies for the 2016 GOP presidential nomination.
Vote! Today's poll
Loading…
With Scott Walker now an official presidential candidate, how far will he go?