Jail mug shots
A Janesville man stopped by law enforcement Monday morning was taken into custody for his alleged fourth drunken driving offense.
Badgers
Packers
Brewers
PrepZone
Outdoors
WIAC
New Craig falls two spots to No. 3 in Division 1 and Ithaca drops three spots to No. 4 in Division 4; Jefferson and Riverdale keep the No. 3 rankings in Divisions 2 and 3.
Pages from history
Search our archives
More pages from history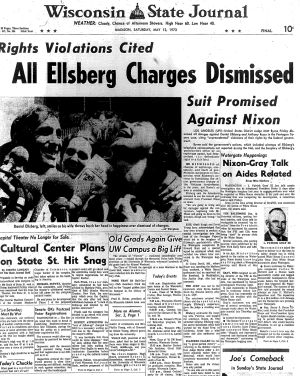 In 1973, a U.S. District judge dismissed all charges against Daniel Ellsberg, the military analyst who released the Pentagon Papers, citing government misconduct.
Simply enter the phone number and zip code associated with your subscription to get unlimited access to all madison.com digital products.

Vote! Today's poll
Loading…
Are you planning on attending Brat Fest at all this weekend?