Gov. Scott Walker will announce his candidacy for president on July 13, according to a political aide.
Tracking Scott Walker
New The Wisconsin Legislature's joint finance panel was set to meet Thursday to begin a final flourish of activity on the next state budget.
Jail mug shots
Two people seemingly unconcerned about a supposed disturbance outside an East Side apartment were arrested by Madison police, one for allegedly causing the disturbance, the other for allegedly trying to run away.
Pages from history
Search our archives
More pages from history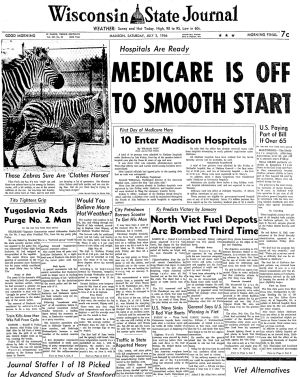 In 1966, the federally insured system of paying hospital bills for all Americans over 65, and the most sweeping extension of Social Security in 30 years, is off to a smooth start.
Simply enter the phone number and zip code associated with your subscription to get unlimited access to all madison.com digital products.

Vote! Today's poll
Loading…
How will Scott Walker fare in the Iowa caucus?