Jail mug shots
Dale J. Mueller must serve three years in prison with extended supervision of five years.
Badgers
Brewers
Outdoors
Packers
PrepZone
WIAC
MILWAUKEE — Friday will rank as one of the best days in the career of New York Mets first baseman Lucas Duda. It will be one Milwaukee Brewers closer Francisco Rodriguez will be happy to forget.
Phil Hands' cartoons
Guest columns
Of all of Edward Snowden's revelations about electronic surveillance by the National Security Agency, the most unsettling was that the government was accumulating vast numbers of records about the telephone calls of American citizens. In May,…
Pages from history
Search our archives
More pages from history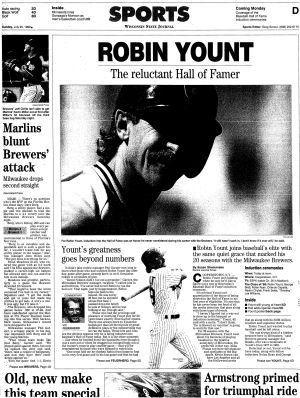 In 1999, Robin Yount joined baseball's elite, when he was inducted into the Baseball Hall of Fame.

Vote! Today's poll
Loading…
Which UW sport are you most excited for in the coming school year?
E-mail and phone numbers for staff members