Tracking Scott Walker
The public authority proposal was the second piece in Walker's controversial budget proposal for the system.
Jail mug shots
A judge imposes an immediate 10-month sentence for Gary Lammert, who rear-ended a car driven by Katie Binning in front of the high school in 2012.
Phil Hands' cartoons
Guest columns
Republicans want to limit what people using food stamps can purchase. The regulations, which need to be approved by the federal government, would forbid recipients from using food stamps to purchase lobster and shrimp, among other things. 
Pages from history
Search our archives
More pages from history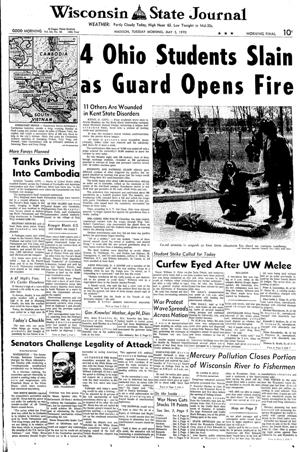 In 1970, Ohio National Guardsmen opened fire on anti-war demonstrators at Kent State University, killing four students and wounding nine others.
Simply enter the phone number and zip code associated with your subscription to get unlimited access to all madison.com digital products.

Vote! Today's poll
Loading…
Should a 48-hour waiting period be required for gun purchases from gun shows and online?