Tracking Scott Walker
Wisconsin legislative leaders on Wednesday announced a deal they say could break the logjam on the next state budget.
Jail mug shots
A lengthy investigation by local and federal authorities turned up large amounts of heroin, cocaine and marijuana in a string of busts this week.
Phil Hands' cartoons
Guest columns
Confidence is an essential underpinning for healthy economies, which helps explain why Greece is in so much trouble now. It doesn't inspire any.
Pages from history
Search our archives
More pages from history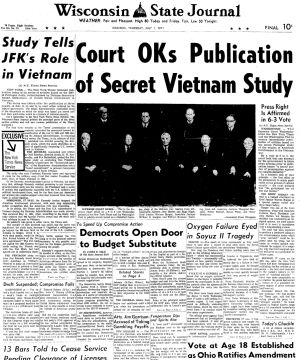 In 1971, the U.S. Supreme Court, in a 6-3 decision, ruled against the government in it's attempt to block publication of the Pentagon Papers, the secret Department of Defense study of U.S. political and military involvement in Vietnam.
Simply enter the phone number and zip code associated with your subscription to get unlimited access to all madison.com digital products.

Vote! Today's poll
Loading…
When will Scott Walker officially announce he is running for president?