Shelbee Matis: At 89, a life of crafting art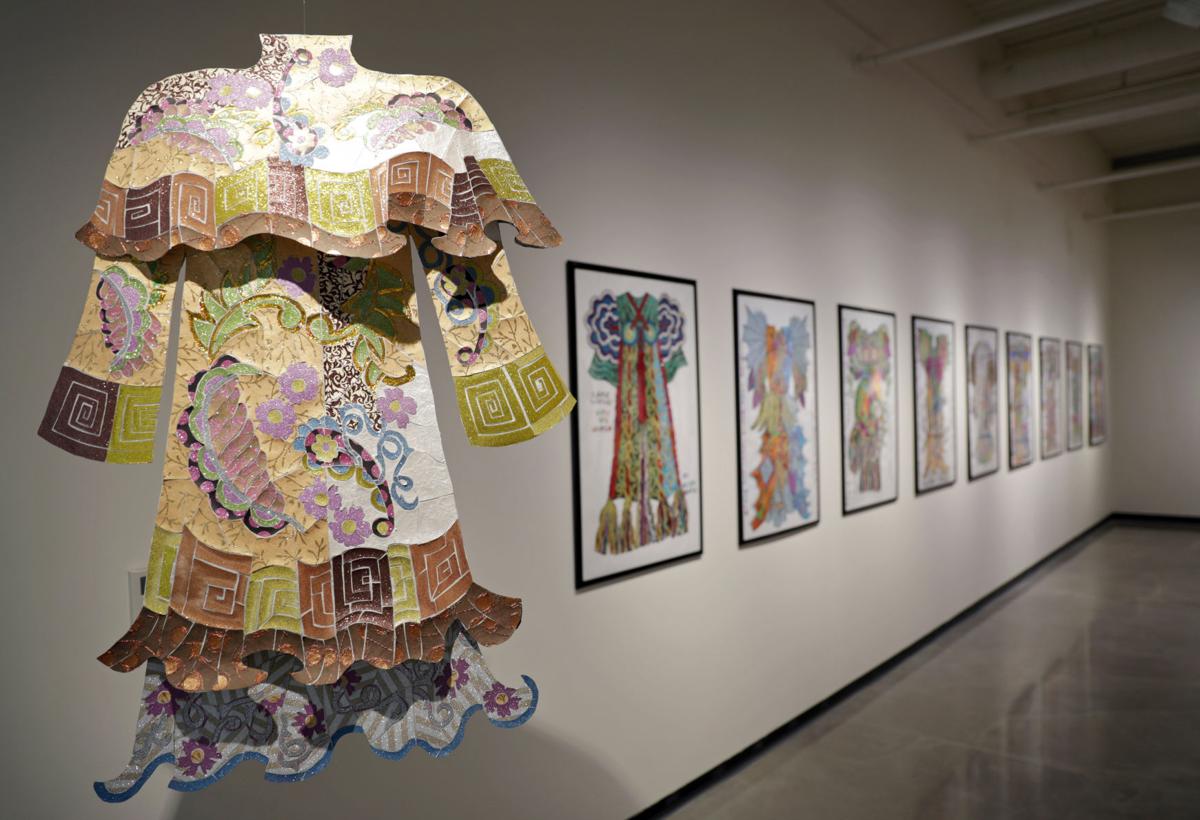 Shelbee Matis wears clothes she made herself: Vibrant floral blouses, edged with satin trim; coats built from layers of tapestries; skirts in patterns that flow in deliciously complex ways.
It's not unusual for strangers to compliment her striking wardrobe when she's out and about at the library, say, or shopping at a craft store. In a Madison sea of beiges, black and blue jeans, Matis, 89, stands out.
So it is with "Dresses for Women," a one-woman show of works by Matis on display at the Edgewood College Gallery through Sunday. The show includes dozens of paper collages Matis created from bits of iridescent and reflective papers, each forming a 2-dimensional image of a dress.
Each dress is festooned with brilliant patterns inspired by an artist, well-known or not, with a singular vision. Matis picks up on images that repeat in the artists' work — birds, flowers, guitars, religious symbols — and weaves them into her own fanciful creations.
For the viewer, they beg the question: What if everyone wore their ideas as clothing, modeling the things that inspire them as a shirt, a skirt, a hat? How have these recognizable images become interwoven into our lives?
Matis' work, full of color and wit, "deserves to be seen and known, in Madison and beyond," said Edgewood College art history professor Melanie Herzog, who helped bring "Dresses for Women" to the college's art gallery.
"I wanted our students, especially, to see the work of an artist who has been compelled by her curiosity and creative vision to make art for decades, and who now handles collage as an art form in such an unusual way," Herzog said.
Starting with the sleeve
A self-taught artist, Matis has long worked in fabrics, but also made fanciful wood carvings, three of which are on display in the Edgewood College show. In one piece, two life-sized, painted figures take a joyride on a motorcycle. In another, three women sit at a table with musical instruments. A fourth chair, empty, waits for the artist to join them.
The sculptures have followed Matis from home to home, most recently occupying a prominent corner in her West Side Madison apartment. The rest of her household is alive with color, too, from the rich textures on her sofa cushions to mosaics, furniture and curtains she made by hand.
The walls are lined with masterful paintings by her husband Lou, a commercial and portrait artist who died in August at age 91. Lou and Shelbee Matis were married 70 years.
When Matis first came up with the idea for "Dresses for Women," "I was so thrilled. I thought this ought to take me through the rest of my life. I don't need to have any more ideas," the artist said with a chuckle.
The concept forced her to study the works and motifs of many artists she admired. Romare Bearden. Georgia O'Keeffe. Alison Saar. Claire Zeisler. Andy Goldsworthy. Even her son, artist and musician Craig Matis.
"I would pick out some of the things that they use a lot of, and for some reason, I don't know why, I started designing a dress," she said of her first pieces. "I would start with the sleeve. I interpret the idea — I don't copy it — and make it work into a sleeve, and then (for) the rest of the dress I find other things."
"It's a challenge. It keeps my mind very active, and makes me really think, 'How am I going to do this?,' And it's not always easy," such as interpreting a sculptor's 3D work, she said.
Transfixed by Renoir
Raised in Cleveland, Ohio, Matis sewed since childhood and for many years did modern dance. She and her husband raised their two children in Evanston, Illinois, before moving to Santa Fe, New Mexico, where Lou was in demand as a portrait painter. Matis opened a gallery and made wearable art and one-of-a-kind clothing for clients.
Shoshauna Schey, Matis' daughter, said one of her most profound childhood memories stemmed from a visit to an art museum when her family was on vacation in Washington, D.C. It was there her mother saw Pierre-Auguste Renoir's masterpiece "Luncheon of the Boating Party."
"It filled up up the wall. It was a huge painting, as I recall," Schey said.
"We walked into the room, and my mom was just transfixed. She sat down in awe on this bench in the center of the room, and just stared at the painting, and was visibly overwhelmed by its beauty.
"That really made an impression on me — to witness her reaction to something of beauty like that," said Schey, today a published poet who works for the Wisconsin Humanities Council in Madison. "And it influenced her quite a bit in the work she did after that."
Schey also recalls how her mother created wooden sculptures on the back porch of their Evanston home. The works were part of Matis' "Recycled Forest" series, where she bought wooden boards, cut them up and then re-made them as towering images of trees. The trees found a home in the family living room.
"I was in high school, and all of my friends liked to come over and just hang out with the artwork," Schey said.
After their years in Santa Fe, the Matises moved to Madison in 1989 to be closer to their grandchildren. They lived for many years in a three-story farmhouse on the far East Side before downsizing to an apartment.
Still surrounded by her artwork, Matis continues to create. She buys her collage supplies at local craft stores, including the plastic poster frames that become the foundation of her "Dresses for Women."
After hours researching an artist, she sketches out concepts. She assembles her collages in a bedroom converted to a studio, where she built a work counter for herself from a table and a sturdy moving box.
She arranges and glues the pieces for her collage, then weighs them down with thick, hard-covered books by the French writer and feminist Simone de Beauvoir until they dry.
"Maybe I'll get another idea and I'll do something else. I have no idea," Matis said as she showed her latest work-in-progress. "One only knows what will pop up next."