Beer Baron: Dad brings a new perspective on Great Taste of the Midwest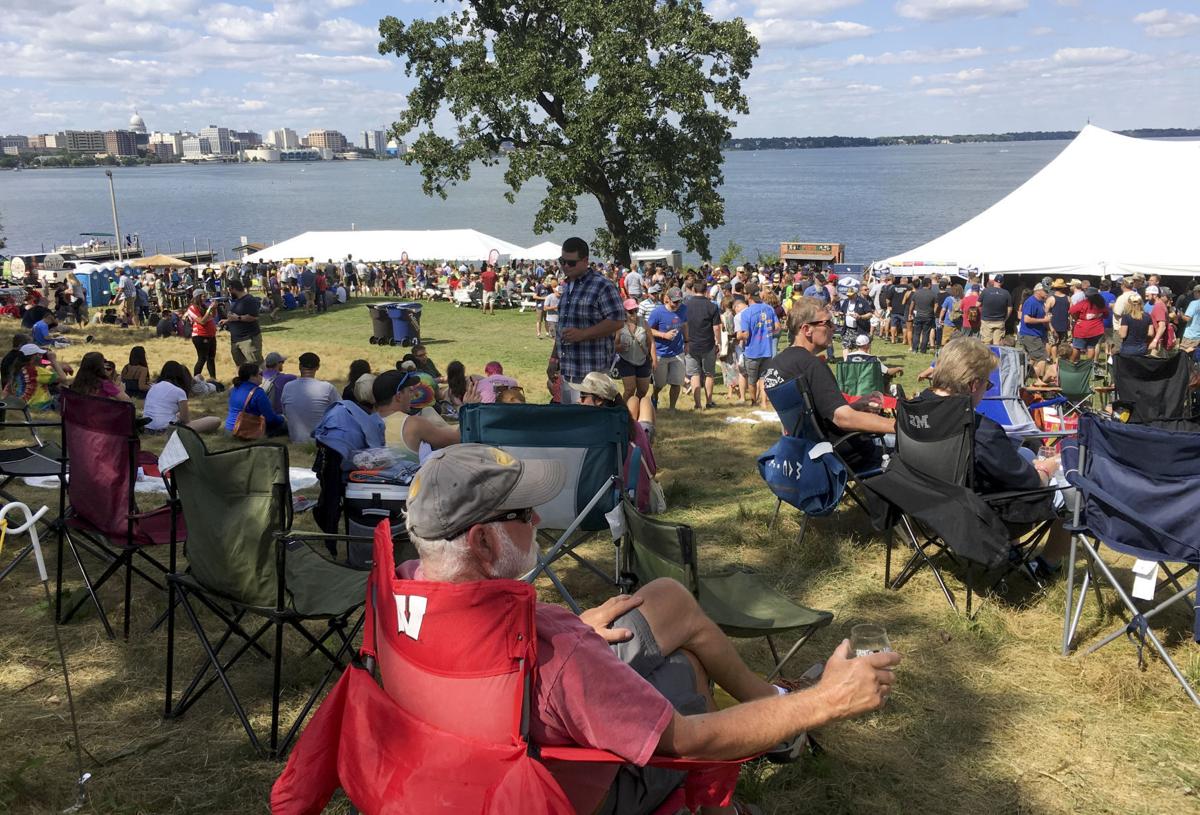 The day of the Great Taste of the Midwest is always in the running for my favorite day of the year, and it'll be impressive if 2017 has a topper of a day left in it.
The beer was, as always, great; the fest was, as always, well run and the weather was near perfect for the second year in a row.
But what I've come to love about the Great Taste is that it feels like a family reunion of beer people — both those in the industry and amateur appreciators.
That vibe took on a little bit different dimension to me this year as my Great Taste sidekick was, for the first time, my dad. Dad been to many beer festivals, a couple of them with me, but this was his first Great Taste.
If you've heard much about the Great Taste, you've probably heard about its positive "vibe," which manifests in good moods among fest-goers, volunteers and brewery staff; far fewer problems than you'd expect from thousands of drunk people; and even the taboo of selling the notoriously tough tickets for profit.
Dad is mostly oblivious to that mythology, but recognized it as such right away.
"It's like a love fest," he said during the Sunday drive home. "Everybody's in love with beer."
What Dad is in love with, beer-wise, is a much more traditional array of styles than I usually choose — especially at a festival. So when we shared sips, often we were both sampling something we wouldn't have otherwise asked for: father trying big, weird stouts and, especially, sours; son trying browns, ambers and, especially, Oktoberfests.
This style tension/exploration was the theme of the day. My favorite from his side of things was Solemn Oath's Oktöberface, a sweet, malty märzen that had an intensity I wouldn't have expected from an Oktoberfest-style beer but probably should have expected from Solemn Oath.
Dad gamely tried several sours as we attempted — in vain, mostly — to deconstruct his not-very-specific objection to this wide-ranging family of styles. Most led to a scrunched-up face. The first one he acknowledged liking was The Nothing, a straight-ahead, robust and delicious lambic-style ale from One Barrel. There was one of my pours he had a sip of and went back for a full sample of his own: Cherry Sour from Upland Brewing, an Indiana brewery renowned for its recently expanded sour and wild fermentation program. Its line was shockingly, pleasantly short when we arrived, so a double-dip was a no-brainer.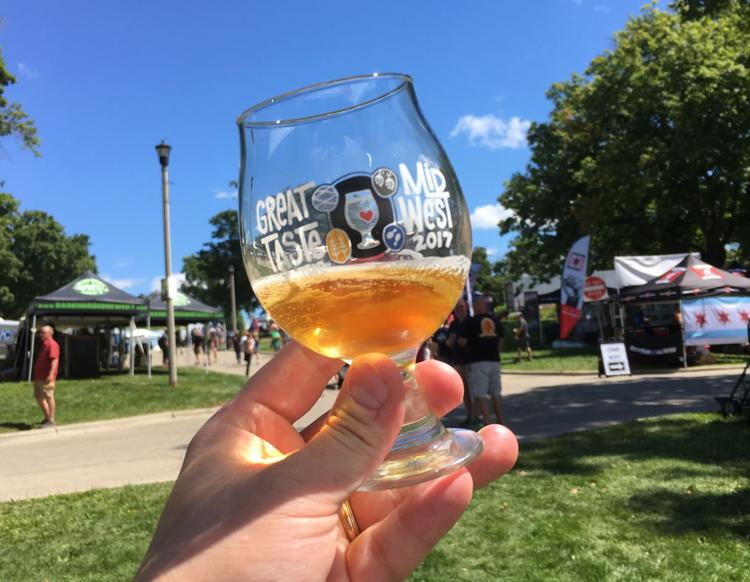 Some other highlights from my Great Taste:
Joie de Vivre, Revolution (Chicago): This blended, wine barrel-aged saison loaded up with all kinds of wild yeasts and other microorganisms might have been my favorite beer of the '17 Taste. The Rev rep who poured it told me it was the 18-month-old first child of the brewery's still-small program of sour and wild-fermented beers. It also produced Loganberry Reserve, another funky delight. Revolution has a great lineup of "clean" beers, but this pair demonstrated some serious chops in a new realm. I thought the same thing later about Half Acre, also from Chicago, as I sampled its Wooden Teeth saison (technically "clean" but outside Half Acre's wheelhouse) and Magick is Purple wild ale.
Ardea Insignis, Central Waters (Amherst): The brewery bills this imperial stout aged for three years in oak barrels that held bourbon for 25 years before beer touched them as its rarest beer ever. Just 1,000 bottles were released in spring 2016, and it's shown up on draft at only a handful of events since. I had written it off as never being able to try it, but there it was at Central Waters' booth, at the end of a line that had been far, far longer a few minutes earlier. Its intense chocolatey-bourbon flavors were accompanied by quite a bit of alcohol heat, but sadly my pour came late enough in the day that my palate was already pretty well shot, so... that's all I got for ya.
Dragon's Milk Reserve S'mores, New Holland (Michigan): It wasn't until after I said it that I realized how ridiculous, outside of the beer world, it is to say something is "very s'mores-forward."
Bell's Brewery (Michigan): Swag is a big part of the Great Taste, and Bell's always goes all-out. This year the line for hats with the brewery's "solid gold" theme, as well as the standard bottle openers, coozies, stickers and coasters, was longer than that for beer.
Beer Friends, Lakefront Brewery/Great Lakes Brewing (Milwaukee/Cleveland): "Beer Friends" is a bit of a meme in the industry, among brewers and sales reps who respect each other. It's also a great choice for a name of this collaboration lager between two breweries who share a lot in common and have worked together often in recent years. It was brewed for Great Taste, but this hoppy lager — with Simcoe, Azacca, Cascade Mosaic and Citra hops, it would have been called an India pale lager two years ago — will have some legs in bars and restaurants until the one-off runs out.
Before the Taste, I checked 48 breweries on the fest app's "to do" list. I figured this would be an ambitious undertaking and, boy, was I right. We made it to 16 of those — depending on how you look at it, a hall of fame-caliber .333 batting average or a miserable 66 percent failure rate.
But the beer geek hive mind is strong, so I turned to social media to find the most-buzzed-about Great Taste beers I missed. They include:
Vlad, Hailstorm Brewing (Illinois): This suburban Chicago brewery brought six variants of its barrel-aged imperial stout, with the maple version particularly buzzy. Other big barrel-aged stouts — always the preferred style of the beer geeks — that hit big were Half Acre Benthic, featuring coffee and coconut, and Three Floyds Dark Lord Ronaldo, aged in muscat barrels with cherries. Some lesser-known breweries flexed some stout muscles, too: Imperial Oak (Willow Springs, Illinois) with its vanilla-cinnamon Quiet Giant, and Third Base Brewery (Cedar Rapids, Iowa) with Miserable in Mexico, a chocolate-chili take on the style.
Brawndo, O'so Brewing (Plover): O'so has a track record of doing something really weird with their sour blonde ale for the Great Taste. In tradition Marc Buttera's team ran a tap line through a bunch of Sour Patch Kids. This year: powdered Gatorade. The result, sources say, worked way better than it probably sounds, a thirst mutilator that was a refreshing break from the big stouts and sledgehammer hops. And as far as beer festival conversation pieces go, a glass of bright green — I mean unnatural, Ecto Cooler green — liquid really does the trick.
Spanish Cedar Wood-Aged Azacca IPA, Olde Peninsula Brewpub (Michigan): The wood was said to add earthiness, spice and notes of leather and cigar to this single-hop IPA; the reporter noted how that accented the tropical profile from the Azacca hops.
Next Door Brewing (Madison): The wordplay and beer premise of Been Apricot Stealin', a sour blonde ale with apricots and Hallertau Blanc hops, had Next Door on my list, and I was bummed even further when I heard the B.O.B.—blood orange Berliner weisse — was dynamite, too.
Double Dry-Hopped Gunpowder, The Brewing Projekt (Eau Claire): My stop at this booth came before this New England-ish variant of William Glass' flagship IPA was tapped. I could not complain, however, about the brand new, also-delicious Citra single-hop version of the Dare Mighty Things juicy IPA.
Next year's Great Taste is, as usual, the second Saturday in August: Aug. 11, 2018. Tickets go on sale — and will sell out — May 6; details at greattaste.org.
<&rdpEm>Editor's note: This story has been updated to correct the number of bottles and release time of Central Waters Ardea Insignis.</&rdpEm>
Got a beer you'd like the Beer Baron to pop the cap on? Contact Chris Drosner at cdrosner@madison.com or follow him on Twitter @WSJbeerbaron.