Beer Baron: Great Dane's elegant hefeweizen hits cans — finally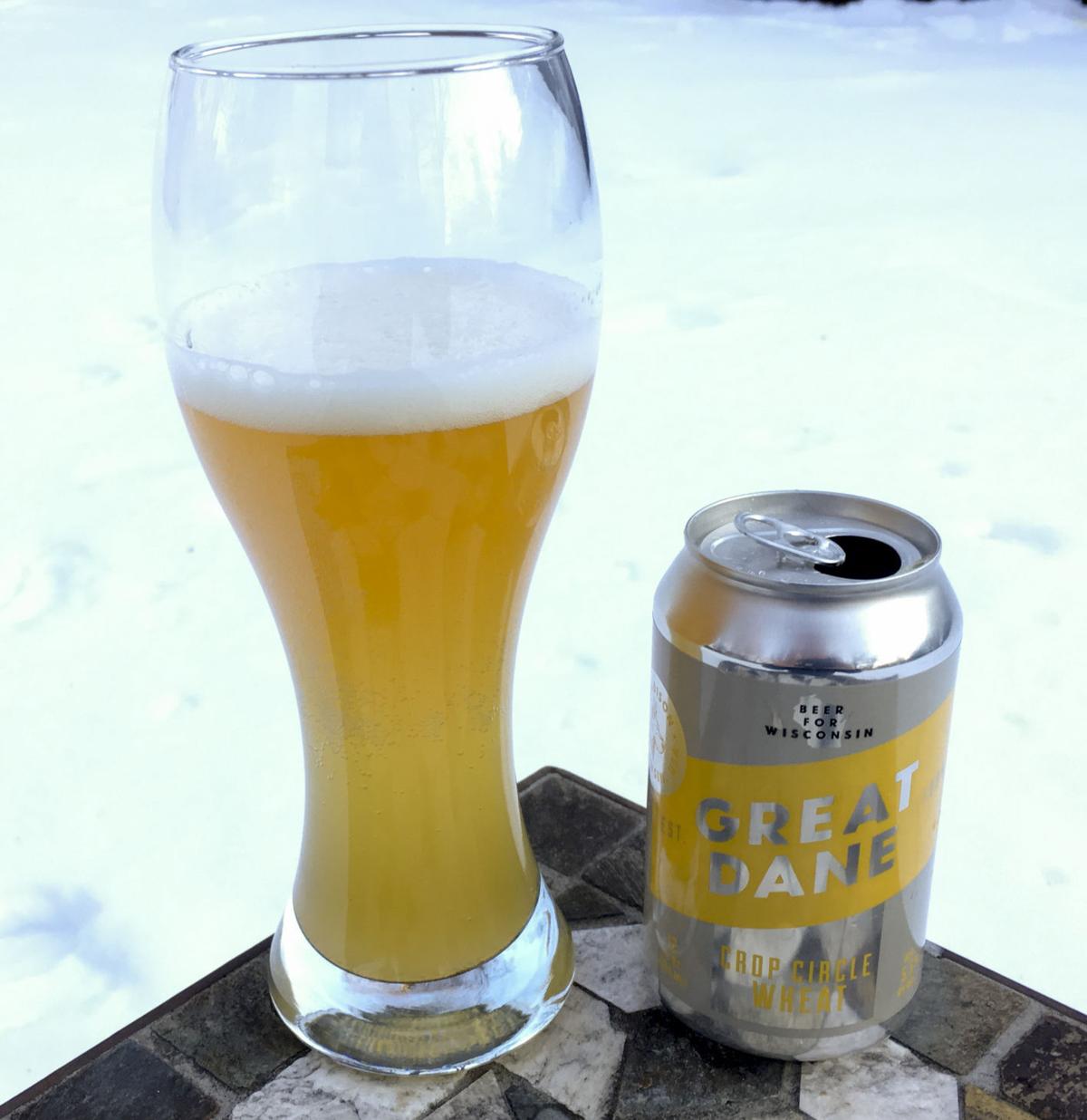 In October of 1994, some malt and a whole bunch of wheat was poured into a brew kettle at one of Madison's most curious new businesses.
A few weeks later, Crop Circle Wheat was one of the eight beers greeting customers at the opening of the Great Dane Pub & Brewing Co., Madison's first brewpub.
Now, a staggering 23 years later, the Great Dane has begun shipping six-packs of Crop Circle, greeting new customers who've never set foot in one of its five pubs.
The hefeweizen's longevity stands out in today's what-have-you-done-for-me-lately beer market that worships at the altar of new products.
Crop Circle also stands out because it's a hefeweizen. For all of Wisconsin's German roots, there sure aren't a whole lot of hefeweizens made here, and even fewer that see wide distribution outside of Ale Asylum's excellent Unshadowed. That could be because it's a traditional style, and those who prefer it seek out the traditional German versions.
Rob LoBreglio, Great Dane co-founder and corporate brewmaster, believes there's also market pressure on the supply side as brewers eschew traditional styles for those seen as newer or more contemporary.
"Maybe some brewers felt that it was maybe just too boring or passe in some way," LoBreglio said, noting that Great Dane brewers do plenty of unusual or experimental beers. "But we felt that it's a sublime category that obviously a lot of people love."
And love the hefeweizen they do. LoBreglio said Crop Circle is the No. 2 seller at the pubs, often challenging Verruckte Stadt (known as German Pilsner in cans) for the top spot depending on season and location.
That, combined with the dearth of local hefeweizens, made Crop Circle a fairly obvious addition to the Dane's growing stable of canned beers. What started with two year-rounders in summer 2015 has grown to two alternating seasonals — Crop Circle in spring and summer, Scotch Ale (aka Stone of Scone in the pubs) for fall-winter) — and four specialty seasonals. In the latter cycle, the outstanding Velvet Hammer doppelbock will this summer yield to Orange Crush, a saison introduced in 2015 that uses Mandarina Bavaria hops and certainly is not passe. Occasional bomber releases will continue, too, such as last summer's Mosaic SMASH imperial IPA and last winter's very limited Belgian Prairie, a tripel fermented with Wollersheim Winery's Prairie Fumé.
But the Dane has its roots firmly planted in the German styles, largely owing to LoBreglio's beer "aha moment" while he was living with his brother in Germany in the 1980s. His game-changer was Aventinus, a Bavarian-brewed weizenbock that can be found in American import sections today.
That awakening inspired LoBreglio to include Crop Circle — and Verruckte Stadt — in the Dane's 1994 opening lineup. With only subtle recipe refinement through its lifespan, it holds up today, as timeless beers do.
Crop Circle Wheat
Brewed by: The Great Dane's canned beers are produced at the Hilldale location.
What it's like: When I drink a hefe, I usually jump to which of the German classics — Weihenstephaner, Paulaner, Ayinger and Franziskaner — it most closely resembles. In my view, those comparisons have always failed with Crop Circle, and LoBreglio concurred, even when pressed. Perhaps milder than any of them, it truly is its own beer.
Where, how much: Six-packs are available for $9-$10 at bottle shops and grocery stores across the Madison and Milwaukee markets.
The beer: After a sloshy opening that was consistent throughout my six-pack, the Crop Circle can pours out a distinctively hazy gold beer that beckons with a delicate aroma of sweet wheat with mere accents from the classic hefe profile of banana, bubblegum and clove. That sweet malt is at the fore in the flavor, with a gentle banana-clove profile from the yeast and just a subtle and brief flash of noble hops — Hallertau Mittlefruh in this case. Crop Circle is moderately full on the palate but extraordinarily soft, with modest carbonation.
Booze factor: Crop Circle's 5.5 percent ABV is fairly low for craft beer and moderate for the style.
I make an effort to drink broadly, in style and origin. But I just never really got to weissbiers, indicating by default that even though I find them far from objectionable, it was among my least favorite styles. After revisiting Crop Circle and heartily enjoying it, I'm kicking myself.
In a beer world increasingly populated by overbearing IPAs and kitchen-sink imperial stouts, the combination of delicate, subtle flavors with high drinkability is a formula for a beer that's going to be overlooked by beer geeks. Just ask Dan Carey about Spotted Cow. And that's a shame.
I'm not quite ready to declare a Summer of Hefe, a la my 2012 Summer of Pils, but I will certainly appreciate them this summer.
And six cans of Crop Circle in the boat, campsite or cabin is probably where I'll start with that.
Bottom line: 4 stars (out of five)