Beer Baron: Lake Louie dips into the pilsner pool with new Pant Antler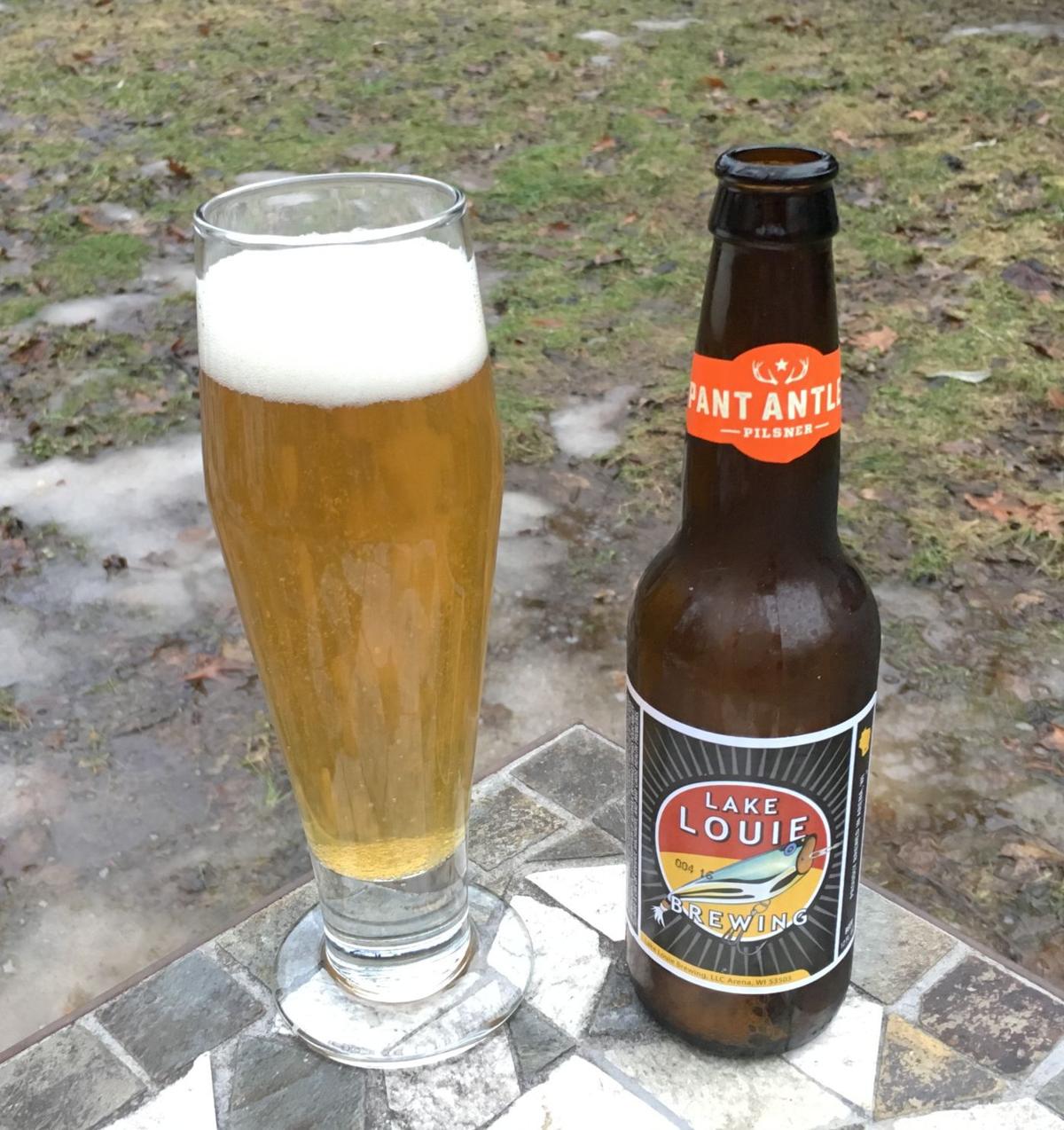 The pilsner is beer at its most basic: light malt, noble hops and yeast that stays out of the way, all wrapped up in a delicate, easy-drinking package.
It's a great beer, and that's part of the reason a lower derivation of the style became the pale, yellow beer that accounts for nearly all of the world's beer production.
Here in Wisconsin, a place with plenty of German heritage, craft brewers have never been shy about pilsners, but the style has had a bit of a renaissance nationally of late as brewers and drinkers rediscover the simplicity of well-made classic styles, particularly those on the lower end of the ABV scale. Last year the Great American Beer Festival's beer competition had 177 entries between its two pilsner-style categories, up 46 percent in just three years.
Two nearly national craft breweries that hadn't heretofore done a whole lot with lagers recently rolled out their own twists on pilsner. Founders' PC Pils, introduced last October and returning as a summer seasonal in April, is an American take on the style with three hops most commonly found in West Coast IPAs: Chinook, Cascade and Centennial. Deschutes this month debuted Pacific Wonderland lager, which is described as a dry-hopped pale lager but has a lot of pils DNA, including contemporary variants of classic German hops: Hallertau Herkules, Hallertau Mettelfruh and Tettnang Mandarina.
Closer to home, a new pilsner from 3 Sheeps Brewing in Sheboygan is still in the works, too.
It's safe to say beer fans are going to be hearing a lot about pilsners this year, so it's probably worth a little background on the style.
Pilsner was born in the mid-19th century — a time of rapid advancement in science and technology pertinent to brewing — in Pilsen, a town in the Czech region of Bohemia, about 35 miles from the border with Germany's Bavaria.
Golden and effervescent with a frothy white head, the pils has two key variants: original Bohemian or Czech, and German.
The Bohemian version leans a little deeper gold, while the German variant usually pours a paler yellow. While both are moderately hop-forward for European lagers, the Bohemian pils is more delicate and tends to accentuate a smooth malt profile, while the German is a little pricklier and more bitter. While the German pils often deploys other varieties, all pilsners worship primarily at the altar of Saaz, a Czech-sourced hop that's widely hailed as the most noble of noble hops.
To an American audience that's surely had an IPA or two hundred, though, the pils is hop-forward only in the relative sense. Even the brashest pilsners usually clock in at less than half the bitterness of a typical IPA, and the profile of their hops — floral, grassy, earthy, perhaps a little spicy — is usually less objectionable to bitter-beer haters than the citrus/pine profile of American IPA hops.
If you think this is all leading up to a new Wisconsin-made pilsner, you're right.
It comes from Lake Louie Brewing, which has branched into lagers the past two years after spending its first 15 years trading exclusively in faster-fermenting ales.
Pant Antler
Style: Bohemian/Czech pilsner
Brewed by: Lake Louie Brewing, Arena
What it's like: The gold standard of the Czech variant, Pilsner Urquell, is a very good beer in America but an entirely different animal in Europe. The extraordinarily rare kegs of unfiltered, unpasteurized Pilsner Urquell express-shipped across the Atlantic are not to be missed if you have the opportunity. Locally, the style was also represented by the excellent 2014 edition of the Madison Craft Beer Week collaboration Common Thread.
Where, how much: Pant Antler debuted mid-month; my six-pack cost $9 at City View Liquor on the Far East Side. Lake Louie founder Tom Porter has hopes that it'll stick as a year-rounder, likely replacing Golden Booty Cream Ale.
The beer: After you pour the golden, meringue-topped Pant Antler but before you take a drink, stop and smell it. Deeply. That aroma — floral hops, delicate as an orchid, and a light cereal-like malt character — is classic Czech pilsner.
I spent several minutes drinking in Pant Antler's exquisite aroma before my first actual sip.
And with that, the impression changed a little. There's more apparent bitterness than the aroma lets on, seemingly pushing a bit further into German territory, with a lingering bitterness. As it warms, the beer evolves significantly with a slight sulfur note emerging as the malt comes further forward.
But true to its pilsner roots, Pant Antler is a very pleasant drinker, smooth and easy with just the right level of carbonation.
Booze factor: Pant Antler's 5.2 percent ABV is a little high for the style and a touch higher than the 5 percent Porter said he was shooting for with the beer.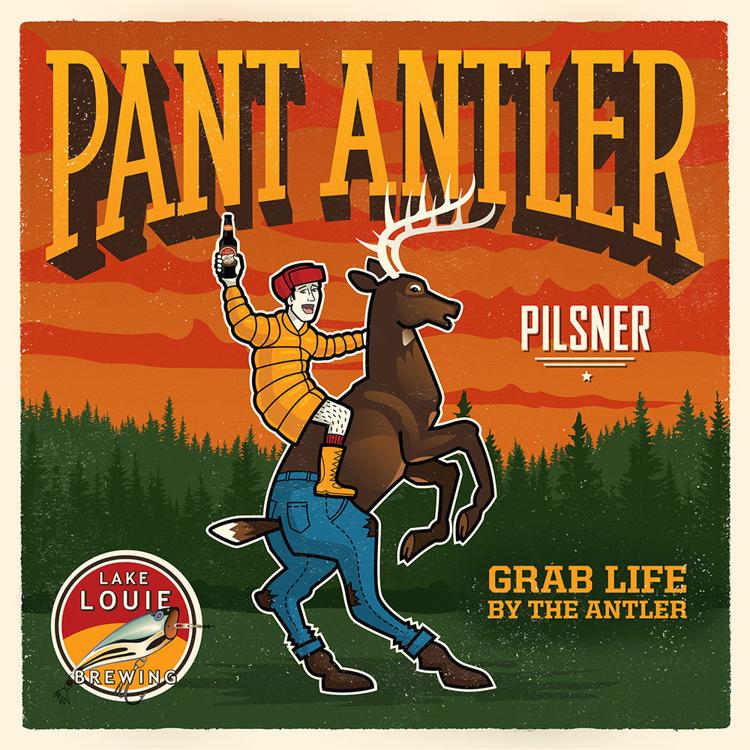 The buzz: So, if this beer's name sounds like an anatomical double entendre you've never heard of, you're right. If it doesn't, ask someone who has their mind a little bit further in the gutter.
This, of course, is familiar territory for Lake Louie and Porter.
His big maibock The Twins caused a stir upon its introduction in 2015 when its launch event at a strip club and marketing materials made clear that its name alluded to breasts as much as it did a zodiac sign.
Porter said he settled on Pant Antler — Canadian slang — after Googling dozens of potential names and "bombing out" time and again, with a deadline looming as the pilsner was already fermenting away in his tanks.
"I needed to get creative in a hurry," he said. "So once again, my broken brain kicked in. But hey, after the grief I got from 'The Twins,' I thought I'd objectify the male genitalia in the interest of being an equal-opportunity misogynist."
I'm guessing anyone who might have been offended by "Pant Antler" probably already swore off Lake Louie beer, so I'm just going to focus on the excellent beer behind the label and plan to put down a few six-packs of it after warm weather returns.
Bottom line: 4 stars (out of five)
Beer Baron Chris Drosner's guide to beer variety