The point of this lovely turn of phrase was more than just "beer is great," which is true, but that beer doesn't need to be the thing that forms a great experience or great memories. Instead, it can enable, enhance and intensify them. It's icing, not cake.
This axiom I believe more than ever today after, of all things, a beer getaway to western Michigan.
For my summer birthday, the Baroness planned a weekend trip built around visits to some of our favorite Michigan breweries and an Oktoberfest celebration in Ludington. It was an intense 48 hours, especially the first day, when we packed in a ferry ride, four breweries and a whole lot of driving.
The destination breweries are very familiar even on this side of Lake Michigan: Bell's, Saugatuck, New Holland and Founders.
We started Friday's odyssey at Bell's Eccentric Cafe in downtown Kalamazoo, a taproom/restaurant/retail outlet hybrid that perfectly captures the brewery's offbeat but beer-serious vibe. Excellent lunches were had all around, but I was the only one to add to my flight Larry's Latest Sour Ale, a one-off blonde bursting with bright, fruity character and just a touch of tartness that was my favorite beer of the weekend.
Next up, in the semi-industrial outskirts of Douglas, was Saugatuck Brewing, which delivered on what I've perceived as its premise since its beer arrived in Wisconsin in 2015: sweet stouts loaded with adjuncts. At least five stouts were pouring, most with some combination of maple, blueberry, coconut, strawberry and vanilla. I was grateful for the short pours, and after all that liquid candy I was wishing the IPA in my flight was crisper and more bitter.
Happy hour arrived at New Holland, a short ride north in downtown Holland. We were really starting to feel the beers and our 4 a.m. alarms at this point, but I was initially invigorated by the prospects of the tap list and the modern and bustling taproom. There were some cool beers — hello, Black Tulip tripel aged in gin barrels and Hoptronix double IPA in a pineapple firkin — but I was disappointed at the lack of Dragon's Milk variants, and a New England IPA had just tapped out. And fatigue was definitely taking over.
So during the hour-plus sunset ride to Grand Rapids, I was a bit worried about our final stop at Founders. It was a brewery that held immense promise, and when we arrived at the cavernous taproom, it was Friday night's peak dinner hour. But we finagled a table, obtained beers despite unintentionally bypassing the line for beers, and refreshed with solid sandwiches and ice water that at that point tasted as good as the beer. (Which was excellent: A orange-spiked variant of one of my Founders favorites, Mosaic Promise pale ale, highlighted by a Twitter friend.)
Saturday was much more chill, with samples of beers being replaced with samples of chili during a "Chili Walk" in downtown Ludington, followed by Badgers viewing (wooo!) at The Mitten Bar, and music and festivities at the Oktoberfest.
As a whole, the weekend's beer was excellent, from my first sip on Friday to the last, tired-and-happy drop on Saturday night. But excellent beer is pretty easy these days. These breweries have tap takeovers multiple times a year that will bring to Madison beers of this quality, variety and even scarcity — saying nothing, even, about the Great Taste of the Midwest.
But even when it was the centerpiece of this trip, beer was merely the adjunct to this deep dive into the good life. It was about catching up with the three couples the Baroness and I traveled with, sharing the soaring highs and belly laughs with those little in-between moments that confirm why you're so close to these people.
It was learning bumper pool with Rob and Julie in the well-appointed game room at Saugatuck. Unraveling the mysteries of Australian football fandom with Aussie Leigh and Christy. Being maybe-chased by a late-night maybe-muskrat with Matt on Ludington's probably-beautiful beach. Clowning for selfies with the Baroness on the pitching, wind-blown deck of the Lake Express ferry. A late-night herd of street cats. Finally really getting to know Rob's wife, Melissa.
Beer was there every step of the way — yay, morning beers! — but we did not spend 48 hours comparing notes on aromas and mouthfeels. But it was an amplifier to memories that we'll be talking about for the rest of our lives.
This week's beer is a liquid metaphor for beer as "an adjunct to the enjoyment of life."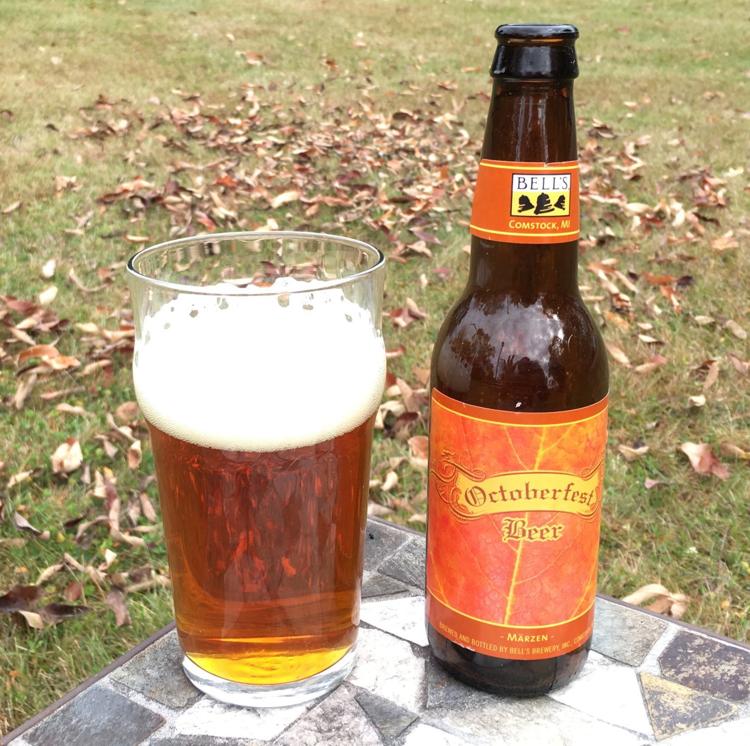 Octoberfest
Style: Oktoberfest/märzen
Brewed by: Bell's Brewery, which was founded in Kalamazoo but now has its main production brewery in Galesburg, a few miles east.
What it's like: I wish I could say it's like Nelson's excellent Wisconsin Brewing Co. Patron Saint, but Bell's Octoberfest is a lighter, more subtle beer along the lines of the versions from Great Lakes or Potosi Brewing.
Where, how much: Octoberfest is in the standard Bell's six-pack tier, around $10, and stocks of this and other Oktoberfests will shrivel quickly as fall marches on.
The beer: Octoberfest is a reminder of what a great American märzen can be. It's run by clean caramel sweetness on the front end, but there's just enough hop character — presented more as slightly spicy, herbal notes than outright bitterness — to keep it supremely balanced and drinkable.
Booze factor: The 5.5 percent ABV is on the low end for the style, which is welcome if you're drinking it liters at a time. If you're into that.
The buzz: I knew before I left that I would write a column about the trip and highlight a great Michigan beer I had there that you could also get back here. I was not, however, expecting that beer to be of a style I don't often choose, even during its relatively short availability. I find most Oktoberfests to be good and very few of them to be great. That's not exactly hot take material, and I've done enough grab-bag columns on the style that I was ready to skip an Oktoberfest review this year.
But then I had this one. My first reaction was "whoa, that's really good," and then I drank, um, let's just call it a few of them. Save for an occasional moment in the ensuing hours, I didn't think about Octoberfest the beer too much, which isn't a dig on it at all. I was too busy paying attention to the good life.
Bottom line: 4 stars (out of five)