Food Fight strikes again.
It can sometimes feel uncomfortable to praise the Madison restaurant group, which is getting a lot of attention for its newest concept, Canteen, a highly-stylized, but inexpensive taco shop on the Capitol Square.
For some, Food Fight seems too establishment, too corporate. But the truth is, most of its 20 restaurants are popular for a reason, and Madisonians are voting with their feet and pocketbooks.
There was no reason to think Canteen — which opened May 2 — would bomb, because Food Fight already operates two reliably good Tex-Mex restaurants, Eldorado Grill and Tex Tubb's Taco Palace.
The tacos at Canteen range from $3 to $5 and are wonderfully creative. The only problem on my visit was that they were all served in single yellow corn tortillas that tended to crumple from the contents and sauces inside.
Caitlin Suemnicht, Food Fight's chief creative officer, said Canteen recently started doubling up the tortillas. "Some tacos worked great with one tortilla, but others that were 'saucier' didn't work as well, so we made that change."
So far, I've tried seven of the 10 tacos and there wasn't a dud in the bunch. Particularly strong were two pork tacos: the al pastor ($3.50), with red and green salsa and pineapple (the fruit really made it pop), and the carnitas ($3), with a fantastic mango-habanero sauce and plenty of queso fresco. Both tacos had onion and cilantro.
Fish and chicken tacos were also contenders. The Tecate fish ($5) was pricey, but boasted tender, beer-battered cod dusted with Mexican Tajín seasoning. Green cabbage added crunch, while a salsa with chunks of orange and honey added sweetness. A crema, flavored with pickled morita chiles, added a touch of heat, along with deliciosity.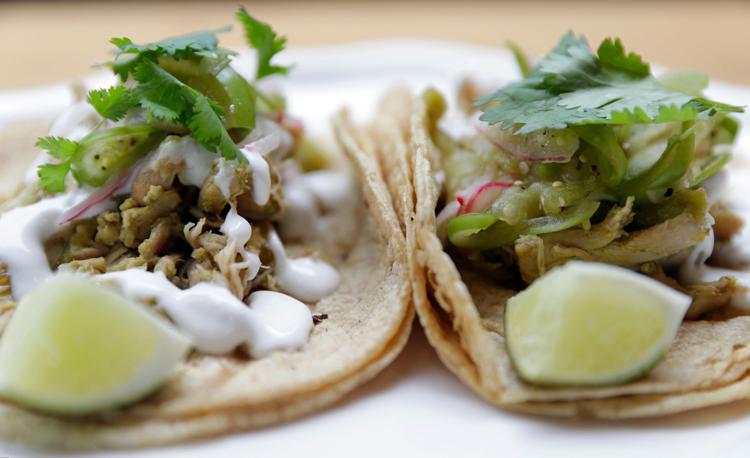 The green chile chicken ($3) was at the other end of the scale price-wise, and featured moist meat with a tomatillo-radish-red onion slaw. There was a lot going on here, not least of which was crema and thinly-sliced, roasted tomatillos.
The three vegetarian tacos I tried were also appealing, starting with the grilled farmers cheese ($3.50), with big slices of cheese, avocado, charred corn and black bean purée. The same salsa from the chicken taco sealed the deal.
Fried cauliflower ($3.50) in a taco of the same name, supposedly had the same Tecate-beer batter as the fish, but it hardly tasted deep fried, which was good. Guajillo chile sauce and crema combined to create a unique taco.
The calabacitas taco ($3.50), with garlic-braised squash, queso fresco, watercress and avocado was the least memorable, but still worth eating.
Beans with crispy rice ($4), another vegetarian winner, is one of three side dishes. The generous serving was easily shared among a table of four. Pinto beans and chickpeas were well-seasoned, with cotija cheese tempering the spiciness. The rice was like a poor man's socarrat, the crunchy bottom layer of rice in paella.
Canteen also offers six non-taco plates, including a mammoth torta ($12) that put me off a bit by featuring a thin, breaded pork cutlet, that was somewhat dry and difficult to bite through. But layered with a thick slice of ham, chihuahua cheese, lettuce, tomato, crushed avocado and a sweet-tasting mayonnaise/hot sauce, it all seemed to work.
Pickled cauliflower, carrots, onions and jalapenos came on the side, and weren't appealing.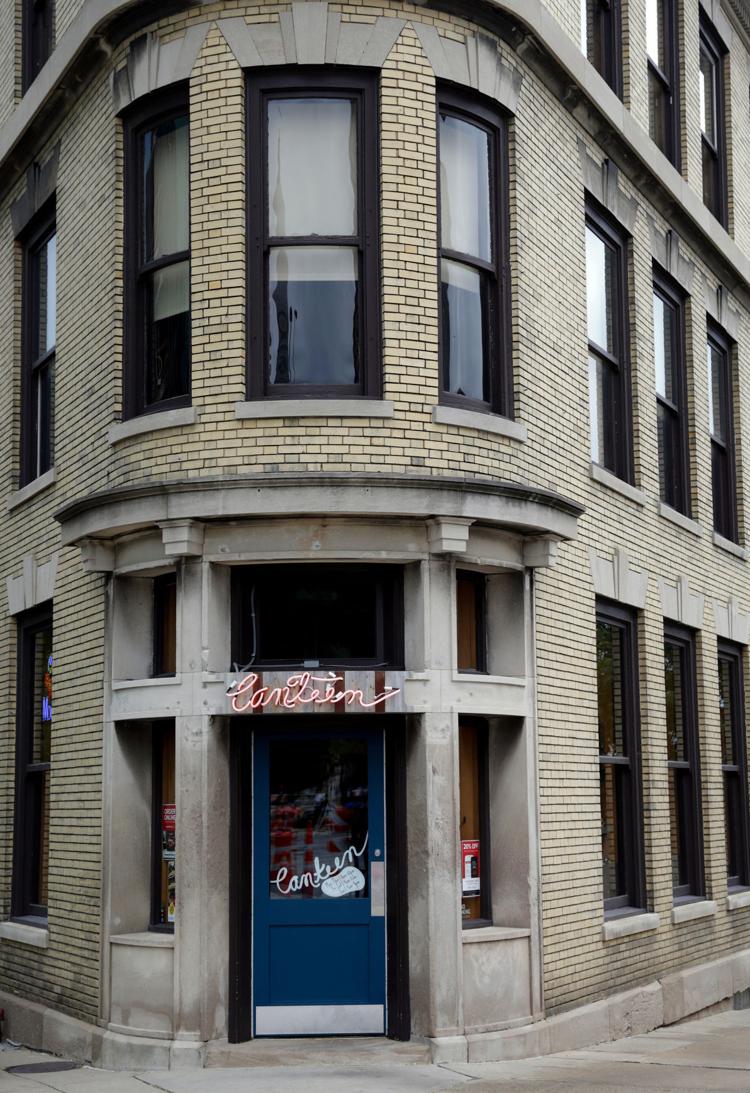 The griddled burrito ($8) held a generous amount of well-seasoned ground beef, which had an unusually smooth texture. I grew to like the burrito, but it won me over slowly. The rice, beans and chihuahua cheese, were tucked deep inside, letting the meat dominate. A few vegetables would have added variety.
Instead of tortilla chips, customers are given small bags of complimentary duritos — puffy wheat wagon wheels treated with lime, chile and Tajin. They were hard not to eat compulsively, while waiting for our food.
Canteen has an interesting list of cocktails made with tequila or mezcal. Down the Rabbit Hole ($8) was particularly rewarding, with reposado tequila — aged in oak barrels — combined with spiced orange liqueur, carrot, grapefruit and fennel bitters. The menu called it "funky and refreshing," and that description was right on.
That same language could be used to describe the playful and artistic paper menus, or the restaurant itself, barely recognizable from its six years as the more refined Nostrano.
The whole place is funky and refreshing, blending two patterns of eye-catching wallpaper and mixing two types of velvety damask upholstery on the two booths in back.
Madison is about to reach peak taco, and it will be interesting to see what happens when another trendy taco restaurant, BelAir Cantina, a Milwaukee import, opens in the next month or two where Francesca's al Lago used to be, just off the Capitol Square.
In San Antonio, restaurant critic Mike Sutter is spending 365 days eating tacos from a different taquería, restaurant or truck. He's halfway through the project and at no loss for new tacos.
So maybe there's no such thing as too many tacos.