Inka Heritage's Lucas Daniel Rodriguez tried his hand at a fast-casual Peruvian restaurant with limited success, but with Estacion Inka, he's got a winner.
Rodriguez gave Madison its first Peruvian restaurant, Inka Heritage, nine years ago. It's still going strong, but Estacion, with its sandwiches, yuca fries and sweet plantains, is even better. But then again, I liked his first attempt at fast food, the short-lived chicken spot Fiesta 38.
He gave the new restaurant the name Estacion, or "station" in Spanish, because there's a bus stop in front of the building. The location briefly housed Taco Bros., and sits near the UW-Madison campus, where service better be fast. It is, but not without some communication issues. An order of sweet potato fries became sweet plantains. However, that wasn't a major letdown.
Another item that won't let you down is the serrano sandwich ($5.99). It has nothing to do with serrano peppers, but had well-seasoned pulled pork, leaf lettuce, tomato, red onion, cilantro, Creole sauce, lime, and an over-easy egg on top. So compelling, it was hard to set down.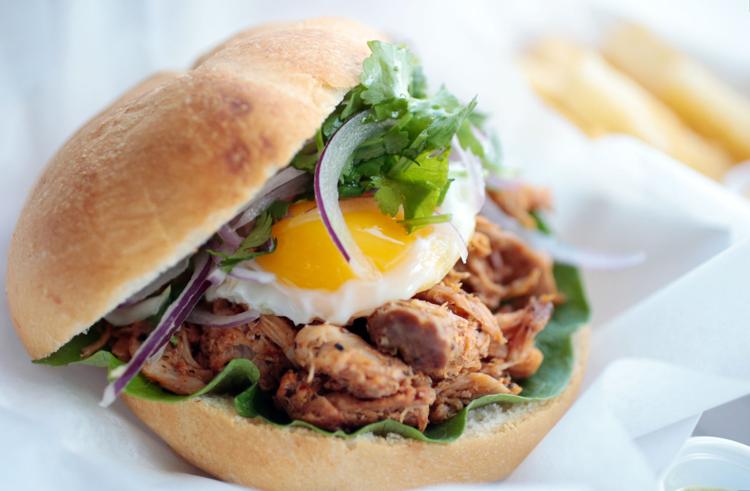 Equally good was the exceptionally-moist, rotisserie quarter chicken ($6.50) served with yucas, sweet plantains or a house salad. A half chicken is available for a couple bucks more and is definitely the way to go.
A friend went wild for the chicken brasa ($5.99), a sandwich with pieces of that same roasted chicken, lettuce, bright red tomato slices, shoestring potatoes, mayonnaise and three sauces. She appreciated all the flavors and textures.
"You know what I love most about it? The shoestring potatoes — those sticks you get in a can," she said. "I would definitely put them on a sandwich at home."
The messy Estacion burger ($7.99) also had the shoestring potatoes, along with avocado, egg, lettuce, tomato and huacatay sauce, the Peruvian green sauce. While I, too, enjoyed the addition of the shoestring potatoes, my enjoyment of the burger was hampered by chewy meat that didn't go down real easily. Plus, it took at least two bites to reach the meat. It was the one main item I didn't adore.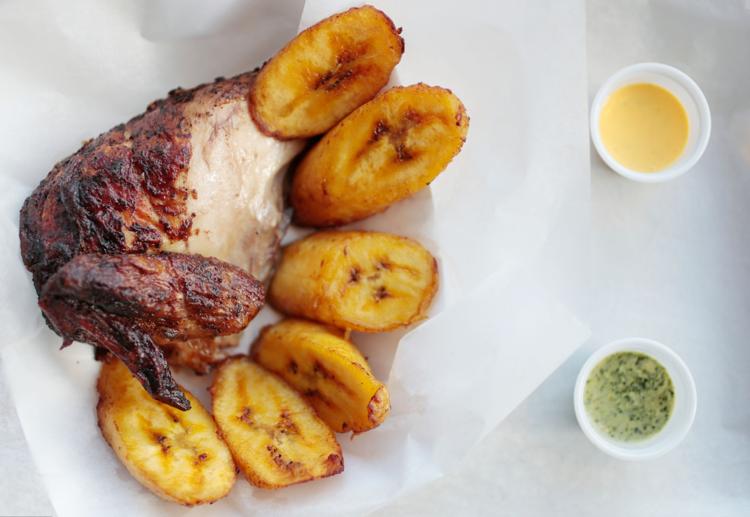 My friend and I were both impressed by the delicious, sturdy rolls that hold up well to such a variety of ingredients and sauces. "The bun is perfect," my friend said. "It's not too soft and soggy and it's not too hard."
Both sides I've tried, the yuca frita and the sweet plantains (both $3.50), were outstanding. Fried yuca always seem to taste better than french fries, probably because you can only get them at Latin American places. They were thick, crisp and non-greasy, and absolutely delectable dunked in the creamy yellow, slightly spicy huancaina sauce served on the side. The seven slices of sweet plantains that came in our order were fine on their own, but were intensified by a touch of the huancaina.
None of the sandwiches or sides needed the Peruvian green chili sauce that came with the sandwiches and the chicken, but it was helpful to have it. The restaurant serves its sauces in tiny plastic cups, but could stand to fill them up.
As if Estacion Inka needed anything more to recommend it, the restaurant serves interesting, homemade, non-alcoholic beverages at reasonable prices. The papaya ($3) was delicious, but the sweet chicha morada ($2) was more distinctive, made from boiled purple corn, pineapple, cinnamon and cloves. My companion ordered the fresa ($3.50), which tasted like a thin, strawberry milkshake. She was mad at herself for drinking it too fast.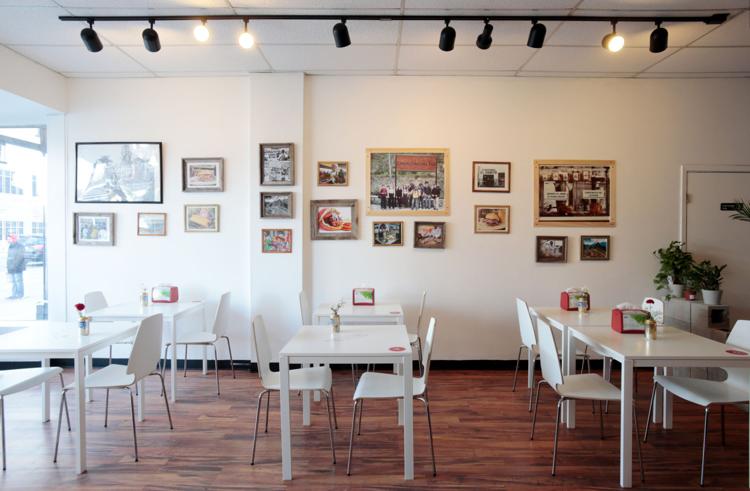 Desserts are not to be missed, because Rodriguez's wife, Esmeralda, who is the restaurant's chef, is first and foremost a pastry chef. A large, rectangular crema volteada ($3), like a Peruvian flan in a caramel sauce, was total joy. The arroz con leche ($2), in a little plastic cup with raisins on top, is another good option, and not as rich.
The small space has been decorated with care. The white tables are stamped "Made in Peru," and there are flowers sticking out of gold Inca Kola cans on each table. "Peru" is painted artistically on the wall, so there's no mistaking the nationality of the food.
And there's no mistaking the authenticity, and the deliciousness, of the food, either.
Asked about Esmeralda's cooking, Rodriguez said, "She can make the pastries. She can be the traditional Peruvian cook. She can make the street food from Peru. She's very good. She's an artist."
On those points, he'll get no argument from me.