RSSLocal Topics
Today's Top Stories
Some of the region's rarest beers flow, while local brewpubs offer their beer in bottles for the first time on the first Sunday of Madison Cra…

Bob's Bitchin' BBQ has a bigger space and a growing fan base.

Carol "Orange" Schroeder, co-owner of Orange Tree Imports, and Sandi Torkildson, co-owner and founder of A Room of One's Own bookstore, are ce…
Jail mug shots
The driver of the motorcycle was flown to UW Hospital by Med Flight with life-threatening injuries. His passenger was taken to UW Hospital by ambulance with serious injuries, the sheriff's department said.
Blog: Health Sense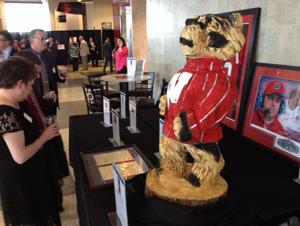 Bo Ryan may have been a runner-up on the basketball court this year, but when it comes to fighting cancer he's the national champion.
The ash tree-killing emerald ash borer has been discovered for the first time in Green County.
On Wisconsin columns
MADISON, Wis. (AP) — Likely Republican presidential candidate Scott Walker made no secret about what he saw as the failures of Mitt Romney's last run for the White House, devoting an entire chapter of his book to the topic.
Vote! Today's poll
Loading…
Should a 48-hour waiting period be required for gun purchases from gun shows and online?