Chris Rickert: GOP seeks to protect campaign contributions — if little else — from inflation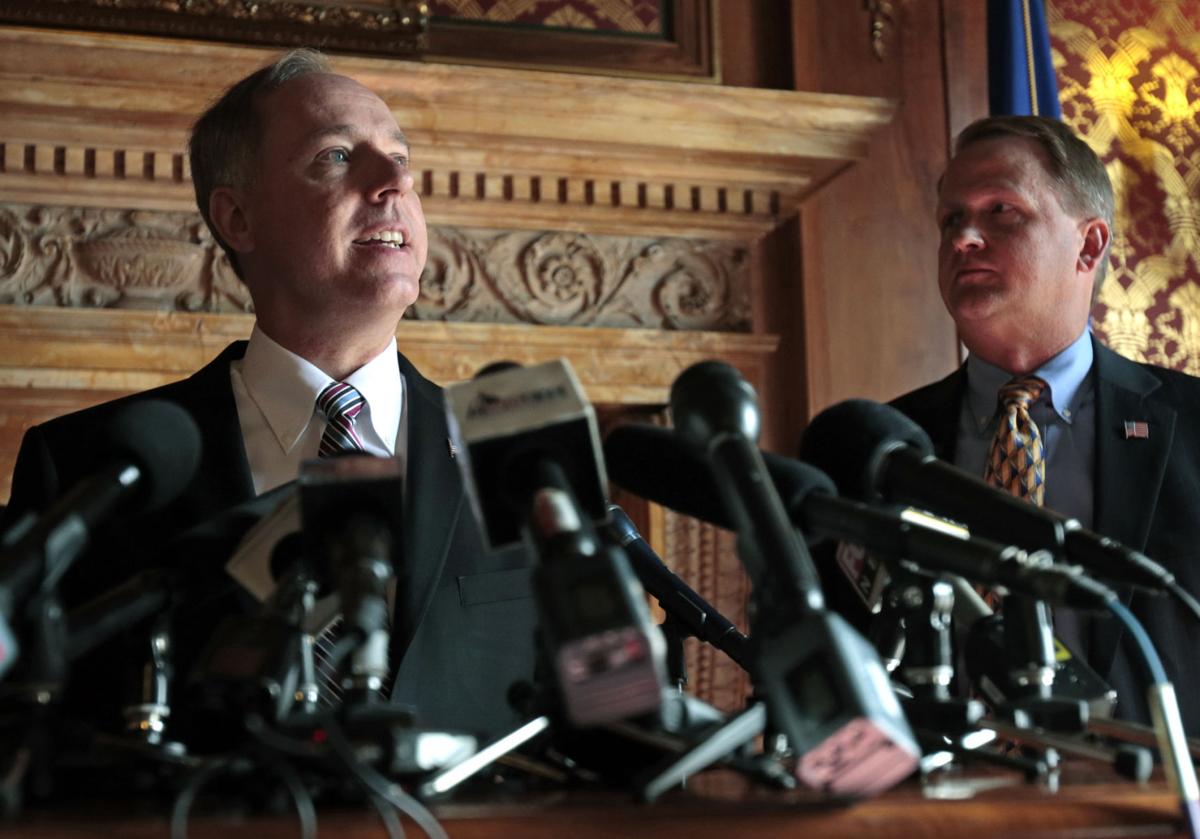 Back in 2006, the state Legislature decided to stop indexing the state gas tax to inflation, even though there was no reason to think that inflation wouldn't drive up the price of materials, labor and other needs of the state's road builders.
The result is that, while the cost of replacing or adding to the state's highways and byways continued to increase, the state's ability to pay for them with gas tax revenues did not.
Now, with the state's road system in a pickle, lawmakers face a choice between borrowing more money and delaying crucial projects for a few years, when they'll be even more expensive (because, you know, inflation).
I guess Republicans decided they weren't going to get bit by that same inflation bug when it comes to financing politicians' campaigns.
Last week, the party that's controlled state government for more than four years unveiled a proposal to double contribution limits, allow more corporate donations and remove limits on donations to political action committees.
That's all bad enough for people who think tons of money in politics undermines democracy.
But also interesting about the proposal is Republicans' decision to make sure contribution limits for candidates would be adjusted for inflation every five years. That kind of indexing is by no means the rule when it comes to taxes, public benefits and other fiscal policies controlled by state government.
"Many forms of public assistance are indexed for inflation — at least for purposes of determining eligibility, though not necessarily for the size of the benefit," said Jon Peacock, research director at the Wisconsin Council on Children and Families. "For example, Medicaid and food stamp eligibility are set as a percentage of the federal poverty level, and the FPL is adjusted for inflation each year."
Others don't get the same treatment.
He and WCCF research analyst Tamarine Cornelius pointed to the state's 51-year-old Homestead tax credit — which caps property taxes for low-income households — as one example.
They also pointed to Wisconsin Works, the once nationally recognized welfare reform program also known as W-2 that was signed into law by former Gov. Tommy Thompson in 1996.
Beginning in 1997, low-income people who were able to work but lacked job skills could be placed in community-service jobs and get a monthly stipend from the state of $673. That amount hasn't gone up in the program's 18 years. In fact, in the 2011-13 budget, it was reduced by $20, Cornelius said.
Eligibility for and the amount of state child-care subsidies are tied to automatic annual changes in the federal poverty level, Peacock said, but how much providers get paid for participating in the program is not adjusted for inflation.
"Those rates were finally increased a little about a year ago, after being frozen for seven straight years," he said.
Dale Knapp, research director at the nonpartisan Wisconsin Taxpayers Alliance, said that when it comes to taxes, "you have to think about different types of taxes differently. Obviously, because it is a tax on the price of goods, the sales tax is in essence indexed to inflation. Since the late 1990s, most of the income tax is also inflation-adjusted."
Taxes on gas, cigarettes, liquor, beer and wine, though, are per-unit taxes and not related to price, he said. "Thus, if you want gas tax revenues to grow, you either need people to buy more of it or you need to raise the tax. We indexed the tax rate because unit growth was not 'enough' to pay for the roads we wanted to build."
A small increase in the beer tax could also be used to pay for any number of state needs. Instead, lawmakers from both parties have kept it among the smallest in the nation. It was last increased in 1969.
Of course, I'd be remiss if I didn't mention the minimum wage. Wisconsin is one of 21 states that hasn't increased the wage beyond the federally mandated $7.25 an hour. It "has lost significant ground and is now worth much less than in the '60s and '70s," said WCCF executive director Ken Taylor.
Clearly, lawmakers like to pick and choose among the taxes, benefits and other fiscal policies they exempt from the dictates of inflation.
One such choice portends a future filled with traffic jams on roads the state doesn't have the money to expand.
But if Republicans are successful in their bid to make sure their campaign kitties keep up with inflation, frustrated motorists will at least have access to lots of nasty, fact-challenged campaign ads they can listen to on the radio.