A body was found Friday morning at the site where a house exploded on the Southwest Side earlier this week, officials said.
The body was found around 9 a.m. Friday at the site at 7806 Stratton Way where a house exploded Wednesday, Madison Fire Chief Steven Davis said.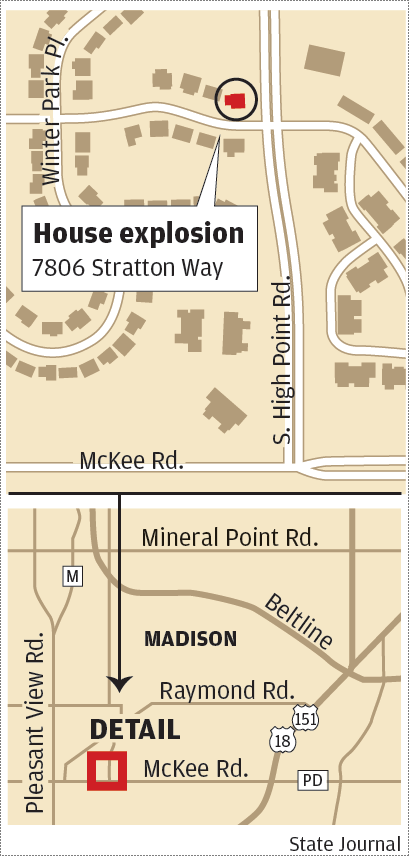 The Dane County Medical Examiner's Office has been added to the investigation team, Davis said.
Davis declined to say if investigators knew the gender or age of the body, or where at the site it was found.
He also didn't say whether authorities believe anyone else was in the home when it exploded, and if there may be any other bodies at the site.
No cause for the explosion has been determined, but the debris field shows signs of a natural gas explosion, Davis said.
"We still have a long ways to go (in the investigation)," he said. "At this point, we just don't know."
The home is owned by Steven Pirus and Lee Anne Pirus, according to assessor records. One of the two owners has been unaccounted for since the explosion, Davis said.
Davis said he didn't know how many people lived in the house. Neither Davis nor Madison police spokesman Joel DeSpain have said which homeowner is missing since the blast leveled the two-story home with two basement levels.
Smoke for miles
The explosion sent a plume of smoke into the air that could be seen for miles around, scattering parts of the house hundreds of feet away. The house was a total loss, according to Davis.
Neighbors said the first explosion — which was followed by several smaller blasts — shook nearby buildings before flames burned some of the debris.
Specialized dogs were used to find any possible explosives or accelerants, but Davis wouldn't say if cadaver dogs were included in the search.
Neighbors who were displaced after the blast will be able to return to their homes Monday night, Fire Department spokeswoman Cynthia Schuster said, but High Point Road remains closed. Schuster said officials plan to reopen the road on Saturday but did not provide a set time.
The investigation team is being led by the Madison Fire Department. Prior to the addition of the Dane County Medical Examiner's Office, teams from Madison police, the state Fire Marshal's Office and the federal Bureau of Alcohol, Tobacco, Firearms and Explosives have assisted the investigation.
State Journal reporters Nico Savidge, Rob Schultz and Shelley Mesch contributed to this report.