A developmentally disabled Mazomanie man missing for four months was tortured, killed, frozen, then buried on state land, Dane County Sheriff Dave Mahoney said Tuesday.
The body of Matthew Graville, 27, who had Asperger's syndrome, a form of autism, was found Monday afternoon in a makeshift grave near Lone Rock in Sauk County after authorities were led to the burial site, Mahoney said.
Graville's stepbrother, Jeffrey Vogelsberg, 28, was charged with first-degree intentional homicide and hiding a corpse. He is in custody in Washington state, where his wife, who is in the Army, is stationed at Joint Base Lewis-McChord.
An official ruling on the cause and manner of death is pending, the Dane County Medical Examiner's Office said after a daylong autopsy Tuesday.
According to a criminal complaint, Graville died after a beating by Vogelsberg on June 30 in a home at 325 W. Division St. in Mazomanie owned by Robert McCumber, where all three were living. He was found dead the next morning by McCumber and kept in a freezer for four days before he was buried.
Sheriff's officials said Graville suffered significant physical, mental and emotional abuse by Vogelsberg, whom Graville idolized, and McCumber since he began living with them in March or April. Prior to that, Graville had been living with his stepmother in Fort Atkinson.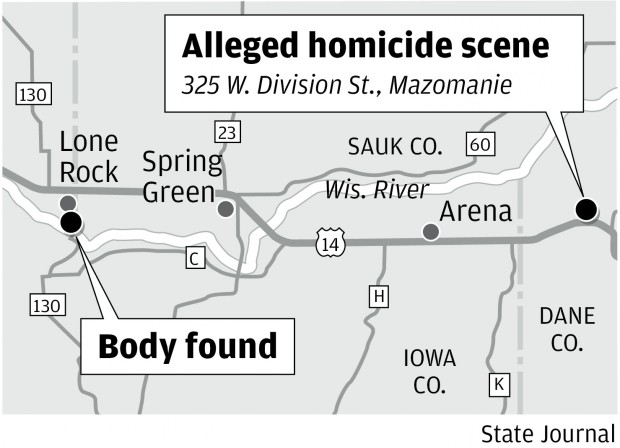 After Graville's death, Mahoney said, his stepmother, Laura Robar, 49, used Graville's identity to access his bank and public assistance accounts. Robar is in Dane County Jail on tentative charges of felony theft, identity theft and hiding a corpse.
McCumber, 28, also is jailed on a tentative charge of hiding a corpse. He led authorities to the burial site about 1:50 a.m. Sunday, the sheriff's office said.
"I'm still numb," Graville's mother, Vicki Graville, 48, of Madison, said Tuesday. She reported her son missing to Madison police on Sept. 14.
Graville's stepgrandfather, James Robar, also had reported Graville missing to Monroe police on July 23.
Vicki Graville said she told authorities from the start that she feared her son was dead and that Vogelsberg was involved because of "the way Jeffrey treated him."
She declined to elaborate, but said she and others had tried to intervene to keep her son away from Vogelsberg.
"He'd give anybody the shirt off his back," she said, describing her son as "loving" and "kind," and adding, "That is why people took advantage of him. ... He was like a little kid."
Her son's disability impaired his motor skills and decision-making ability, she said, recalling how as a grade school student he would take off his coat and let other children pelt him with snow and ice balls and laugh at him because he liked the attention.
Disability advocates called news of Graville's death "tragic."
"This is a wake-up call for the community to watch out for one another," said Susannah Peterson, executive director of the Autism Society of south-central Wisconsin.
Sheriff: 'A living hell'
Mahoney said investigators got a break in the case on Saturday while following up a financial transaction by Robar using Graville's identity. The complaint states that Robar was using Graville's Quest card, used by people on public assistance to buy food.
"In 33 years, 25 as a detective, I find it difficult to find another case where an individual took advantage of a developmentally disabled male for their own entertainment," a teary Mahoney said at a press conference Tuesday. "Matthew lived a living hell."
Mahoney declined to elaborate on the abuse, citing the ongoing investigation.
According to the complaint against Vogelsberg:
McCumber told police that on June 30, as Vogelsberg and his family were preparing to go to Missouri for the Army basic training graduation of Vogelsberg's wife, Shannon Remus, Vogelsberg beat Graville in their bathroom.
McCumber said the beating was what Vogelsberg called "waterboarding." He said Vogelsberg was convinced that Graville was poisoning Vogelsberg's children.
"I heard Jeff yelling, 'Get up Matt, get up Matt,'" McCumber said. "I heard water running and I heard Matt falling down in the bathroom."
"It was one of the worst beatings I heard Matt take," he said. "I heard Matt bouncing around in the bathroom. I heard Laura saying knock it off, leave him alone."
In the past, he said, Vogelsberg would beat Graville and shoot him repeatedly with a BB gun.
McCumber said he woke up about 9 a.m. on July 1 and found Graville dead on the couch, with pill bottles and pills scattered around on the table nearby. McCumber said he called Vogelsberg on his cellphone, telling him that Graville was dead.
In subsequent calls, Vogelsberg told McCumber to put Graville's body in a chest freezer in the garage and said he would kill McCumber if he told anyone about it.
Reported missing, already dead
Four days later, Vogelsberg returned, then buried Graville's body near Lone Rock, about 20 miles west of Mazomanie in Sauk County, the complaint states. McCumber told investigators he did what Vogelsberg told him to because Vogelsberg had a gun with him when they dug the grave.
On the drive back to Mazomanie, McCumber said, Vogelsberg told him that they were now "best friends."
McCumber initially told police that he had last seen Graville alive on June 30 with Robar and Vogelsberg.
Mahoney said Tuesday that Graville had gone to Mazomanie to live with his stepbrother, whom Graville had known since he was 4 years old and loved.
"Matthew's life was filled with torture, physical abuse and subsequently death," Mahoney said.
Contact Ed Treleven at 608-252-6134 or etreleven@madison.com. Contact Sandy Cullen at 608-252-6137 or scullen@madison.com.