Madison School District officials are floating a plan to start paying for needed building maintenance and renovation that would be funded in part by a rolling series of $26 million referendums held every 4 years, with each pot of resulting debt paid off before the next is issued.
The referendums, if approved by voters starting in 2020, would yield $6.5 million per year that the district would match with $3.5 million from operating budget dollars — about double what the district normally allocates from operations, budget director Mike Barry said — for a total of $10 million annually, or $40 million per four-year cycle.
With a portfolio of 52 district buildings with an average age of 53 years, including 50 schools, the district must find a systematic way to start chipping away at an estimated backlog of $220 million in work, he said.
"Those are assets that we need to maintain," Barry said. "It's sort of a stewardship. The maintenance needs are there. It's just a matter of coming up with a way of approaching the work that we can all support."
Superintendent Jen Cheatham described the proposal as a "long-range facilities plan" designed to bring more certainty in funding and "to help us make sure our facilities reflect the value we place in our students and the important work our teachers do with our students."
"We want to lay out a plan for the future, which we're really excited about," Cheatham said told School Board members at a July 10 operations work group meeting in which Barry described the administration's proposal.
But board members Mary Burke and TJ Mertz offered cautions, urging the administration to be sure every possible building efficiency has been achieved before going to the voters again and every proposed project in any referendum under the plan truly advances the district's central mission of providing a good education.
"My guess is if you asked parents, the vast majority of parents would give up the shiny-new for the best teacher (for their children) that that school had," Burke said.
The board began discussing the creation of a maintenance plan in October 2015, six months after voters OK'd a referendum for $41 million in borrowing to expand or renovate 16 schools in need of immediate fixes.
Those projects, including an extensive $7.4 million remodeling of Jefferson Middle School and a $4.7 million long-desired renovation of the East High School theater, are on track to be finished as promised by about the end of summer, Cheatham noted, allowing the board to now turn its attention to a longer range, more cyclical plan.
Voters also approved five-year, $20 million maintenance referendums for the district in 1999 and 2004, before the Great Recession and its slow aftermath halted referendum activity until the 2015 issuance. The district's remaining debt from all those referendums now stands at about $7 million, to be paid off entirely in 2026, Barry said.
While a debt of $26 million would be close to four times higher than the district's current debt, it represents only a small fraction of its total property tax base.
A chart comparing the Madison district's current debt as a percent of its total property valuation with 13 other districts across the state put Madison second from last, at just under a tenth of 1 percent. Chart leader Sun Prairie stood at 4.96 percent, reflecting its record of rapid construction for surging enrollment, Barry said.
The Madison district's proposed new plan would start in 2020, if voters agreed, with the first $10 million available in 2021 to start funding building maintenance and renovation needs, such as new boilers, roofs and windows. But it could be a decades-long endeavor.
According to the district's latest facilities assessment, produced by Plunkett Raysich Architects over the past year, it would cost $220 million to bring all school and administration buildings to a grade of 'C,' or $490 million to bring all facilities to a 'B,' based on a graded slate of factors including electrical systems, aesthetics, accessibility, technology, interior finishes and life-safety.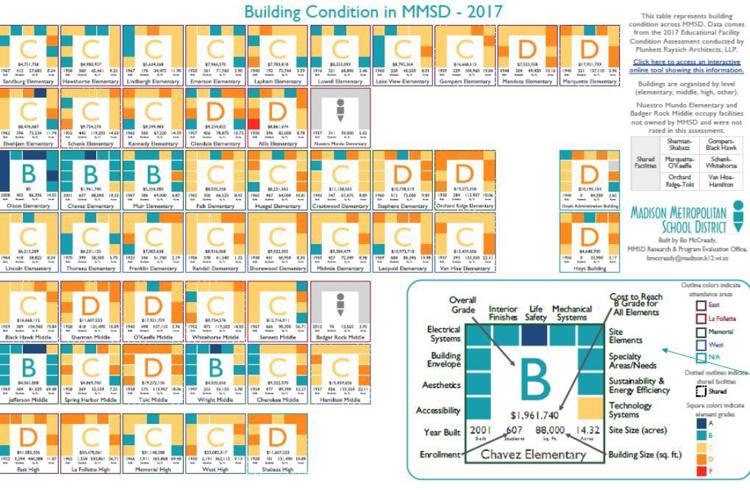 "We're proposing a steady pattern of investment to get the facilities to where we want them to be," Barry told School Board members. "We think we can do it if we start building in some structure."
Along with low levels of current debt, district officials said now is a good time for borrowing in part because the district has done so little of it over the past three decades. The district has built only two new schools — Chavez and Olson elementaries — since 1990, even as continuing projections for stable to slow-growing enrollment allow the district to focus mainly on improving existing buildings rather than new construction, Barry said.
"We haven't built a lot and we have a very high tax base per pupil," Barry said. "That doesn't mean (any potential renovations and upgrades) are free. But it does mean that from a balance-sheet perspective, we can support a reasonable amount of debt."
The district's plan also would expand the types of repairs and renovations tackled beyond traditional building and HVAC maintenance, facilities director Chad Wiese said. Instructional program needs also could be considered, such as library renovations and the creation of STEM (science, technology, engineering and mathematics) spaces, along with athletic and co-curricular program needs, such as swimming pools and artificial turf.
Board members asked for a November update with more specifics, with a possible vote on the plan later in the coming school year. Staff members also are working on a list of possible bigger-ticket improvements — new school construction or major renovations — that could be paid for in referendums using bonds with 10- to 20-year payoffs.
"I would love to think even bigger about what is possible," board member Kate Toews said. "If we are going to invest a lot of money just to keep up a sort-of C-quality facility, at what point does it makes sense for us to say, as a community, that we actually want A-quality facilities."