Next year, Verona superintendent Dean Gorrell is in line to collect a $50,000 longevity bonus on top of his $140,000 salary.
In 2014, Madison superintendent Dan Nerad qualifies for a $37,500 payment for six years of service, which like Gorrell's would be paid into a retirement account. Nerad already receives an annual $10,000 payment into his retirement account, which is separate from his state pension and in addition to a $201,000 yearly salary.
And in 2017, Monona Grove superintendent Craig Gerlach can leave the job with an extra year's salary, currently $150,000, paid into a retirement account over the following five years.
Over the past decade, such perks have been added to some Dane County superintendent contracts, even as, on average, their salary increases outpaced teacher pay hikes, according to data provided by the Department of Public Instruction.
"Any type of payout at that level is clearly going to be an issue from the public's point of view," Dale Knapp, research director at the Wisconsin Taxpayers Alliance, said of the longevity payouts. "The problem becomes once these start getting into contracts, it becomes competition and then they become more prevalent."
Adding bonus language to superintendent contracts became increasingly popular in recent years as school districts faced state-imposed rules on increasing employee compensation. 
Those rules, known as the qualified economic offer, or QEO, capped superintendent raises at the same rate as teachers. The rules, abolished in 2009, created a game of "musical chairs" in which the best way for superintendents to get a raise was to move to a new district. In response, many districts offered "golden handcuff" incentives to keep superintendents for more than a few years, said Miles Turner, executive director of the Wisconsin Association of School District Administrators.
Turner argued the salary and perks aren't very high given the hours and required level of education and work experience. A CEO at a company with the budget and workforce the size of Madison's district would be making seven figures, he said.
"It's a competitive market," Turner said. "There is an erosive effect on the quality of leadership when there isn't a recognition of the demands of the job."
Knapp acknowledged superintendents aren't overpaid, but it's hard to make general statements because skill sets and experience levels vary among superintendents, he said.
$40,000 bonus in 2009, $50,000 next year
The bonuses and other administrator perks may come as a surprise to members of the public and elicit a strong reaction to attempts to increase pay.
Verona's Gorrell was criticized last year for taking a 7.2 percent raise while teachers were losing take-home pay because of state budget cuts. The Verona superintendent salary is lower than other comparable districts such as Oregon and Sun Prairie, and it hasn't outpaced teacher increases since 2002. In other districts, such as Belleville, Cambridge, DeForest and Madison, the superintendent salary has grown faster than average teacher pay.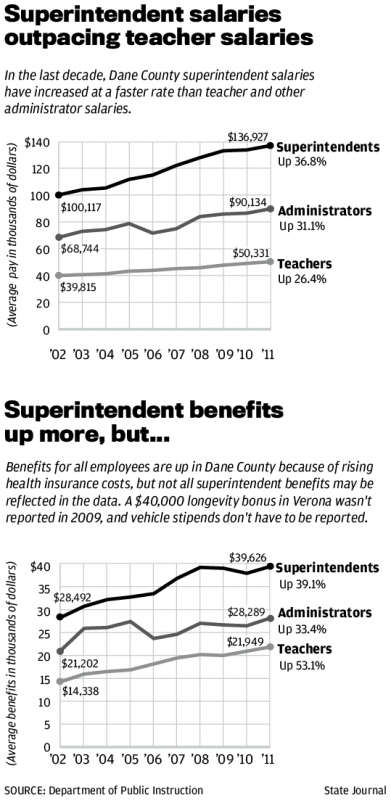 Part of the criticism of Gorrell's raise involved the $50,000 retirement account payout, an incentive for staying four more years on the job. Gorrell received a $40,000 payout for retirement in 2009 for completing his first four years on the job.
"At least once annually, typically more, someone tells me I'm overpaid," Gorrell said. "I understand the nature of the sentiments. They see a salary for the superintendent and few have an idea of what the superintendent does during the course of a day."
Many districts provide a monthly vehicle stipend to superintendents, ranging from $300 in Madison to $600 in Monona Grove.
Monona Grove School Board president Susan Fox said the amount of the vehicle perk in her district raised eyebrows among board members who weren't around when Gerlach was hired in 2009. The board is currently renegotiating Gerlach's contract.
"It doesn't get reported anywhere and that's the problem," Fox said. "We're hoping we won't be doing a superintendent search in the near future, but if we were in that position, I would like to know what the regular contracts look like in this market."
Fox noted Gerlach turned down a board-approved raise last year because teachers were facing cuts in take-home pay.
In some cases, such as Gorrell's $40,000 payout in 2009, fringe benefits aren't reported to the Department of Public Instruction, raising questions about whether the data the state collects annually on school employee compensation is accurate. Vehicle stipends don't have to be reported as a fringe benefit, DPI spokesman Patrick Gasper said.
School boards always have faced pressure to keep administrator salaries in check while finding ways to attract and retain candidates from a limited pool of highly educated professionals.
In the past decade, boards have been encouraged to act more like private businesses and structure superintendent compensation like CEO pay packages, with performance and longevity bonuses, said Dan Domenech, executive director of the American Association of School Administrators.
"A superintendent tends to be the highest-paid public employee in an area, making more than a county supervisor or mayor, which in and of itself creates pressures," Domenech said. "You're comparing an elected person to a professional manager who went through a lot of preparation and schooling."
Middleton-Cross Plains superintendent Don Johnson is eligible to retire this year and collect about $19,000 a year for three years if he does so. But if he works for another three years before retiring, the payment increases to more than $23,000 per year.
The perk factored into his decision in 2008 to come to Middleton from Eau Claire, where he walked away from $150,000 in post-retirement benefits. A higher salary in Middleton also compensated for the lost benefit.
He also noted that a Middleton principal who makes about $110,000 a year is considering taking an assistant superintendent position in Illinois that starts at $210,000.
"I don't think superintendents are in it for the money," Johnson said. "(But) it's still a market-driven decision."