Randall Elementary School has one of the lowest poverty rates and some of the highest test scores in Madison. It also has the most experienced teaching staff in the district.
By contrast, Sandburg Elementary has one of the higher poverty rates and some of the lowest test scores. It also has the least experienced teaching staff.
Across the district, schools with higher concentrations of poverty are more likely to have teachers with less experience, according to a State Journal analysis of Madison School District data.
Experts say that while more experience doesn't guarantee higher quality, teachers often need five to 10 years to reach their peak effectiveness.
"To consistently and disproportionately give the kids who need the most help people who aren't at their best yet just disadvantages them," said Sarah Almy, director of teacher quality for the Education Trust, a Washington, D.C.,-based group that advocates for raising student achievement.
The newspaper's analysis found that of the 10 schools with the lowest poverty rates in 2011-12, the median level of teacher experience was 13 years. Of the 10 schools with the highest poverty rates, the median level of experience was nine years.
The median level of experience at Randall is 19 years. At Sandburg, it's five years.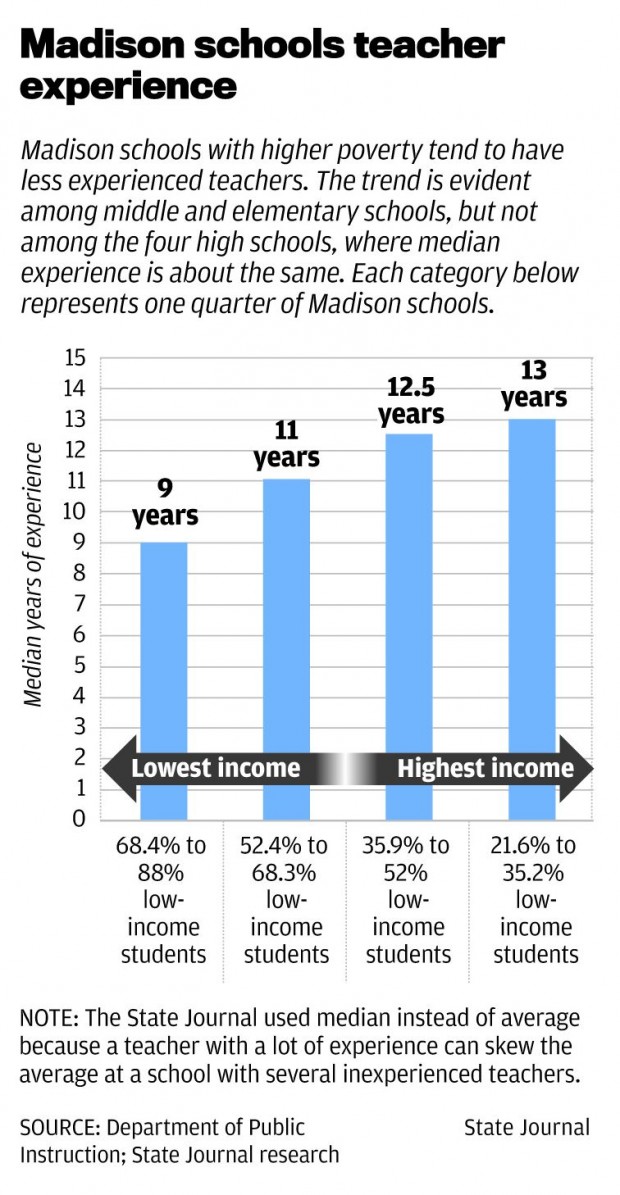 Superintendent Jane Belmore said she was satisfied with the level of experience in high-poverty schools.
"Ten years of experience is pretty solid," Belmore said, referring to the median experience in the highest poverty schools.
The newspaper used median, or the middle of a series of numbers, for the analysis instead of the average because a small number of highly experienced teachers can artificially inflate the average of a school with several less experienced teachers.
Though some high-poverty schools had higher levels of teacher experience, the opposite was more likely to be true, especially among middle schools, the analysis found.
School District officials weren't sure what might cause the disparity or if it was a random occurrence.
Belmore said it's possible younger teachers are more drawn to the challenge of high-poverty schools and older teachers are more likely to own houses and work close to where they live — away from high-poverty areas.
Madison Teachers Inc. executive director John Matthews said teachers tend to stay at a school if they get along with other staff and the principal.
At the national level, research on teacher experience in high-poverty schools has raised questions about whether school districts are marshalling resources to the highest needs schools.
In her recent study of districts that are trying to address the issue, Almy found efforts to make high-poverty schools the most desirable places to work. That means assigning those schools the best principals, offering additional professional development opportunities to teachers in such schools and ensuring teachers have opportunities to collaborate.
Some districts also have tried compensating teachers in higher-poverty schools more, a practice prohibited by Madison's union contract.
Almy's research suggested higher compensation may have some effect in attracting teachers to high-poverty schools, but not enough if teachers aren't satisfied with other aspects of their work environment.
Almy criticized policies "requiring districts to fill vacancies based solely on seniority, or preventing districts from using innovative strategies to recruit top teachers to high-poverty schools."
Madison fills vacant positions based on teacher qualifications, and there aren't many occasions when seniority is used as a tie-breaker, said Heidi Tepp, assistant director of for labor relations. Seniority plays a bigger role when staff numbers in each school are adjusted based on student enrollment. More experienced teachers stay while the least experienced are reassigned.
On Friday, a Dane County judge overturned Act 10, the law that limited collective bargaining for most public workers and allowed many school districts in Wisconsin to eliminate policies requiring the least senior employees be laid off first.
Before the ruling, Matthews said he had concerns seniority would be a key issue in the district's upcoming creation of an employee handbook, which under Act 10 would replace the union contract. If the ruling stands and Madison negotiates a new contract with employees, Matthews said he doesn't expect seniority to be an issue.
"I'm not worried about it now," he said.
Experience declining in Madison
Average teacher experience in Madison declined by nearly a full year — from 13.7 to 12.8 years — last year after a historic rush of teachers retired in the wake of a state law limiting collective bargaining. A decade ago, average experience was 14.1 years.
Average teacher experience in Wisconsin last year was 13.9 years, down from 14.5 years in 2010-11. The national average in 2007-08, the most recently available data, was 13.5 years.
The National Center for Education Statistics does not calculate a median in its report issued every four years.
More experience doesn't automatically mean better quality as there are plenty of examples of highly qualified young teachers and ineffective older teachers, said Nancy Evans, a former Wright Middle School principal who now teaches in the education department at Edgewood College.
"The schools with the highest needs don't always have the teachers with the most experience — those teachers are often taken away from those schools instead of brought in," Evans said. "Students with high needs need the strongest teachers. That doesn't always correlate to teachers who have been in the profession for a long time."
Andrew Statz, the district's chief information officer, said he will be interested in using new measurements of teacher effectiveness and school quality to look at the same question raised by the State Journal analysis. That data is still being developed by the state and won't be available for a few more years.