In UW-Madison's rural health care immersion program, disaster and crisis response is a key piece of the curriculum. But instead of discussing hypotheticals, the program's nursing students gained hands-on experience last week as they aided in northwestern Wisconsin's tornado relief effort.
Clinical assistant professor Pamela Guthman is leading a team of seven nursing students in the Community and Public Health Immersion Clinical program in Rusk and Barron counties in northwestern Wisconsin. The group of rising seniors arrived in Rusk County a week ago to learn about the necessity of health care providers and health educators in rural and underserved communities.
Then a tornado blighted the area Tuesday.
The students partnered with the American Red Cross on Saturday to aid in the recovery efforts, specifically for those who were displaced after the tornado destroyed a trailer park in Cameron.
"What we're going to be doing is helping people who have been devastated by the loss of their homes," Guthman told the State Journal. "We know that housing is very closely related to a person's mental health."
The tornado killed one man and left 25 others injured, and while the students did not provide immediate medical attention, their service was still needed, Guthman said.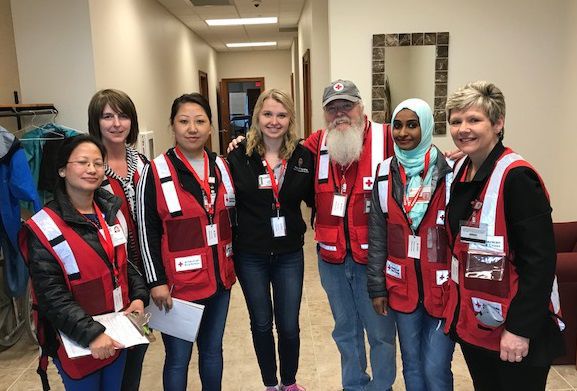 The students helped by interviewing people affected by the tornado, providing those people with health and housing information and directing them toward specific resource centers.
"People are coming and saying they only need a little something when the whole side of their house is missing," said student Emily Menting, of Oconomowoc. "But they say that others have it worse than them."
Rusk and Barron counties have long been under-resourced, Guthman said. This creates a health disparity on its own, but she said the lack of resources affects relief when a disaster hits.
"When we have a lack of resources, that is compounding our ability to bounce back," Guthman said.
Guthman said one of the goals of the program is for the students to learn a "sensitivity for the challenges" of rural communities. Guthman said while health care professionals working on acute crises are needed in the area, professionals focusing on prevention are in very short supply.
"We go into the community and see what the community is doing and what they need," said Tenzin Kunsang, who moved to Madison from India in 2002.
Kunsang said when resources are distributed by the government or other organizations "rural places are just ignored."
Rural communities often don't have access to the health care opportunities people in more urban areas take for granted. Cell phone reception and internet access are limited and fewer doctors practice in rural areas, which has led, according to the U.S. National Library of Medicine, to higher rates of chronic illness in people from rural areas.
Public health nurses are important in rural areas, Guthman said, because they can work with individuals on care plans as well as families, communities and organizations. Public health nurses are important to coordinating public health efforts like educational programs and disease prevention plans, and they are able to work as expert advocates for disparaged communities.
"There are so many ways you can be involved in the community as a nurse," Menting said.