Some voters had to run home to retrieve their IDs, and some poll workers struggled to comply with the new regulations, but the first statewide test of Wisconsin's voter ID law on Tuesday resulted in few major problems — thanks in part to the fact that hardly anyone actually voted.
"So far so good," said Elaine Staley, the chief poll inspector for Madison's 73rd ward. "We've had a few people register and they've come with the proper credentials. It has been fairly easy for us. I just wish we had more voters."
By mid-afternoon, she said just 55 people had voted at the polling place on South Park Street, in one of the city's poorer neighborhoods, and no one had been turned away because they lacked proper identification.
The sleepy state primary consisted of one statewide election and a smattering of county and municipal elections and had state election officials predicting that just one in nine eligible voters would show up at the polls.
Government Accountability Board spokesman Reid Magney said there were "some minor issues" with the new law involving a few election workers who went beyond the law's requirements. Those included questioning people whose address on their ID did not match the poll book or trying to match the ID's signature with the voter's signature on the poll book, neither of which is a requirement, he said.
Magney called it "a good learning experience" for the presidential primary and nonpartisan election April 5, the partisan primary on Aug. 9 and the partisan general election Nov. 8. "We will incorporate lessons learned from this election into our regular clerk webinars, as well as the training sessions for municipal clerks and chief election inspectors before the next election," he said.
The voter ID law was enacted in 2011 and briefly took effect for the 2012 spring primary election, when there were no statewide contests on the ballot, until court challenges halted its implementation. Last March, the U.S. Supreme Court ruled the new voting requirement was constitutional, clearing the way for the Republican-authored legislation to take effect.
Wisconsin's voter ID requirement is among the most restrictive of any state. Voters must come to the polls with one of a list of approved photo IDs that include their signature, such as a Wisconsin driver's license, U.S. passport or U.S. military ID. Some student and tribal IDs qualify if they're not expired. Student IDs also must be accompanied by a separate document that proves enrollment, such as a tuition statement.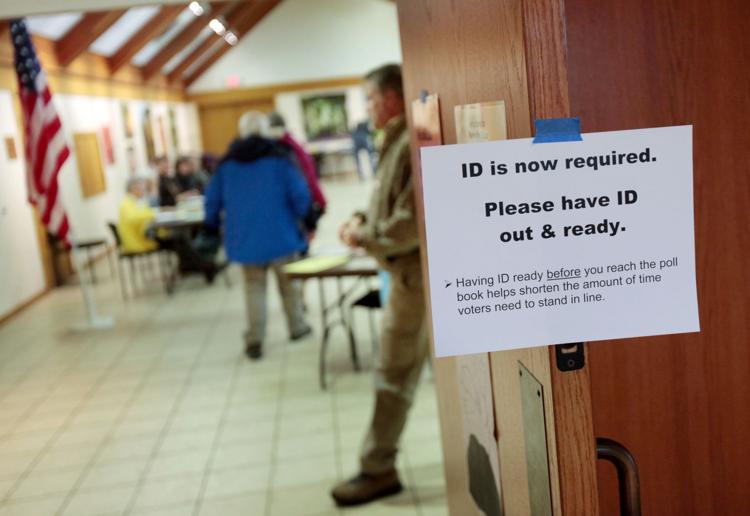 On the UW-Madison campus, few students were taking the time to cast ballots. At the Red Gym, 15 people had voted by 12:30 p.m. while across the street at Memorial Library just five people had voted by midday. Poll workers at both sites said directing students to the correct polling place was more time-consuming than checking IDs.
"Everything's worked out fine. Everybody's prepared and has their ID and we haven't had any issue at all," said Jim Fortner, who has been the chief inspector at Ward 48 since 2000. The polling place is normally at Memorial Union but was moved to the Red Gym because of construction.
"Those that are coming are prepared," Fortner said. "Students are informed and they're ready to do their business."
There was a heavy voter turnout in Jefferson because of a school referendum, but there were no problems with voter ID other than a couple of people who had to return home to retrieve their identification, said Mary Kuehl, the deputy city clerk. Turnout also was strong in the villages of Marshall and New Glarus because of school referendums, and neither village reported any problems.
Near Camp Randall, at First Congregational Church, 1609 University Ave., 147 people had voted by 1:05 p.m. One person was turned away because of a lack of an ID but returned a short time later with the proper identification, said Jordan O'Neil, chief inspector of ward 61.
He also said that voter ID is helping poll workers more quickly find the names of voters on the voting list during the check-in process. "Instead of having to ask their name and address we can just look it up with the driver's license," O'Neil said. "Even if the address doesn't match, we can still look up the person's name."
A 13-minute lockdown at Madison's Aldo Leopold Elementary School, 2602 Post Road, Tuesday afternoon led to a one-hour extension of polling hours there for residents of wards 74 and 75.
The lockdown occurred at 1:07 after Madison police called the school and said "a suspect" was in the area, according to Aldo Leopold principal Karine Sloan.
"We wanted to take precautions and it was over very quickly," she said.
No voters were turned away because of the lockdown, according to Michelle Flores-Herrero, the chief inspector for the polling place. She said a court order to extend the polling hours can be granted in that situation because of the potential voting deterrence that a police presence in the area can create.
Flores-Herrero said she explained what happened to Dane County Circuit Judge Peter C. Anderson and he then granted an order to keep the school's polling location open until 9 p.m.
State Journal reporter Bill Novak contributed to this report.