Madison City Council members are seeking targeted changes in Mayor Paul Soglin's proposed $313.9 million operating budget for 2018, adding $400,000 to match a federal grant to hire police but cutting $250,000 from a new violence-prevention program.
Soglin said he's "pleased" that the amendments, which would add a net $456,070 in spending, "don't cumulatively become a budget buster," but he has concerns about some proposals and opposes others.
Ald. Paul Skidmore, 9th District, and three others are proposing to add the $400,000 in a bid to add 15 police officers with the help of a federal community police hiring grant, which has not yet been secured.
Soglin had proposed $350,000 in his budget, which could be used to add three officers without the grant and, if the grant is received, would be enough to initially hire seven officers and phase in the rest over the next two or three years, city finance director David Schmiedicke said.
Under Skidmore's amendment, the city could add six or seven officers without the grant and, if it is received, add all 15 in the first year, Schmiedicke said.
"This is to address a need," Skidmore said, noting increases in homicides, gun violence and transports to mental health treatment facilities. "We have a need right now."
Soglin said there is some concern about putting the full $750,000 in the budget before a grant is awarded because the federal government may not consider all of the funds as a match and look for further funding. The mayor said he would prefer to add the $400,000 later if the grant is received.
Skidmore prefers placing the funds in the budget now and deciding what to do with it later if the grant is not received.
Approach to violence
Also, Ald. Sara Eskrich, 13th District, and four others are seeking to eliminate $250,000 in the mayor's budget for a new initiative that would reallocate vacant positions and use the new funding to create a public health-style, data-based approach to address causes and prevent violence that has plagued the city.
Soglin's initiative is intended to build upon a new peer-support approach in which people, preferably those who have gone through similar experiences, are trained to provide support to those involved in incidents of violence or people leaving incarceration.
"We've put in so much effort and come so far in the past year," the mayor said. "I frankly don't understand why anyone would look to eliminate this funding."
Eskrich said she supports the reassignment and hiring for the public health approach, but doesn't believe it's realistic that programs reflecting it will be ready to be implemented next year.
"I'm unwavering of a public health approach to violence prevention," she said, adding that she's also concerned that the county isn't participating in funding the $250,000.
The county, Soglin said, has assured it will expedite a process to hire the Public Health personnel.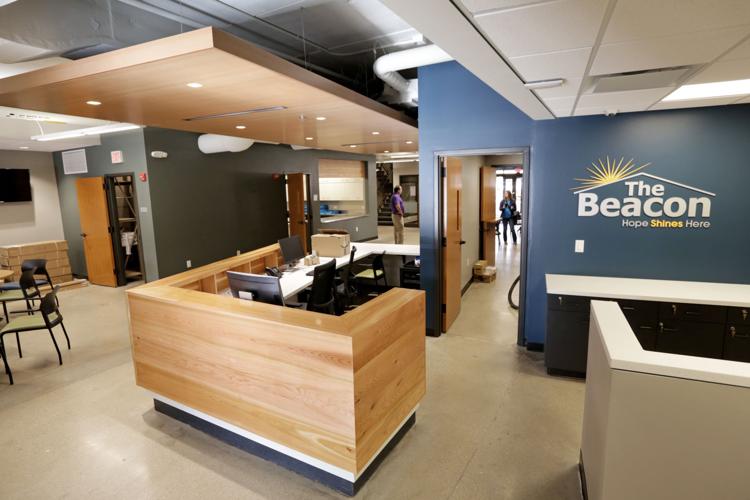 Funds for The Beacon
In another key amendment, Ald. Zach Wood, 8th District, and four others are seeking to add $40,000 to the city's contribution to run Dane County's just-opened day resource center for the homeless next year.
The extra funds would raise the city's contribution for running the resource center, called The Beacon, to $150,000 — still not as much as the $172,000 being provided by each of the other three funders — the county, United Way of Dane County, and the chosen operator, Catholic Charities Madison.
The Beacon, 615 E. Washington Ave., opened on Monday with plans to operate from 8 a.m. to 5 p.m. 365 days a year.
The county, city and United Way are contributing a total $330,000 and Catholic Charities $150,000 — altogether $480,000 — for operations this year. But all funders apparently weren't aware that Catholic Charities, when chosen as operator in September 2016, had submitted a projected $688,000 operating budget for the first full year of operations in 2018.
After conversations late this summer, the county and Catholic Charities raised commitments to $172,000 apiece. The United Way said it would also contribute that amount if it meets fundraising goals.
But on Oct. 3, Soglin proposed $110,000 — the city's commitment for this year — in his 2018 budget. "We've got some higher priorities," the mayor said.
The total $150,000 represents the city's original, proportional share of operating expenses at The Beacon, said Eskrich, who is co-sponsoring the amendment.
All told, the city's Finance Committee on Monday will consider 22 amendments to Soglin's operating budget for next year. The mayor's budget would increase city tax collections 4.8 percent to $230.3 million, and raise taxes by 2.7 percent, or $64.50, to $2,481.99 on the average home now valued at $269,377.
If all 22 amendments were passed, they would add the net $456,070 to the operating budget, a tax hit of $4.92 on the average home.
The city can still increase tax collections by about $700,000, or another 0.3 percent on the average home, before hitting state-mandated levy limits.
The full council will make final decisions on the operating budget and a $332.5 million capital budget already amended by the Finance Committee in the week of Nov. 13.
"I frankly don't understand why anyone would look to eliminate this funding." Mayor Paul Soglin, of amendment fo cut violence prevention money