Madison officials interested in making some changes at a 156-year-old Confederate graveyard at the city's Forest Hill Cemetery are not showing much interest in an Illinois man's offer of the ultimate change: moving the remains of the 140 Confederate soldiers buried there out of town.
Matthew Evans, camp commander of the Sons Of Confederate Veterans Camp Douglas Memorial No. 516, said he's tried repeatedly since August to meet with Mayor Paul Soglin and other city officials about his proposal to move the remains after Madison removed a plaque from the cemetery's Confederate Rest section and began looking at what do with it and a separate monument still remaining at the graveyard.
The city's work started amid a nationwide re-evaluation of the appropriateness of monuments glorifying the Confederacy that was sparked by a white nationalists' protest against the removal of a Robert E. Lee statue in Charlottsville, Virginia. The protest turned violent and left one counter-protester dead.
The plaque removed from the Confederate Rest referred to those buried there as "valiant Confederate soldiers" and "unsung heroes." The monument, donated by the United Daughters of the Confederacy, lists the names of the soldiers. Soglin has called the Daughters a "racist and bigoted organization."
Evans claimed Soglin's got his history wrong and that the "majority (of Confederate soldiers in general and at Forest Hill) were not fighting for slavery because none of them owned slaves."
"They were prisoners of war and they were also Americans before, during and after the Civil War," said Evans, who said he has 15 ancestors who fought for the South in the Civil War, none of whom were slave owners.
Evans, whose group claims about 45 members mostly from Chicago and its suburbs, said he'd prefer the remains stay in Madison but made the offer to move them because the mayor is "desecrating" the graves and using the "bodies of dead soldiers" to "get ahead in the political system."
Soglin said Evans is a "propagandist" who claims to know what he's talking about but fails to rebut Soglin's points.
"No one is going to disturb those who are interred at the cemetery," he said, adding that "I am attempting to spend as little time on his nonsense when the city has far more important things to contend with."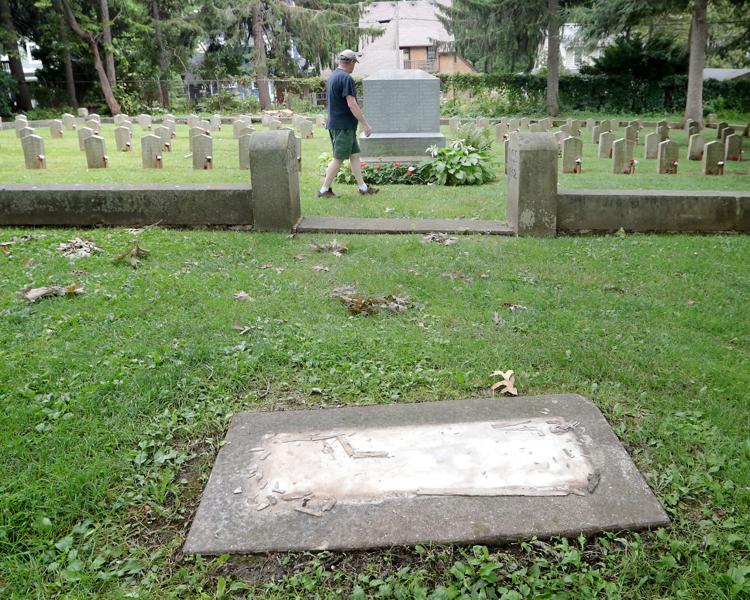 Soglin's position is that the graves should remain intact and some kind of display installed to better explain the soldiers' place in history.
Asked if he was going to respond directly to Evans, Soglin said: "You're going to publish something. That's more than he deserves."
Neither Evans nor Soglin knew what laws might apply to moving the remains, but Evans said he's been in contact with the SCV headquarters in Tennessee for advice. Evans said possibilities for the remains' reinterment are the SCV's headquarters or places of the soldiers' descendents' choosing.
The chairman of the city's Landmarks Commission, Stuart Levitan, called Evans "a rebellion-glorifying Civil War zealot."
"I doubt that Wisconsin law permits private individuals or groups to disinter and relocate so many human remains," he said in statement. "But whether or not his proposal is authorized by statute, it is absurd and offensive and unworthy of further response."