topical
featured
top story
New UV light procedure now becoming available for Wisconsinites with cornea condition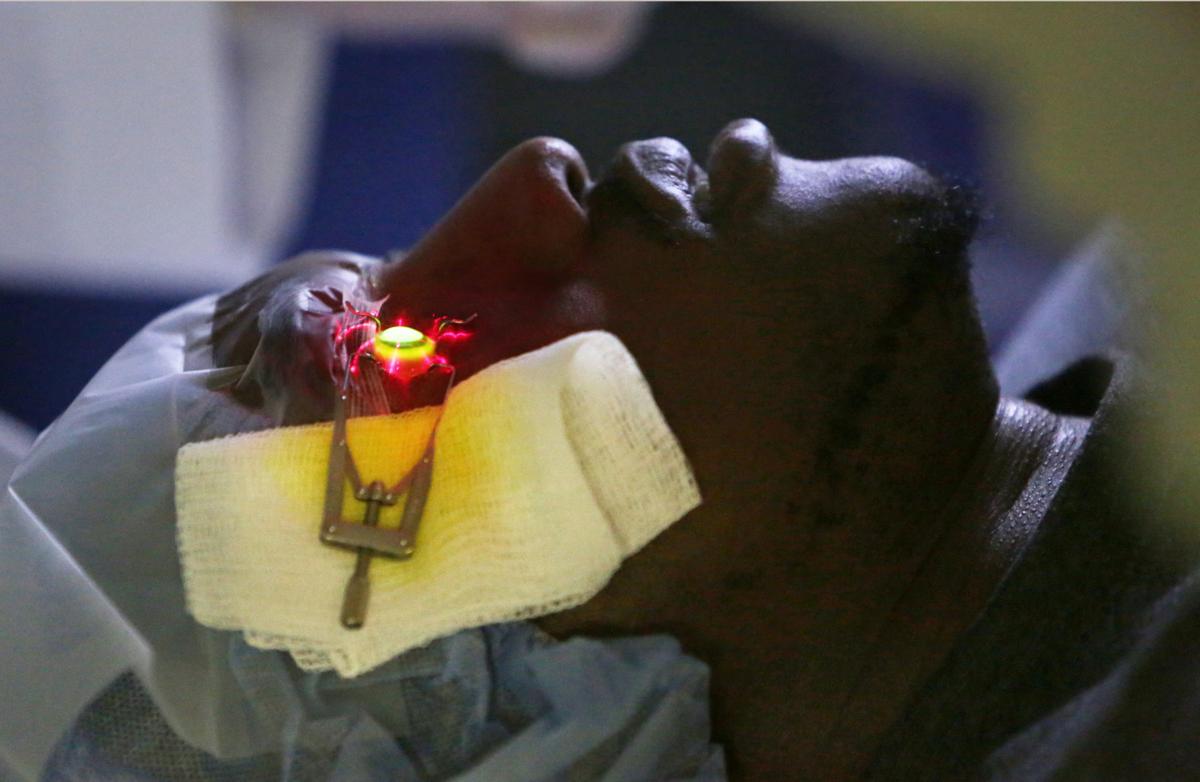 After his vision deteriorated, Faithful Anane-Asane, 26, was diagnosed with keratoconus, a progressive condition in which the cornea becomes thin and bulges, causing blurriness.
The decline in his sight outpaced frequent updates to his prescriptions for glasses and contact lenses.
This month, at SSM Health Davis Duehr Dean Eye Care, the Madison man received a treatment now becoming available in Wisconsin: corneal cross-linking.
The procedure, approved by the Food and Drug Administration last year, involves soaking the cornea with liquid riboflavin, or vitamin B2, and exposing it to ultraviolet light. The process causes collagen fibers to bond, or link, stiffening the cornea and preventing advancement of the disease, doctors say.
"Hopefully, I'll be in a stable condition for a while," said Anane-Asane, a pharmacy technician.
It's not clear what causes the condition, but it may run in some families and can be triggered by excessive rubbing of the eyes, such as from allergies, doctors say. Keratoconus typically occurs in both eyes but sometimes in different degrees.
Rigid gas permeable contact lenses can improve vision, but they don't slow the disease. In some cases, patients get corneal transplants.
Corneal cross-linking, which has been done for many years in Europe and Asia, is being offered to halt the disease and prevent the need for corneal transplants.
"This is not a vision-improving procedure," said Dr. Christopher Croasdale, an ophthalmologist at Davis Duehr Dean. "This is a disease-stabilizing procedure."
Complications can include infection, corneal haze and damage to cells on the inner surface of the cornea.
Davis Duehr Dean participated in one of the clinical trials that led to the FDA approval of the corneal cross-linking system, made by Avedro, of Waltham, Massachusetts.
Seven patients at Davis Duehr Dean participated in the trial. Anane-Asane was the third patient treated this year, since approval.
The procedure costs about $2,800 per eye, compared to about $20,000 for a corneal transplant, said Debra Lorfeld, a clinical manager at Davis Duehr Dean. Dean Health Plan covers corneal cross-linking, but many other insurers in the Madison area don't, Croasdale said.
UW Health plans to start offering corneal cross-linking by July, spokeswoman Emily Kumlien said. Unity Health Insurance will cover it there, spokeswoman Jennifer Dinehart said.
Anane-Asane said he may have developed keratoconus from rubbing his eyes from allergies. No one else in his family has the condition, he said.
To undergo corneal cross-linking at Davis Duehr Dean, he first received numbing drops in his eyes. Then Croasdale covered his left eye and put drops of riboflavin, colored tennis-ball yellow, in his right eye.
After determining that the liquid vitamin had soaked the cornea enough, Croasdale directed a UV beam onto Anane-Asane's right eye, where it remained for half an hour. Spokes of reddish light radiated around a yellowish-green glow emanating from his eye.
Anane-Asane said his eye hurt and was dry for a few days afterward. It will take a few weeks to see how much the procedure helped, but he's already thinking about getting it done on his left eye.
"If I'm pretty satisfied with it, I want to go ahead and get the second one taken care of," he said.