MILWAUKEE—There were two center courts that drew considerable attention on North Fourth Street last week, each with their own form of March Madness buzz.
The BMO Harris Bradley Center was overrun by Gophers, Boilermakers and Cyclones as the nearly 30-year-old building hosted for the last time the first and second rounds of the NCAA men's basketball tournament.
The scene was in contrast to what was happening next door. That's where steel-toed work boots replaced sneakers, 200-foot-tall cranes not 7-foot basketball players towered and cement trucks made full-court drives on dirt and gravel as work continued on the $524 million basketball arena for the Milwaukee Bucks.
But when college basketball fans return for the next NCAA tournament here, there will be much more than just a state-of-the-art, 17,500-seat arena, Turner Hall across the street, Major Goolsby's a few blocks away and the bars, restaurants and shops that line the cobblestone streets of nearby Old World Third Street.
The $1 billion, 30-acre Wisconsin Entertainment Sports Center financed in part with $250 million of state taxpayer money is designed to be a catalyst for the city's downtown, create a year-round destination not only focused on basketball and further the state's position as a major sports tourism destination.
"They've really taken the idea of an arena and elevated it to something much larger and much more community focused. It's really going to be a touch-point for the city and revitalize that area of downtown," said Kristin Settle, director of communications for VISIT Milwaukee. "It's an exciting development not only for those of us living in Milwaukee but really the entire state of Wisconsin."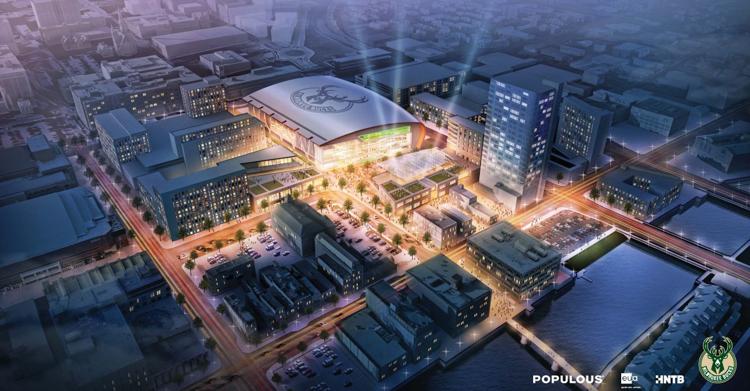 Since the opening of the Bradley Center in 1988, college and pro sports facilities in the state have received major upgrades with serious cash.
The Kohl Center opened in 1998 in Madison and moved men's and women's basketball out of the historic but antiquated UW Fieldhouse, constructed in 1930, while the men's hockey program ultimately vacated the Dane County Coliseum, another venue being eyed for redevelopment. Miller Park and its domed roof opened in 2001 which meant Brewers fans no longer had to endure sleet, cold and rain-outs at County Stadium. Hundreds of millions of dollars has been pumped into Camp Randall and Lambeau Field to add seats, luxury boxes, club seating and other revenue-driving amenities to the football stadiums.
Herbert Kohler has built golf courses in Sheboygan County that have drawn pro-tour events; and baseball stadiums for minor league baseball teams and independent leagues for teams like the Madison Mallards have also been vastly improved or newly constructed. On East Washington Avenue in Madison, Breese Stevens Field, built in 1926, has a new playing surface and is now home to a professional Ultimate Frisbee team and is hosting concerts that this year will include Boston and the Avett Brothers.
And let's not forget what's happening between Lambeau Field and Interstate 43 in Green Bay. The $130 million Titletown District is being developed on 34 acres that will soon include a hotel, brewery, health center and ultimately apartments, condominiums, shops and a massive plaza that can be used year-round.
The Bucks organization, with its ambitious Milwaukee project, is next in line. The team also recently announced that it would locate its development team in Oshkosh, where a 3,500-seat arena is planned as part of the Sawdust District development located in a former industrial corridor along Lake Winnebago.
"It's been an unbelievable transformation," Peter Feigin, president of the Bucks, said last week by phone from New York when asked about sports facility upgrades. "With an asset that has so much investment in it, it only makes sense to leverage it year-round."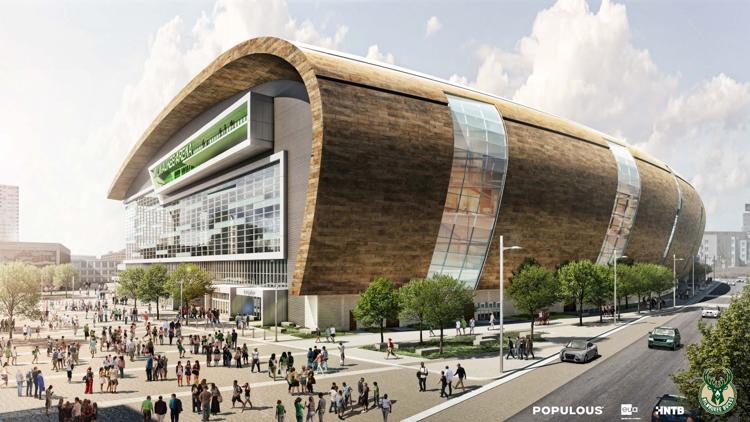 The arena district in Milwaukee will include a 55,000-square-foot training facility for the Bucks, while Froedert Hospital and the Medical College of Wisconsin are building an adjacent 37,000-square-foot public health center. Across the street, the Bucks are building 90 apartments and a parking garage for 1,250 vehicles and street-level retail. The structure would also include a sky bridge to the arena and provide relief for some fans who doled out between $35 and $50 to park last week in some of the lots around the Bradley Center.
The projects would further be enhanced by a 100,000-square-foot entertainment block along Fourth Street that would include a public plaza connected to the arena, restaurants, bars and shops. To the north, another 1.5 million square feet of land of what used to be the Park East Freeway is also slated for development over the next 10 to 12 years.
"The impact on tourism is going to be huge," said Settle, who estimated that last week's NCAA tournament resulted in 6,500 hotel stays and a $6 million economic impact.
The arena, scheduled to open in fall 2018, will be home to the Bucks and the Marquette Golden Eagles men's basketball team. But Feigin also envisions NCAA basketball and hockey tournaments, the Big Ten volleyball tournament and major concerts for the venue, which will include dressing rooms, better acoustics and loading docks that will make it easier for roadies to set up a show.
Unlike the more enclosed Bradley Center, built for hockey, the new arena features a more open floor plan that will allow fans to see games or concerts from the concourses. There are 34 suites, Mezzanine Club seating for 1,000 and six suites that can be configured for group events for up to 150 people. A second level event space will be used year-round, and there's a VIP club at court level where fans can get close to athletes as they enter the bowl.
"It's fan-centric and customer-focused," Feigin said. "This is the opposite (of the Bradley Center). This is a modernized visual experience with an unbelievable sound experience."
That experience could be somewhat felt Thursday during a tour of the arena site that includes 300 workers who were busy erecting steel, pouring cement and doing dozens of other jobs. By this summer, up to 800 people could be on the job site, which is supported by 120 other staffers housed in 50 construction trailers.
Mike Sorge, 53, is the project director for Mortenson Construction, the same company that built the stadium for the Minnesota Vikings that opened last fall and SunTrust Park, the new home for the Atlanta Braves scheduled to open in a few weeks. Sorge said 99 percent of the foundation work on the Milwaukee arena is complete, 55 percent of the structural steel has been erected and roof trusses will begin to be installed in early May.
The work includes receiving about four trucks a day from Merrill Steel in Schofield and 10 to 15 trucks each day from Spancrete in Manitowoc where concrete stadia are being precast. Stadia are used to form the steps in the bowl on which seating is attached. Each can be up to 40 feet long and up to 15,000 pounds. In all, the arena project is using 8,830 tons of steel and enough cement to fill 1,800 mixer trucks, while much of the facade of the building will be covered in 80,000 square feet of zinc panels.
"The big picture is we're right on schedule, we're right on budget and safety is going very well," said Sorge, who grew up in Burlington and now lives near Eagle.
But the controversy over the funding, approved by the Republican-controlled state Legislature and signed by Gov. Scott Walker, remains a sore spot for some and has not been lost on Feigin and the ownership group. They know the project throughout its existence will be closely scrutinized because of the public subsidy.
"Without question," Feigin said. "There is a true obligation to become an asset to the community and maybe we have a little more pressure in that there's this group of New Yorkers who came in to a very strong cultural community with a great legacy and we have to kind of prove ourselves to build something that's authentic, localized and really has growth potential. I think there's a ton of pressure."