OREGON – Joan Gefke and Randy Glysch would have been good friends.
Gefke embraced the history of this village and was one of the most outspoken supporters for the restoration of The Old Red Brick School from where she graduated in 1947 with 21 other seniors.
Located at 220 N. Main St. and just a few blocks from the downtown, the school, constructed in 1922, was restored by Gary Gorman for $3 million and is now the headquarters for his development company.
Gefke lived to see the project completed in 2007 but died in 2010 before there was progress on another historic structure she loved. But Glysch has filled Gefke's role quite nicely as an advocate for the village's pump house and water tower.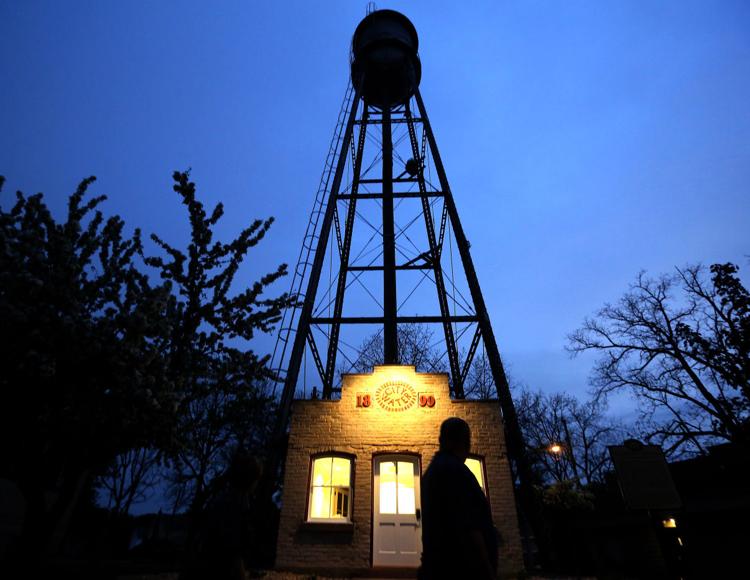 And this Saturday, Gefke will surely be remembered and Glysch recognized as the restored brick pump house is dedicated to house the Oregon Welcome Center. The ceremony comes 34 years after the last drop of water was pumped through its pipes and 116 years since its construction.
"I feel akin to her because I'm following in her footsteps," said Glysch, who moved to the village from Madison's North Side in 2013. "I think she would be happy that we saved it."
But the work isn't over. The next step for Glysch and the Friends of the Historic Water Tower is to try and raise the estimated $100,000 needed to restore the water tower that sits above the pump house and looms over this downtown. Previous estimates were as high as $260,000 but technologies have improved and the costs have gone down to remove lead-based paints, Glysch said.
Fundraising for the pump house began in January with a goal of $40,000. The effort generated $58,000 and thousands of dollars of in-kind donations from area businesses, organizations and residents. The list of businesses that donated landscaping, flooring, furniture, skilled labor and even pizza looks like a roster from the Oregon Area Chamber of Commerce.
The building has a new roof, windows and doors, new plaster and the exterior brick work has been tuck-pointed. A furnace and air conditioner were added, the building rewired along with the additions of new ceilings, floor joists and lighting.
"Just about everything in here is brand new," Glysch said.
The front room of the pump house will serve as the welcome center with a desk, shelving for brochures and historic photos of the village. The back of the building is bathed in natural light and will be used as a meeting room.
However, to get into that room, visitors will have to step over a steel beam that runs through the building and is part of the base of the water tower. The middle of the back room also contains the primary pipe (surrounded by wood casing) that delivered water from the basement pumps to the 30,000-gallon steel tank more than 100 feet above.
"There's a really a nice feel in here," Glysch said. "I could live in here."
The debate on the fate of the water tower and pump house has gone on for more than two decades. They're located on the site of Oregon's first inn and near where C.P. Mosely built a frame house in 1843 and started the Oregon Exchange Hotel. The tower and pump house are just a block from the World War I monument and 30 yards from where Don Kneifl cut hair for more than five decades before he retired in March from his Dad's Barber Shop.
Many communities have found uses for their water towers and pump houses while others have simply preserved the structures for their historical significance and architecture. Sun Prairie, Fort Atkinson and Columbus, for example, all have water towers made with brick or stone bases. In Milwaukee, the North Point Water Tower on North Lake Drive looks more like part of a castle. It was built in 1874 out of Cream City Brick and placed on the National Register of Historic Places in 1973.
Beloit and La Crosse each have visitor centers from tower and pump house remnants while several communities have inoperable water towers that remain standing and look similar to Oregon's. Waterloo's water tower was built in 1910 by the Chicago Bridge & Iron Co. and has carousel horses painted on the tank to commemorate the 1911 C.W. Parker Carousel at Firemen's Park.
Hayward's water tower, constructed around 1914 but taken out of service in the mid-1990s, represents the past but generates revenue for the city since it hosts cellphone equipment, said John McCue, the city's public works director.
"We did discuss taking the tank off but thought it would be incredibly ugly," McCue said. "At some point something will have to be done but I'm a stickler for keeping the old stuff around. It adds character."
Pardeeville, east of Portage, has a 131-foot-tall water tower referred to as "Tin Man" by village administrator David Tracey. Built in 1939, the 50,000-gallon tank is still used, is inspected annually and serves as a backup to the village's 300,000-gallon primary water tower.
"It's in great shape," Tracey said of the 76-year-old structure. "It's just the way it's built."
But not all old water towers are saved, even those used in a national beer commercial. In Genoa City, a village of just over 3,000 people on the Kenosha/Walworth county line, a water tower built in 1921 and taken out of service in 1996 will be taken down next month. The tower was part of a Budweiser television ad about six years ago, but there was no debate when the village approved spending $16,000 to remove the structure, said Todd Schiller, the village's public works director.
"It hasn't been used in years, and it's just sitting there," Schiller said. "It's just decaying in front of our eyes."
The Oregon water tower is also in a state of decay but Glysch is hoping the tower, like the pump house, can be saved. A test on a small section of the tower last fall where old paint was removed and the section repainted showed promising results. The key, of course, is raising the funds.
Glysch, 55, is a research scientist for the state Department of Health Services' Tobacco Prevention and Control Program, works part-time as a psychology professor at Madison Area Technical College, is a master gardener and the former president of the Carpenter-Ridgeway Neighborhood Association in Madison. He now lives in a 1905 home just a few blocks from the water tower.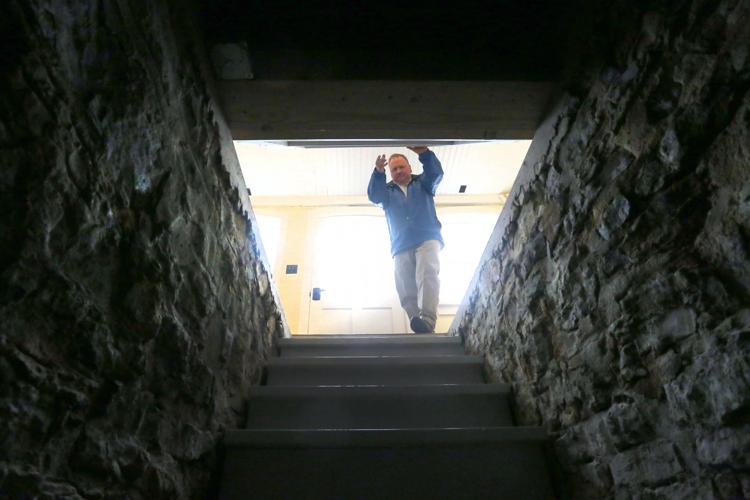 Despite his relatively short time in Oregon, Glysch has shown Gefke-like passion for the pump house and water tower.
"Our hope is that when people come to the welcome center they'll realize what is above this building and that it's worth saving," Glysch said. "It's an icon for the village, and these are disappearing all over the country."