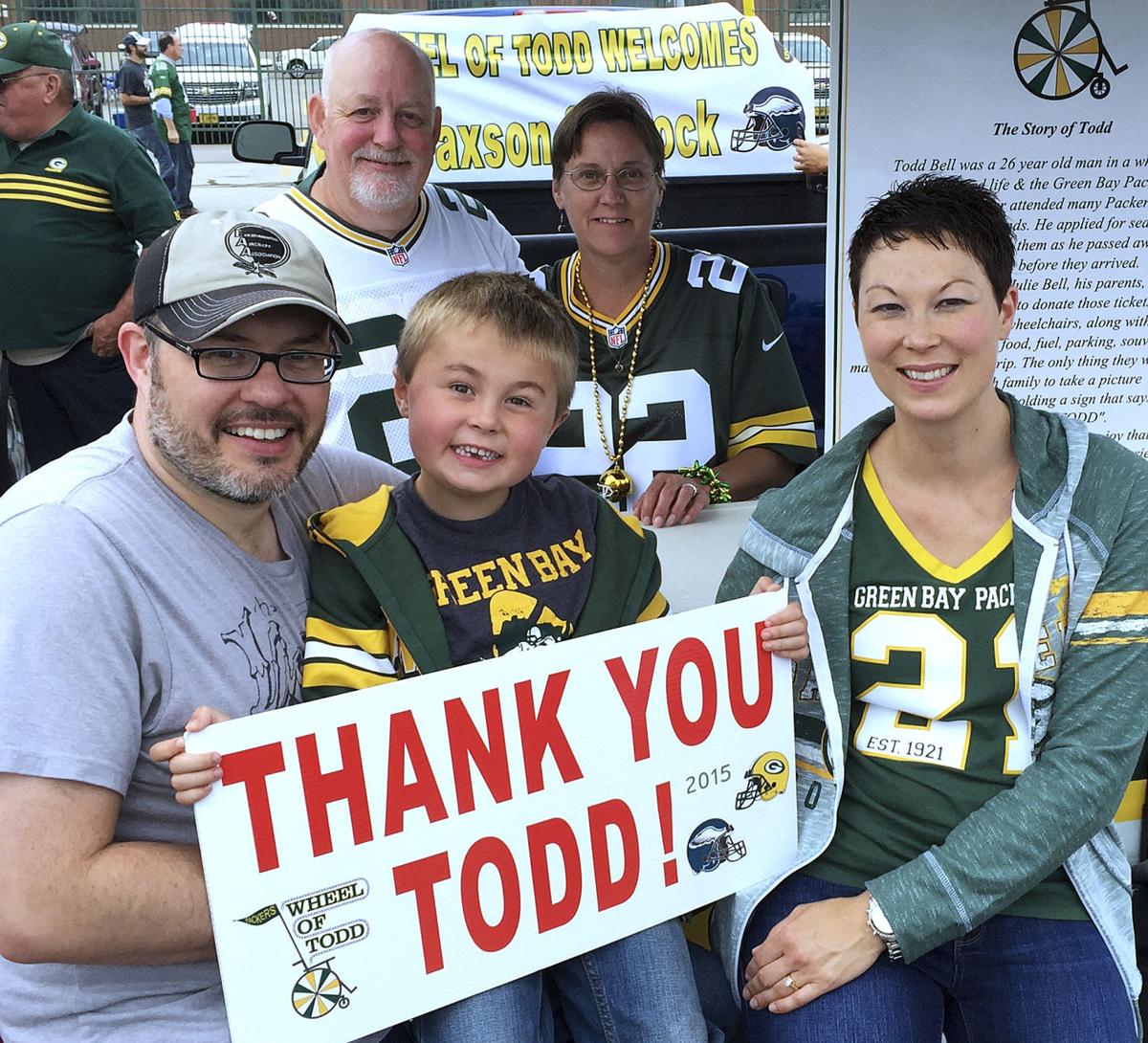 The Wheel of Todd was born at a Green Bay Packers tailgate party.
The game turned Todd Bell's wheelchair into an impromptu roulette wheel with numbers written on a paper plate attached to one of his wheels and a piece of duct tape on the pavement. The game turned $1 bets into a $9 profit for the winner and got Bell more involved in the pregame activities.
But the Wheel of Todd has transformed into something much bigger and with a greater benefit than was ever imagined when the first spin of the wheel took place in 2004, a few months after Bell graduated from high school.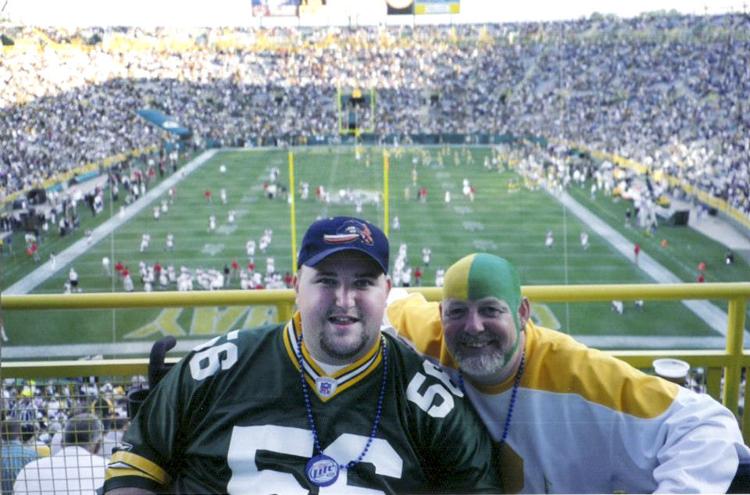 Bell, who suffered from Duchenne muscular dystrophy and was a huge Packers fan, died in 2012 just shy of his 27th birthday. But his season tickets are helping others that are in or destined for a wheelchair to experience the storied stadium on game day.
Since the start of the 2013 season, Craig Bell, Todd's father, has been donating not just his son's two tickets in the disabled seating section, but paying for two nights in a hotel, gas, meals and souvenirs. The bill for each game is about $1,500 in large part because hotels require a two-night stay on Packers weekends with rooms that normally go for $100 costing $400 a night.
"We give them enough money to enjoy themselves up there," said Craig Bell, who lives in the Crawford County community of Eastman, near Prairie du Chien. "We wanted to make it as free as possible."
Craig and Todd had been buying single-game tickets for the disabled section from the Packers until the team ended the program in favor of a season ticket model. The Bells applied for the three-game Gold Package and were put on the waiting list. They started at 18th and were notified a month before Todd's death that they had a chance to buy the season tickets. Sadly, Todd never got to use the tickets.
"I knew that there was just no possible way that I needed handicap tickets," Craig Bell said. "But I thought if they're that hard to get, I'm just going to buy them anyway and donate them."
Since starting the project, seven children, contacted through the Southern Wisconsin Muscular Dystrophy Association, have gone to a game with two more scheduled to attend this season.
Lucas Servais, 17, of Menomonee Falls, is scheduled to attend Monday night's game against Kansas City, while Roy Phorson of Green Bay will be at the Lions' game Nov. 15.
Others that have taken part include Justin Gorton of Lodi, Kaleb Folbrecht of Wauzeka and Jacob Smith of Burlington.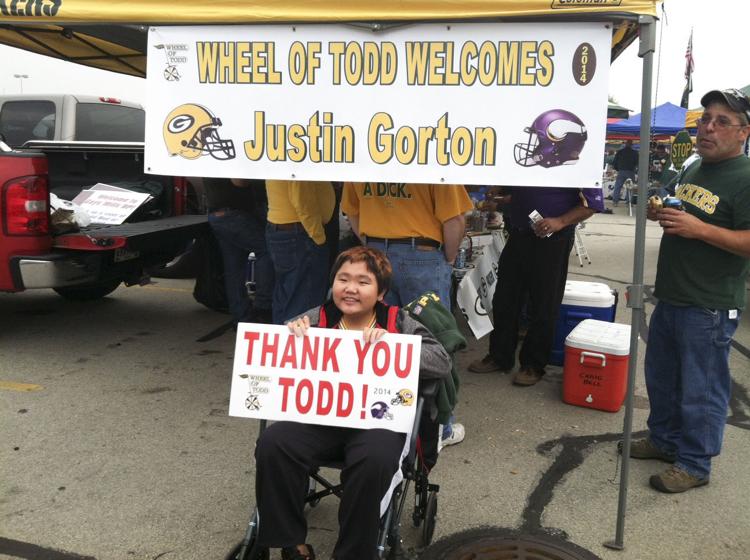 Jaxson Schrock of Menomonee Falls attended the first home preseason game on Aug. 29 and watched as Philadelphia jumped out to a 25-0 lead in the first quarter against the Aaron Rodgers-less Packers and a porous defense. Jaxson's mother, Jessica Schrock, said the experience for her 6-year-old was incredible, even though his favorite team was on the losing end.
"They went above and beyond what I was expecting. I was just expecting the tickets," Jessica Schrock, 38, said of the Bells. "Jaxson didn't really know how excited he should be for the experience until we got up there, and he finally saw Lambeau and the whole thing. He really had fun, and we had the full tailgate experience, too."
The tailgate party is put on by the Bell family in the Lombardi lot on the east side of the stadium. A 40-foot flag pole with four flags — American, two Packers and an Eastman — announce their location that includes a portable Packers bar that guests are invited to sign. The top of the bar is reserved for signatures from those using Todd's tickets. Bell's only request from those who use the tickets is that they take a picture of themselves with a sign thanking Todd. The photos are beginning to fill the basement wall of Bell's home and the Wheel of Todd Facebook page.
The Schrocks learned of the Wheel of Todd when Jaxson returned from an MDA summer camp near Kenosha with a backpack full of fliers. Applicants are asked to write a letter as to why they want to attend a Packers game. The Schrocks had hoped for the Detroit game because Jaxson's father, Paul, is a big Lions' fan but were just as happy with the preseason tickets.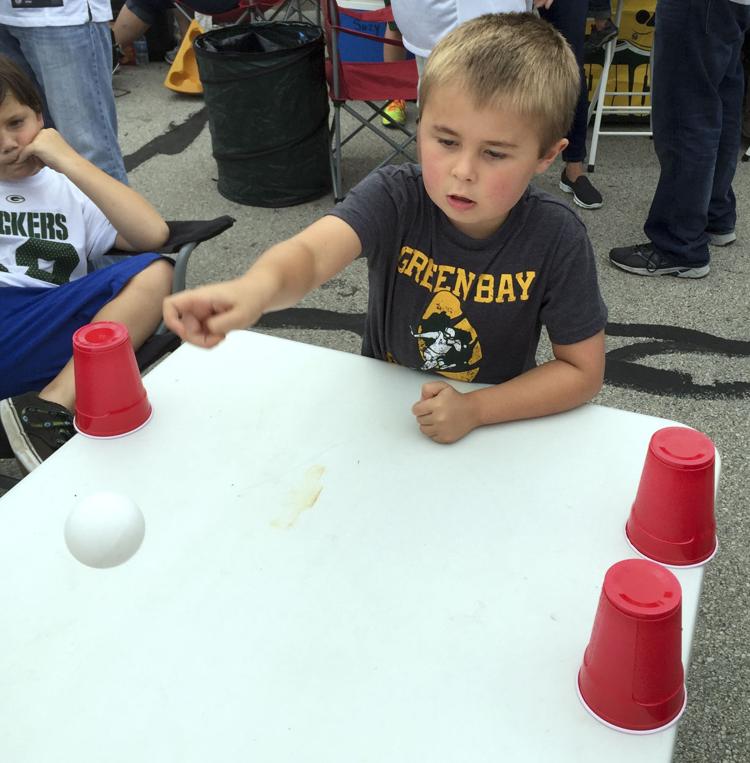 The experience also brought home the seriousness of Jaxson's disease, which is the same as Todd's. Jessica said her son thought Todd would be at the game.
"You could tell it definitely meant more to him after he found that information out," said Jessica, an audiologist. "We're careful about how much information we give him because we don't want to scare him. He has some understanding of (his disease) but it's hard to gauge how much he's really processing."
Duchenne muscular dystrophy is an inherited disorder that involves muscle weakness, which quickly gets worse, according to the National Institutes of Health. The disease occurs in about one out of every 3,600 male infants. Most die from the disease before their 30th birthday.
The Wheel of Todd is the Bells' way of remembering their son's love of the Packers and bringing the game day experience to others.
Craig Bell, 54, ran the family tavern — Bell's Bar in Eastman — for 20 years. Since 1998, he's been a rural mail carrier on a 115-mile route with 375 customers near Soldier's Grove. His wife, Julie, 54, is a cook at the middle school in Prairie du Chien. They also have another son, Tyler, 25, who lives at home and is autistic.
To help pay for the Wheel of Todd expenses, Craig appeals to civic organizations for donations. He recently received $600 from the Prairie du Chien Eagle's Club and a $2,500 check from a music festival held this summer at the Kickapoo Stump Dodger Campground in Gays Mills.
Bell has applied for nonprofit status, which could bring corporate donations and receives cash from Packers fans who pass by his tailgate party and are moved when they learn about his efforts.
"It's very humbling," Bell said. "Very overwhelming."
Bell said he hopes to keep doing the program for at least another 10 years before handing it off to others. When he dies, he plans to donate $50,000 to the project.
"As a kid, you just want to be like everyone else," Bell said. "I know that's how Todd felt."
Barry Adams covers regional news for the Wisconsin State Journal. Send him ideas for On Wisconsin at 608-252-6148 or by email at badams@madison.com.