ON WISCONSIN | VETERANS MUSEUM
Veterans Museum chronicles Wisconsin stories from the Great War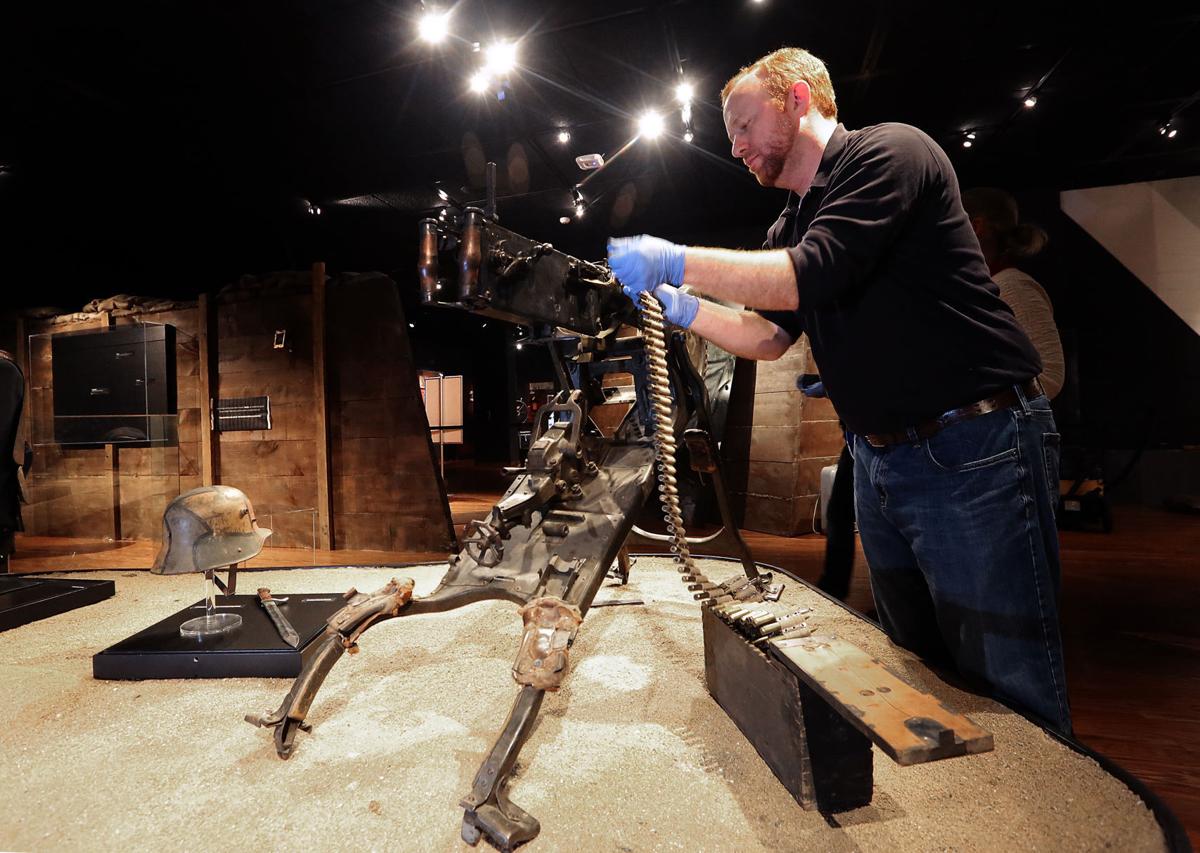 Mortimer Lawrence spent most of World War I taking aerial photographs high above enemy lines.
One of his final shots turned out to be deadly and historic.
Lawrence, a first lieutenant from Beaver Dam, was flying in a two-seat biplane above the Forest of Argonne in northeastern France along with two other planes from the 104th Aero Squadron when 16 German aircraft appeared.
He and his co-pilot tried to flee but instead, on Nov. 10, 1918, they were forced to engage.
"We dived to increase our speed, and as we came up again I found the star performer of the enemy just above me," Lawrence, who was likely 27 or 28, told The Milwaukee Journal shortly after he arrived in New York aboard the USS Orizaba, a transport ship. "He was jockeying for position to put us out of business, but I got an opening and made the most of it. He drifted just where I wanted him to go, and then I let him have the best my machine gun could deliver. He went spinning down, a hopeless wreck."
The kill is believed to be the last German aircraft shot down in the war. Lawrence's story may be unique, but thousands of other Wisconsinites also played instrumental roles in the Great War, which the U.S. entered 100 years ago last Thursday. Many were part of the famed 32nd Infantry Division known as the Red Arrow Division, while some never stepped foot in France. A few were shipped to far-flung posts like Siberia, and others patrolled the Atlantic near the U.S. coastline.
To commemorate the contributions of the more than 122,000 men and women from the state, about 2,000 of whom were killed, and to provide a peek into the past, the Wisconsin Veterans Museum in Madison will open a yearlong exhibit on April 21 that features the stories of 20 state veterans.
"WWI Beyond the Trenches: Stories from the Front," will include audio recordings, photographs, letters and artifacts, and goes deeper into the war than what is on display in the museum's permanent exhibit. It also will be part of the Centennial Symposium on Oct. 27 and 28 hosted by the War in Society and Culture Program at UW-Madison. The event, held at the Overture Center, Wisconsin Veterans Museum and Pyle Center, will include talks by history professors from around the country, papers, tours of the Wisconsin Historical Society and a presentation by Michael Neiberg, chair in war studies at the U.S. Army War College.
Other WWI programs this year at the museum have or will include topics such as propaganda, red poppies, gas masks, airplanes and trench art. The efforts are being promoted by the U.S. World War I Centennial Commission, created in 2013, and the state commission that includes Michael Telzrow, director of the Veterans Museum, located on the Capitol Square.
"Some of them jumped out right away," Telzrow said of the Wisconsin veterans selected for the exhibit. "We had to find people who had something to say. The ones who had compelling stories and had the artifacts and archival assets to support the stories."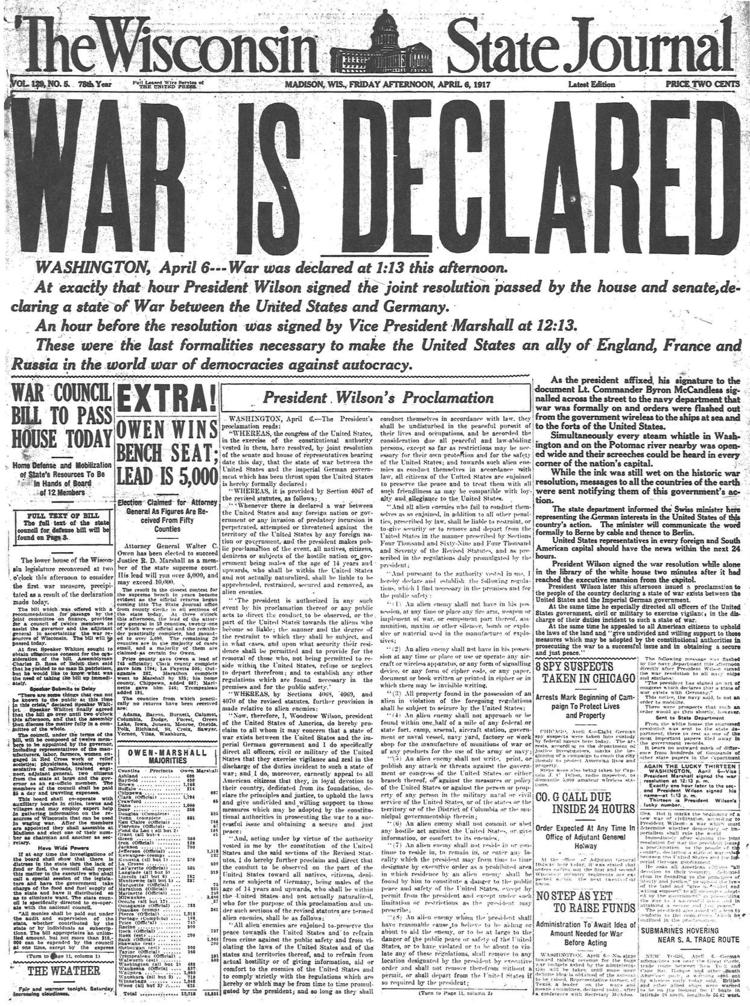 They include Helen Bulovsky, an Army nurse who worked close to the front lines.
Bulovsky was born in Madison in 1895 from immigrant parents and trained at Madison General Hospital. After her graduation in October 1917 she practiced as a registered nurse before enlisting in April 1918. She was assigned to Base Hospital 22, which was formed at Knowlton Hospital in Milwaukee, and later traveled to New York with other nurses to board a ship for France. She arrived in the war zone in June and transferred to Evacuation Hospital 5 in July, a move that put her near the front.
"Last night they operated on sixty five, so you see we are busy," she wrote in August 1918. "I have charge of several tents and it keeps me busy. There isn't much we can do for the boys here except keep their dressings clean, keep them warm, and give them hypodermics."
John Chester Isermann, of Kenosha, served aboard the USS Tuscarora, a Coast Guard cutter-turned-U.S. Navy ship during the war. Isermann's diary and other artifacts were donated to the Veterans Museum from the Kenosha Public Museum and offer a detailed account of his time from 1917 to 1919 patrolling the eastern seaboard of the U.S. It included a stop in April 1918 in Cuba, where they took on fresh water and 75 tons of coal in Guantanamo Bay but also found time for rest and relaxation.
"All hands in Clean whites. Thermometer up to 88 in the shade," Isermann wrote. "John Esch, Harvey Taube + myself went ashore exploring. Bought a few souvenirs."
One of the pieces from Isermann's collection is a small box about the size a wallet. It holds a crucifix, identification in case of injury or illness and a business card-size Christmas and New Year's greeting from his mother.
The four-year war that began in 1914 involved 70 million military personnel, including 60 million Europeans. Over 16 million people died in the conflict that pitted the Russian Empire, the French Third Republic, and the United Kingdom of Great Britain and Ireland against Germany, Austria and Hungary.
The war also was divisive in Wisconsin, home to thousands of German immigrants and Sen. Robert La Follette, one of the leading opponents of U.S. participation in the war. In addition, nine of the state's 11 congressman voted against the U.S. declaration of war and socialists in Milwaukee were also outspoken.
But when the call came, Wisconsin served.
Some trained at Camp Douglas, while others marched and performed drills in uniform near the University Armory and Gymnasium (the Red Gym) on the UW-Madison campus. Wisconsin Historical Society photos show student rifle drill teams in the snow on Library Mall and a stunning image taken from the state Capitol grounds looking down State Street that is filled with marching student cadets about to leave Madison for Camp Sheridan in Montgomery, Alabama.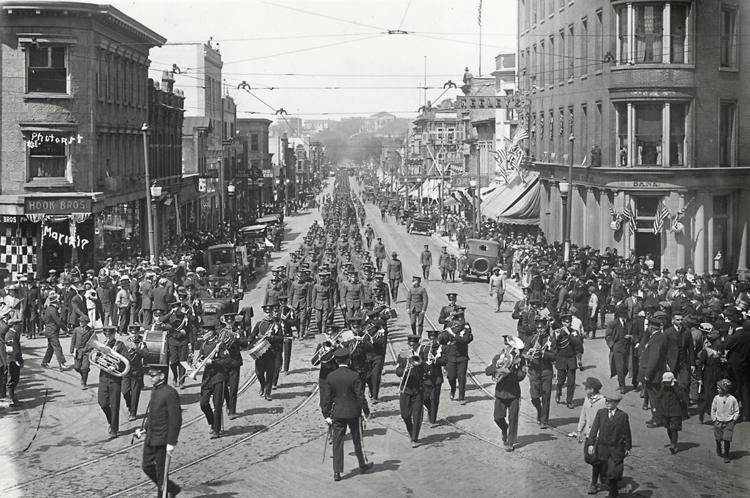 The photo was taken just feet from where the Veterans Museum is now located and where the entry to the temporary WWI exhibit forces visitors to walk through a trench with seven-foot-tall wooden walls topped with sandbags and barbed-wire. There is no mud or stench, but audible thuds, replicating distant artillery fire, are designed to help create a more immersive experience.
"People talk about the letters (home) where they say they hear the artillery and that's how you knew you were getting close to the front," said Kevin Hampton, the museum's curator of history. "You're never going to understand what it was, and no kid is ever going to understand what it was. You can just hope to capture that, and what better way to do that than to have (the veterans) tell you how muddy it was and how dirty it was and being exposed to the rain for days on end. Hopefully (visitors will) make that connection."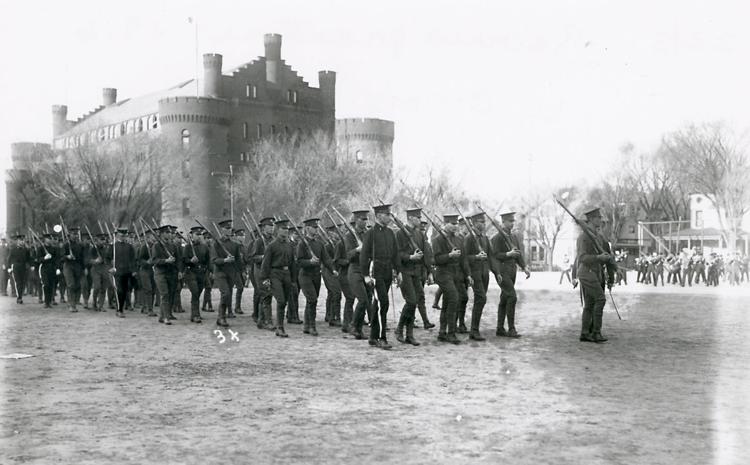 Lawrence, the Beaver Dam pilot, did his basic training at Fort Snelling in St. Paul, Minnesota, and was trained in observation flights at Fort Sill, Oklahoma. He spent two years in the Army and after the war returned to Beaver Dam, where he worked at Western Malleables Company, married Lenore Margret Williams in 1924, began raising a family and joined the local American Legion Post.
Dozens of his letters addressed to his mother's home at 310 N. Center St. document his service, including a note just a few days after the end of the war.
"But the dangerous part is over for good, I hope. It is just a question of time now before we will be home. For most of us that time can't come too soon," wrote Lawrence, who died in 1960. "Of course, France is simply wild with joy and there is nothing too good for the soldiers. I think that the Americans are the most popular of all. The Yanks have done mighty well and have really a powerful army considering the short time we have been in this."
"You're never going to understand what it was, and no kid is ever going to understand what it was. You can just hope to capture that, and what better way to do that than to have (the veterans) tell you how muddy it was and how dirty it was and being exposed to the rain for days on end. Hopefully (visitors will) make that connection." Kevin Hampton,
museum curator of history
Barry Adams covers regional news for the Wisconsin State Journal. Send him ideas for On Wisconsin at 608-252-6148 or by email at badams@madison.com.