editor's pick
special report
'We are failing': Need overwhelms patchwork of homeless service providers
Despite immense goodwill and new initiatives, the community's patchwork of homeless services is strained if not overwhelmed, hampered by a lack of leadership, organization and resources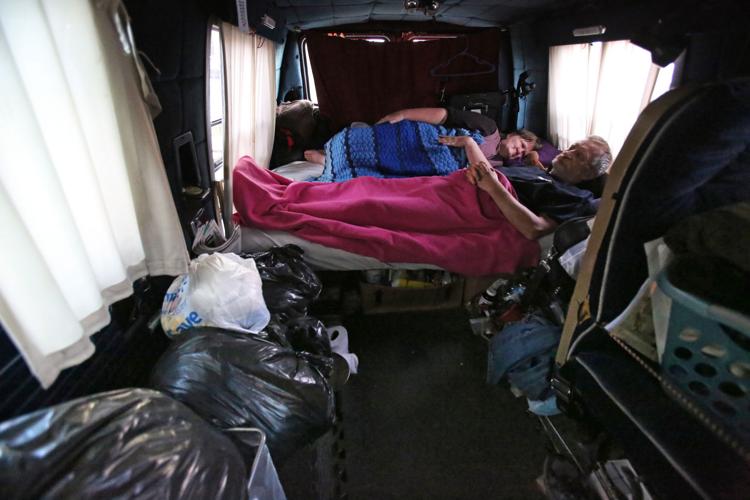 Death, for Roy and Cindy Jacobs, had become preferable to the grind of living on the streets from their 1983 Chevy van.
For months, since their lease was not renewed in the summer of 2015, they sought housing, chased meals, struggled to stay clean and find restrooms, saw degrading and illicit behavior, and engaged the elements as part of a small group of homeless living out of beaten vehicles parked on East Side streets.
By late March, the couple were on the verge of suicide, their despair unbearable by Easter morning. "Things were just out of control," Roy said. "We were right there. I even wrote a goodbye letter."
That morning, they showed up early, as usual, for volunteer work at First United Methodist Church Downtown, which was providing a meal for the homeless later in the day.
"They asked to talk to me. I didn't know what it was about," said Karen Andro, the church's director of outreach ministries, who had befriended the couple. "I'd never seen them like that, physically, emotionally. They shared with me about how hopeless they felt. I told them, this is the worst it is going to get. We're in this together. I'm here for you."
Andro got them a motel room for the next two nights so they could sleep in a bed and take showers. The Jacobses got connected to needed mental health services. They stepped back from the brink.
But they remained homeless.
'Our community should be outraged'
Despite immense goodwill and new initiatives, the community's patchwork of services for the homeless is strained, if not overwhelmed — hampered by a lack of leadership, organization and resources.
In January 2016, an annual one-night count, which most consider an under-representation, found 1,742 homeless people in Dane County, not including those who are staying with friends or family, or living in motels without government-issued vouchers. At the time, the community had 1,816 beds ranging from bunks in emergency shelter to permanent housing units with support services.
The community has since added beds but remains essentially at capacity. Prioritized waiting lists for housing, based on length of homelessness and need, number more than 2,000 people and are growing.
With no options, Brannon Prisk and Adria Mackesey built an encampment in the woods, enduring frigid and sweltering temperatures.
The list for single adults stands at more than 770, including 337 considered chronically homeless — those with mental health or other disabilities who have been homeless for more than a year or multiple times over several years. Forty-four have been homeless for more than a decade. Two-thirds of the list are men, and about 300 need support services such as treatment for mental health or substance abuse.
The family list stands at 530, including at least 1,699 adults and children. One family has been homeless 11 years, another eight years, and more than 40 homeless for more than two years. Of the 530 families, about 100 include a parent between the ages of 18 and 24, with most of those single parents.
In addition to not being able to afford housing, people may be homeless because of poor credit histories, evictions, criminal records, or mental or substance abuse problems.
"As a community, we are failing our neighbors," said Torrie Kopp Mueller, housing director for the YWCA and board chair of Dane County's Homeless Services Consortium, a collective of agencies and service providers. "Our community should be outraged and disgusted that we have this many people experiencing homelessness and so many who have experienced it for years. We must do better than this."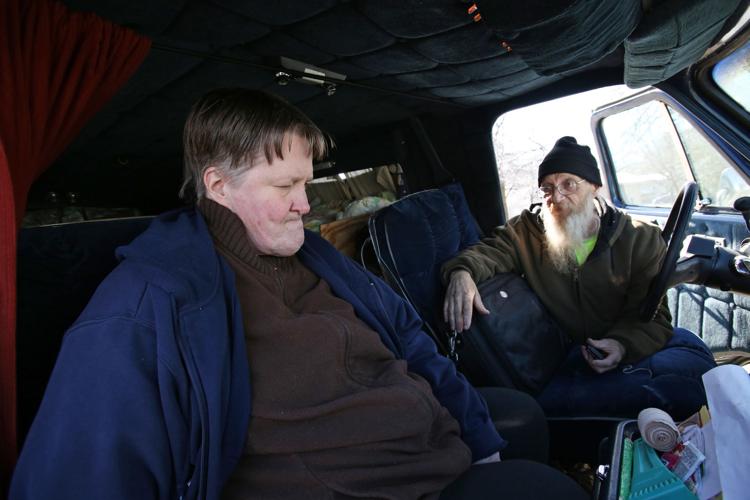 'You're on your guard'
In the summer of 2015, Roy and Cindy Jacobs were living in an apartment when a landlord refused to renew their lease and they joined a group living from their vehicles on Winnebago Street next to what is now the rising Union Corners redevelopment.
Roy, 61, is from Antigo. Cindy, 56, from Ohio. Their story is one among thousands of Madison's needy who fall through gaps in the safety net.
"We had money, we just couldn't find anything affordable," said Roy, who had a part-time job at the time. "We started contacting resources, housing, services. We just got pushed from one agency to the next."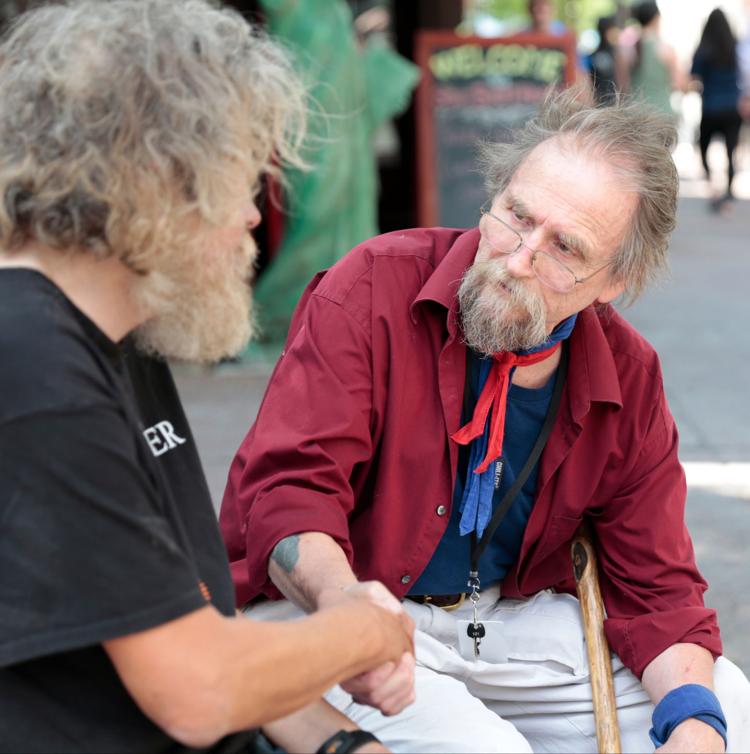 Dane County has no emergency shelter for couples without dependent children, a clear shortcoming in the system. "Are you going to go live in separate shelters?" Andro said. "I know I wouldn't. That's all they have is each other."
The couple befriended three homeless men staying in two vehicles who also kept out of trouble and watched out for each other. On the street, they saw others who did drugs, had sex in public, got violent, urinated and defecated in public. "You name it, anything and everything," Roy said.
At the turn of the year, construction on Union Corners began and the homeless and drifters — sometimes 25 or more on a summer night — scattered.
But the Jacobses stuck together with David Berndt, 71, who lives from his RV, and two other men living from a beat-up gray Honda, moving their vehicles to different streets — some on the fringe of troubled areas rife with drug trafficking — on the East Side.
"You're on your guard. You don't know what to expect," Roy said. "You don't sleep," Cindy added.
Berndt, who had worked throughout his life, lost his housing in Chicago when his mother died. He bought his 1997 RV with part of a small inheritance and has been homeless since 2010, sharing his vehicle with seven cats and two dogs.
The Dane County Homeless Services Consortium's new 21-page community plan to prevent and end homelessness sets first-time housing benchmarks. 
This spring, Berndt had surgery to repair a hernia, and because the community has no place of respite for the homeless discharged from hospitals, he had to recover in his RV. He temporarily moved his home to a park-and-ride near the Beltline, where he was frequently checked on by the Jacobses. This summer, Berndt was diagnosed with lymphoma.
Berndt, quick to humor despite his circumstances, said he receives $700 a month from Social Security and can't get housing mainly due to his refusal to part with his beloved pets, also a barrier to housing for some homeless.
"That's the first thing that would kill me," he said. "That's my kitties and doggies."
One of the men living in the Honda, Ryan Helgeson, 47, lost a good job and has been homeless since 2014. He doesn't like emergency shelter and fears another winter in the vehicle, saying he made it through the previous year only with the help of others.
The grind can become unbearable, Roy said. "I want people to know what we're going through," he said. "They just don't understand."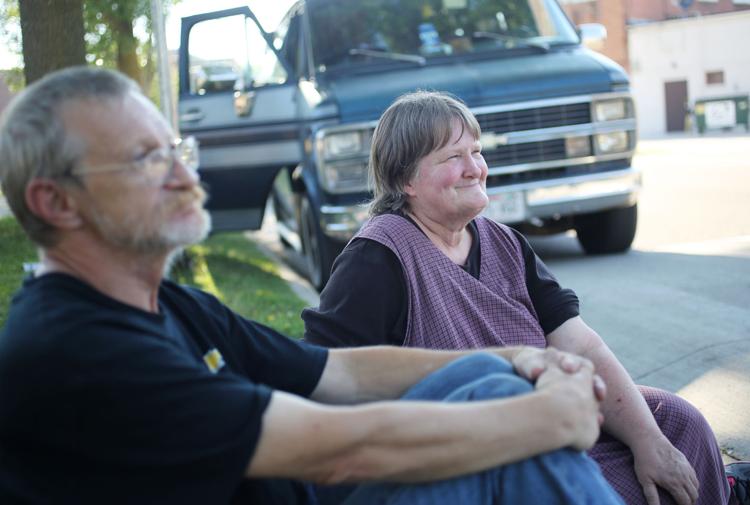 'Capacity is definitely an issue'
Over time, the city, county, nonprofits, faith-based organizations and volunteers created a patchwork safety net for the homeless. And in recent years, the community began initiatives, many at the direction of the federal Department of Housing and Urban Development.
The Homeless Services Consortium, which began informally in the 1980s, has grown into an entity that now meets federal laws requiring communities to have a structured organization with a board of directors that handles annual homeless counts, a coordinated entry system for shelter and housing, and setting goals and outcomes.
"While we now have most of the formal systems in place to be successful, the time it takes between when a family or individual is identified as needing help and when they actually get help is too long," said Martha Cranley, the United Way of Dane County's point person for homelessness.
On most nights, the county has enough shelter beds for single homeless men and women, but the shelter for homeless families with children has been full this summer and has had to turn people away.
"We do not shelter as well as we could," said Karla Jameson, associate executive director of Porchlight Inc., which operates a men's shelter from Grace Episcopal Church Downtown and provides other housing and services to the homeless. "Capacity is definitely an issue."
Shelters would benefit from a housing locator who is also a liaison for landlords, Jameson said.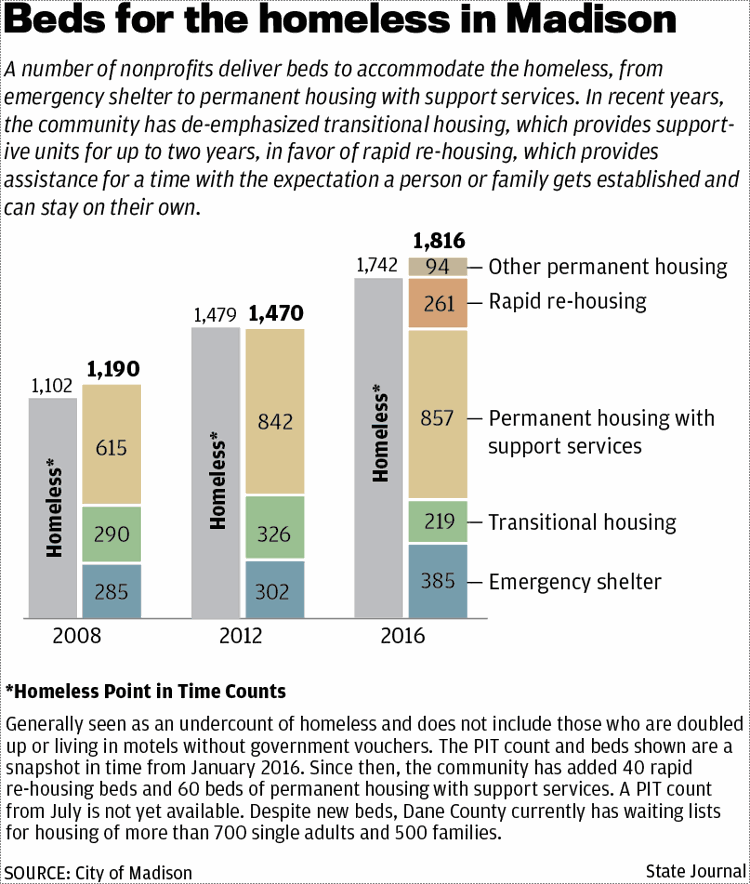 As the homeless seek services, the county has struggled to locate and fully fund a crucial homeless day resource center since a temporary facility closed in 2013.
After failures at several sites, the county is buying the Greater Madison Chamber of Commerce building, 615 E. Washington Ave., and hopes to open it by mid-2017. It would have space for summer cooling or winter warming, a kitchen, laundry, storage and showers. Longer-term assistance will include access to housing and health care, including mental health and substance abuse treatment, job and legal services, and eviction prevention. In the meantime, Bethel Lutheran Church will provide services five days a week this winter.
The community is creating but needs much more low-cost housing, advocates and agencies said. The wish list is long: Emergency shelter for couples without dependent children. More shelter for youths under 18, especially pregnant teens, or those trying to escape sex trafficking. Units with more than three bedrooms for larger families. Housing for those who have pets or are leaving foster care or prison.
The consortium and the United Way are creating new relationships with private housing providers, but progress is slow in a tight market, especially with recent state laws that give landlords broad discretion over choosing tenants.
County Sup. Heidi Wegleitner, an attorney, said housing discrimination is a "major problem" against people of color, families with children, those using federal Section 8 housing vouchers, and people with disabilities. But tenants and applicants can't afford attorneys and civil legal aid is "woefully insufficient," she said.
Some don't access care until illness or dental needs become acute. Mothers with newborns and those recovering from surgery can be discharged to the streets. The terminally ill may have no place to die with dignity. 
Beyond the need for housing, the homeless often have inadequate health care, require mental health and substance abuse treatment, and need jobs and training.
With so many homeless, nonprofits struggle to deliver enough street outreach and case management. Pay for this critical work doesn't match the diverse skills needed and daily stresses of the job, so turnover can be high.
"There are not enough outreach workers on the street, and we have only one part-time worker at the shelter, serving a population of 80 clients per night," Jameson said, adding that pay is usually the sole reason employees leave Porchlight. "Many of our staff members are on BadgerCare, and some even qualify for FoodShare," she said.
"The major shortcoming of the safety net is that it's forced to devote attention and resources to addressing the symptoms rather than the underlying problems," city community development director Jim O'Keefe said. "We really lack the capacity to provide intensive case management to clients, to assess individual situations and help clients craft and implement strategies to address pressing needs."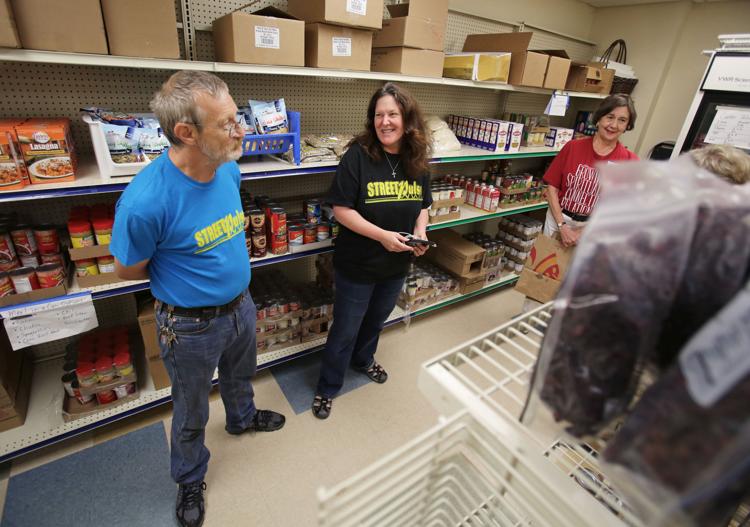 'Nobody owns the problem'
The situation continues because "nobody owns the problem," said former Ald. Brenda Konkel, an outspoken advocate for the homeless.
Mayor Paul Soglin and County Executive Joe Parisi say much is being done but argue that the challenge demands a local, state and federal response.
United Way, and increasingly the federal Department of Housing and Urban Development, is shifting funding to efforts to end rather than manage homelessness, Cranley said.
Soglin wins broad praise for the city's Affordable Housing Fund, which aims to add hundreds of units of affordable housing over the next five years. But he's vilified by the homeless and advocates for what they see as insensitive rhetoric and actions, from moves to ban sleeping overnight on the steps of the City-County Building to issuing $439 tickets to people sitting on the planters at the top of State Street.
"I feel he sends mixed messages to the community," Kopp Mueller said. "I wish the mayor had more of a positive vision for ending homelessness."
Soglin said he's trying to create housing solutions while addressing dangerous and unsanitary behaviors and promoting safety through "compassion with rules."
Two decades ago, "the conversation was hijacked by a group of people who by some divine right describe every effort to bring rules and responsibility to the discussion as criminalizing homelessness," he said. "As long as these people continue that conversation, it's been impossible to present a unified approach."
The county has boosted funds for support services and eviction prevention, provided $2.5 million for a new Domestic Abuse Intervention Services shelter and created its own Affordable Housing Development Fund, Parisi said. It's trying to identify and close gaps, such as its effort to open a day resource center.
Still, the city, county and service agencies are not all moving toward common goals with measurable outcomes, many said.
"There's a strong local desire to end homelessness; I wouldn't say there is a local vision for how to get there," O'Keefe said. "We need to have an adult, constructive discussion around the homeless situation in this city. That's not happening."
Parisi said: "This is a community challenge. We need the entire community to step up."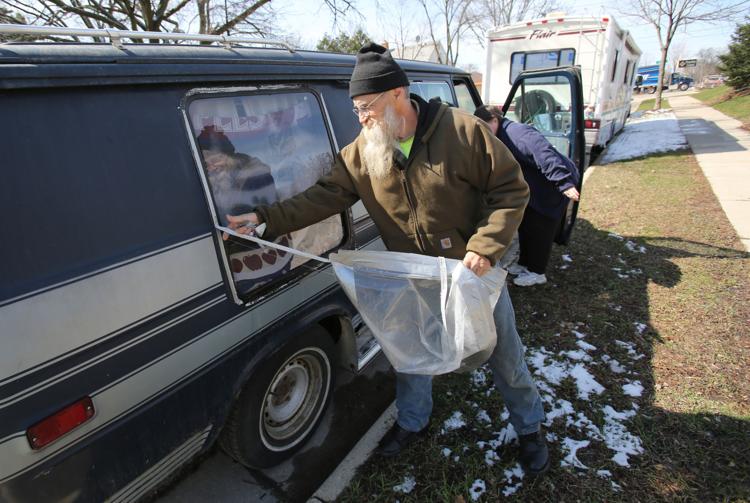 Service providers lack clout, authority
The consortium recently produced a 21-page community plan to prevent and end homelessness in Dane County, which replaces a decade-old plan that lacked specifics and was largely ignored.
But the consortium board, composed mostly of service providers, lacks political clout to secure more money and struggles to create buy-in from the community. It has no direct staff, although the city is getting a federal grant to hire a coordinator. The city and county have no single agency or office devoted to homelessness.
Although charged by the federal government to do a formal analysis of service gaps, the consortium hasn't done so because "there hasn't been anyone to do it," Kopp Mueller said.
Other communities approach the problem differently, with powerhouse boards that guide policy on homelessness with members including city and county government executives, business leaders, law enforcement, major health providers, schools, foundations, nonprofits, landlords and religious groups. To add focus, Minneapolis and Hennepin County, for example, created an office to end homelessness with designated staff.
The Dane County consortium is now looking at how it might reconfigure its board, and in recent interviews, Soglin and Parisi both expressed interest in exploring a joint office to end homelessness.
"I'd like to see an alignment of the two governments, and perhaps some neighboring communities, and the key providers," Soglin said, adding that he's interested in the city hiring an outside entity to do intensive street outreach to connect with chronically homeless people suffering from mental health problems who decline housing.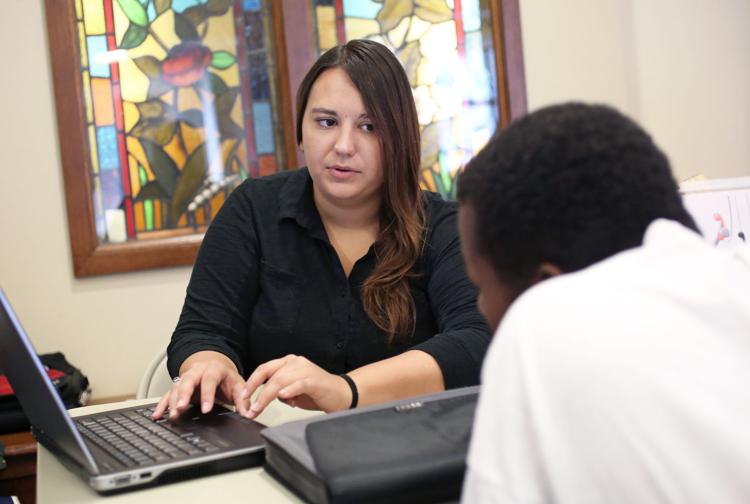 'We should be facing this as a real crisis'
In the months since that dark Easter morning, the Jacobses have tried to stay active, including volunteer work at First United Methodist, where they're members of the congregation. Roy does work for Street Pulse, Madison's homeless cooperative newspaper, and is starting a nonprofit, Homeless Helpers of Madison.
On Aug. 9, Cindy was baptized at the church, Andro standing among her witnesses. "It is a privilege to know Roy and Cindy," Andro said. "I respect them as much as I do my mother."
After a year outside, the Jacobses were considered chronically homeless, and Cindy, who has health problems, moved up on the community's prioritized list for housing. Last week she moved into Rethke Terrace, a new development with 60 units of permanent supportive housing. Even so, it reveals another gap in services: Rethke is for singles, and Roy can stay for only limited stints.
The cancer-stricken Berndt recently slept on the street near the Jacobses' van for days after police had his RV towed for being illegally parked in the same spot for more than 72 hours. In mid-August, he was hospitalized — his animals in temporary care — and received successful radiation treatment. He was discharged to a nursing home and believes he will be able to return to his RV soon. He hopes to find an inexpensive place in the country to live with his pets but has no prospects.
Helgeson and another man who struggles with drug addiction still live from the Honda with no housing on the horizon.
"We have a patchwork, a mishmash of help," Andro said. "The pain and suffering is just awful. We should be doing the work we need to do to take care of these people. We should be facing this as a real crisis in every sense of the word."