PHOENIX — Jhoulys Chacin did his part, then turned the ball over to the Milwaukee Brewers' stellar bullpen.
This time, there was no relief.
Chacin allowed one run on two hits, walking two and striking out seven, and departed a 1-1 game Tuesday night in Phoenix. But the Arizona Diamondbacks scratched out a run in the eighth and evened the three-game series with a 2-1 victory.
The NL Central-leading Brewers (25-18), who fell to 4-2 on their current 10-game trip, go for the series win today.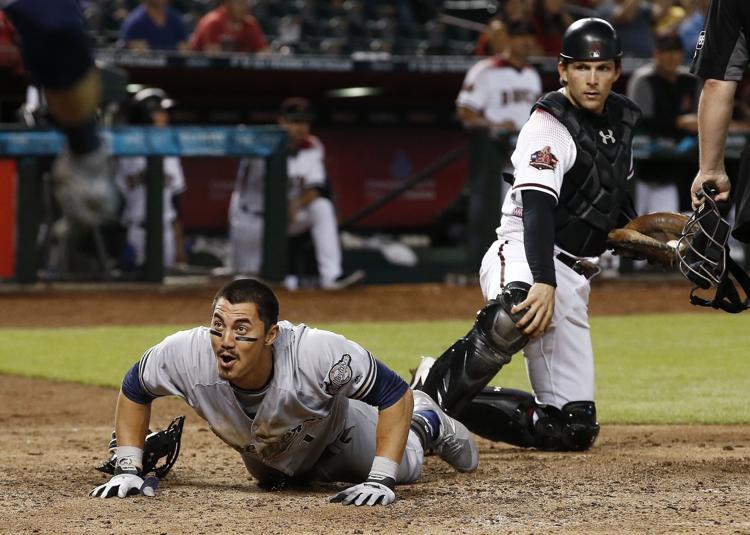 Daniel Descalso singled home Jarrod Dyson with two outs in the eighth to deliver the Diamondbacks, snapping a six-game losing streak.
The Diamondbacks opened the game with the worst batting average in the majors (.223) and learned earlier in the day they had lost A.J. Pollock for four-to-eight weeks with a fractured left thumb. They then managed just three hits against Chacin and three relievers, but starter Zack Greinke stifled Milwaukee over six innings and Arizona put together just enough offense to get by.
Milwaukee's Taylor Williams (0-1) walked Jeff Mathis to start the Arizona eighth. Dyson ran for Mathis and took second on pinch hitter John Ryan Murphy's sacrifice bunt. Left-hander Boone Logan relieved Williams and got David Peralta to ground out. Chris Owings was walked intentionally to get to the left-handed Descalso, who singled through the defensive shift in right field to put Arizona ahead.
It was the second time in three appearances that Logan, primarily a one-batter specialist, allowed an infield hit through the right side.
Archie Bradley (1-1) struck out two in a perfect eighth to get the victory. Brad Boxberger tossed a scoreless ninth for his 12th save.
Milwaukee's Travis Shaw reached first with one out in the ninth when Murphy, just installed at catcher, dropped a popup in front of the mound. But Domingo Santana flew out to right and Jonathan Villar was called out on strikes to end it.
Each team got a run in the fourth in a game with few scoring threats.
Christian Yelich led off the inning for the Brewers with a double and scored on a one-out double by Shaw.
Descalso walked on a 3-2 pitch to start the Arizona fourth and advanced to third when Paul Goldschmidt singled down the right-field line. Descalso scored when Steven Souza Jr. grounded into a double play.
Ryan Braun was out of the Milwaukee lineup for the second game in a row with back tightness.
Saladino in books
When Tyler Saladino circled the bases in the ninth inning of Monday's 7-2 win over Arizona, it was the first inside-the-park home run by a pinch hitter in Brewers history. It was good for the final two runs of a three-run insurance rally, which was critical since it meant closer Corey Knebel could rest in the bottom of the ninth in favor of another Brewers reliever, Williams.
Up next
Right-hander Matt Koch (2-1, 2.43 ERA) starts for Arizona and right-hander Brandon Woodruff (1-0, 8.03) goes for Milwaukee.