The idea had been there for a decade, tried a few times but not completed until recently.
What emerged when author Mike Cowan got done with a book on legendary University of Wisconsin men's hockey coach Bob Johnson was a collection of essays provided by his former players.
Their sources range from backup goaltenders whose names are hard to find in Badgers archives to All-Americans who helped Johnson's teams win national championships.
Cowan, who counts himself among Johnson's former players as a UW athlete from 1965 to 1969, said one of the reasons he was able to get testimonials to Johnson's influence from more than 50 people was because the coach made it easy to carry memories decades after playing for him.
"He made you feel good about yourself," Cowan said.
Cowan's book, "It's a Great Day for Hockey: A Tribute to Coach Bob Johnson From His Former Players," details some of the interactions that produced those lasting feelings.
Dean Talafous wrote about the contagious passion for hockey that Johnson exuded, citing a visit to the coach's office to hear Johnson say: "Here's big Dean Talafous from Hastings, Minnesota. He's got this move, the best move in college hockey."
Gary Winchester recited memories of Johnson getting freshmen to dress in their gear for trips to East Towne Mall, where they'd interact with anyone who was interested in talking hockey.
Jeff Andringa, who lived four doors down from the Johnson family, got his introduction to hockey at the coach's summer camp. Never having skated before as an 8-year-old, he considered it an improvement that by the end of the first day he was falling only once every 16 feet as opposed to every 6 feet at the start.
"We got in his car," Andringa wrote. "He told me I was great, and if I worked hard like him, I could play for the Badgers some day."
The tales go into introductions to Johnson on recruiting trips, important games and off-ice dealings.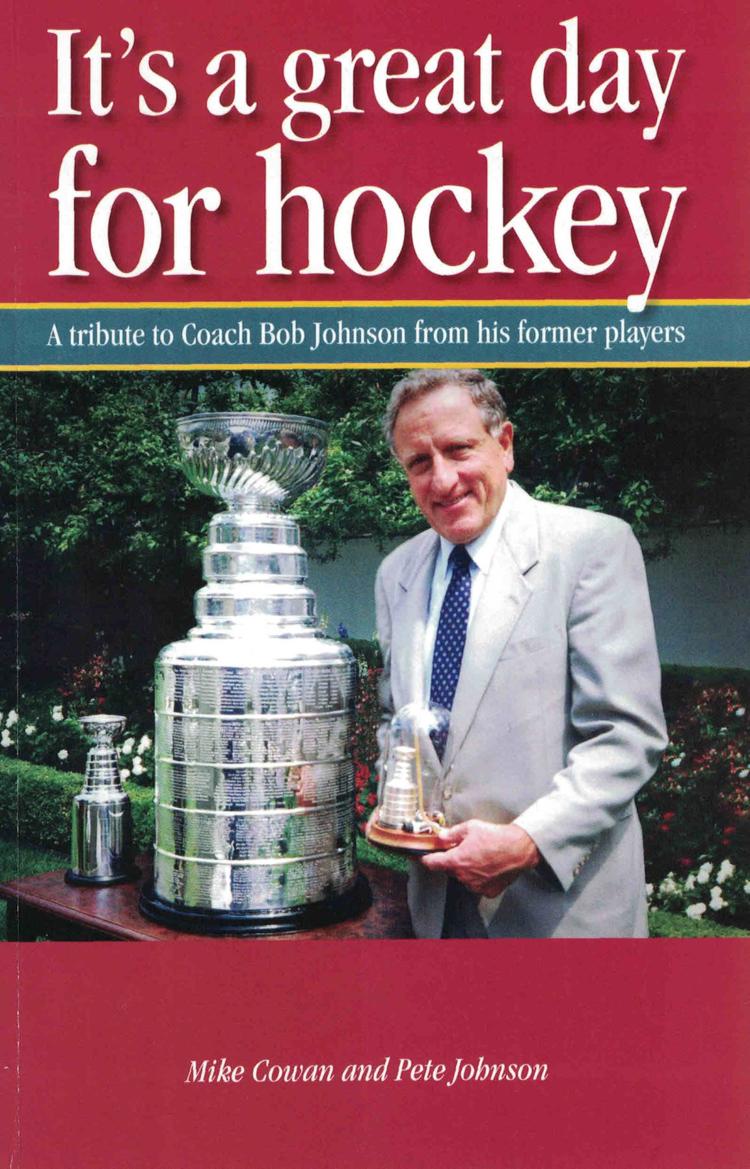 That's just what Pete Johnson, the coach's son, was hoping for when he first conceptualized the book a decade ago.
Working with one writer didn't pan out and when Johnson returned to coaching at Shattuck-St. Mary's prep school in Minnesota, momentum for the project languished.
Last February, Cowan approached Johnson to see if he could make it his fifth book; his previous work includes a history of the Madison Cardinals senior amateur hockey team.
With the go-ahead from Johnson, Cowan solicited contributions from former UW players and prompted them for more detailed recollections.
The original submissions from Pete Johnson's initial effort were from Dave Arundel and Kip Pendleton, the latter of which involved the life lessons taken from spending college years with Bob Johnson.
"Here you've got a guy that was a JV goaltender who played in a handful of exhibition games, and yet he's telling about the impact that Wisconsin hockey had on him," Cowan said. "That was pretty impressive, when you think about it."
Bob Johnson won three NCAA championships in a 16-year tenure that cemented UW as a college hockey powerhouse.
He left in 1982 to coach the NHL's Calgary Flames, then won a Stanley Cup with the Pittsburgh Penguins in 1991.
He died of brain cancer at age 60 later in 1991.
Cowan, a retired history teacher from Fond du Lac who also coached high school and college hockey, said he can talk to average people on the street today and still find that many have a Bob Johnson story.
"He was an out-of-this-world individual," Cowan said.
"He was bigger than life. He was one of these people that when he came into the room, he dominated the conversation. But at the same time, if you played for him, years later he'd make note of it."
The self-published book by Cowan and Pete Johnson is on sale at University Book Store, Bucky's Locker Room at the Kohl Center and ice arenas in McFarland and Oregon. It's also available through Cowan's website, wisconsinhockeyhistory.com.