CHICAGO — Certain kinds of people thrive at Kraft Heinz, one of the most ambitious and polarizing companies in the American food industry.
They're the types who can keep their desk clutter-free save for no more than two personal items, per company policy. The types who get amped up gazing upon charts of sales data posted on the walls at both headquarters locations, in Chicago and Pittsburgh, to see how they measure up to other teams, knowing a sizable bonus awaits the winner.
More than money is at stake, though. Those who succeed at Kraft Heinz relish the battle to be the best.
"It's part of the culture and in the blood to be competitive, always fighting for that next win," said Michael Ferranti, Kraft Heinz's head of people and performance for the U.S. commercial business.
Working at Kraft Heinz isn't for everyone, as executives readily admit. The company, backed by Warren Buffett's Berkshire Hathaway and the Brazilian private-equity firm 3G Capital, has a well-earned reputation for vigorous cost-cutting — good for shareholders, not so much for the hundreds of people laid off since Heinz, already owned by Buffett's firm and 3G, acquired Kraft in 2015. Those who survived the cuts have been challenged to do more with less.
The company has drawn complaints about the way it has shut down its Oscar Mayer plant in Madison, with allegations of pushing a longtime employee out the door in its waning weeks before workers with less seniority.
Kraft Heinz, which reported about $26 billion in sales last year, isn't apologizing for any of that, though executives say the company doesn't get enough credit for investing money back into the business.
The Chicago Tribune interviewed six Kraft Heinz employees provided by the company at its Chicago headquarters in the downtown Aon Center skyscraper, and another six current and former employees who spoke on condition of anonymity.
From those talks, a clear picture emerged: Kraft Heinz is a company where the young and hungry can thrive, where those who don't buy in are left behind and where results matter above all else.
"We want to win," Ferranti said. "And frankly, there are some who will adapt and there are many who won't. That evolution over several years and quarters will determine who's really in for the long haul."
Work hard, meet goals
Ferranti's trajectory provides a glimpse into the Kraft Heinz culture. Before the merger, he worked in Asia as a finance and operations executive for Burger King, another 3G-controlled company.
Now, at 34, with only about two years of human resources experience, he oversees the professional development of about 4,000 salaried workers in the U.S., where the company conducts most of its business.
Experience doesn't mean much at Kraft Heinz. Far more important are buy-in, ambition and, ultimately, results. And while Ferranti declined to provide an average age or tenure for Kraft Heinz employees, former employees interviewed for this story said many of the more experienced workers had been laid off or left on their own since the merger.
Of course, that's meant opportunity for others. Alyssa Bronikowski, 29, previously worked at Walgreens' corporate headquarters in Deerfield, Illinois, before coming to Kraft Heinz. Beyond the shorter commute, Bronikowski said she likes that she's rewarded with financial incentives for hitting certain clearly stated goals.
"One of the things I really struggled with in some of my previous roles is that you work twice as hard as the person next to you but you might be compensated the same. I love at Kraft Heinz that you are compensated for the work you put in," said Bronikowski, senior manager of industry relations and sales communications.
That, in short, sums up the philosophy behind Kraft Heinz's system of meritocracy.
Work hard. Hit your goals. Good things will happen.
"The Kraft Heinz system and monetary rewards have been life-changing for me," said Stacey Johnson, 32, head of leadership and inclusion. After working for Teach for America for 10 years, Johnson said she was able to buy a condo after only about one year at Kraft Heinz.
These warm and fuzzy feelings aren't shared companywide. One current employee in the Glenview, Illinois, research and development office said the reality of merit-based pay hasn't lived up to its promise — a view shared by some others who have left the company. Despite a generous bonus for all employees last year, raises and promotions have been few and far between in the research-and-development office, even for people hitting their goals.
"I certainly think morale has taken a hit," said the employee, who spoke on the condition of anonymity out of concern for his job.
Roughly 700 people were laid off in August 2015 when the company decided, after Kraft joined the company, that it would move its Chicago-area headquarters to the Aon Center in the Loop, from suburban Northfield. Smaller rounds of job cuts have since followed.
About 1,500 people now work in the five-floor office in the Aon Center, with 600 to 700 others in Glenview, spokesman Michael Mullen said.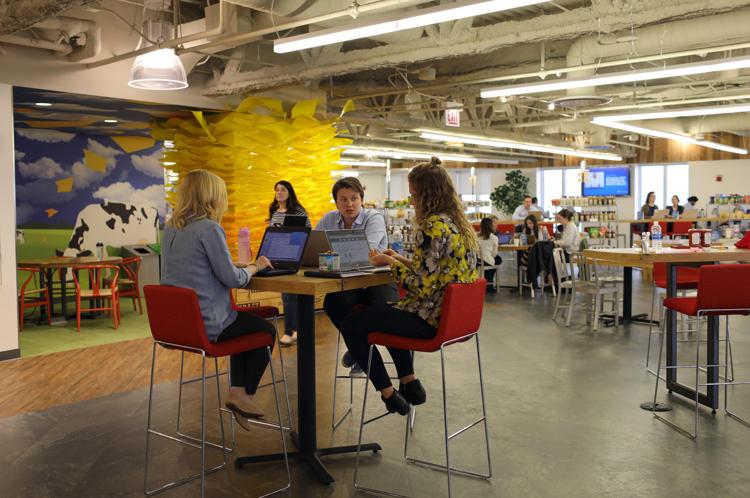 Analysts question sharp cost-cutting
The company's extreme cost-cutting has gone under the microscope since its failed bid to acquire Unilever for $143 billion in February. Some analysts have questioned whether Kraft Heinz's reputation is now hindering its ability to make a deal. After a recent disappointing quarterly earnings report, CEO Bernardo Hees defended the company's business model and philosophy.
The 3G method of zero-based budgeting — a cost-cutting mentality that calls on employees to think of company dollars as their own — has changed the historically stodgy processed food industry, forcing other food companies to sharpen their own knives in order to compete. None has proven as adept at expanding profit margins as Kraft Heinz.
What does this mean for employees? As one example, workers are allowed to print only 100 pages per month, black and white, double-sided. And as part of a new pilot program to eliminate distractions and increase efficiency, employees can have no more than two personal items on their desk.
All told, the company plans to eliminate 5,150 positions — a figure that includes both factory and salaried jobs — in its post-merger restructuring in the U.S. and Canada, according to its annual report. Madison's Oscar Mayer plant employed some 1,000 workers when its closure was announced in November 2015.
But Kraft Heinz execs bristle at the notion that the company is focused only on cutting costs. Money saved is invested back into the company's brands and its employees, Mullen said.
For example: Even as the company closes some older factories, such as the 98-year-old Oscar Mayer plant in Madison, it spent $1 billion upgrading manufacturing facilities worldwide last year, including plants in Missouri and Iowa.
Kraft Heinz also increased its ad spending by $100 million over the past two years, Mullen said, and in January announced the launch of a joint venture with Oprah Winfrey to sell refrigerated meals. Last year, the company paid the largest bonuses in the combined history of Kraft and Heinz, he said.
Intense work environment
In some cases, there's clearly a disconnect, though, between the company's decisions and how they are perceived by some employees. Former employees interviewed for this story lamented that their respective workloads ballooned — but their pay did not — as colleagues were laid off.
A former sales executive who worked at Kraft for 21 years — and who was laid off after the merger — said the snack bars where employees could get free coffee, Jell-O and other Kraft products were suddenly removed, a step he felt was less about cost-savings and more about showing employees that nothing was free.
Not so, Mullen said. The snack bars in Chicago and Pittsburgh were actually replaced by two programs that represent a larger total investment, a company store with discounted products and monthly events with free products intended to bring workers together, he said.
Mullen, 48, who worked at Heinz for 18 years, said he's had to work harder since the acquisition, too, but said the rewards are "exponentially greater."
"And when people just paint us as, 'Hey, they're amazing at cost-cutting, they do an amazing job driving profit growth,' there's so much more to our story than that," Mullen said. "That is a part of our story. We're not going to hide from that. But to say that's our story, it's incredibly naive."
There are no corner offices at Kraft Heinz. There are no offices at all.
There are hardly any doors to speak of, though there are some privacy rooms for employees to duck into for brief personal business. There are no chairs in those rooms, though. The message: Do not tarry.
Throughout the office, employees' personal goals are publicly displayed on placards on their desks; top executives, including CEO Hees, have their goals posted on the wall.
The goals, part of company's "management by objectives" system, are data-driven and measurable, Ferranti said. They're also intertwined with those of other employees, which encourages teamwork, he said.
Moving quickly up the ladder
All of this is designed to promote the company values of transparency, meritocracy and ownership.
Last year, Kraft Heinz promoted 1,700 people globally, Ferranti said. And that's part of the appeal, particularly for younger employees: It's possible to move up the ladder quickly without years of paying dues.
And the grim headlines about the company's layoffs and austerity measures don't seem to have hurt recruiting efforts. Last year, 81,000 applicants from 22 different countries, including 17,000 from the U.S., competed for the 170 openings in the management trainee program that is Hees' baby.
The future leaders of Kraft Heinz look like Juliet Levine and Oliver Joost, ages 24 and 25 respectively.
Both Ivy League college graduates, Levine and Joost also matriculated through Hees' six-month program. They spoke enthusiastically about the company's culture and the opportunities it has afforded them.
"When you compare this company to other companies in the industry, I don't think there are many places where you could see 24-year-olds managing hundreds of millions of dollars of brands three years out of college," said Levine, senior associate and brand manager on the frozen snacks team. "I see endless opportunity for me here."