All shook up: How will new owners, venues change Madison's music scene?
First came Frank Productions' January reveal of the Sylvee — a planned 2,500-seat concert hall on the city's near east side to be operated by the Madison based live music company.
Frank's expansion and consolidation of influence on the Madison music scene is a boon for the family-owned institution, but for those tapped into the scene, the changes raise questions. Will local artists get as much exposure as they have in the past? Will independent venues like the Barrymore Theatre be able to stay competitive? What will happen to the High Noon, Madison's house of community programming?
Frank has been seeking a venue of its own for years. Now, between the Majestic, High Noon and the Sylvee, it will control three.
"I think that Frank Productions has a large enough reach to change the way music is done in our city," said Ja'Mel Ware, the CEO of the entertainment group Intellectual Ratchet.
Added Spencer Bible, an independent promoter and musician: "The Madison scene is in a really interesting moment right now. You have a lot of things changing."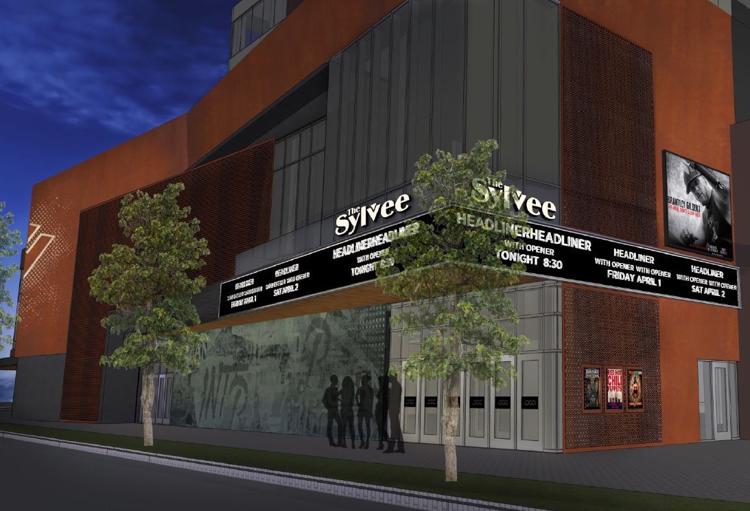 Before he moved to Madison in 2007, Charlie Goldstone worked for Island Def Jam Music Group in New York. He always heard stories about the early days of the music business, where each town had its own promoter.
"I thought that just didn't exist anymore," he said. "Then I moved here, and found one of the few companies that still operates like that."
Goldstone is now the president of Frank Productions, a family-run business founded by Herb and Sylvia Frank in Madison in 1965. Its specialty is promotion — it books artists, markets shows and ensures concerts run smoothly. The independent company is an outlier in a marketplace dominated by publicly traded giants like Live Nation and AEG.
Frank promotes many of its shows in Madison, but its reach is nationwide. Goldstone said last year, the company booked the inaugural concert for the new U.S. Bank football stadium in Minneapolis, featuring Metallica.
That same night, "We had Wilco at Breese Stevens here in town," he said.
Now, the company will also be in the venue-operating business.
The High Noon acquisition came about after Cathy Dethmers, the former owner, decided to step back last fall. She said Frank was the first place she went when looking for a successor.
"The Franks are really committed to keeping the place the same as it is now," she said at the time of the sale's announcement. "They really understand how important of a place it is."
The Frank-Majestic Live merger happened after the companies started working together on shows at Breese Stevens Field, said Scott Leslie, who co-founded Majestic Live and co-owns the Majestic Theatre with his business partner Matt Gerding. The companies realized their approaches to promotion were complementary, he said.
"We have a certain DIY guerrilla marketing angle," Leslie said. "They have a tremendous level of sophistication when it comes to event production. They're very different worlds, but both are critically important."
Goldstone and Leslie say a new company will form out of the merger, although details of what that will look like have yet to be finalized.
The two also said that fans of the High Noon and Majestic shouldn't expect much change. Goldstone speculated that for most people, issues of ownership and promotion aren't a big deal.
"People don't care too much about (who we are)," said Goldstone. "They're more concerned with, do I like going to this venue? And do I like the bands that are playing there?"
But judging from social media reactions to the announcements of Frank's growth, some people do feel like it's a big deal.
"Please don't mess with it," read the top comment when Frank Productions posted on Facebook about the High Noon acquisition.
"The monopoly of Madison music continues as local musicians now have nowhere left to hide," read one tweet.
Bible, the musician and promoter, thinks Madison owes a lot to Frank Productions. Without them, he doubts the music scene would be as vibrant. Still, he has some concerns about the company's recent growth, particularly with regard to local music. Any system where one entity has disproportionate say in who gets stage time makes him nervous.
"It becomes about who's getting access," he said.
One local musician who requested anonymity said he feared the one-filter system could shut out artists who don't play by the company's rules.
"If I say the wrong thing, or post something on Facebook, I just blacklisted myself from everything," he said.
Another concern is whether the High Noon will change.
In a recent kerfuffle, Dethmers, the prior owner, took a few keepsakes — posters and photographs of High Noon favorites The Gomers — home with her after retiring. She had kept them in a display case near the High Noon's entrance. When some regulars noticed the empty display, they spoke out.
"Some people got a little upset about that," said Steve Renfro, the club's general manager. "It blew up on Facebook a bit."
According to Renfro, people didn't realize the keepsakes belonged to Dethmers. They saw it as the first of many changes ahead. First, Frank Productions came for the display case. Then, it will come for the rest.
The High Noon is a local favorite. It's been named Madison's best live music venue by Madison Magazine for 10 years straight. Weddings are held there— not just receptions, but ceremonies.
Shane Quella, the lead singer of Neens, described it as "the perfect place to see a show. You're not overwhelmed, arena-style."
"Good staff, good sound. They treat bands nicely there," said Chris Joutras, an artist and small-show promoter.
On July's calendar, the club will host a storytelling slam, a 48-hour film festival, a fundraiser for public access television and 17 shows headlined by area bands.
"Some nights you'll have independent artists, the next night it's a jazz show," said Emily Massey, a local musician who played the High Noon as a teenager in the band Modern Mod.
Said Joe Burbach, a keyboardist in several Madison bands, the High Noon is perfect for a growing local act that needs a bigger room than a tavern or do-it-yourself space.
"There's no room quite like it," he said.
Dethmers made a point to treat national touring artists no differently from local artists, said Burbach. Booking the High Noon was "ridiculously reasonable," he said. Dethmers would only charge for some basic expenses, plus tax.
"Dethmers was a pillar for local bands," said Burbach.
The worry is that, under Frank, priorities will change.
"I am a little bit concerned about totally local shows being as abundant as they have been over the last few years," said Massey.
"(Dethmers) really prioritized local music over national acts. Whereas, I don't know if Frank will be doing that for the High Noon," said the local musician who requested anonymity.
It's a concern that both Dethmers and Frank have tried to assuage.
"The Franks are really committed to keeping the place the same as it is now," said Dethmers in a Cap Times interview this spring. "They really understand how important of a place it is."
She also pointed out that Frank had been booking national acts into the High Noon for years.
Frank has retained the club's entire staff, from marketing director Justin Kibbel to Renfro, who previously worked as a bartender. A local musician, Maggie Denman, has taken over booking local performers.
Both Goldstone and Renfro said there were no plans to increase booking rates for local bands.
"We're trying to keep things the same, without too much shaking up," said Goldstone.
Those with concerns about the shift, like Massey, are cautiously optimistic.
"I don't necessarily feel awful about Frank Productions taking over," she said. "Cathy knew what she was doing."
"It's not because I know they're malicious, or think they're being jerks," said the anonymous artist. "They just don't have the greatest track record with… local artists."
Goldstone disputed that. He said Frank's singular focus is "providing great entertainment and supporting artists who can find an audience in Madison."
"If a band has an audience and can conduct themselves in a professional and respectful manner, we will have no problem working with them," he said.
Whenever the company can, he said, it showcases local talent as openers for larger bands. But they can't do so if artists bring their own opening acts. Besides, when it comes to helping local bands connect with an audience, he thinks local-only events can be more effective than opening slots.
Michael Seman has been described as a "music geographer." The economist and researcher at the University of Colorado Denver College of Arts and Media tries to pinpoint what makes for a healthy music scene.
He's found that DIY spaces are key — particularly all-ages ones.
"If you think of bands as firms, these venues are where bands get to develop as firms. They get to try new things out. They get to finesse what they've been doing," he said.
Art In is one of Madison's new DIY venues. The small warehouse tucked behind the Parched Eagle Brewpub on East Washington Avenue is sparse yet homey. It has a pool table, a couple of couches, and antlers and other kitsch on the wall.
Art In can hold about 100 people for concerts, typically featuring a mix of out-of-town artists and up-and-coming Madison acts.
"I set the show up, they come play it," said Joutras, the independent promoter, who books shows there. "We try to get as much money as we can for them. That's DIY."
Williamson Magnetic Recording Company, Mickey's Tavern, The Wisco and the Arts + Literature Laboratory are also part of the local DIY circuit, where emerging artists play in a no-frills setting that's more about love of the music than meaningful cash.
Plenty would agree that those venues are helping turn Madison's music scene into a vibrant one.
"I always tell people that this town is punching above its weight class," said Goldstone.
"Madison's music scene is un-f---ing-believably good right now," said Bible.
Joutras, among other local artists, thinks there's room for improvement. There may be DIY spaces, but few of them are welcoming to younger crowds. Still, he thinks there are opportunities for emerging bands and he's skeptical  of fears that Madison will become less friendly toward local bands in the wake of Frank's growth.
"People have been freaking out, but I have a very positive outlook on the whole thing," said Joutras.
He added that bands aren't entitled to anything when it comes to landing performance slots. For a band to earn stage time, he thinks they need to put in the work: Rehearse, network, act like a business.
"I don't care what you sound like," he said. "If you're not going to kiss babies and put flyers up, who cares?"
Then there's the x-factor down the street: the Sylvee.
The venue will occupy a corner of a bustling development hub in the Capitol East District, where high-rise apartments and Breese Stevens Field reside.
The Franks have said publicly they don't see the Sylvee competing with the Orpheum, the Live Nation-run State Street theater that seats 2,200. They say it will draw bigger shows with a growing city in mind.
The Live Nation employee who books for the Orpheum and other smaller venues in town agreed. Toffer Christensen is a Madison native who also runs his own independent promotion company. His company, T Presents, was initially slated to operate a music venue at the site of the Sylvee, before Gebhardt Development decided to partner with Frank Productions instead. Christensen nevertheless said that  the Franks are "good guys," and that a rising tide will lift all boats.
"It's about getting more bands through town. I think that will benefit everyone," said Christensen. "I would ask what's bad about a music industry that's bringing more bands to them?"
The Paras family, which owns the Orpheum, was a bit less glowing as it waged a campaign against the Sylvee when it was up for City Council approval. Gus Paras asserted that Frank Productions could harm independent venues like the Barrymore, given that it could book exclusively in its own venues.
"I don't know that that's something that works in the best interest of Madison and Madison music lovers," he said.
Steve Sperling, general manager of the Barrymore, agreed that Frank might book fewer shows at the Barrymore or other independent venues.
He also said the Barrymore could be harmed under the "zero-sum game theory" of booking shows: Someone who goes to a Sylvee show is a potential customer that Sperling has lost for that night.
He recalled in 2014 when comedian Dave Chappelle visited the Orpheum for six shows that he estimated sold about 14,000 tickets.
"Was I upset that he played six shows at the Orpheum? No. (Chappelle is) too big for the Barrymore," said Sperling. "On the other hand, he took 14,000 tickets from the economy."
But Sperling said Frank Productions has assured him it plans to keep booking shows into the Barrymore.
"This is the part where you just can't go nuts," said Sperling. "You can't worry about things so much. You can only take people at their word."
Some say Frank's growth may give the company a better ability to manage local artists and help them break big. Others are optimistic that its growth could bring more diverse genres like hip-hop and R&B to town.
Quella, the lead singer with the rising Madison band Neens, said no matter what, he thinks Madison will weather the change.
"Being a band, you have to develop a tough skin," he said. "You only hope that it gives artists and musicians and workers more opportunities, even though you're so used to your home base being a certain way."
This sentiment seems unanimous: If things break bad, Madison's music scene is strong enough to pick up the slack.
Leslie with the Majestic hopes people give his new partnership with Frank a chance.
"I would hope that our companies have earned enough trust in this community to be able to say, don't say there's a problem until there's a problem," he said. "I hope we have enough credibility to say that."
And if they mess up, he said, he trusts Madison to step up and create the music scene that it wants.
"If everybody's worst fears were realized, it would create holes that other people would come out and fill," he said. "There is always someone who is willing to step up."