The word "OK" appears in the script of Jim DeVita's new play "Learning to Stay" a total of 49 times.
"You feeling OK now, though? You OK?" Elise asks her husband.
She assures friends and colleagues at work: "He's OK. Everything's OK.
"Really, everything's fine."
Elise Sabatto, the self-possessed young woman at the center of Madison author Erin Celello's novel, and now DeVita's play, has spent months chirping positive nothings in the face of her fear.
But when her husband Brad returns home from Iraq tense, wild-eyed and anxious, the longer Elise tries to insist that he's fine, the more dangerous her lie becomes.
"Learning to Stay" is the world premiere of a new theatrical adaptation of the 2013 novel, commissioned by Forward Theater Company and running in the Overture Center Playhouse through April 9. Forward Theater artistic director Jennifer Uphoff Gray leads the production, a focused, forceful drama with moments of resonance and heart.
A memory play in the style of "The Glass Menagerie," "Learning to Stay" trains the spotlight not on the tormented young veteran but his wife, Elise.
Elise anticipates Brad's return from war like a child at Christmas, sneaking glimpses of homecoming videos of other couples on YouTube during litigation meetings at her law office. She imagines running up a down escalator to embrace Brad at the top, or snowy reunions with everyone watching.
Stepping in and out of scenes as she remembers them, Elise relives how changed Brad seems when he finally does appear, like a ghost, in their kitchen. Their reunion is intense.
"It's like getting to know each other all over again," she marvels.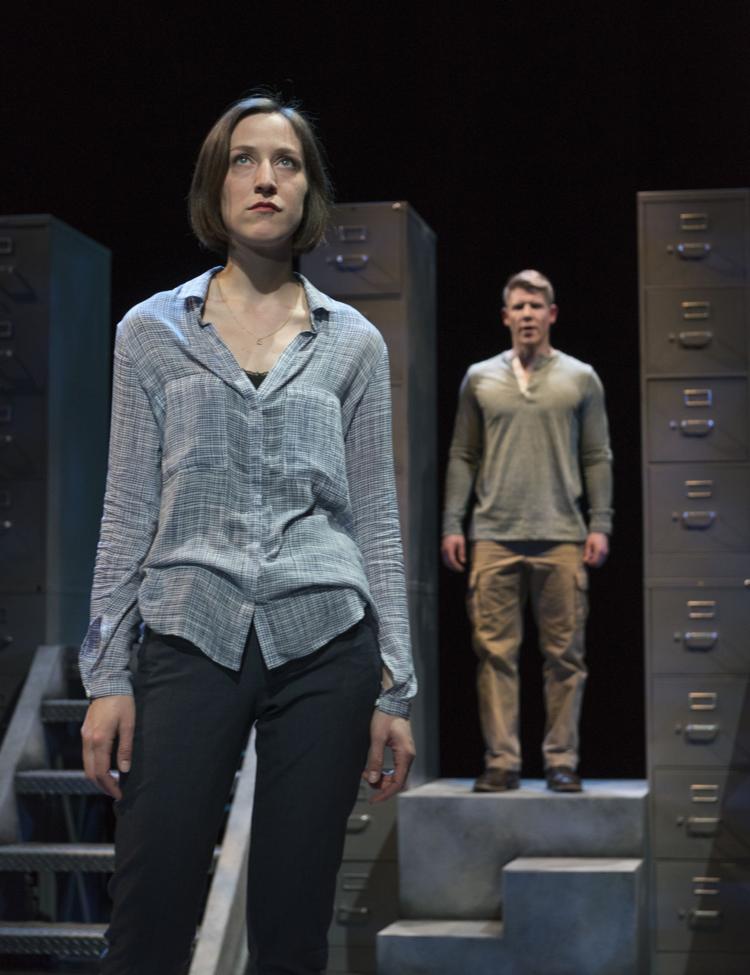 But despite her claims, Brad is far from fine. He's restless, jumpy and quick to anger. A trip to L'Etoile (both novel and play are set in Madison) leaves Brad agitated and violent. He's forgetful.
Soon, Elise adds research on post-traumatic stress disorder to the growing piles of folders for cases she's falling behind on.
Milwaukee actress Kat Wodtke plays Elise with a frisson of energy, her eyes and voice clear. A nuanced performer, Wodtke lets Elise's joy and guilt wrestle on her face. When Brad turns on her, she crumples to the floor like a house of cards.
As Brad, Jeb Burris paces the stage, twitching like electric shocks zip through his muscled arms. He's physically intimidating and a fine performer, but his character still feels a bit underdeveloped. Until late in Act II, we get little sense of the man Brad might have been before combat.
DeVita is a longtime company member at American Players Theatre, and his classical training reveals itself in "Learning to Stay." Elise's perfectly crisp narration can sound like a Shakespearean soliloquy.
Four members of the six-person cast create a Greek chorus, changing characters and soliciting reassurances ("He's well? Recovered? Adjusting?"). At times they simply watch, their gazes supportive or isolating by turns.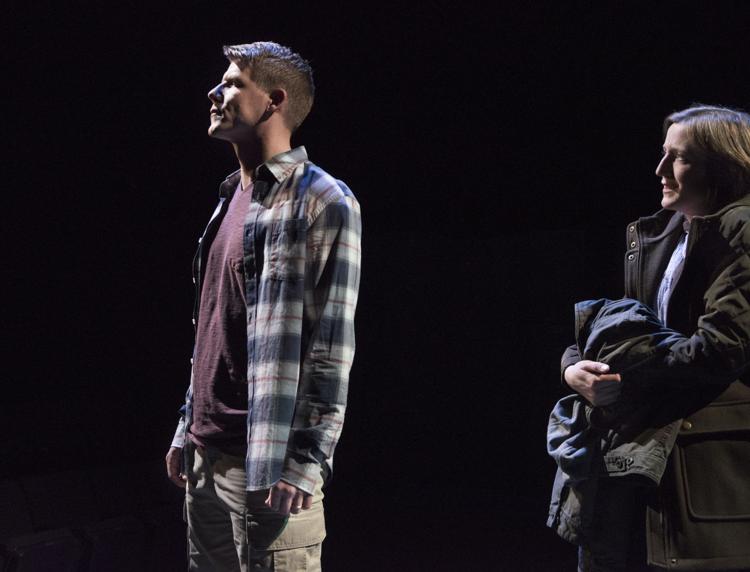 It's in some of these conceits that "Learning to Stay" falters. The second act in particular feels novelesque, in that Elise tells the story more than she participates in it. Faced with a moment of confrontation, she removes herself and talks to the audience, diffusing the stakes.
The cast, though, is uniformly strong. Michael Herold offers unexpected levity as Brad's father, a crusty old guy who lives up nort' and finds his son's mental challenges personally irritating.
Milwaukee actress Malkia Stampley, recently seen locally in Theatre LILA's "A Midsummer Night's Dream," gives unexpected depth to the relatively slight role of Darcy, a fellow military wife who learns of her husband's death in the play's early moments.
Di'Monte Henning plays one of Elise's colleagues, Zach. As he flirts with Elise and runs interference with her boss (the capable local actress Karen Moeller), Zach offers an appealing alternative to Elise's increasingly unstable home life.
As with its last production, "Outside Mullingar," Forward again fits the Playhouse with an abstract set and minimal props — a wooden spoon, stacks of case folders, Brad's cocktail glass.
Set designer Mike Lawler ("Silent Sky") fills upstage with towers of gray file cabinets, which work for easy entrances but make "Learning" look like an office drama.
"Learning to Stay" was nearly three years in the making, and to hear Uphoff Gray tell it, it's not quite done. After this run, DeVita will likely return to the script for one more round of edits.
As it is now, DeVita's play offers a sensitive portrayal of a woman in crisis. "Learning to Stay" feels honest, even in painful moments. Only when Elise admits how not OK she is can she finally start to move on.