It's okay if you don't think you like musicals. Damien Chazelle used to hate them, too.
The Oscar-winning writer-director of "La La Land" told an audience at the UW Cinematheque Friday night that he understands why some audience members are averse to musicals like his.
"I had some insight into this, because I used to hate musicals for the same reason that I now love them," Chazelle told the crowd after a rare 35mm screening of the film. "How they stop being one kind of movie and become another."
Chazelle said he came to realize that musicals and experimental films actually have a lot in common. The moment in a musical when a character bursts into a song, when a realistic street scene explodes into a big dance number, when reality shifts into fantasy, is actually pretty radical filmmaking.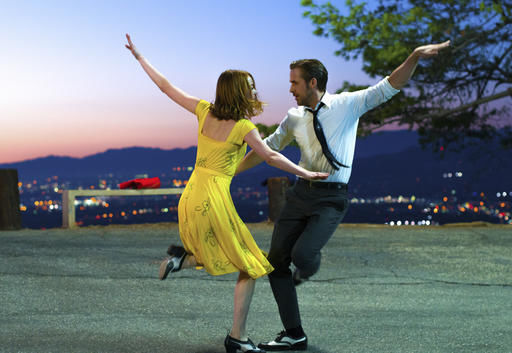 "La La Land" lives in the space between reality and fantasy, juxtaposing a loving recreation of old Hollywood musicals against the unglamorous, sometimes disappointing reality of life as a struggling actor or musician in Los Angeles.
"If you can sell someone singing a non-diegetic piece of music, then anything is possible," Chazelle said. "That's why no movies are as crazy as musicals."
In introducing Chazelle, UW Cinematheque director Jim Healy said Chazelle's three films display a confidence in the power of movies.
"It's been an understanding of what makes cinema cinema," Healy said. "Everything that's worth expressing can be expressed through sound and image."
Chazelle was in Madison for a day at the invitation of the UW Communication Arts department and the UW Cinematheque free film series. In addition to showing "La La Land," Chazelle curated a day of some of his favorite films screening Saturday at the UW-Cinematheque, 4070 Vilas Hall. He'll be present at the first film, the 1961 French cinema verite documentary "Chronicle of a Summer," at noon Saturday.
After the "La La Land" screening, Chazelle spent about 90 minutes answering questions from the audience, many of them UW film students. He talked about how, after making his first feature "Guy and Madeline on a Park Bench" as part of his thesis as a Harvard University student, he moved to Los Angeles to pursue a directing career.
Meeting with a lot of indifference and resistance from studios, Chazelle spent a few years as a writer for hire, punching up scripts for mainstream films like "10 Cloverfield Lane." He said in some ways it was a soul-crushing experience, going from watching Terrence Malick and Jean-Luc Godard masterpieces in film school to hustling for rewrite jobs on films like "Paranormal Activity 4." And he didn't even get the job.
But he said the experience was valuable even as it was frustrating, and he learned the importance of creating work on your own time rather than waiting for a job. It was at one of those fruitless pitch meetings that he met the producer who helped him get his 2014 breakthrough film "Whiplash" made.
"You have to keep your eye on the long run, but be open to stuff that seems tangential at the time," he told the students.
Chazelle talked in detail about making "La La Land," from the use of vibrant color in key scenes to the showstopping opening dance number set on a Los Angeles freeway ramp. He confessed to having a personal relationship with that ramp, having gotten a ticket there earlier.
Chazelle just finished shooting his next movie, "First Man," which reunites him with "La La Land" star Ryan Gosling in a biopic about astronaut Neil Armstrong. While he said the film, set for release on Oct. 12, shares some thematic similarities with "Whiplash" in its exploration of the cost of ambition, he said "First Man" is his first film in which music doesn't play a major part.
"I've definitely heard my share of 'When is Neil Armstrong going to tap dance?' jokes," Chazelle said.