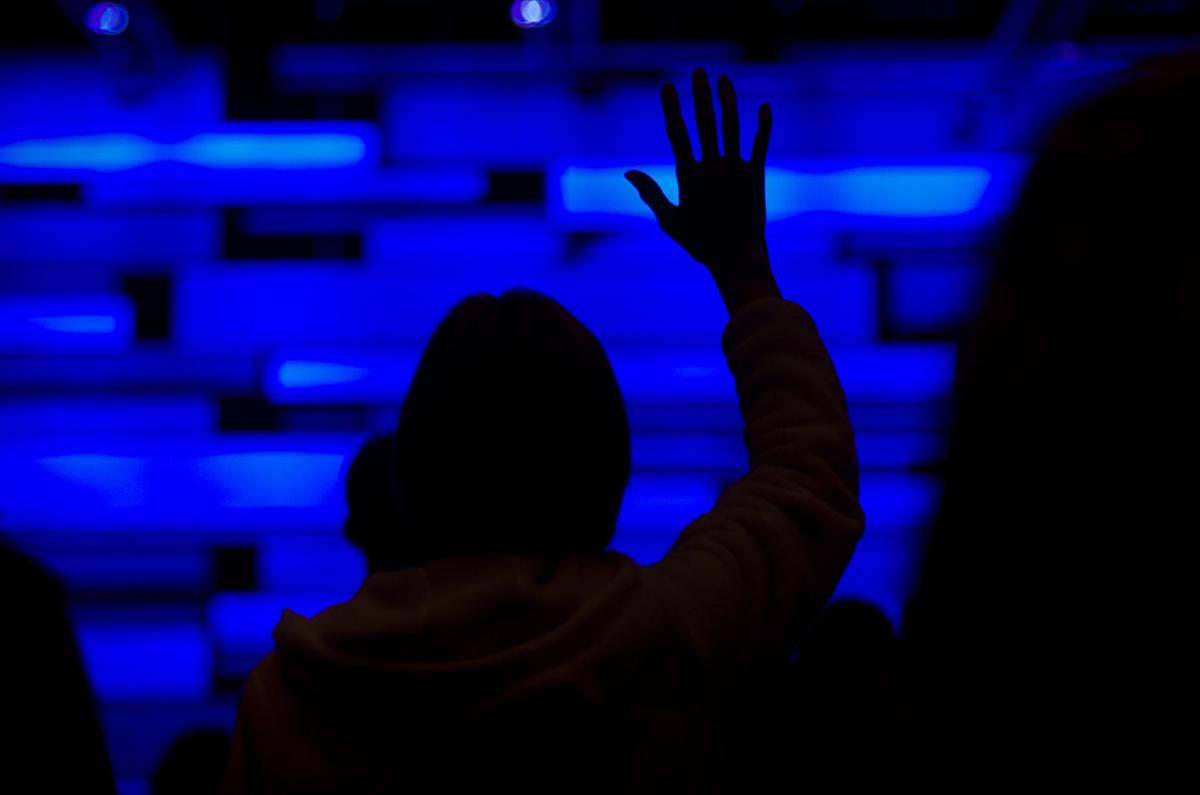 Zach Nielsen faced a dilemma heading into 2016's bitter election.
The evangelical pastor of The Vine Church on Madison's south side did not discuss how to vote from the pulpit, but privately, he said, it was rough.
"For many people in my circle, the tension was wanting to cherish the right to vote, but on the other hand, not being about to, in good conscience, vote for Hillary or Trump. They were both seen as morally unfit for office. One because she is pro-choice, and the other because he is a loud-mouth lunatic who is a womanizer, celebrates all other sorts of sin and behaves like a fourth-grader on Twitter."
Nielsen ended up choosing a third party candidate and did not become one of the 80 percent of white, self-identifying evangelicals who voted for Donald Trump.
Now into Trump's second year as president, that statistic continues to brand evangelicals, stoking a crisis among them over whether Trump's actions as president are compatible with the teachings of Jesus Christ.
Madison is home to large, growing evangelical congregations, despite its secular reputation. Trump's presidency has pushed them to grapple with the political stigma attached to their faith and how they should live it out in the public sphere. That tension has long-divided Christians over issues like women's ordination, abortion and homosexuality.
Many local white evangelical leaders say they don't preach on party politics, instead emphasizing the Bible's broader directives to love and serve in their city. Other local Protestant leaders say that approach can be privileged and disingenuous. At times, it can hinder a dialogue faith leaders say they'd like to have with each other to better tackle community problems.
An array of Protestant denominations, including the Evangelical Free Church of America, the Southern Baptist Convention, some Presbyterian, Lutheran, Assemblies of God and other non-denominational churches can all be considered "evangelical."
Evangelicals largely believe that the Bible is fully trustworthy, has all essential spiritual truth and that humans can only be with God through Christ's death on the cross. They believe that the good news of Jesus Christ's sacrifice needs to be expressed and shared.
In Wisconsin, evangelical Protestants made up 22 percent of adults in the state in 2014, according to Pew Research Center's Religious Landscape study. Of that group, 92 percent identified as white, and 64 percent said they are Republicans, according to the survey. Mainline Protestants made up 18 percent of the state's population and black Protestants were 4 percent.
Many Madison evangelical leaders say they are frustrated with their faith's brand and avoid using the label because they don't want to be stereotyped. "Evangelical" is sparsely used, if at all, on church websites.
"It's definitely become more of a four-letter word," Nielsen said. "It's gotten so much bad press since Trump has become president and so in my experience, that's becoming much more of a title to steer away from based on associations that come from the mainstream media."
"The reaction to (those associations) is a combination of sadness and frustration and actually, at times, anger that the term has been co-opted, so to speak," said Marc Maillefer, pastor at Door Creek Church on Madison's far east side.
Door Creek has about 1,700 attendees on an average Sunday and is a sister church to Blackhawk Church, the largest Evangelical Free Church in the state with about 3,000 attendees, three locations and 10 services per week. Blackhawk's senior pastor, Chris Dolson, declined to comment for this story but confirmed that the church did remove the term "evangelical" from its sign several years ago.
Both Door Creek and Blackhawk have taken an approach increasingly common when new congregations choose names: avoid the term "evangelical," said Jon Payne, superintendent of the Evangelical Free Church of America denomination in Wisconsin.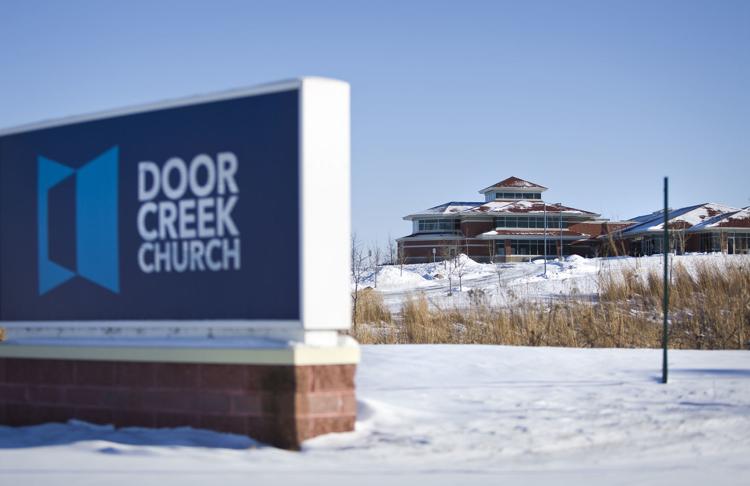 "I think some of our newer churches are getting away from traditional names … to names that have taken away that evangelical stigma," Payne said.
Both Blackhawk and Door Creek have grown and are planning expansions. They are a part of a larger national trend within the Evangelical Free Denomination, which has seen a steady 3 percent growth rate in attendance, said Payne.
Some congregants at Door Creek Church were jubilant after the election, others devastated. Maileffer, Door Creek's pastor, recalls his first sermon after Trump won.
"The Sunday after the election ... one of the things I said was that the realities of a divided country are realities that aren't just out there, they're a part of who we are. We don't vote the same...I said, 'How good to be a part of a church where we're not united by our politics but by the good news (of Jesus Christ). We're united in Christ and so we actually have people on both sides of the issues, the candidates," he said.
Still, Maileffer said, he wrestles with the relationship between his faith and politics and executing how one should inform the other.
"One of the things at Door Creek we're trying to say is we're imperfect people following a perfect Savior. That's what we're pinning our hopes on. We're to be engaged in our city and in the matters of society but our hopes aren't pinned in politicians and legislation," Maillefer said. "We're supposed to do justice. We're supposed to love. We're supposed to walk in humility with God and others. We're just trying to work that out and hopefully we're making strides."
The line between the political and the biblical varies between evangelicals and other Protestant Christians.
Churches are barred by federal law from endorsing a political candidate or participating in political campaign activity. Because of that, some churches tread lightly with any kind of political issue, while others believe it is essential to engage with issues facing the public from the pulpit.
Evangelicals who do not politick from the pulpit say they do so not because they're ducking controversy, but because they believe the Bible is central and should be emphasized over any issue or politician.
At The Vine, Nielsen said while he is willing to talk about his political convictions in one-on-one settings, he avoids discussing explicitly political issues from the pulpit, unless there is clear overlap between a political issue and a clear text from the Bible.
"We talk openly about the political issue of racial justice, not because we love politics but because the Bible speaks to this issue quite a bit. Politics is just not something we prioritize at our church and that's not to say that it's not important, but we have to put it in its proper place," he said. "Overemphasis on political alignment in the church can communicate that we don't need Jesus to save us, we just need the right political structures to save us."
An exclusively Biblical approach is intended to keep the focus on what gathering is about — understanding, internalizing and being transformed by Jesus, confirms Nielsen, Maileffer and Payne.
Understanding the Gospel from the Bible builds a foundation that flows into congregants' lives and will inform how they engage with their city, evangelical leaders say.
"God is clear. We're to love him and to love our neighbor. We do have a responsibility to love our neighbor and that's where this intersect of life and faith in the city and politics all come together, yet none of us are omniscient and pretend to have it all figured out, but we want our faith in the Bible to help us work it out," said Maillefer, of Door Creek.
Scott Anderson, pastor of Westminster Presbyterian Church, a mainline Protestant denomination, said he regularly talks about politics in his Sunday sermons.
"Sunday we were talking about listening and dialogue and I did reference Trump's tweet about the size of his nuclear button and how that particular approach is unhelpful," he said. It "is antithetical to the Gospel's call for dialogue with the enemy."
The goal with his approach, Anderson said, is to provoke thoughtful discussion, spur reflection and critical thought.
"I'm an equal opportunity critiquer. I will criticize the Democrats as much as the Republicans… I think the mess we're in Wisconsin now is as much the fault of Democrats as it is Republicans.
"That's really the problematic piece of living in Madison. Liberals can be just as vitriolic and bombastic as conservatives, and I've seen that on several occasions," Anderson said.
For many African-American congregations, faith and political issues are often closely related.
"Social issues are very important to a black church.... Racism, sexism, patriarchy, LGBTQ issues, immigration issues are all a part of that theology that you have to 'take care of the least of these.' If you're not taking care of the least of these, you're not doing the mission of the church," said Everett Mitchell, pastor of Christ the Solid Rock Baptist Church, which is not an evangelical church.
Mitchell, also a Dane County Circuit Court judge, said he speaks on political issues frequently from the pulpit. Gay marriage is a political issue he also views as a Gospel one, so he began marrying gay couples in 2015, a rarity among African-American churches.
"Largely, that's what separates us from largely evangelical white (churches) because sometimes they're not always paying attention to those social issues and we deal with them out of necessity. Our people are suffering. Our people are in pain.
"The social inequities may not always be the same in those (white) congregational settings," he said.
When churches don't address these issues from the pulpit, it enables one to separate faith and politics and doesn't equip congregants to engage either well, Mitchell said.
"You're not giving people the tools to be able to apply the Gospel to politics, to society. They just don't have the frameworks to be able to do that," he said. "The media around evangelicalism was for (Trump) and that's what they pushed and I just think the evangelicals who voted for him aren't bad people, they just haven't been given the tools to know how to assess, 'How do you put this in the frame of the gospel?
"If you don't talk about it in the church setting, you're basically giving them permission to compartmentalize their lives. What they do on Sunday is one thing and what they do in the voting booth is one thing."
While African-American church leaders emphasize that not all their congregants' experiences and political views are the same, there are similar struggles and concerns.
Marcus Allen, pastor of Mt. Zion Baptist Church, which also does not consider itself part of an evangelical denomination, said he tries not to let politics or Trump's latest tweets overrule the message of the day from the pulpit, but said when people ask him about issues and are concerned, he is forthcoming.
"I must address it as pastor… Jesus talked about all the issues of his day," he said. "I think that's where the disconnect has come, when those public national spokesmen or women for the evangelical faith have stood out in support of the actions and has lowered the standard of morality from the highest position in our country."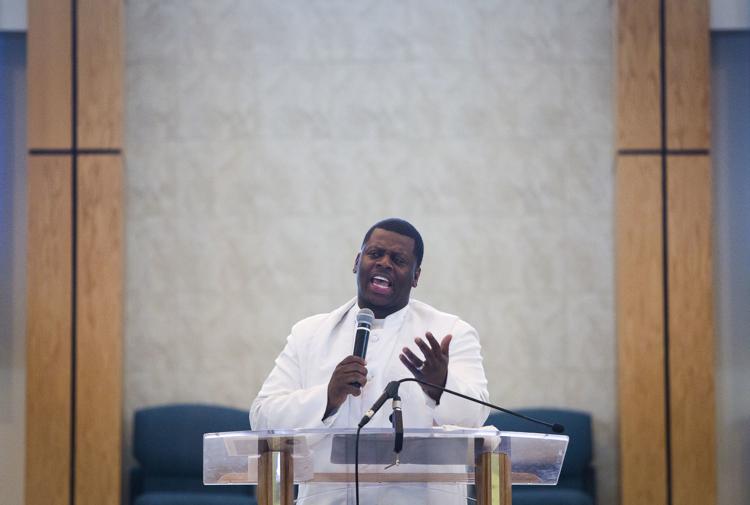 Racial justice is one political issue Madison church leaders agree is reflected in Jesus' teaching and should be addressed.
With the city's large divide in academic achievement between black and white students, many evangelical churches have encouraged their congregations to volunteer in schools to address that gap.
But the approach Christians take to confronting racial injustice in the name of Jesus varies. Some argue more should be done to address institutional inequities.
"I think nobody wants to be labeled a racist, especially in Dane County, so everybody is going to say they're working on race," Mitchell said. "Are you using your power to give an equitable vision for your congregation? How do you be responsible in your jobs? What does that look like ultimately?
"True equity is not about putting up some posters in your house of black people. It's about being willing to share your power with people of color and sharing your power may mean you may not have as much," Mitchell said.
Maillefer acknowledges the power imbalance and how "our brothers and sisters from the African-American church, they see those things a lot clearer than we do."
"We feel more comfortable when we have power. We feel more secure when we have power. We might think we have the right to those things, but that's what gets us into using people and losing our place in this world and thinking we are something or someone that we aren't and putting ourselves in a place of God."
"We don't want to say, 'well, we don't get into politics," Maillefer said. "We hopefully are always engaging in what does it mean to do justice … we've got to wrestle with those things. Does the Bible have anything to say about these things we're dealing with? It doesn't get any easier when godly people disagree."
Door Creek, along with Blackhawk and High Point Church, sometimes collaborate on programs and events with local African-American churches. Several evangelical churches also partner with the school district to adopt a school and tutor students, donate supplies and support teachers.
Though Anderson said he understands some congregations prefer to avoid uncomfortable issues, as a gay man and the first ordained gay minister in the Presbyterian USA denomination, he wishes some evangelical churches were more upfront with their beliefs, especially ones that divide denominations.
More forthrightness about those issues can lead to more and better dialogue, he said.
"There are two approaches. There are people who are very clear about where they stand, and then there are these groups of churches — and I would lump Blackhawk and Door Creek and Upper House — where it's much fuzzier about one's identity. As a gay man and a Christian looking for a congregation where I'm going to be welcomed, that's important information for me to have, where they stand on this."
Some evangelical leaders say while they will not compromise what they believe the Bible says about marriage — that it is defined between one man and one woman — they say they love and accept everyone, regardless of their sexual orientation.
"Just because we have clarity on what we believe God has ordained in establishing marriage does not mean that sets us up and gives us the right to hate anybody. I know there are people who identify as LGBT (at Door Creek) and they're loved here," Maileffer said. "Our sexual ethics isn't the starting point, it's God's grace that is the starting point.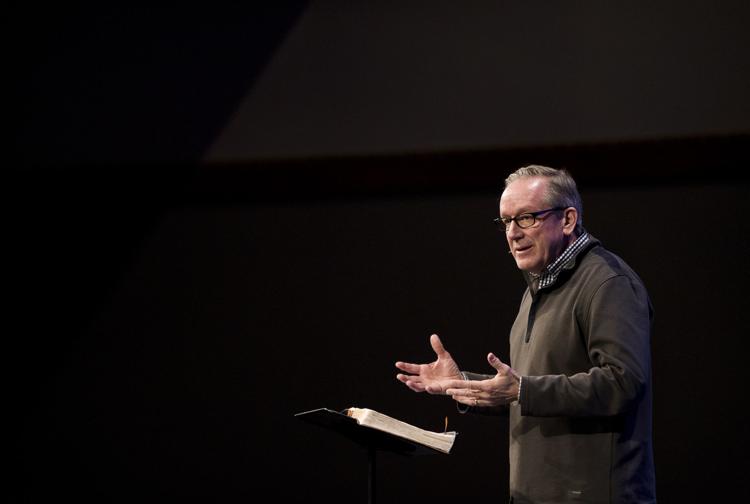 The role of women in the church is another issue that divides but also presents dialogue opportunities, said Sarah Karlen, a pastor at City Church on the west side of Madison.
Though City Church is considered evangelical, it ordains female pastors, something Evangelical Free Churches, Southern Baptist Convention churches and other evangelical denominations do not do. Those denominations take what is called a "complementarian" approach, meaning that men and women, while equal, are better suited for different roles in the church.
Karlen doesn't see those who disagree with her role as being 'anti-woman.'
"Some of them have a hard time with what I do because they don't believe that's what my role is," she said. "I don't hate those people. I don't completely understand why they've chosen what they've chosen, so it is like politics. I guess we're going to agree to disagree, can we live together? Some people can and some people can't."
All 13 religious leaders interviewed for this article say they want more deep, thoughtful and respectful dialogue, both within the church community and outside of it.
Evangelical leaders say they encourage it among congregants outside of Sunday morning, and mainline Protestants say they do, too.
"There is no table, where pastors from Door Creek or High Point or Blackhawk or mainline Protestants and the African-American congregations, can come together for fellowship and relationships, even in the midst of our many differences," said Anderson. "I'm saddened by that. I think that is one of the significant missing pieces right now in religious life in Madison.
"I speak with a sense of self-judgment about that, because I haven't contributed any energy to make it happen. I think there are evangelicals who are interested in that who would really respond to that. Starting with the issues that we share in common would be a great beginning point for a relationship."
Sometimes language can be an inadvertent barrier. Whereas evangelicals and African-American churches use Biblical language including "kingdom," mainline Protestants can find those terms offensive and exclusionary.
"Many protestants are resistant to the language evangelicals use," said Rev. Jonathan Grieser, pastor of Grace Episcopal Church off of the Capitol Square. "Language like, 'Jesus is your personal savior,' because that language is used to divide. If you don't have that, you're going to hell."
Grieser said he understands why evangelicals and other Christians use that language. It's straight from the mouth of Jesus, according to the Scriptures, he said, but some of his parishioners bristle at it.
"Lord" and "father" all assume a male-dominated patriarchal structure and "that can be problematic for some," Grieser said. "It's biblical language. There is a reason to use that language but it's important to recognize the baggage that comes with it."
Take the term "kingdom." One of Door Creek Church's largest annual events focused on racial justice is called the "Kingdom Justice Summit." While the event, set for early March, is multi-denominational and says it aims to collaborate with other Christians to fight for justice in the city, some mainline Protestants may pause at the name.
"It's partly about the language and symbols," Grieser said. "What is a kingdom? It's dominated by power and inequality and patriarchal. If we live in a democratic society what does the term 'kingdom' mean? Kingdom has historically been a term used to dominate and oppress and language is a part of that whole package."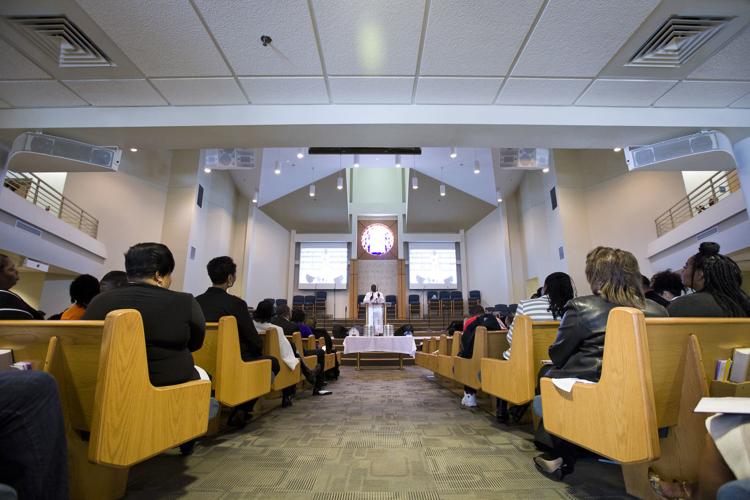 Allen, at Mt. Zion, sees the term differently.
"Jesus said, 'I am the King of Kings.' We take privilege in that," he said. "I don't see how that term can be offensive."
Dialogue is the centerpiece of what Upper House, a Christian nonprofit group located on the University of Wisconsin-Madison campus, aims to do in Madison. The group considers itself broadly Christian and has both evangelicals and non-evangelicals on its board of directors. It hosts events on a variety of Christian faith issues, often looking at how it informs other disciplines.
"We were raised for generations that in polite society, you don't talk about politics or religion because they're polarizing," said Jon Dahl, a campus minister at UW, who is on the boards of Upper House and Blackhawk Church. "We're living with the consequences of that sort of attitude because what it means is that we don't know how to talk about politics or religion constructively.
"We need to learn how to have those conversations helpfully, not shut down."