At 14, actor and entrepreneur Ajani Carr speaks out for African-American youth
Ajani Carr, a 14-year-old who lives in Fitchburg, makes it a point to be himself.
When he meets with community leaders or journalists to pitch his nonprofit Building Bosses, a program designed to teach teenagers to start businesses, he wears bandannas, a hoodie, sometimes an afro pick.
As a budding actor, he often auditions for TV shows and movies. He has two personal rules for the roles he considers: He doesn't want to cut off his afro, and he doesn't want to have to change the way he talks.
When he gives speeches to affluent audiences, he likes to name-drop rappers: Kendrick Lamar, J. Cole and Tupac Shakur are among his favorites.
Carr — a charismatic teenager with a beaming smile and a message of positivity — figures that if he can make an impression, maybe the people he meets will change their preconceived notions.
"When you see a teenage black kid walking down the street with crazy hair and a hoodie on, it's like, 'Huh, that's not a businessman,'" said Carr. "Some people are intimidated by it. You get crazy looks for it all the time.
"I think if people start to accept the fact that people dress how we dress, and talk how we talk, and still be businessmen or women or amazing people, that'd be good. It eliminates the assumptions," he said.
Carr has a robust resume for someone so young: He is an entrepreneur, a public speaker, a volunteer, and an actor who makes appearances on TV shows like NBC's "Chicago P.D." and PBS's "Mercy Street." He has emerged as a voice for youth in the Madison community, speaking out on issues from mall curfews to policing.
His mission is to help young people like himself — whether that means changing the way white people look at them, teaching them how to express themselves, molding them into entrepreneurs, or simply letting their voices be heard.
"We can show young people how important they are," he told business leaders at a recent Fitchburg Chamber of Commerce meeting. "I want to show them that they can be their own boss."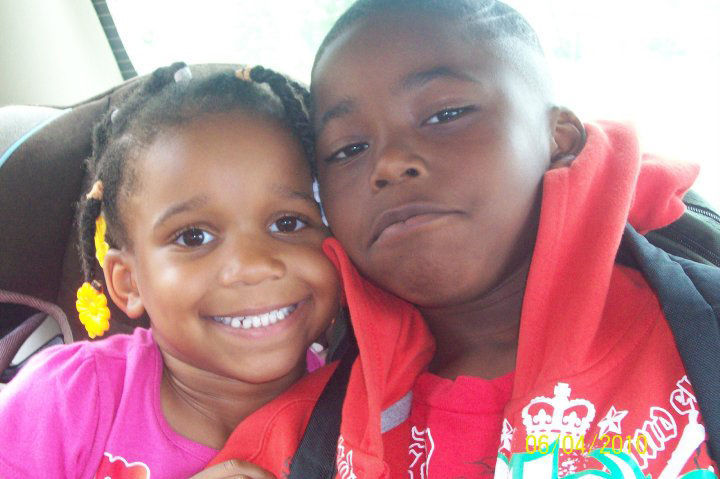 Debrell Ajani Carr was born in Chicago to Dorecia Carr, then a single mother, in 2002. He spent the first year of his life with his mother and grandparents in the westside village of Bellwood. That life fell apart, suddenly and brutally. When Ajani was 2, assailants raped and murdered his grandmother, Yolanda Ballard.
Violence would be a through line of Carr's childhood. Within the next few years, his uncle and cousin would die from gunfire.
The murder marked the beginning of 10 difficult years for the Carrs. They began to bounce back and forth between Chicago and Madison, where they had some family. Money was tight, and housing was precarious. At times, they were homeless.
"My mom was still a teenager, dealing with all this stuff while she had her kid," said Carr. "We almost never had money at all."
Carr has fragmented memories of being homeless. He recalls being taken to a crowded building, where he and his siblings ate a meal at a big table with strangers and got secondhand Halloween costumes. It was years later before he realized the building was a homeless shelter.
Later, his family had to stay in motels while working out their next living situation. For food, they sometiemes resorted to eating plain bread. Carr would pretend to be excited about eating bread to cheer up his mother. Funnily, he developed a taste for it: Plain bread is now his favorite snack.
There were good memories too. His great-grandfather — one of Carr's heroes — took him to parks in Chicago to take his mind off things. He remembers a fifth-grade teacher who visited him at home and tutored him in math.
"It was just an older white lady trying to help. Seeing me struggling at home, not always having enough to eat," he said. "I did flip a couple bookshelves, hit a couple kids. She still was like, 'I see something in you.'"
Then there was acting. Since he was 6 and saw other black people like Martin Lawrence on TV, he knew it was what he wanted to do.
Dorecia did what she could to foster that dream. When she landed a job, she began paying for acting lessons in Chicago. Those classes, which made big promises of turning children into Disney stars for a few thousand dollars, were a scam, she said.
But through them, she met a casting agent who told Dorecia that Ajani had real talent. Dorecia made the decision to move to Atlanta in 2012, where industry tax incentives had created a thriving haven for the film and TV industry.
"We moved because of (Ajani)," she said. "Everything was because of him."
In Atlanta, Carr took legitimate acting classes and started auditioning for roles. He began landing gigs as an extra on TV shows.
In the summer of 2014, Carr was inspired to write a poem after a police officer fatally shot Mike Brown in Ferguson, Missouri, igniting the Black Lives Matter movement. When radio personality Michael Baisden received the poem through Dorecia and posted to his Facebook page, the post got over 21,000 likes and 7,000 shares.
The poem that gave Carr unprecedented exposure was called "I Am":
I AM..... Oscar Grant, Sean Bell, Eric Garner, Michael Brown John Crawford.
I AM....Trayvon Martin, I AM a son, I AM a grandson, I AM a brother, I AM a nephew, I AM AJ Carr. I AM not perfect...but I AM UN-ARMED
I have the right to love, I have the right, to laugh. I have the right to learn, I have the right to grow, I have the right to LIVE!
Later that year, Carr had his first speaking role as a teen called TJ on "Chicago P.D."
Carr is no longer in dire straits. He lives in a duplex near Pine Ridge Park with his mother, his father, three sisters and a baby brother. During the school year, he goes to Verona Area High School for its Exploration Academy, a self-paced learning program meant to foster creativity.
Carr has kept busy this summer. Every few weeks, his mother drives him down to Cinespace Studios in Chicago to work on "The Chi," a coming-of-age story from Showtime that follows the lives of a handful of characters on the city's south side. The show is produced by Lena Waithe of Netflix's "Master of None" and the rapper-slash-actor Common, and will likely debut in 2018.
The role is the biggest Carr has landed. He can't reveal much about it, but said that the character he plays reminds him of himself.
"It could have been me in reverse, if everything went left — if I didn't have people behind me," he said.
When he is at home, he creates. He draws, and writes music and poetry. He's authored a children's book that he plans to publish after he finishes the illustrations. The book tells the story of a boy who sees poverty and homelessness around him, and doesn't understand it. Only when he falls asleep, his dreams help him understand the difficult things he sees.
"The experience of being homeless, it affected him in certain ways I don't think he notices," said Dorecia. "He's overprotective of me all the time."
On set, said Dorecia, he always asks where his mother is and if she's doing all right. When the actors get 30 minutes to eat lunch, he refuses to eat until his mother gets a plate too.
Carr isn't sure if that's the impact of homelessness.
"I just think it's like, it's my mom," he said. "So I just do it."
Dorecia looms large in Carr's life. She was an inspiration for his other pursuit this summer: Developing his nonprofit that trains teens to become entrepreneurs.
After the move to Atlanta, Dorecia launched her own talent agency. It was a risky move. But now her agency is thriving, with about 250 actors — Ajani included — on the roster.
"She made it through and started her own business," he said. "If more kids can do that, and can get the motivation to do it, it would be a completely different world."
Founding a nonprofit is not out of character for Carr. When he first moved to town, he started a group at his Verona school called "Black Voices," which called for administrators to address disparities in how students of color were treated. He also launched an afterschool program called Level Up, where students did homework and learned to express themselves through acting and music.
Now, he's about to launch the pilot program for Building Bosses, a six-month course that will pair teenagers with business leaders. Through those mentorships, the teens will learn everything from basics like communication skills to the intricacies of drafting a business plan.
Carr also wants to teach life skills and the arts. He wants the local rapper Rob Dz to visit to facilitate hip-hop workshops. Carr wants a self-care coach to come in to do a meditation session. He plans on teaching basic kitchen skills, like how to use an oven. He's asked friends he knows from TV and film to come give acting workshops.
The idea is that through mentorship and entrepreneurship, youth can avoid violence and become leaders.
Carr said that he is who he is because of people in his life who have mentored him, and gave him opportunities to express himself. Building Bosses is a way of helping others get those same things, he said. He wants to give his peers a dose of positivity in a world of stress and unrealistic expectations.
"Make sure you get past issues at home," Carr said, explaining the pressures that his peers are saddled with. "Make sure you get past having hunger pains in your stomach. make sure you don't care about keeping looking at you crazy on the street just because of the color of your skin. None of that matters — make sure you're just respectful in public, make sure you don't sell drugs and things like that, even though no one else is giving you any opportunities."
Amy Gannon, a professor of business at Edgewood College and the co-founder of the women's entrepreneurship network the Doyenne Group, is helping Carr develop the Building Bosses curriculum. She said Carr also has a secondary goal.
"This isn't just about the kids learning from the entrepreneurs. This is about the entrepreneurs learning from the kids," she said.
Where other mentorship efforts often come up short, said Carr, is that adults often prescribe solutions without trying to understand the lives of the people they're mentoring. He thinks they should take more time to listen to the young people they're trying to help — something he wants mentors in his program to do.
It's why he thinks he's well-situated to make an impact: As a teenager himself, he understands more than others what his peers are going through.
"I'm not saying that my program is perfect, and will solve all of our problems. I'm just saying as a young person myself, I know this is something that many of us need," he said.
And fulfilling those needs, Carr said, could be what helps a black teenager learn to do something they love instead of finding themselves in a jail cell.
Earlier this year, Carr stood on a stage to give a 10-minute talk before thousands of bankers, attorneys, CEOs and entrepreneurs in the Kohl Center, at the Greater Madison Chamber of Commerce's annual Icebreaker gala. The main focus of the talk was the ways that people in the room could bridge gaps in a racially divided city.
He displayed an image of Tony Robinson — a black 19-year-old who died after he was shot by a white police officer in 2015 — on the enormous video displays flanking the stage.
"Some of you in this room may feel that Tony Robinson's shooting was justified, and that's OK. I'm not here to debate that," Carr said. "But we can't deny that his death divided this city."
"For young people, Tony Robinson was one of us," he added. "He was only 19, so he still had time to grow and to learn from his mistakes. He could have grown up to be a successful leader in this city. We won't know. Allow us to make mistakes as human beings."
It was a bold move. Robinson's death remains a controversial topic and a focal point of protest about policing in the community.
Israel Lopez, a business attorney with the firm Neider & Boucher and a mentor for Carr, said the young leader is averse to sugarcoating things. He takes the status quo, he said, and "breaks it in half."
"AJ is confident in why he's on this earth," said Lopez. "He'd go up to President Barack Obama and say, 'I'm Ajani Carr and here's what my mission is.'"
Carr said telling the truth, even when it's harsh, is a core value he learned from his great-grandfather. Carr said it's why he mentioned Tony Robinson at Icebreaker, or why he brought up the violent arrest of 18-year-old Genele Laird outside East Towne Mall when he met with Police Chief Mike Koval earlier this year.
"I do this because I have no fear at all," Carr said. "Other people … witness things and they just don't wanna say anything."
He takes his work seriously, even if others might not. He said he gets dismissive comments because of his choice to wear bandannas or afro picks. He also gets dismissed for his age. People look at him like a kid with a lemonade stand, he said.
Gannon said that it's not surprising that people in Madison dismiss Carr. She said there's often a burden to prove yourself in the world of entrepreneurship. That burden gets especially large for those who are young, female, or non-white.
But Carr is moving the needle, said Gannon.
"In this community, we do a lot of talk," she said. "Talk, talk, talk. And talk is kind of cheap. What are you doing to create a difference? This kid is trying."
Some may dismiss him, but as Lopez pointed out, Carr also has a record of winning people over.
When he wrapped up his speech at Icebreaker, he got a standing ovation.
At the Fitchburg Chamber of Commerce, one business owner piped up after Carr finished speaking. "Will you be cloning yourself soon?" she asked, to applause and laughter.
After his talk with Koval the chief assigned officers to recruit people for a Building Bosses event.
"Ajani was very thoughtful, extremely progressive and forward thinking," the chief of police later told Isthmus.
Alderman Maurice Cheeks said that Carr is an inspiration for him. He pointed to the way Carr rallied his peers in the wake of the recent youth curfew at Madison malls.
"His immediate reaction is to think about ways to create positivity in a moment of frustration and strife," said Cheeks.
Said Lopez: "You have a kid who's 14, who's showing initiative, doing everything that he's doing, and he has some of the most well-known leaders in the community in his court fighting for him. Would you invest in that kid? I would, every time."
Carr doesn't plan to stick around Madison. He said that there's not enough opportunity for him to grow as an actor or artist. Plus, Madison frustrates him.
"Everybody knows everybody because it's so small, but nobody knows anybody," he said.
Still, he hopes to make a mark in the time he has here. His short-term goal is for 20 students to become entrepreneurs through Building Bosses within the next two years.
As for the long term, Carr is less certain. He said that in the black community, it's a mantra to hope that you'll live to 25. He has decided he's OK with dying before then, so long as he works hard to change people's lives for the better. He acknowledges it's a morbid way of thinking about life, but it's what drives him.
"I just want to make sure I put in the work to live in people's hearts," he said. "Death don't matter. You're still alive in the minds of the people."
Carr plans to keep busy, for now. He has more shoots for "The Chi," more events for Building Bosses. He also has meetings with some prominent officials, the details of which he said he can't divulge.
He's still weighing whether to wear his afro pick or bandanna to those.