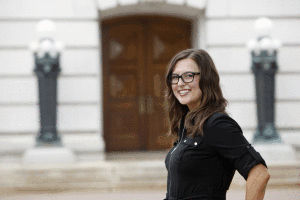 Jessie Opoien
Bio

Jessie Opoien covers state government and politics for the Capital Times. She joined the Cap Times in 2013 and has also covered Madison life, race relations, culture and music. She has also covered education and politics for the Oshkosh Northwestern.
The field of Democrats seeking to unseat Republican Gov. Scott Walker is starting to narrow. 
As she left her post as president of Planned Parenthood Federation of America and Planned Parenthood Action Fund, Cecile Richards authored a book with Madison native Lauren Peterson called "Make Trouble: Standing Up, Speaking Out, and Finding the Courage to Lead." Richards describes the book as "part memoir, part call to action," and she and Peterson will discuss it Saturday evening at the Madison Public Library's central location. 
Join political reporter Jessie Opoien for Wedge Issues, a podcast catching you up with the candidates, strategists, analysts and power players in the 2018 election.
In a statement, Wall said he is endorsing the state Superintendent of Public Instruction because "we need a Governor who is a true leader — an adult in the room, who unlike Scott Walker, will put Wisconsin before his own political ambitions."
Milwaukee businessman Andy Gronik announced his decision to withdraw from the race on Thursday, following a Marquette University Law School poll that found he was supported by 4 percent of Democrats who plan to vote in the Aug. 14 primary election. 
U.S. Sen. Tammy Baldwin holds a lead over both Republicans vying to unseat her, and 30 percent of Republican voters still don't know which candidate they'll support in the Aug. 14 primary election.
For the first time since Oct. 2014, more Wisconsin voters approve of Walker's job performance than disapprove. Forty-nine percent approve of Walker, up from 47 percent when the last poll was conducted in March.
Candidates are talking about addiction this year in a way they haven't in previous elections, addressing it directly in campaign ads while maintaining the issue should not be politicized. While candidates attempt to walk that line, addiction awareness and recovery advocates say the discussion is welcome, as long as partisan attacks are left out.
In the face of 10 Democrats gunning for his job, Republican Gov. Scott Walker has decided to embrace an issue typically owned by the opposing party: education. 
View all