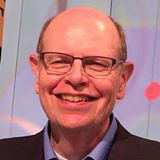 Paul Fanlund
Bio

Paul Fanlund is editor and publisher of The Capital Times. A longtime Madisonian, he was a State Journal reporter and editor before becoming a vice president of Madison Newspapers. He joined the Cap Times in 2006.
UW project explores how news media transformations, including the rise of talk radio, have changed our politics.
Historian Jon Meacham seeks to reassure us that we have come through dark times before, but maybe we never were the country we'd like to believe we are.
A new book about the Scott Walker years should make us sad — but motivated.
The flock of Democratic candidates can be vexing, but it has some upsides.
An intriguing reporting project explores Trump voter attitudes in the Midwest.
The departing leader says philanthropic and business support are nice, but what's really needed is a bold government effort funded by a referendum.
Kanye West's bewildering admiration for President Trump's "dragon energy" is one story you can safely set aside.
A leading industry voice says we need to invest more effort to illustrating the big picture of what's happening.
The Urban League of Greater Madison has trained and placed 860 people into jobs paying at least $15 an hour, one example of quiet progress.
For all the hand-wringing and soul-searching about economic grievances, it's race and gender politics that explain the president's resilience.
View all