Shoppers don't walk counter-clockwise, parking is hassle-free and, despite its relatively small size, the market guarantees both variety and intimacy.
It doesn't take long to peruse the vendors that set up each Saturday for the MadWest Winter Farmers Market in the gymnasium of the Lussier Community Education Center, 55 S. Gammon Road. But for those in search of locally raised pork, eggs and chicken, handcrafted soaps, tortillas, biscotti and even pizza, the small market provides an opportunity for shoppers to become even more acquainted with the vendors who staff their tables from 8 a.m. to noon.
And for those who come to sell their goods, the market, located next door to Jefferson Middle School, provides a unique outlet to sell to customers at a time of year when access to farmers markets is limited.
"It's a little bit harder to get people here," said Erica Solis, who along with partner Joel Helge was selling soaps, tanned goat hides and pork and lamb meat from their Emancipation Acres farm near Stoughton. "But I will say that the people that come want to be here. So it's maybe less people, but those that come are motivated to buy something."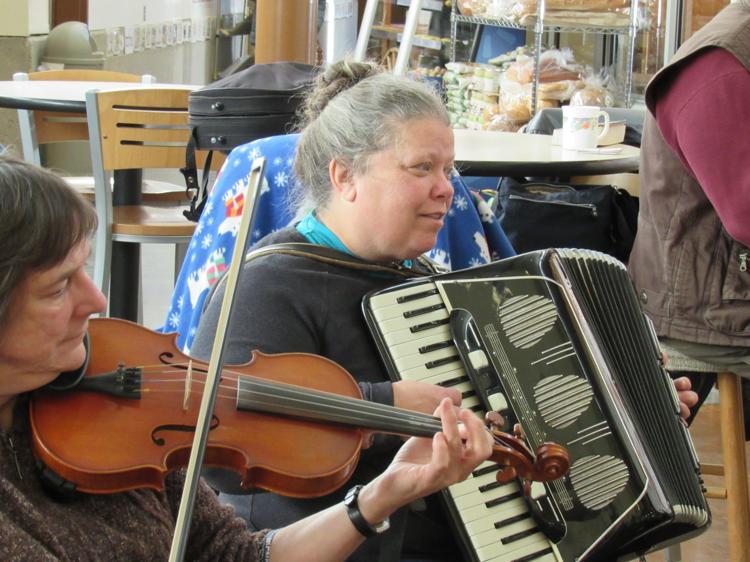 At the Jan. 6 market, Solis and Helge were among 11 vendors at the market -- along with Moldy Jam, an improvisational bluegrass band that strummed, blew, fiddled and pounded away in the center's lobby.
The offerings included Sitka Salmon Shares; beef, chicken and other meats from Sugar River Farm near Belleville; brats made with sheep meat from Observatory Hill Farm in the town of Montrose; and organic, traditional Mexican-style corn tortillas and sopas from Tortillas Los Angeles in Madison. Bauman's Natural Meats & Catering from Markesan even offered up samples of its pizza made with locally grown ingredients. 
Julie Karpus was set up with a table full of her line of Truli Julie biscotti. She sells her products in the spring, summer and fall at farmers markets at Hilldale Shopping Center, Elver Park, Monroe Street and Verona, and they are on the shelves of Willy Street Co-op's three locations and a few coffee shops. 
She has been at the Lussier Center since early November and sees it as another way to market her products to current and even a few new customers. Karpus started making biscotti in Chicago in 2013, but when her husband took a job in the Madison area, she took a year off before relaunching the business in 2016. She uses a commercial kitchen in the Badger Prairie Needs Network facility in Verona.   
"It's an outlet for my repeat, hardcore, biscotti-loving customers to find me," Karpus said of the winter market. "All of my customers that buy weekly, they have found me here so I can count on them every Saturday."
The market had been managed by vendors for about its first five years, but this is the first year the market is being managed by the Lussier Center as part of its community outreach programming. At the Jan. 6 market, the lone vegetable vendor was on vacation, so there were no potatoes, carrots or other types of winter-stock vegetables.
While the offerings can change from week to week, the primary challenge is getting customers to find the market, which draws an average of 12 to 14 vendors a week.
"It's providing a community service of bringing farmers out into a warm place so members of our community can actually come out and talk directly to the people that are growing or raising their food," said Lauren Schultz, the market manager. "It's not like you're going Downtown and making a day of it. People come out here specifically to buy, and they're planning ahead."