Beer Baron: Miller Park rolls out the Wisconsin barrels this season
UPDATE: Happy Opening Day! Beer Baron spies have filled in the blanks on one key detail originally missing from this column: price.
The 20-ounce pours at the Local Brews bar at Miller Park cost $10, $12 or $14, depending on the beer. That's not cheap, for sure, but it's not that much of a premium on Miller Lite and the like. For many craft drinkers at least, I doubt it'll be a deal-breaker.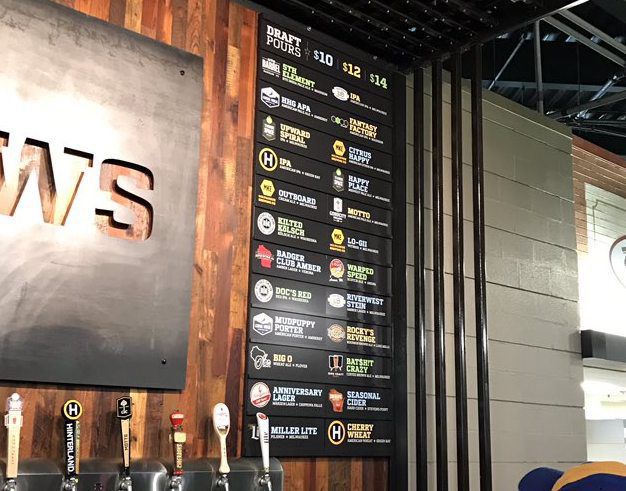 ---
Miller Park, with 30-foot-tall letters spelling MILLER on its exterior, is not shy about its ties to big beer.
But the craft beer landscape inside the home of the, ahem, Milwaukee Brewers has improved the past couple years, with a small handful of kiosks offering coolers full of IPAs, wheat beers and amber lagers from national and local breweries.
These stands, however, were so few and literally far between that it could be a two-inning trip there and back. Shandies and other offerings from Leinenkugel's, a craft face of the brewing giant with the stadium naming rights, remained an easier find if you were into that kind of thing. I often did just that — that Grapefruit Shandy is quite good — and often laid down a sacrifice and went for a High Life.
But it's been getting better each year, and progress is good.
So when the Brewers earlier this month announced an extensive remake of the stadium's approach to beer and food, I figured it'd be another incremental step in the right direction of more choice and more local beer.
But this is not a sacrifice bunt to merely advance the runner but a laser-beam double to the gap.
The Opening Day tap list for the new Local Brews bar features 24 beers from 17 breweries, well-established to upstart, most of them small and most of them craft by any definition.
As for the actual beers, I looked long and hard at the list, and any criticism is a mere quibble. There's a style for every taste — wit, brown ale, IPA, APA, fruit beer, even a scotch ale. There's a rye IPA, even. Rye! At a ballpark!
The ABVs top out at about 7 percent, which is good, in the interest of heading off the two-fisted sloppers or at least making them work for it.
And speaking of working for it, Local Brews is a single location, so beer geeks should seek out tickets around section 207 in right field, though I'll be happy to walk across the stadium for draft beer of this caliber.
Curiously, though, one of the 24-beer roster spots is taken up by Miller Lite, which is not exactly hard to find elsewhere in the park. It's also (mis-) labeled as a pilsner, the only one at Local Brews. Considering the plethora of good craft options of the style, that seems like a concession to Miller Park's namesake.
In their announcement of Local Brews, the Brewers even acknowledged that acquiescence of a huge partner to what the team described as overwhelming fan demand for more beer options.
"We applaud the efforts of our friends at MillerCoors and these local craft breweries as we unveil what we know will be a very popular destination at Miller Park," Brewers chief operating officer Rick Schlesinger said in the news release.
If there are other politics being played in this tap list, I don't see them. The breweries come from different distributors, an invisible but often powerful force in shaping beer lists at big venues. Some of the smallest breweries pouring at Local Brews don't even have distributors yet, and five of the tap lines belong to breweries that didn't exist when the Brewers hired manager Craig Counsell two years ago.
That's the case with this week's beer, from a member of Milwaukee's distinguished Brewing Class of 2016. It sports a name that befits baseball, beer in hand, on a warm day.
Happy Place
Brewed by: Third Space Brewing, which opened in November at 1505 W. St. Paul Ave. in Milwaukee's Menomonee River Valley, just 2 miles east of Miller Park.
What it's like: There's more than origin that makes me think of another bright, citrusy pale ale from another excellent young Milwaukee brewery, Good City Brewing's Motto. Happy Place, though, is a bit gentler on the palate, with less bitterness and a smoother, more drinkable profile.
Where, how much: Third Space does not yet sell its beer in Madison, though co-founder Andy Gehl says there are plans to do so "when the time is right." The brewery just this month began canning Happy Space for its home market of Milwaukee, where six-packs run about $10.
The beer: Happy Place pours a slightly hazy, ballpark-appropriate light gold that wafts a soft citrus aroma. A sip reveals a slim, clean malt profile splashed with bright, citrusy hop flourishes on an only slightly bitter finish. With a light body and smooth, balanced profile, sips of the Happy Place tend to quickly turn into deeper drinks. The word "crushable" is often overused in beer vernacular but it fits so well here.
Booze factor: At 5.3 percent ABV, Happy Place packs a little more punch than it might project, so moderate if you're driving home from Miller Park.
The buzz: As a fan of the Brewers and of good beer, it's easy to get excited about Miller Park upping its beer game. But when you're a brewer that made your first batch of beer not too long after last season's trade deadline, the opportunity to have your products put in front of literally millions of people is a huge deal.
"Having two beers on tap at Miller Park and one in cans throughout the ball park (Happy Place) is huge for us," Gehl said. "We expect it will give us great exposure to new customers who are hanging out literally in our backyard."
For Madison fans, Local Brews might be an introduction to one other brewery that doesn't yet sell its beer in Madison. Raised Grain of Waukesha, which opened in 2015, is offering Doc's Red, a lower-ABV variant of its excellent Paradocs Red imperial IPA, another beer that only recently arrived in Milwaukee-area bottle shops. The Raised Grain tap room, on West Bluemound Road not far from Interstate 94, would be a good pre- or postgame pit stop for Dane County fans.
I don't go to the ballpark for the beer, but the Brewers' renewed commitment to beer that speaks to me will absolutely make the game a better experience.
Bottom line: 4 stars (out of five)