20 years later, murder of Dane priest Alfred Kunz still unsolved
The Rev. Alfred Kunz was laughing the last time Peter Kelly saw him alive.
The pair had just finished co-hosting a faith-based radio show in Monroe on the evening of March 3, 1998, that included a guest appearance by their good friend, the Rev. Charles Fiore.
As the 67-year-old Kunz was preparing to leave with Fiore, Kelly told Kunz his strict adherence to conservative, traditional Catholic teachings — including a vow to live in poverty — would make a good story.
That prompted Fiore to joke that the story should be titled, "From rags to rags." Kunz, who grew up on a farm in Fennimore during the Depression, responded with a hearty laugh, according to Kelly. "He certainly saw the humor (in the teasing)," Kelly said.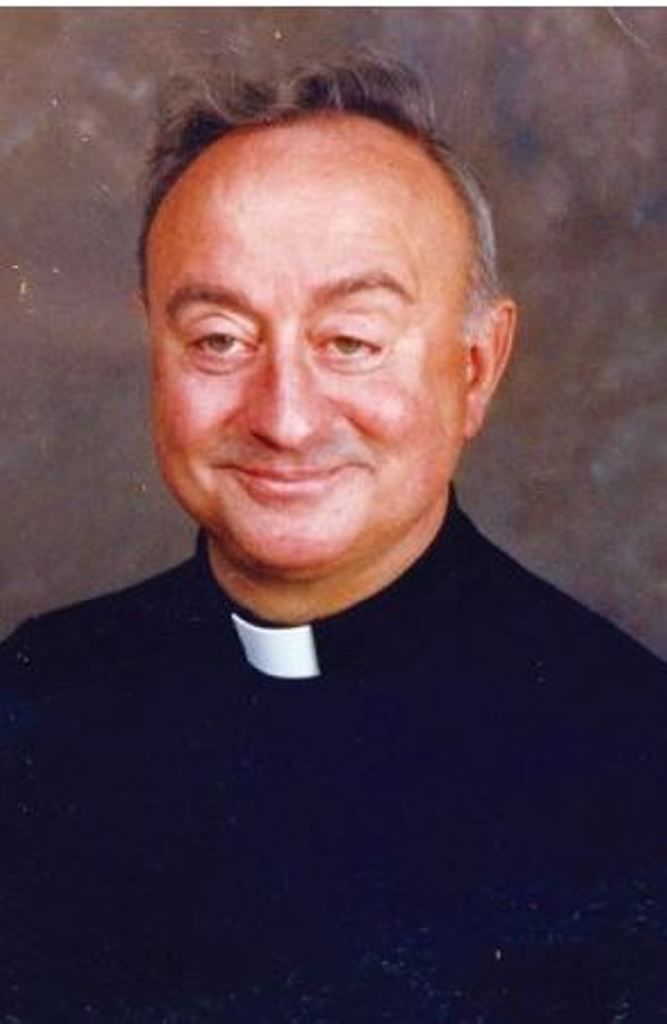 Kunz, a priest from St. Michael Catholic Church in the village of Dane, was murdered sometime later that night or during the early morning of March 4, 1998.
Police say his throat was slit and his body was found in a pool of blood in the parish's tiny school near his living quarters, which consisted of a desk and a cot in a small classroom. No suspect has been arrested in the 20-year-old case, and the murder has turned Kunz's story into one of the more famous and controversial unsolved cases in recent history.
The list of murder suspects has grown from one to "a handful" because of new information that has been uncovered over the past few years, according to Dane County Sheriff Dave Mahoney. The lead suspect, who had been the center of the investigation since shortly after the murder, is now considered a person of interest, Mahoney said.
Mahoney, who was assigned to the case as a young detective 20 years ago, also thinks just one more piece of new information could lead to an arrest of one of the suspects. So the sheriff's office started releasing information about the case on Facebook and Twitter, with hopes that it will lead to a key tip or lead.
"We're hoping that somebody in the parish community, somebody in the school community, somebody in the Dane community has been wrestling with this issue for 20 years," said Mahoney. "We're hoping somebody knows somebody who, the day (of) the homicide, was injured or was found with blood on their clothing or had issues they couldn't explain."
A private investigator from Hoffman Estates, Ill., who studied the Kunz murder while doing research on another case involving a priest a few years ago, said during a 2015 interview that the sheriff's office was doing a credible job with its investigation. "There's no physical evidence to incriminate a suspect and there are no witnesses," Thomas Hampson said.
Hampson, who did intelligence work for the U.S. Air Force and the state of Illinois and now heads an alliance that tracks down child sexual predators, believes detectives know who murdered Kunz but the person they needed to make the case stand up in court "was not forthcoming" with them, probably out of self-preservation. And that person is dead," he said.
Hampson also had an opinion about the outspoken Kunz, who was a polarizing figure in the church and elsewhere during his 32 years at St. Michael. After debunking every conspiracy theory and wild claim that came forth about Kunz — including that he had affairs with women and was killed by a jealous lover — Hampson said he came to the conclusion that Kunz "wasn't anything but a decent guy."
Kelly, a Monroe lawyer, part-time judge in Green County and traditional Catholic scholar and author, also empathizes with the detectives' frustrations trying to solve the case. But he believes the investigation pitted traditional Catholics against modern Catholics, and that Kunz's reputation was damaged in the process.
Kelly says he's just as frustrated about how Kunz was often portrayed as a kooky priest who operated outside the norm of the Catholic Church as he is about the murderer remaining free.
"Father Kunz was a remarkable priest at a time when we needed priests to tell it like it is and preach the faith," said Kelly. "There aren't many like him left. It was a tragic loss. It was a privilege to have known him."
Kelly blames then-Catholic Diocese of Madison Bishop William H. Bullock for allowing Kunz's reputation to be sullied during the early years of the investigation. He says Bullock, a more modern Catholic who died in 2011, was uncomfortable with Kunz's traditional values, including using the Latin Mass at St. Michael, making it difficult for divorced parishioners to receive annulments, and expressing disdain for homosexuals.
"Father Kunz was a little too Catholic for Bishop Bullock," said Kelly.
Kunz also was a little too Catholic for many Catholics, according to Mahoney. "A lot of folks had some significant disagreements with him," he said. But, an equal number of Catholics loved Kunz for adhering to strong values of the faith, Mahoney said.
Kelly believes those Catholics cheered Bishop Robert C. Morlino's recent decision to hold a funeral mass for Kunz at St. Mary of Pine Bluff Catholic Parish in Pine Bluff on Saturday.
The Latin mass was "not to show respect, honor, or to celebrate (Kunz), let alone `to right any wrongs' from the bishop's, and the diocese's, perspective," Catholic Diocese of Madison spokesman Brent King said. "Like any funeral, it is to pray for the repose of his soul and beg God for mercy."
But Kelly said the mass sent a strong message to Catholics with similar tradition values as Kunz that they haven't been forgotten. "Bishop Bullock was nowhere near as predisposed" to do something similar for Kunz, he said.
King said Bishop Morlino turned down an interview request because he has no intention of making a statement about Kunz. "This is especially the case with regard to who (Kunz) was and to his character, as he did not know him and has made no judgment whatsoever about him," King wrote in an email. "As with all the deceased priests of the diocese, he does frequently pray for Fr. Kunz and asks God to have mercy on him."
While Kunz was not a favorite within the Diocese, it had nothing to do with differing philosophies, according to Bill Brophy, who was the Diocese spokesman when Kunz was murdered.
"He didn't go to any of the priest gatherings and, like all managers, he was expected to do things like turn in financial reports on time but he never seemed to do that," Brophy said. "Those were the things that irritated the chancery office. But I never saw any signs of disrespect toward (Kunz) before or after (the murder)."
When stories emerged after the murder alleging that Kunz performed exorcisms and had "intimate relationships" with women parishioners, Kelly believes Bullock should have stood up for Kunz.
"Those stories about Father Kunz were outlandish and (the Diocese) let him twist in the wind," Kelly said. "For the Diocese, it was some of their worst hours. I thought the Diocese totally mishandled that."
Brophy said he called Dane County Sheriff Gary Hamblin to warn him of the dangers of "besmirching" Kunz's reputation after the Diocese learned that detectives were going to release information about Kunz's "intimate relationships" at the second anniversary of his murder. The information came from letters that detectives had received from women who had written to Kunz, according to Brophy.
"Gary anguished over it," Brophy said. "It was a nice chat. I could tell he cared a lot of about the investigation. He had a hard time coming forward with that strategy. At the press conference they never said the word `sex' or 'affair'. It was pretty strange."
Hamblin says he couldn't recall enough of the facts of the strategy or the conversation he had with Brophy to make a comment but he said the sheriff's office never would have followed a strategy that wasn't based on solid facts.
The strategy led to titillating news reports for a few days but no new information. "They destroyed Father Kunz's reputation and didn't get one lead out of it," Kelly said.
'Peter, are you sitting down?'
Kelly learned that Kunz was murdered via a phone call from Fiore. He recalled that the retired Dominican priest, who died in 2003, started the conversation by saying, "Peter, are you sitting down?"
Soon after, Kelly was at St. Michael talking to the teacher who found Kunz's body. Kelly recalls feeling sorry for the teacher who was shivering in the cold air as he explained how he got covered in Kunz's blood while checking to see if he was still alive. "I can still see him sitting in my car with my long, black top coat on trying to get warm," Kelly said.
Kelly says he has been thinking about how the past 20 years have flown by for him. He says he still closes his eyes and can see Kunz laughing as he walked out of the Monroe radio station just hours before he was killed. He says he also thinks about the drive he made to St. Michael several hours later and how he stood in the cold air on the morning of March 4, wondering who killed his friend.
He decided all those thoughts could be summed up with a simple wardrobe decision for Saturday's Latin Mass in Pine Bluff. "It might be a good time to wear that long, black top coat," Kelly said.