At the intersection of Monroe and Regent streets, a triangular piece of land sits in the shadow of Camp Randall Stadium.
Although it is located at a hub for pedestrian, bicycle and vehicular traffic, the patch of city-owned property acts as little more than a stepping stone for those crossing the bustling roadways, and at its busiest, as a spot to grab a bratwurst on the way to a Badgers football game.
But city officials, Near West Side neighbors and professional designers are working on a plan to transform the approximately 25,000 square feet of land bounded by South Breese Terrace, Monroe Street and Regent Street into a public gathering space dubbed "Crazylegs Plaza."
"I think there's a huge opportunity, because there isn't a lot of usage, frankly," said Ald. Sara Eskrich, whose 13th District includes most of the parcel. "We're hoping to make it much more of a place where people choose to gather, and there's an opportunity to bring the community together."
Currently, the land is split into two smaller triangles by Crazylegs Lane. But the approximately 175-foot road is slated to be eliminated to open up the space.
The Crazylegs Plaza plan is part of the $17 million reconstruction of Monroe Street from Leonard Street to Regent Street, a project set to begin next spring and finish by fall 2018.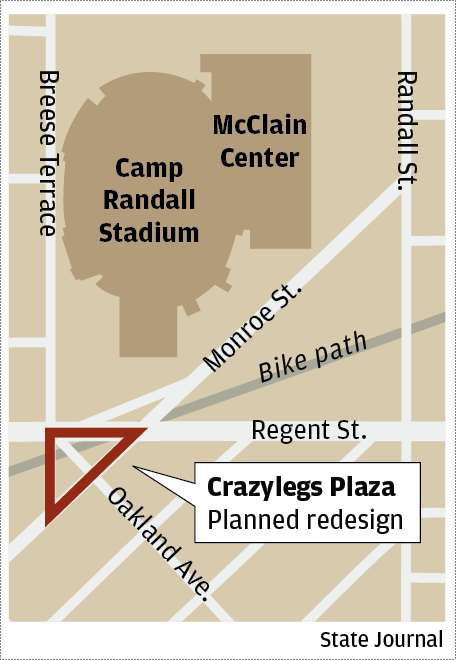 Both the lane and plaza are named after Badgers football star and former UW-Madison athletic director Elroy "Crazylegs" Hirsch.
Zia Brucaya, a principal planner at Madison-based consultant Urban Assets, hosted a meeting last week to gauge the public's desires for the space.
"People gravitated toward lots of greenery, because the intersection there is so vast, and there is so much pavement," she said.
Landscape architect firm Ken Saiki Design, of Madison, is working on design proposals. Brucaya said ideas for the parcel that have been floated include seating areas, space for food carts, a small performance stage and a bicycle service station, which makes sense because the Southwest Commuter Path goes right through the triangle.
Eskrich, who uses the path to bike to work, said she rarely sees the space being used, except during a handful of Badgers home football games when vendors set up shop.
She said she's also heard a strong desire to get rid of Crazylegs Lane to deter traffic from using it to cut through into the Vilas neighborhood.
As part of the $100,000 planning and design process for Crazylegs Plaza, local mosaic artist Marcia Yapp has been contracted to add a public art component.
Rebecca Cnare, an urban design planner for the city, said the idea to convert the property into a public gathering space has been discussed for at least a decade, as it was part of the 2007 Monroe Street Commercial District Plan.
One of the biggest changes residents would like to see is rerouting the Southwest Commuter Path to the edges of the plaza to enable a larger gathering space, Brucaya said.
A second community meeting about the project is set for Sept. 14 at 6 p.m. at the Wingra School, 718 Gilmore St., when initial designs will be presented.
"Right now, it's completely underutilized besides the bike path," Brucaya said about the parcel. "This opens up a major opportunity to create more green space and more usable space in whatever form that is."