After Cheryl Stedman got on the waiting list for a kidney transplant at UW Hospital in 2015, she figured she'd have to wait a year or two to get one. But nine months later, in May 2016, she received a kidney.
"I'm feeling great," said Stedman, 55, of Fort Atkinson, who has lupus, an autoimmune disease that attacked her kidneys. "I didn't realize how bad I did feel until I started feeling better."
Stedman was among a record 313 people who got kidney transplants at UW Hospital last year. The number of liver transplants — 105 — also set a record at the hospital, where the organ transplant program started in 1966.
Overall, UW Hospital performed 529 organ transplants last year, the most of any year since 2005, a 16 percent increase from 2015 and the fourth most among centers nationwide.
"We think this is the new norm, to be at this really high level," said Dr. Dixon Kaufman, the hospital's transplant chairman. "It makes what we have a real marquee program, not only for our state but really for the U.S."
Nationally, 33,606 transplants were reported last year, a record high for the fourth year in a row, according to the United Network for Organ Sharing. Still, more than 119,000 people remain on the waiting list, including more than 2,200 in Wisconsin.
UW Hospital's kidney and liver transplant records came despite using fewer living donors for the transplants, meaning a higher proportion came from deceased donors.
Kaufman largely credited UW's organ bank, UW Organ and Tissue Donation, for the increase. The organization recovered organs from 150 deceased donors last year, a record high and up from 106 donors in 2015, said Mike Anderson, executive director of the organ bank.
There were more eligible donors last year, perhaps because of more deaths from stroke and trauma, and a higher percentage of families agreed to donate, Anderson said. The organ bank started working more closely with hospitals around the state in approaching families about organ donation, he said.
"I think the community is better educated about donation," Anderson said.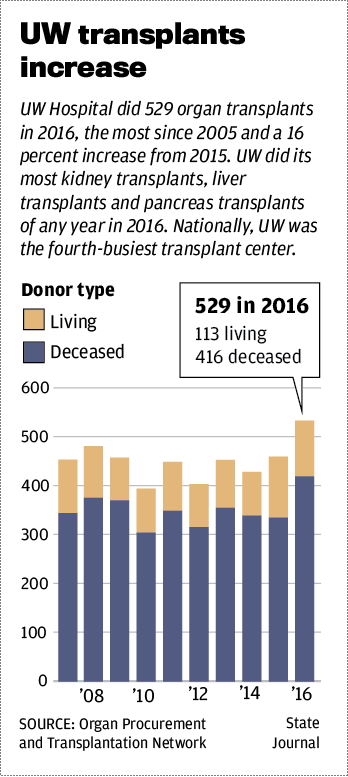 Kaufman said Wisconsin's online donor registry, which started in 2010, and satellite transplant clinics UW Health opened in Waukesha, Marshfield, Wausau, La Crosse and northern Illinois in recent years also helped boost the hospital's transplant volume last year.
In addition, UW doctors started doing liver transplants at Madison's Veterans Hospital in 2015.
A kidney transplant program likely will start at the VA hospital this year, Kaufman said.
Stephanie Powers, 47, of Madison, got a liver transplant at UW Hospital in August. Years of heavy drinking damaged her liver, and that caused her body to start shutting down, she said.
"I don't think I would have had another month to live," said Powers, who said she has stopped drinking. "I'm glad they were there for me and able to save my life."
UW Hospital did 23 pancreas transplants last year, its most ever, and 42 kidney-pancreas transplants, its most since 2005. Both figures were the most of any center in the country last year.
The hospital performed 16 heart transplants and 28 lung transplants, similar to counts in recent years but down from earlier.
Wisconsin has three other transplant centers, in the Milwaukee area. Froedtert Hospital did 148 transplants last year, Aurora St. Luke's Medical Center did 100 and Children's Hospital of Wisconsin did 26.
With 529 transplants last year, UW Hospital was the fourth-busiest center nationwide, behind the University of California-Los Angeles, the University of California-San Francisco and Jackson Memorial Hospital in Miami.
UW Hospital was the 10th-busiest transplant center nationwide in 2015 and 11th-busiest in 2014.