WAUZEKA – The memories from elementary school are fuzzy for Ryan and Seth Adams.
But for the brothers, separated by two years, and for scores of others who attended Prairie Catholic School in Prairie du Chien, second grade meant a trip through a valley northeast of town via hilly, winding, narrow roads and through landscape untouched from a glacier that flattened much of Wisconsin more than 12,000 years ago.
Ultimately, the bus would turn off of Rhein Hollow Road and slowly make its way up a steep gravel driveway and onto an 83-acre property covered with oak and maple trees, a few picnic tables and a cinder block bathroom building.
Many of the memories on the hilltop were formed, however, beneath the land by stalactites and stalagmites, dripping water and the occasional bat in Kickapoo Indian Caverns, one of the state's largest cave systems.
"It's tough to find a person around here that never came here on a class trip," said Ryan Adams, 30. "All of the classes used to come through. It's just how it used to be."
School groups in recent years have had to come up with alternative field trips but the potential remains for the property to once again play host to curious students, summer tourists and cave enthusiasts.
The last tours through the cave were in 2011 but regular hours for the $14 guided trips stopped in 2007. The owner, Delores Gaidowski, died in 2014 and her family put the property up for sale in September. The initial asking price was $700,000, but it was recently reduced to $499,000.
The property includes a building that was used as a museum and a gift shop and as an access point to the cave's entrance. When we toured the property last week, the wooden structure still held old post cards, brochures for other area caves, a sickly looking stuffed raccoon and a smattering of leftover souvenirs.
Valuables from the business, much of it made by Native American tribes, were sold at an auction in June that drew bidders from around the country. Items included a birch-bark canoe that sold for $1,000, small tobacco pipes that fetched $250 apiece, pottery that garnered between $60 and $80 each and baskets that each sold for hundreds of dollars.
But the gem of the property isn't going anywhere.
"There's not another place like it," said Seth Adams, 28, who along with his brother are marketing the property through Adams Auction & Real Estate. "Sure, it's remote and a little harder to get here, but it's a once-in-a-lifetime opportunity for the right buyer.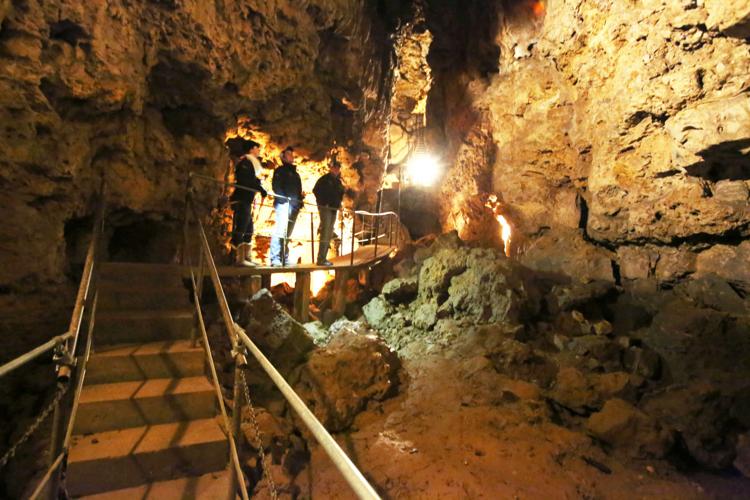 Counting sea caves, Wisconsin is home to about 400 known caves. Five are considered show caves and are open for public tours, said Gary Soule, a Sturgeon Bay cave expert and a trustee of the American Spelean History Association and the Wisconsin Speleological Society.
Show caves include Cave of the Mounds near Blue Mounds, Eagle Cave near Blue River and Crystal Cave, discovered in 1881 in Pierce County. The cave is considered the state's largest commercial cave and opened for tours in 1942, according to its website. The other two semi-developed caves are the Ledge View Nature Center Caves near Chilton and Cherney Maribel Caves County Park in Manitowoc County.
Soule, who has traveled the world studying caves and who has toured virtually every one of the nearly 200 show caves in the U.S., said Kickapoo Indian Caverns may not be as spectacular in terms of formations when compared to Cave of the Mounds but it is a bigger cave room.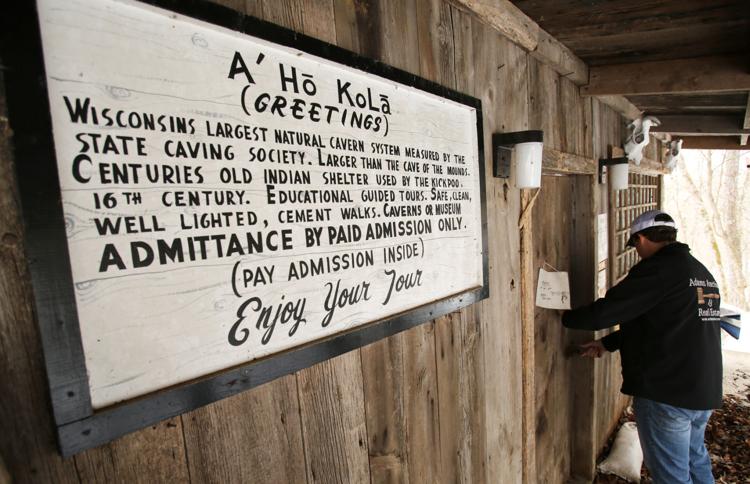 In addition, tours could be expanded into other chambers of the cave system that have not been previously open to the public. Other attractions like a zip line or campground could also make the property more commercially viable. Extensive work on the access road would be required and a restoration of the museum and gift shop would also likely be needed, he said.
"Kickapoo Indian Caverns has tremendous potential for development," Soule, 64, said. "It's a scenic part of Wisconsin and I think as tourism develops in the area the potential there is really quite significant."
The cave, at one time known as Goblin Cave, was likely used by Native Americans hundreds of years before soldiers stationed at Fort Crawford discovered the cave in the middle 1800s. But it wasn't until July Fourth, 1947, when a building was constructed and the keyhole-shaped entrance to the cave expanded to allow for tours.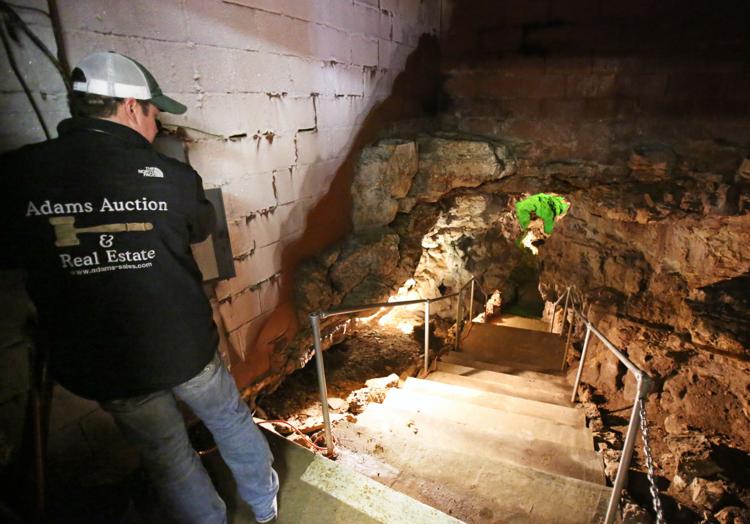 According to documents and brochures collected by Soule, a 30-minute tour in 1951 cost 60 cents. By 1966, the tour was 45 minutes and $1.25 for an adult and 60 cents per child. The cave system was mapped by the Wisconsin Speleological Society in 1961.
Delores and Ray Gaidowski purchased the 83-acre property and 1,400-foot-long cave system in the early 1980s. After Ray's death some years ago, Delores ran the business.
"She was a colorful, local character," Soule said. "She was very protective of the cave. She was a little rough around the edges, but she was an interesting lady."
Gaidowski's family would ideally like to sell the property to someone interested in resuming cave tours, Ryan Adams said.
"It means a lot to the family," Adams said. "Updated, it would be great. We've had some interest in it."
A four-wheel-drive vehicle was needed Wednesday to traverse the unplowed driveway that is secured by lock and chain. Once to the top of the hill, we found Gaidowski's vacant house, a parking lot, and a sign at the top of a path overgrown with arborvitae that led to the gift shop, museum and cave entrance.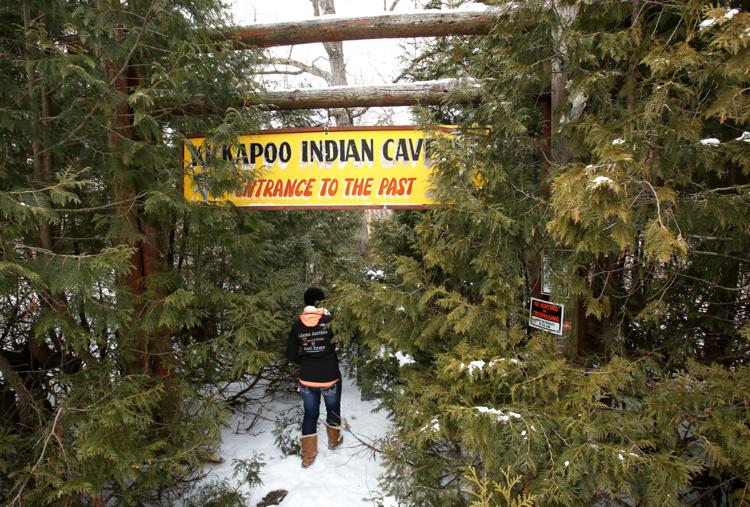 A sign on the exterior of the building asked that during tours no pictures be taken, no refreshments brought in or babies in backpacks. Another sign was more pointed and written with attitude.
"Due to the state of our nation, containers of any kind are not allowed. That includes bags, bottles, thermoses ... etc. Thank you," the sign read.
Once we entered the building, another wooden door led to the cave where a flick of a light switch lit up the cave with spotlights to reveal a metal staircase, concrete walkways and dozens of other concrete steps poured decades ago by workers carrying buckets of cement.
As we walked down into the depths of the cave, we were required to crouch down for a few feet before the Cathedral Room with 60-foot-high ceilings and a wooden white cross opened up before us. The surfaces of the walkways and the cave walls were damp and dripping with water but the temperature was an even 40 degrees.
The cave also featured a room where decades ago, if you can believe the dates, dozens of visitors signed their names to the cave wall with pencil. George Harris was here in 1893, Ralph Lathrop in 1912 and Harry Haman in 1933.
"Every time you come in here you notice something different," Seth Adams said. "It's like a walk back in time. You don't see an area this big created in a short amount of time."