Reece Raven's favorite part of the day was easy to pick.
It was an hour before faceoff and time to choose the University of Wisconsin men's hockey team's starting lineup.
Associate head coach Mark Osiecki asked 9-year-old Reece what his favorite number was.
The answer came quickly: 10. "Because that's my number in basketball," Reece said.
"Well," Osiecki said, handing Reece a pen to circle defenseman Jake Linhart's number on the line chart, "then you have to start him."
As game time approached, Reece walked into the Badgers' locker room nervously but with some important duties to perform.
"Good luck tonight," he told the players sitting in front of their lockers around him. "Play as a team. And never give up."
A roar of applause took over the room for Reece, who wore a Bucky Badger temporary tattoo on his cheek and a red UW hockey jersey.
The starting lineup was next. The players gave one clap after the first five of the six jersey numbers that Reece announced, then another burst of cheering at the end.
"That," Reece's mom, Janielle, said later, "was the coolest thing."
As anxious about speaking in front of the team as Reece later admitted he was, it was a little bit of time for him and his family to not be nervous about the tests that were due to come.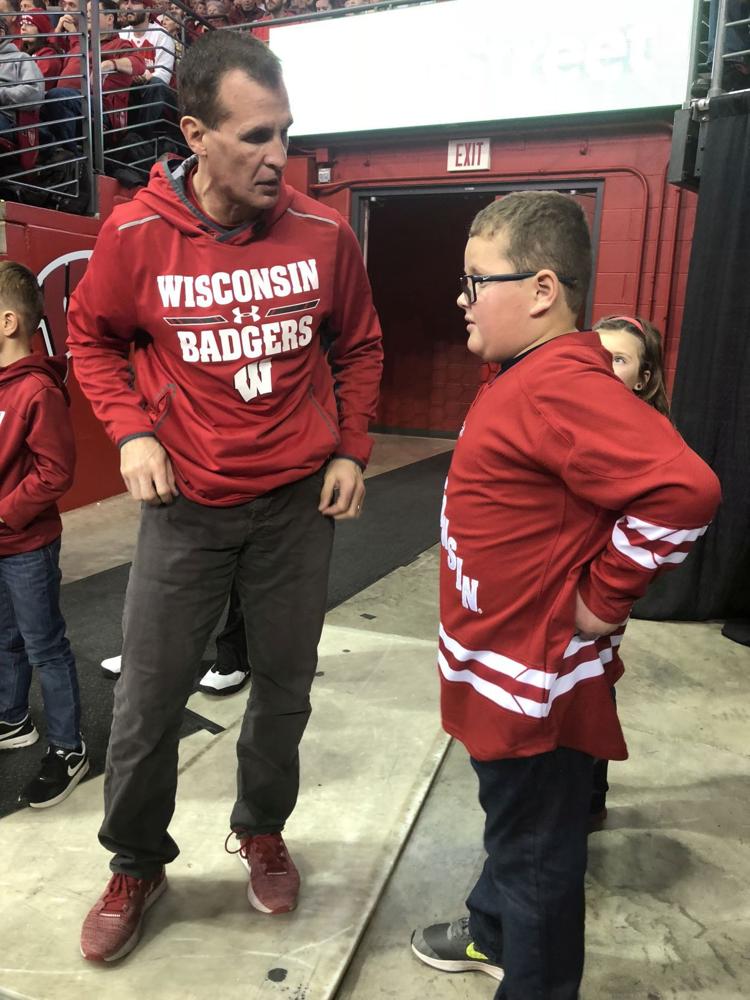 Three days later, Reece went back into an MRI scanner to let doctors see if the brain tumor that already had been operated on twice had returned for a third time.
A distraction from the daily worries was a welcome one for the Raven family of Belleville.
That's some of what UW teams hope to provide with their Wish Upon a Badger program, where kids facing life-threatening illnesses or long hospital stays have a chance to interact with athletes.
"You just see them light up and they feel like they're the most important person," said Jackie Davenport, UW Athletics' director of community relations. "And the parents finally get an opportunity to feel like this weight's lifted off their shoulders for a little bit. And they don't have to talk about what's going on with their kid but they can just enjoy the moment as a family."
Wish Upon a Badger, modeled after the international Make-A-Wish Foundation, has been around for more than five years but has been reformatted this season.
UW has partnered with the American Family Children's Hospital to have teams adopt kids for the school year. In all, 21 children are in the program while they battle cancer or recover from major surgery.
Memorable anniversary
It was a natural for Isaac Dart of Luxemburg to get matched with the school's wrestling team. He has been wrestling since age 3, when he fell in love with the sport while watching his cousins compete.
But wrestling had to wait last year when 5-year-old Isaac needed a seven-hour heart surgery at American Family Children's Hospital to repair a coarctation of his aorta, a pinch that wouldn't allow blood to flow normally.
One year to the day that he and his family returned to their Northeast Wisconsin home after the surgery, Isaac was back in Madison. This experience, however, was all fun.
He spent the Sunday with the Badgers, taking a tour of the wrestling room, Field House and Camp Randall Stadium.
Long since cleared to return to wrestling, he got on the mat and worked out with the team on training equipment.
"I was really nervous and I was very excited to go down there and meet all the Bucky Badger wrestlers," Isaac said.
While UW wrestlers signed a poster for him, Isaac signed a "Badger Letter of Intent" with coach Barry Davis to join the team.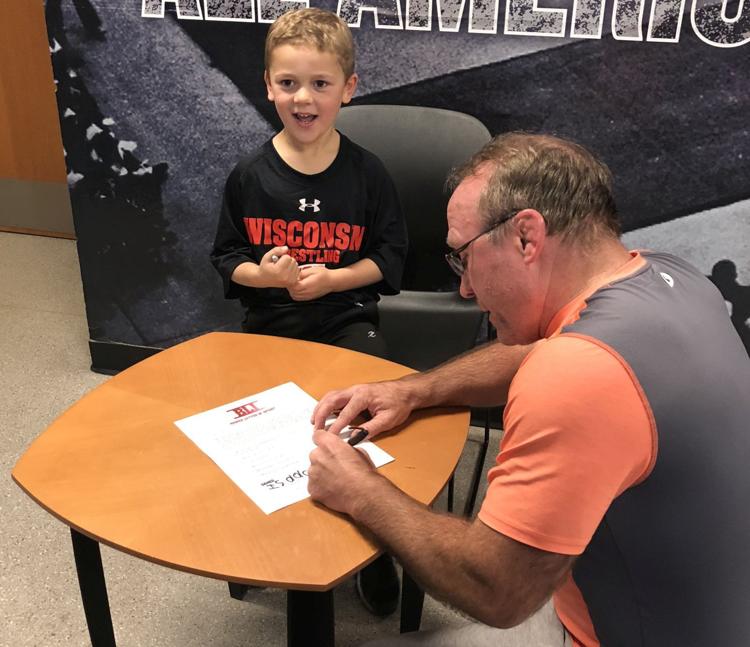 They all shared stories about their childhood wrestling experiences and the number of safety pins they were able to put on their hats to symbolize pins on the mat.
It was different than Isaac's mom, Tiffany, expected.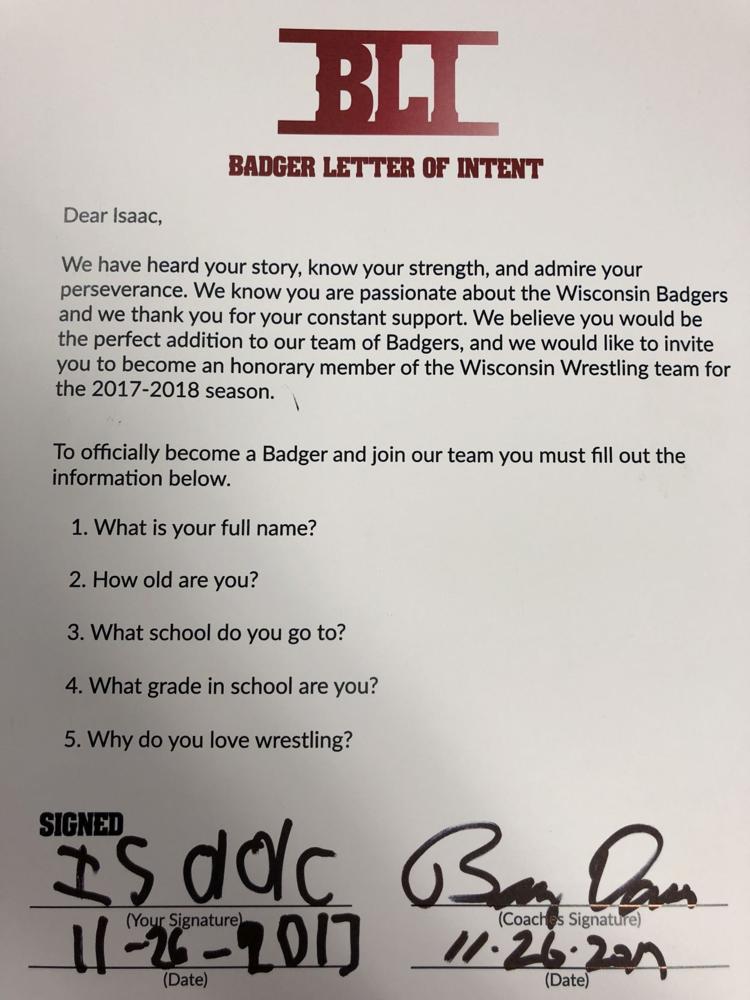 "I was a little nervous, to tell you the truth, about how this group of college guys was going to react to Isaac, being a little kid," she said. "But they were fantastic with him."
At the end of practice, Davis pointed to Isaac when he addressed the team, telling them that inspiring kids like him to work hard is the reason they're at UW.
"Ever since we got home, Isaac has been so motivated to work hard in his wrestling, to do a good job because he wants to be able to tell those guys when he goes back down, 'I've been doing a great job and I've been doing this for you guys,' " Tiffany Dart said.
"These are his friends now. These are his buddies. And I love the connection that they've made."
The connections have been even more plentiful than expected with Wish Upon a Badger kids, Davenport said.
One of the children who was partnered with the football team met a tennis player at Camp Randall and also has been messaging with him.
UW players have sent video messages to children too sick to come to spend a day with the teams. That's on top of the visits to the children's hospital that Badgers student-athletes make through the Badgers Give Back program.
Different view
of visits
They often go into the trips thinking they're just saying hi to kids in hospital rooms.
"Let's turn it and have you see it in a different light," Davenport said she tells them. "Let's have you see it in the kids' or the parents' light. For once, someone's not talking to you about what's your next treatment, what's going to go on with your kid."
Janielle Raven was thankful for that in their early December visit to the Kohl Center.
Reece's connection to the hockey team started last summer when he did a photo shoot with Granato for the American Family Children's Hospital.
"I thought it was just going to be a photo shoot, but right when we arrived, he ran up to my van and asked me how much time we had and literally spent the evening with us, touring the facility," Janielle Raven said of Granato.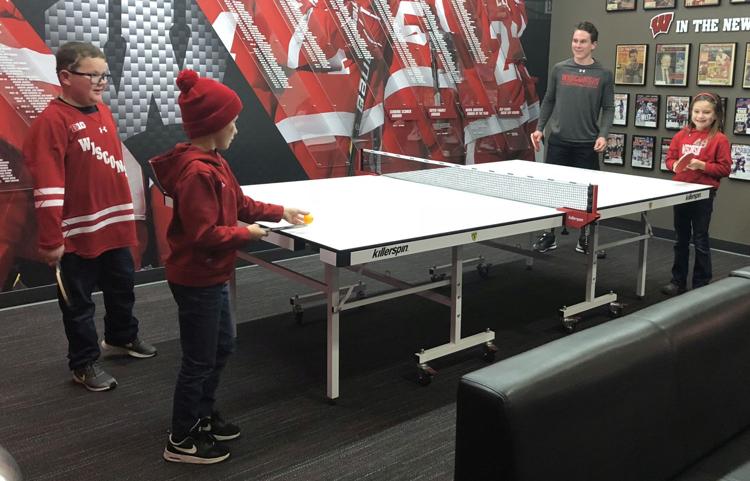 That was only a taste of what was ahead in the following months. When the Ravens returned for Reece's day with the team on Dec. 9, Granato took them — Reece, his twin brother Randy, 7-year-old sister Jocelyn and parents Janielle and Randy — around the Kohl Center during the day, introducing them to the team and staff.
They left for a few hours but when they returned, Granato was ready to host again.
It occurred to Janielle Raven and Davenport that Granato was about to lead his team into one of the more important games on the schedule but was highly invested in the time with Reece.
"You'd think with all that he had on his plate he wouldn't have the time to spend, but he seemed genuinely excited to show us around," Janielle Raven said.
Granato said he and his players got "a new buddy" in the process.
"It's good medicine for them," he said of the Raven family. "It's good for us, too, to be able to be in a position where we're lucky enough to meet kids like him."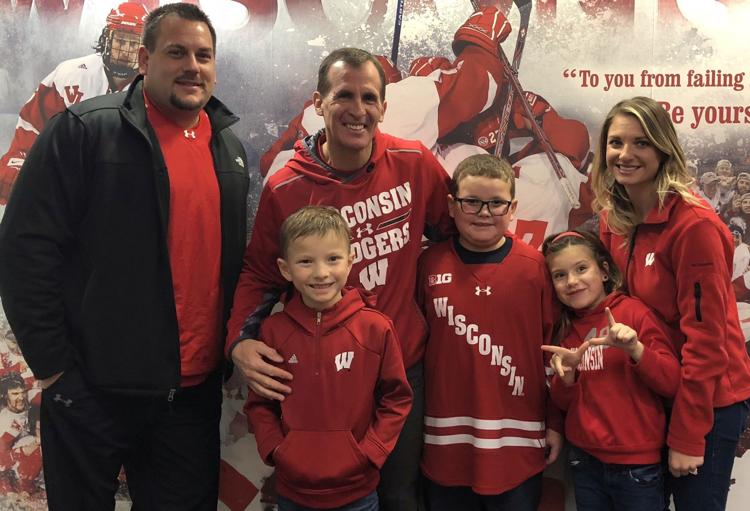 Reece was diagnosed with a brain tumor in August 2015 and was hospitalized for three weeks after surgery. Last July, he found out that the tumor grew back, requiring another surgery.
Earlier this month, with Reece's MRI appointment coming up to see if a tumor had returned near the brain stem, an escape for a few hours was exactly what the family needed, Janielle Raven said.
"For that Saturday, we really never thought about the MRI or what that would mean to our family coming up," she said. "It was just a day of pure fun and surprises. Reece felt so special. His siblings felt so special. Because they really feel the anxiety of their brother's illness as well, I think. And the team included them just as much as they included Reece, which was really amazing."
The MRI showed no residual tumor, a cheerful sign on a long journey of monitoring Reece's health.
The plans are for the Badgers to have him back at the Kohl Center in January for his unofficial signing, but he remembers "how nice they were and how much time they took for me."
Janielle Raven noticed that it was a two-way street.
"Our family had such a wonderful day, but seeing that some of the players cared so much about the kids ... they were learning lessons about, A, how lucky they are that they have the ability just to be healthy, and, B, to play at a Division I college level," she said. "You could see that they were really thinking about this.
"And what my husband and I would tell them was that they have such a platform to really make a difference in so many kids' lives, just while they're playing at the UW. Just that they put their jersey on and go to that children's hospital makes the kids' and families' day. And you can see that they're getting that exact experience out of it."